Super Why! is the first preschool series that uses interactive narrative experiences to help youngsters read.
Each 22-minute episode follows a group of fairytale superheroes who fly into classic stories and utilize their special reading-based abilities to solve ordinary preschool concerns.
Super Why! It follows the National Reading Panel's curriculum requirements and teaches toddlers fundamental literacy skills such as letter recognition, decoding, encoding, spelling, and reading comprehension.
If your child enjoys watching Whyatt and his friends, they will love these Super coloring pages as well!
10 Brand New Super Coloring Pages – Free to Print and Color
Whyatt Beanstalk is the main character of Super Why and lives in Storybook Village. He is the Super Readers group leader and the one who gets everyone together to solve the city's issues.
These problems are solved with reading, learning, and sometimes even coloring.
Whyatt is a brown-haired, olive-skinned boy who wears khaki slacks and a dark blue polo shirt with green stripes in his everyday life?
Whyatt's older brother is revealed to be Jack, the hero of the English folk tale Jack and the Beanstalk – quite an exciting family, right? Just as interesting as our Super coloring pages!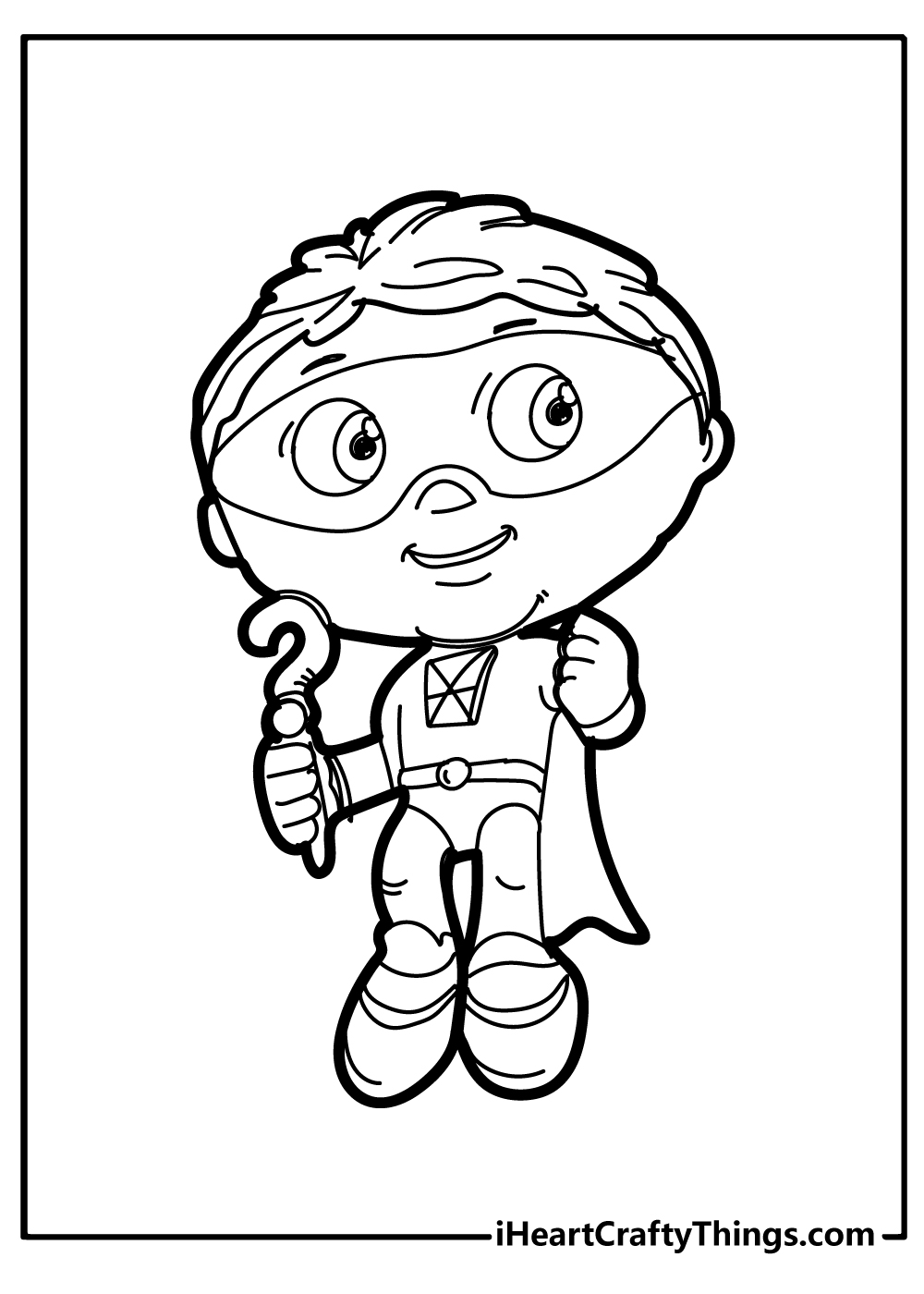 Whyatt and his friends take on their superhero alter egos to save the town and teach children many incredible things. Super Why is his heroic alter ego.
He wears a green mask, turbo shoes, a blue cape, and a Why Writer in this form. A question mark is his emblem. He concentrates on his vocabulary.
In this Super coloring page, Whyatt holds his why-writer embellished with a question mark.
This why-writer helps Whyatt switch words around, remove the bad ones, and replace them with good ones.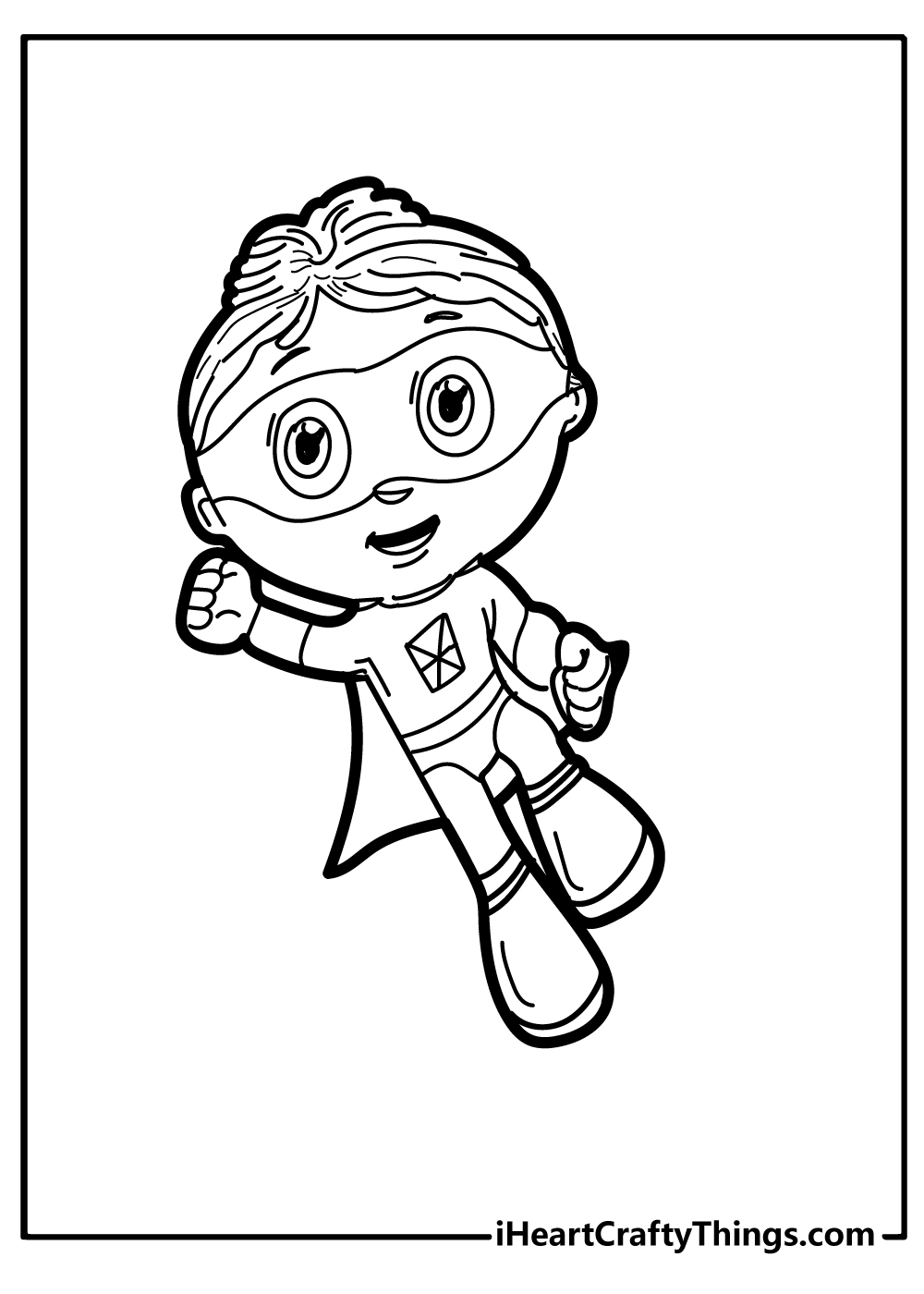 Super Why also flies in the series, but they use a blue Why Flyer to travel long distances with the team.
The Flyer is a deep blue plane with engines on the top that resembles a conventional airplane. It features a yellow bottom with a vivid green lining and patterns.
Challenge the children to draw the Why Flyer in the background next to Super Why on this Super coloring page.
They can even reimagine the plane using their ideas and give Whyatt an upgraded flying machine.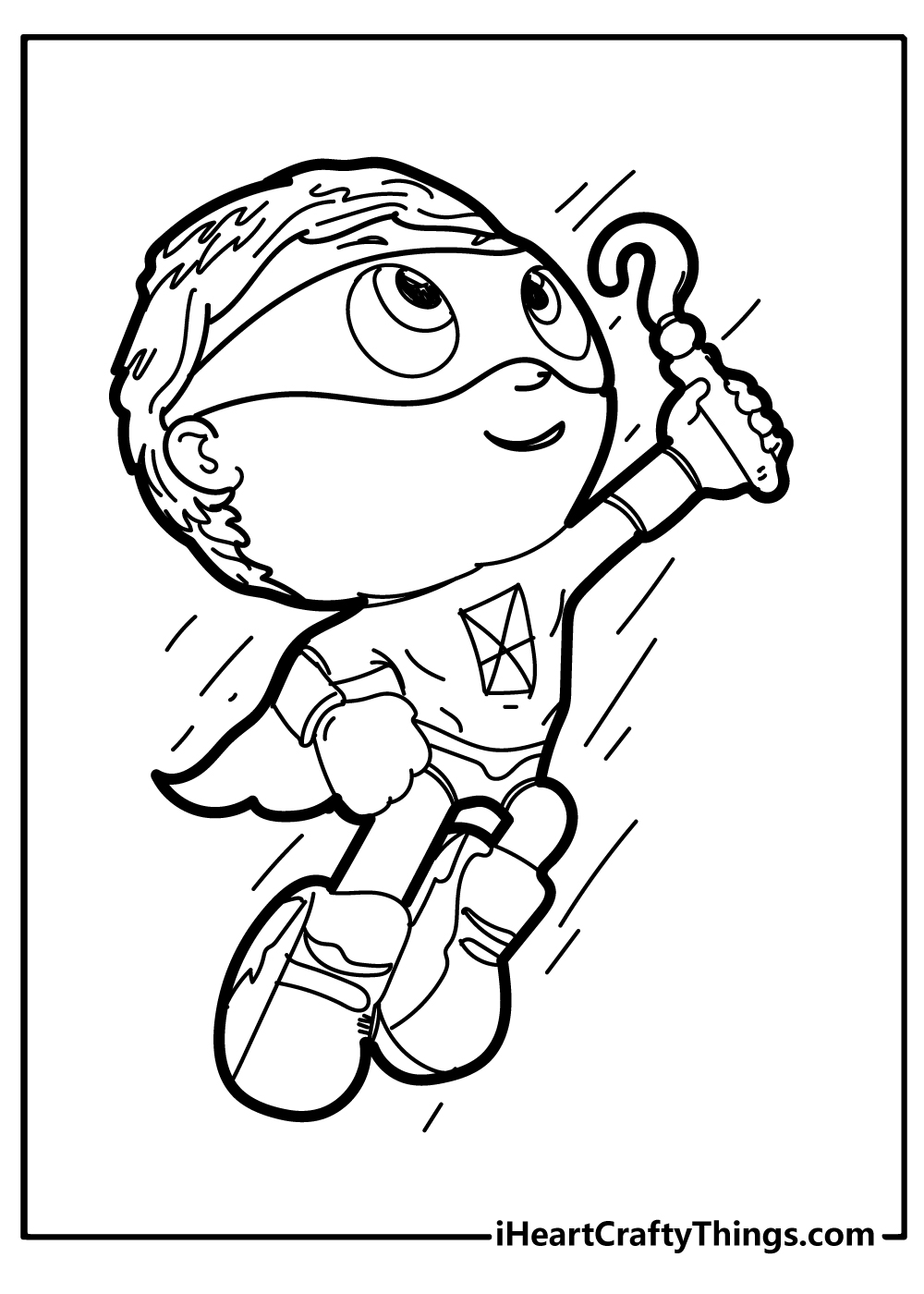 While not specifically stated, Whyatt is believed to be Hispanic. Do children know other famous Hispanic characters?
It can be an excellent opportunity to teach children about diversity and inclusivity.
When children have fun with these Super coloring pages, you can take the time to ask them what they know about people being diverse.
Do they have any friends that look different? Do they see their friends differently because of hair, skin color, or other aspects relating to appearance?
Based on their answers, you can take the conversation in a direction that lets children understand diversity should bring us closer, not draw us apart.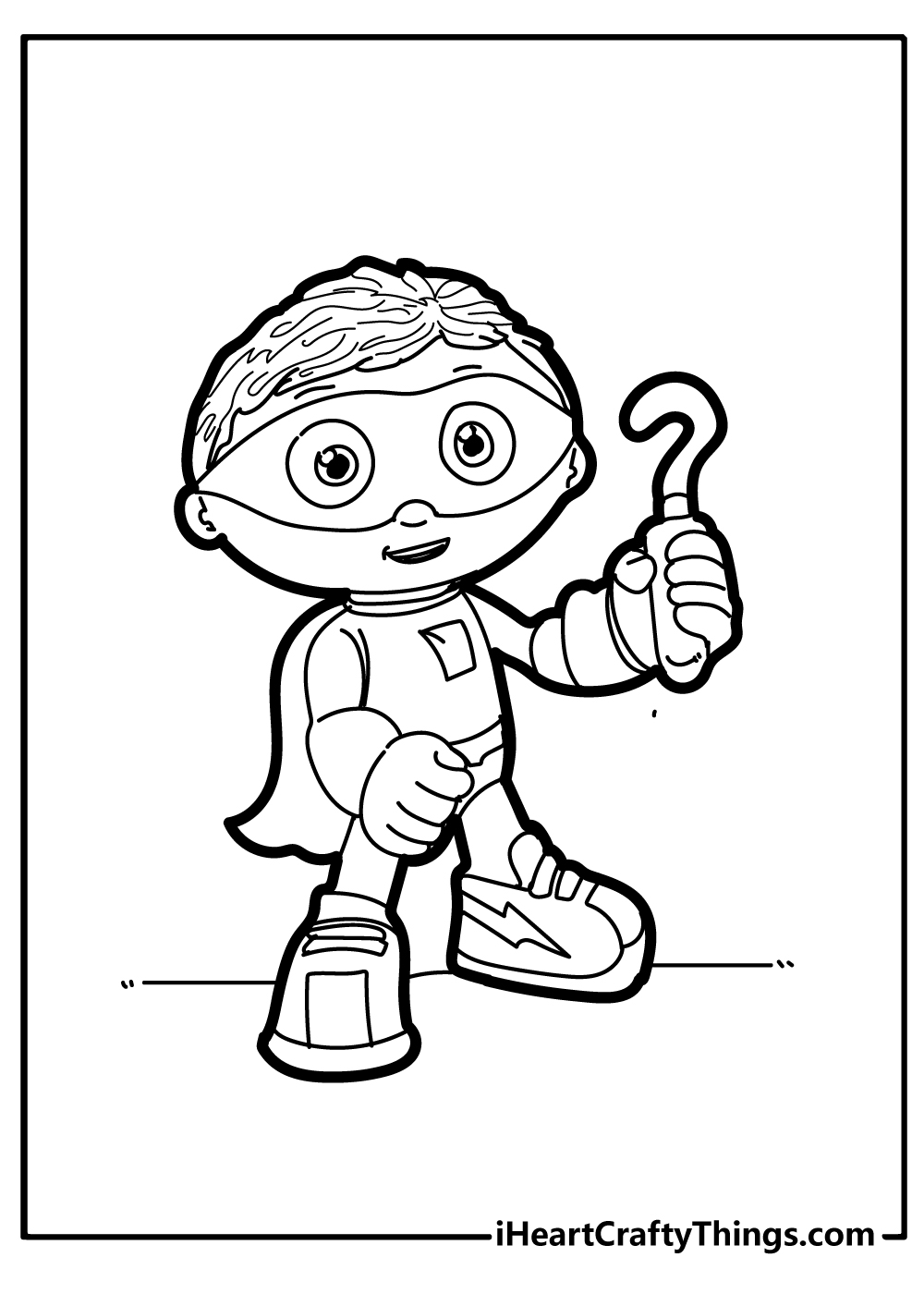 This Super coloring printable features Whyatt and his dog, Puppy. Puppy turns into Woofster and becomes the fifth member of the Super Readers.
Using his magical dictionary powers, he seeks up words that the Super Readers may not comprehend to make the situation easier for them.
Woofster is a golden retriever with light brown markings strewn around his body. His eyes are dark blue, and his nose is black.
He wears a dark blue collar with a gold piece affixed to it and has tiny brown eyebrows. He also wears a blue cape in his superhero form.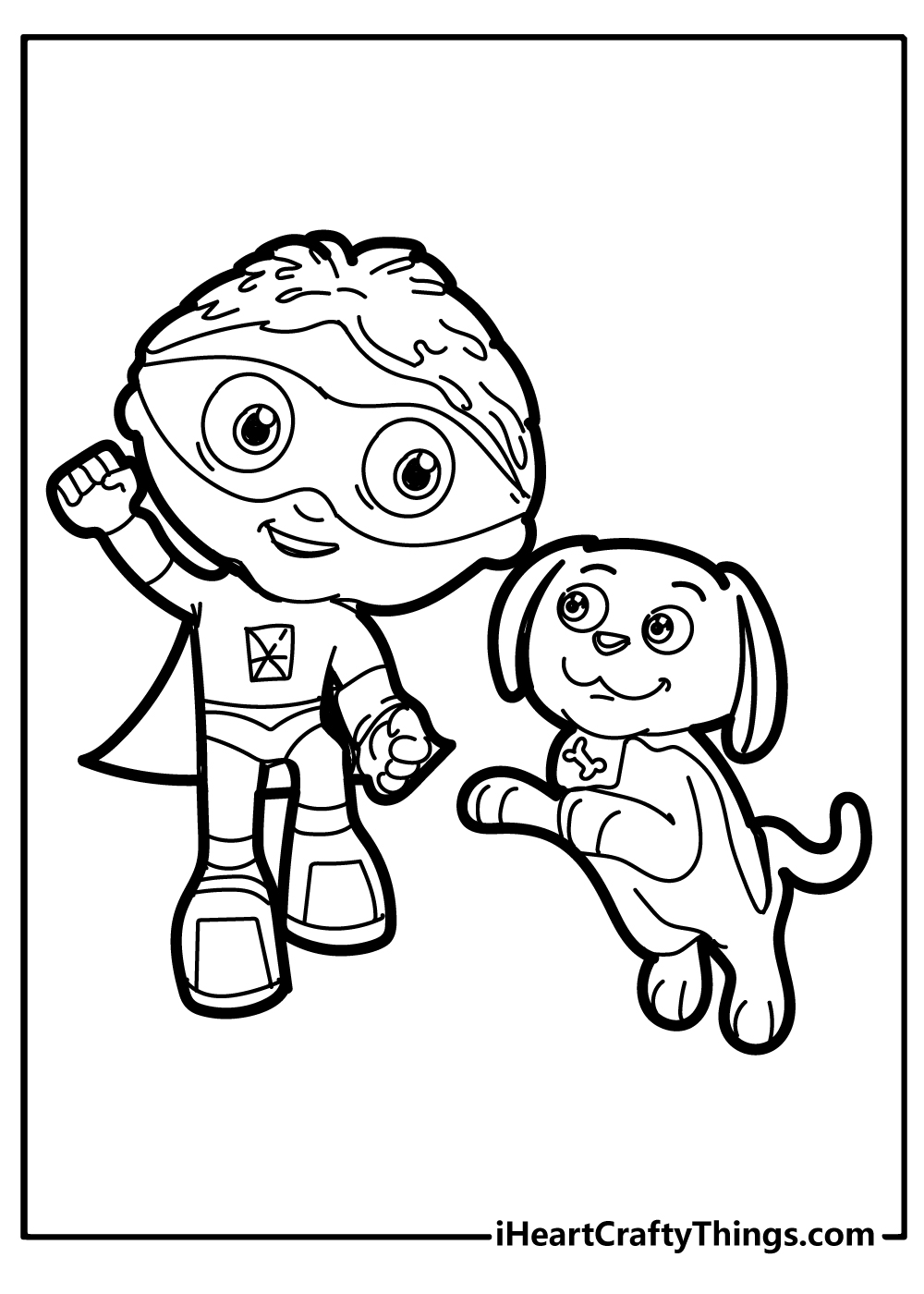 Whyatt lives in Storybook Village with his buddies Woofster, Littlest Pig, Red Riding Hood, and Princess Pea.
Each episode has a "super big issue," a "super big question," and a "super big mystery" for at least one of the central characters.
The protagonists then meet at the Book Club to talk about their issues, questions, and mystery, agreeing to seek a great book to address them.
As your child has fun with this Super coloring sheet, ask them about their super big issue, question, or mystery of the day and try to solve it together just like the characters in the show do.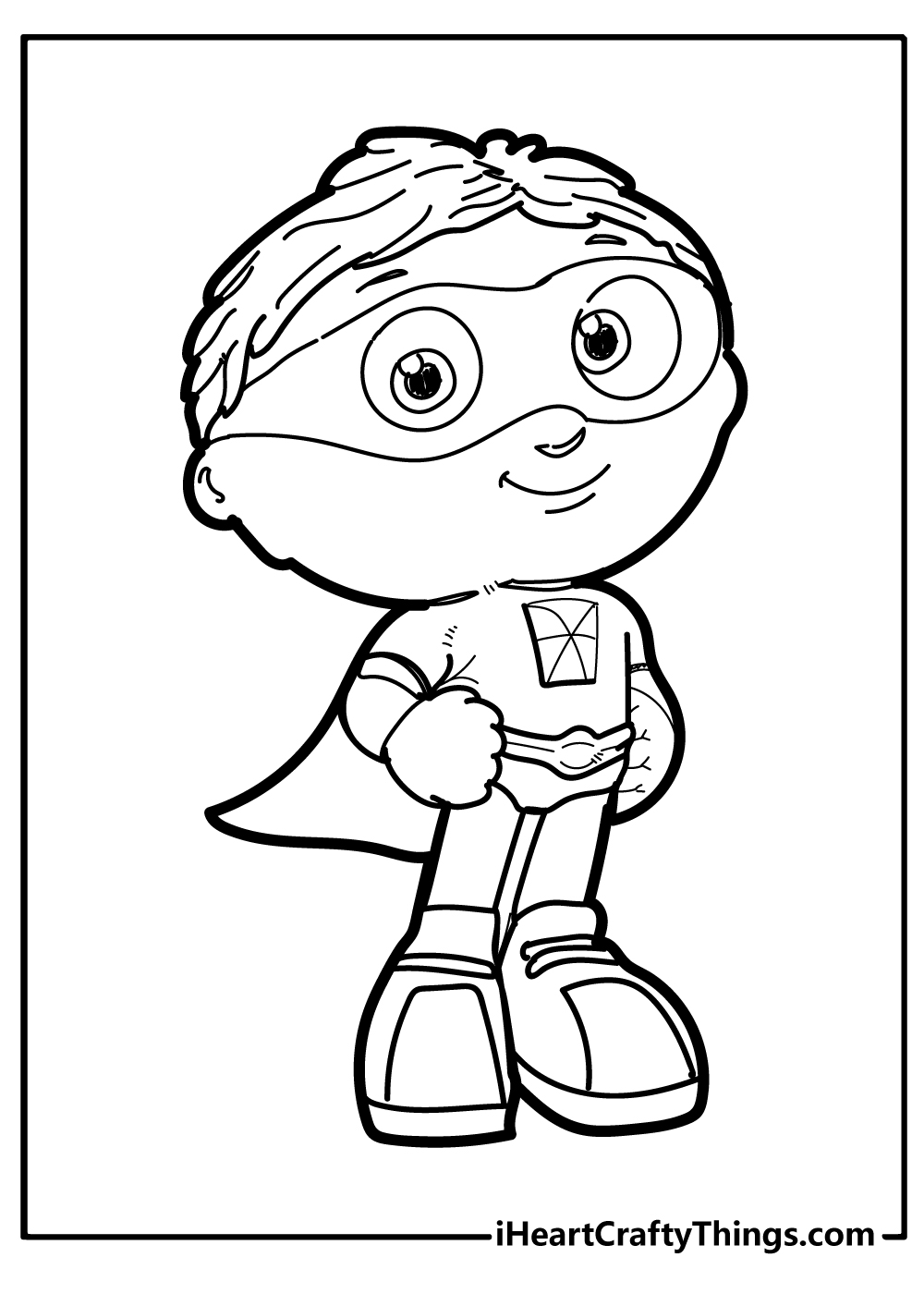 "Hip, Hip, Hooray! The Super Readers saved the day!" is one of Whyatt's catchphrases.
If your children are fans of Super Why and his friends, they surely know this and other catchphrases as well. Can they remember three more? It is a great memory exercise for children of all ages.
While they have fun coloring this free Super printable, they can imagine their superhero alter-ego.
Who would they be if they woke up tomorrow in Storybook Village? What would their superpowers be like?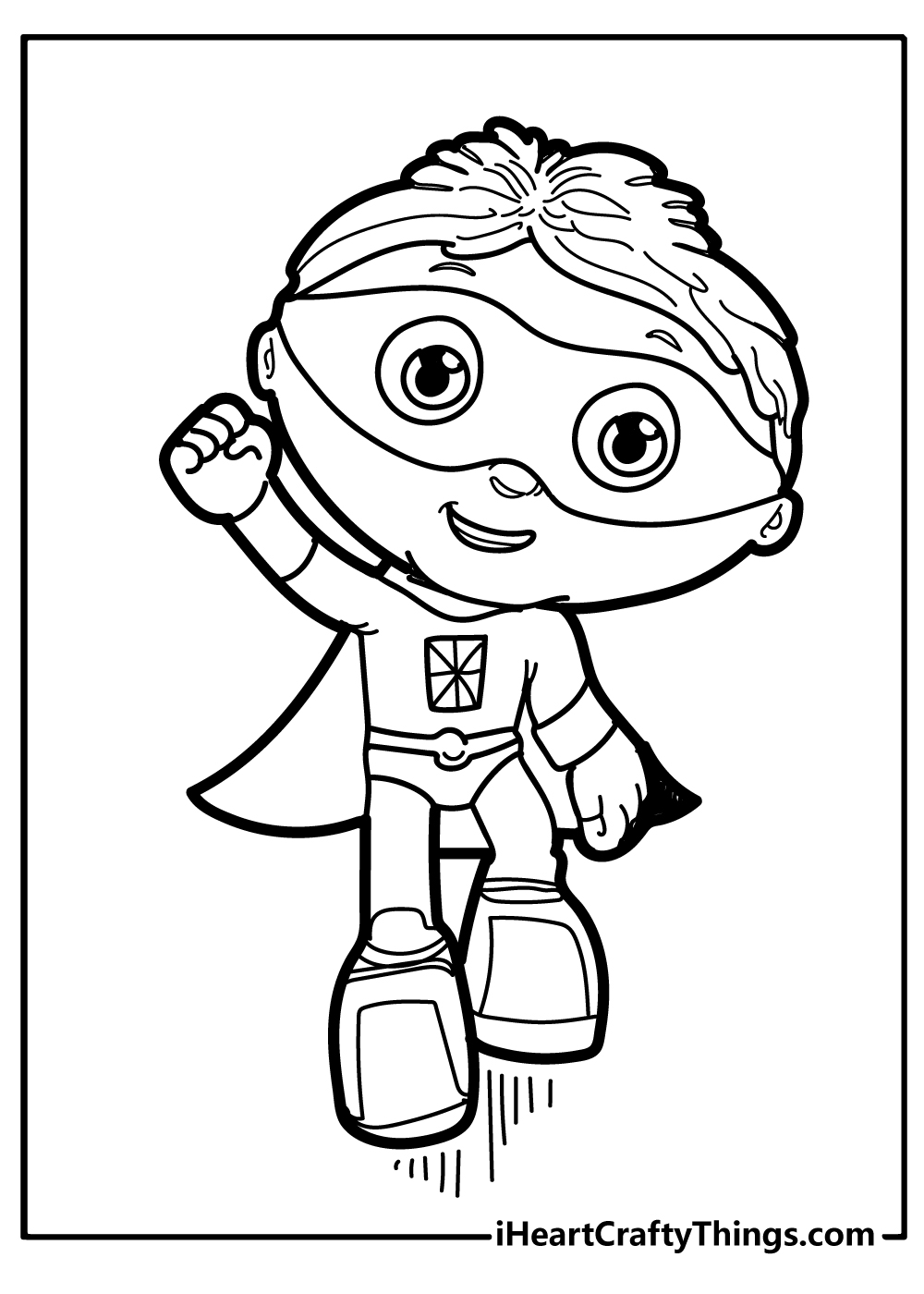 Coloring printables are one of the cheapest and most effective ways to keep children busy for many hours, and these Super coloring pages are no exception.
Super Why promotes reading as a powerful, meaningful experience for children aged 3 to 6 years old, which is a new method to learn valuable skills.
Each episode's interactive structure invites youngsters to engage in the story actively.
They are entirely absorbed by the adventure of the narrative while watching Super Why and participating in challenging games and activities.
This style allows youngsters to practice the necessary skills for learning to read.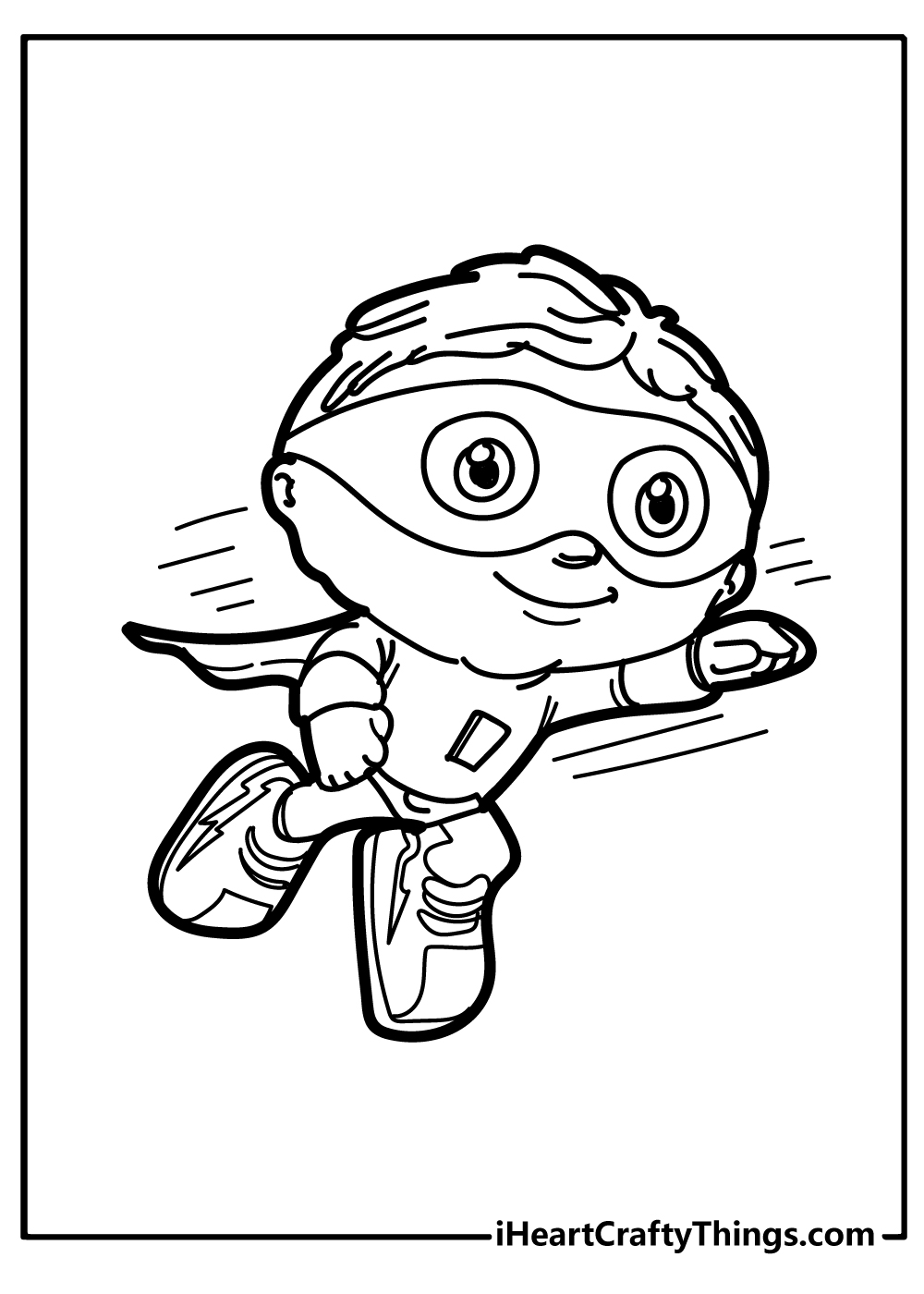 The Super Readers' purpose is to answer the problem, question, or riddle by following the book's plot.
They confront numerous challenges as they proceed through the novel's events, which they may overcome by using their reading skills to modify the story.
They are awarded red glittery "Super Letters" when they complete each of these challenges, which comprise the solution to both the "super big problem" and "super big question," as well as the "super big mystery."
What super big question do children think Whyatt is solving in this Super coloring page? Ask them to draw and color the letters to their answer in the white space around Super Why.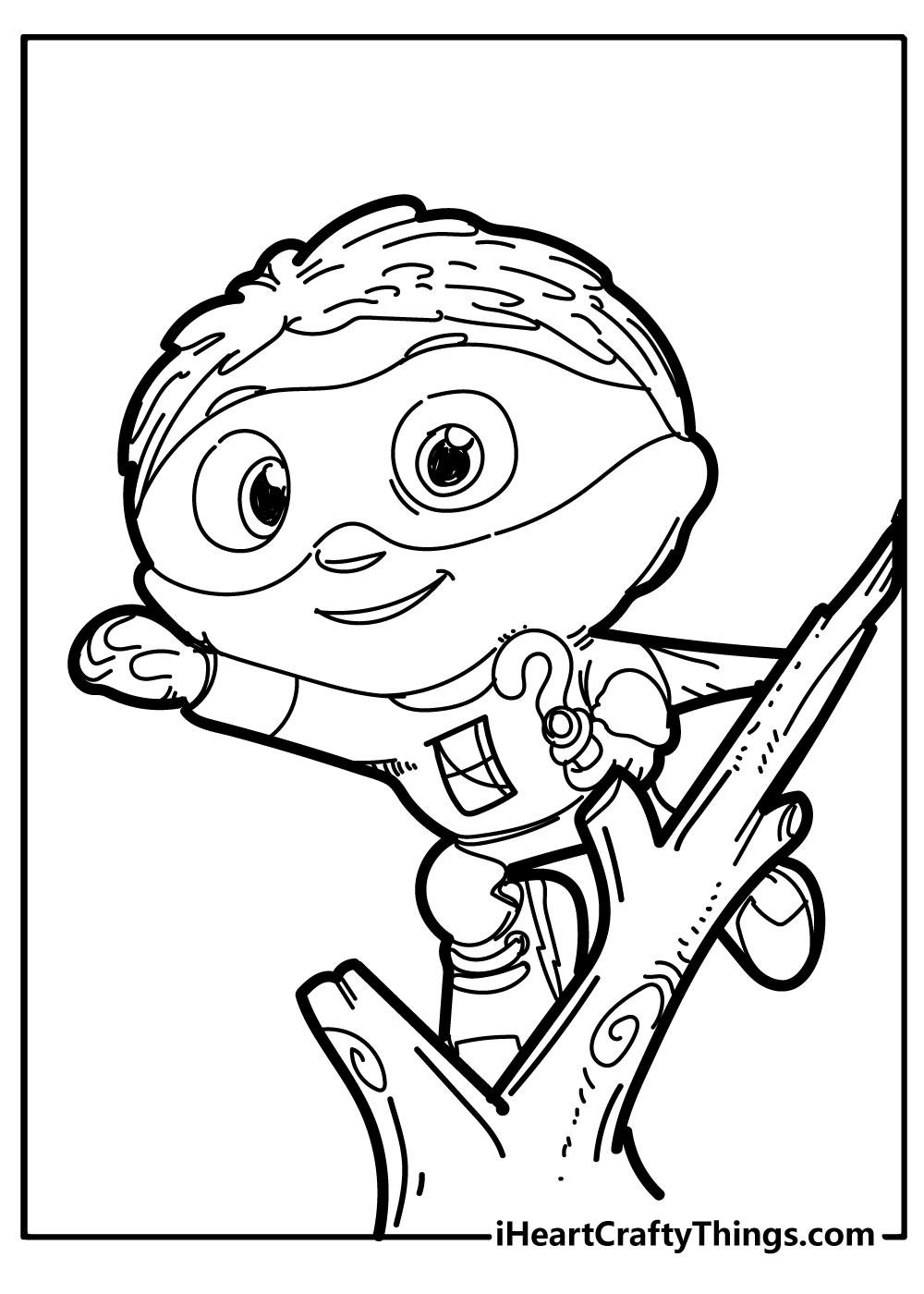 Just like coloring pages are a great way to teach children about colors, shapes, and patterns, Super Why is a great way to teach them about words and the world of reading.
Scientific study and testing by a team of specialists back up the reading skills and interactive activities in Super Why.
The show's instructional objectives are to help children read for pleasure and information, assist them in learning essential reading skills defined by the National Reading Panel, such as Emerging Literacy Concepts, The Alphabet Code, Fluency, Text Comprehension, Spelling, and Written Expression, provide fun literacy strategies, and allow children to practice what they learn.