Sunglasses can serve multiple purposes. On a basic level, they are designed to protect eyes from the harmful rays of the sun.
On the other hand, they can be a stylish fashion accessory on top of that. Because of this, they can come in many different designs and styles, and it can be fun to design your own sunglasses.
When doing this, learning how to draw sunglasses will allow you to make your own custom designs!
By the end of this guide, you will be ready to do just that!
This step-by-step guide on how to draw sunglasses will show you how to have fun while making your own awesome designs!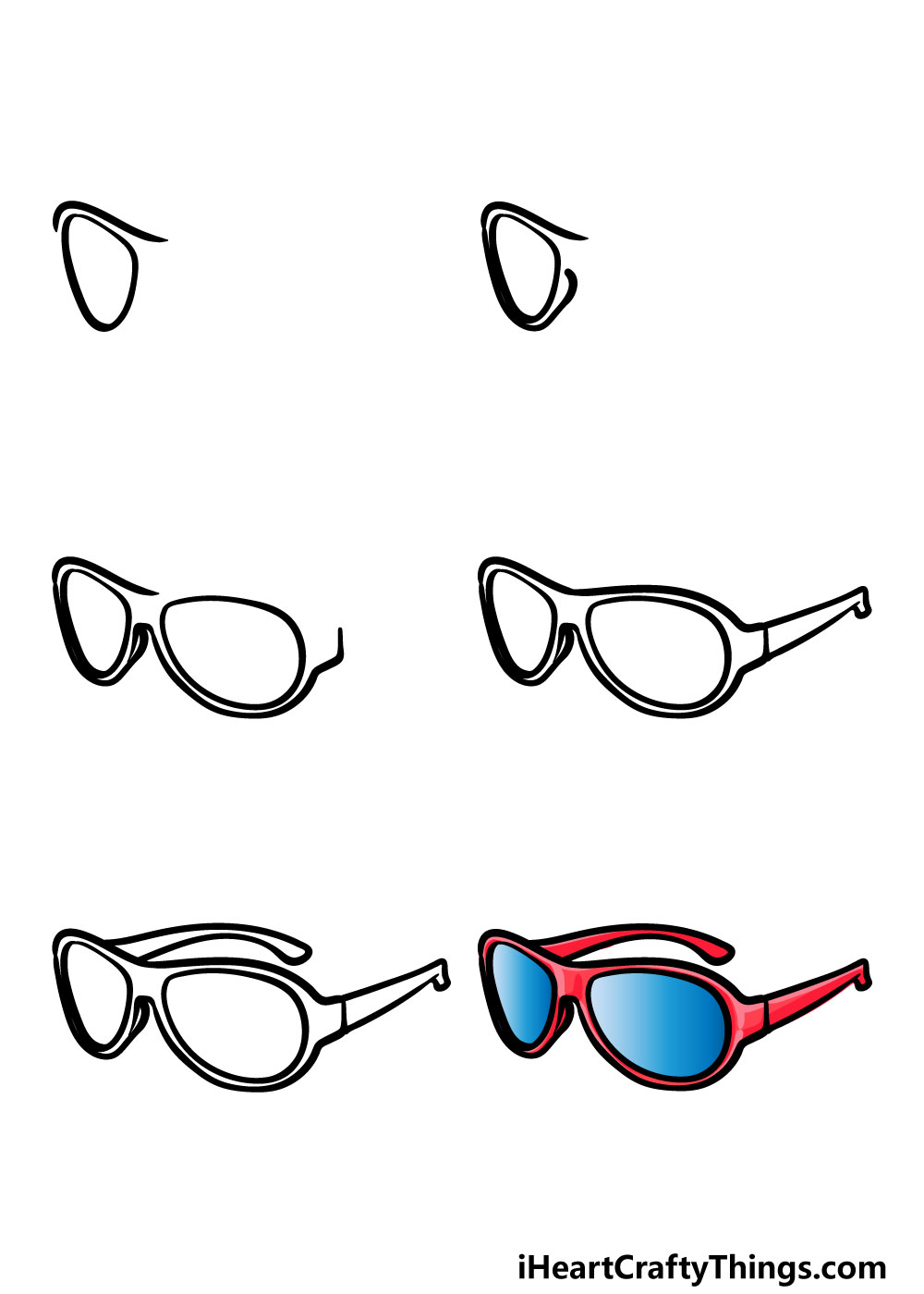 How to Draw Sunglasses – Let's Get Started!
Step 1
To kick off this guide on how to draw sunglasses, we will start with the lens on the left-hand side of the glasses.
To do this, we will be drawing a rounded triangle for the lens itself. Then, once you have that lens you can use another curved line above it for the frame the lens is set in.
That's all there is to it in this step, so let's move on to step 2!
Step 2 – Draw the rest of the frame for the left lens
Now that you have started the left-hand side of your sunglasses drawing, you can finish off the frame in this step of the guide.
To do this, you will be using another curved line to create the bottom of the glasses frame, as shown in the reference image.
That will finish off the left-hand side of the sunglasses, and we will start on the rest of the sunglasses in the next few steps.
Step 3 – Now, draw the right-hand side of the sunglasses
You have drawn one side of the shades in this guide on how to draw sunglasses so far, so drawing the right-hand side should prove easier!
This side will look quite similar to the lens on the left-hand side, but the angle will be a little bit different this time.
We won't be drawing the top of the frame yet, but we will be drawing that very soon once we move on.
Step 4 – Next, draw the temple of the glasses
In this fourth step of your sunglasses drawing, you will be finishing off the frame on the right-hand lens as well as adding the temple of the glasses.
First, use some more curved lines to draw the top of the frame, as you see it in our reference image.
The next part of the glasses that we will be drawing is called the temple, and this is what goes over the ears to keep the glasses on your face.
To draw this part of the sunglasses, you will be drawing some straight lines that will end in some curved lines at the end.
Step 5 – Now, you can finish the other temple of the sunglasses
We will be adding the last details and elements of the glasses in this fifth step of our guide on how to draw sunglasses.
Once we have added the final part as well as any additional details of your own, you will be ready to color in your drawing in the final step.
First, we will be drawing the second temple of the glasses. Because of the angle, this temple will be slightly more curved than the other one was.
With that temple, the drawing is complete! Before you move on, however, you can add some details and elements of your own that you may want.
This is a step where you can really let your creativity flow, but we will also go over a few ideas that you could try.
We mentioned creating your own designs earlier in the guide, and you could use what you learned in this guide to adapt it and create your own design. If you have a favorite pair of sunglasses then you could try to recreate them in this drawing.
You could also add some accessories to the glasses or draw some other objects beside it. If you're feeling ambitious, you could even draw yourself wearing this pair of sunglasses!
What other ideas can you think of to finish off this drawing?
Step 6 – Finish off your sunglasses drawing with some color
In this final step of your sunglasses drawing, you will be able to finish it off with some amazing colors!
We used a nice red for the frame of the sunglasses with some shades of blue for the lens. That is what we chose for our example, but now you can show us which of your favorite colors you think would suit this drawing.
Sunglasses can come in many different styles and color variations, so this gives you a lot of freedom with how you can color in this picture.
You could also experiment with different art tools and mediums to help bring the colors to life. By using mediums such as acrylic paints and colored pens you can create colors that pop off the page.
On the other hand, mediums such as watercolors or colored pencils can help to create a more muted, classic feel.
Anything you choose will look great, and we can't wait to see what you do!
5 Tips To Make Your Sunglasses Drawing Even Better!
Take a look at these tips we have for making your sunglasses sketch much easier
This drawing of sunglasses shows a standard pair of this item, but you could go for another style if you preferred. There are so many different types of sunglasses that you could go for!
They could be simpler or even more elaborate than these ones. Looking up real sunglassess online could help to provide you with some ideas.
What kinds of sunglasses would you like to create?
Another way to make this artwork more interesting would be to add different kinds of eyewear next to these sunglasses.
These could be anything from regular spectacles to something more unusual like a monocle.
What are some kinds of eyewear you could add to accompany this pair of sunglasses?
Moving away from eyewear, you could also add different clothing and accessories and items of clothing to the image. For example, you may want to pair these sunglasses with a hat or some jewelry.
You could use some of your own clothing and accessories as inspiration, or you could start to design your very own fashion ensemble and show what you would wear with these sunglasses!
Once you have the accessories and clothing you would like to have with these sunglasses, you could take it further by having someone wearing all of these things.
Who you base this character on would depend on your own preferences! They could be based on a person that you know, or maybe you could use a favorite actor or celebrity.
You could even be the model for this character!
A pair of sunglasses can be worn in all sorts of different places and environments, so drawing a background would be a great way to finish off this sunglasses sketch.
There are so many different places that these sunglasses could be worn. One of the obvious locations would be a beach setting, but it's far from the only location you could use!
Where would you like to set this sunglasses scene?
Your Sunglasses Drawing is Complete!
With these final details drawn and the colors added, you have reached the end of this guide on how to draw sunglasses.
We hope that you had lots of fun working on this guide, as we tried to make it as easy as possible for you to do. The more frustration you can take out of a new drawing the more you can focus on fun and creativity!
Now you can take what we covered in this guide and create your own designs and sunglasses creations.
By experimenting with different variations, backgrounds and color choices you can really create some awesome unique designs.
Once you are finished with this guide, you are ready for your next drawing challenge! We have many amazing guides for you to enjoy on our website!
We upload new guides frequently as well, so you should check in often to never miss out.
We would love to see your sunglasses drawing once it's done, so when it's ready we hope that you will share it on our Facebook and Pinterest pages!