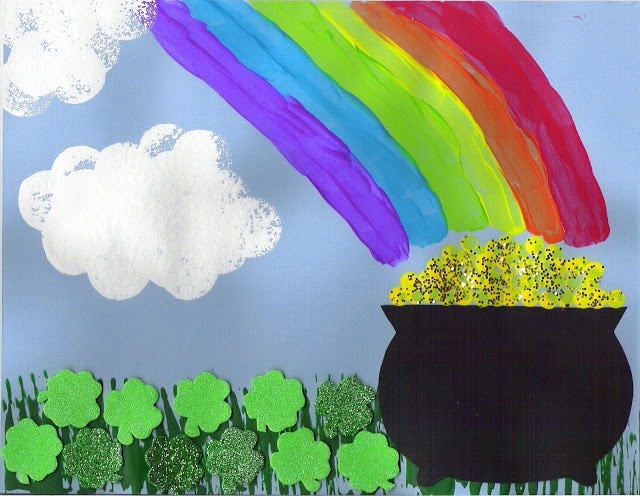 Sometimes when I get an idea for a craft in my head, I try it out myself first to see if I need to make any tweaks or changes. Tonight I made this St. Patrick's Day Art and am so pleased with how it turned out. My boys saw it sitting on the counter after it was completed and said how cool it was so I can't wait to have them make it later this week. (I'll post pictures of their completed projects at the end of this post once they are finished.)
I started by  using a fork to paint grass onto the bottom of a blue piece of cardstock paper. While it was drying I cut a black pot out of black cardstock paper and glued it on the grass. I painted the gold in the pot using a pencil eraser dabbed into yellow paint, then sprinkled gold glitter onto it while it was drying.
I used acrylic paints to paint a rainbow coming out of the pot and used a circular sponge brush to dab on white clouds. After the grass was dried I decided it would be fun to make the grass a clover field so I used glitter foam clover stickers that I had on hand and put them in the grass.
It has definitely got me in the St. Patrick's Day spirit!  🙂  If you are interested in what books we are reading this week to go along with our Rainbow/St. Patrick's Day theme you can read about them at the end of THIS post.
Happy Crafting!
I like to link my posts up to THESE fun link parties.