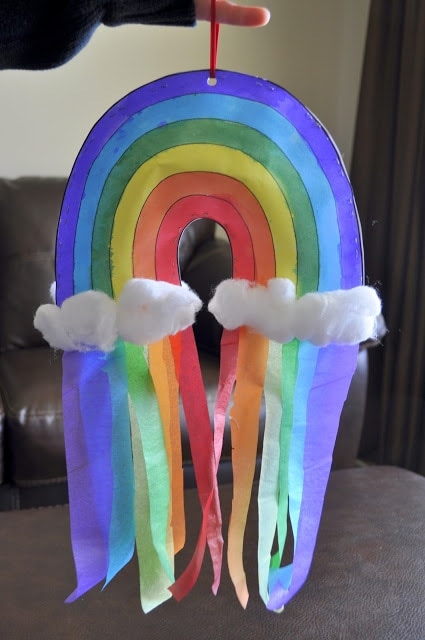 In honor of St. Patrick's Day coming up, we are spending the week learning about rainbows. I subscribe to The Mailbox Arts & Crafts weekly emails and I saw this adorable Rainbow Windsock that I couldn't resist trying. Isn't it pretty?
You will have to start by printing off the Rainbow Template form The Mailbox website. Since we are making a double rainbow, you will need to print off two of the templates. Their directions say to simply color the rainbow with crayons or use tempera paint, but I just purchased my first set of liquid watercolors and was dying to give them a try so we used watercolors. Once the watercolors are dry, cut out your two rainbows.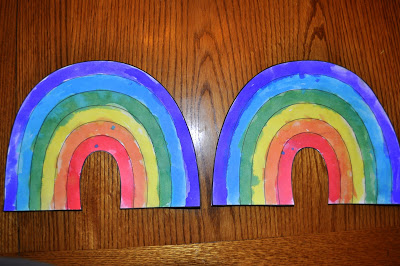 While our watercolors were drying I cut out 1 inch strips of tissue paper in each color of the rainbow: red, orange, yellow, green, blue and purple. You can use crepe paper if you have it or want to buy it, but since I didn't have any I went with what I had on hand.
Glue your tissue paper strips to the back of one of your rainbows in the correct color order. Your colors will probably overlap, but that's ok because it will just make it a better windsock.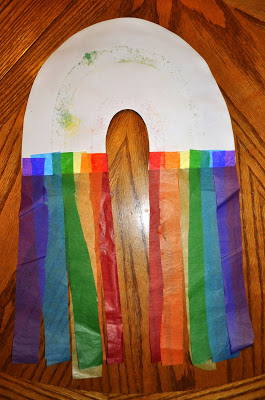 Next, put your rainbows together facing out and use a stapler to secure the bottom of the rainbows and start stapling up the side of each rainbow but leave enough room open to stuff it full of newspaper.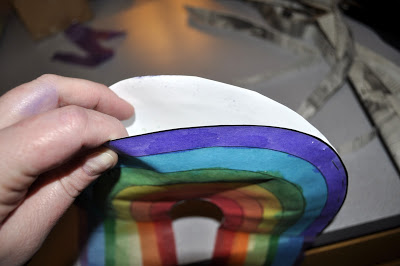 We just tore off strips of newspaper, crunched them up and stuffed our rainbow full of them to make it puffy. Finish stapling the rainbow shut when you are done stuffing it. You can see in the picture below how it looks puffy.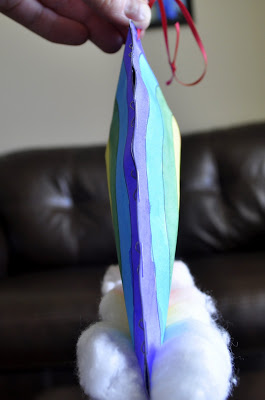 Next use school glue and cotton balls to glue clouds to the end of the rainbows.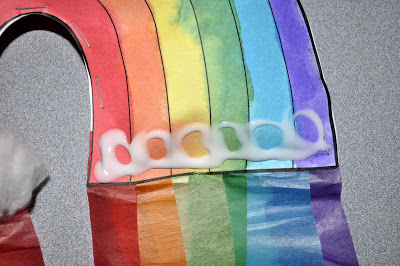 To finish making your windsock, punch a hole in the top of the rainbow and tie a string through it so you can hang it. We haven't hung ours outside yet, but we found a fun spot where the heater vent always blows on them. It's fun to see them twirl around. These would be super cute hung up in a classroom.  🙂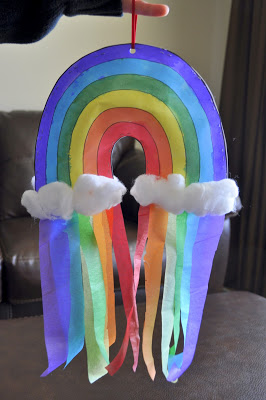 These are the books we are reading this week:
The Leprechaun Who Lost His Rainbow by Sean Callahan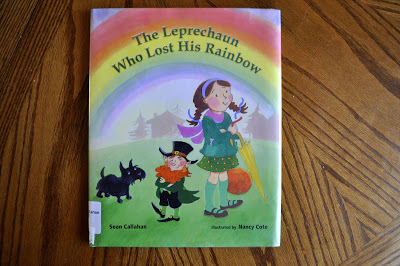 This is a perfect St. Patrick's Day story. It's raining outside while Colleen is waiting for the St. Patrick's Day parade to start. Her grandfather is supposed to play the bagpipes in the parade but Colleen is sad thinking no one will stick around and watch the parade because of the rain. A leprechaun appears and says he can make the sun come out by creating a rainbow, but to build it's colors, Colleen must give up the thing she holds most dear.
The Rainbow and You by E.L. Krupp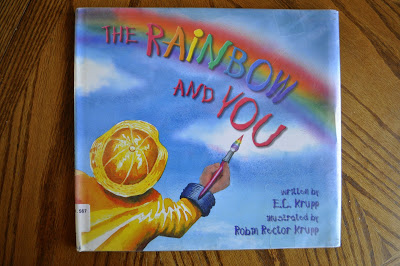 This is a great educational book about rainbows. Not only does it talk about how rainbows are formed but also talks about what different cultures in our history believed about rainbows.
Animal Colors by Beth Fielding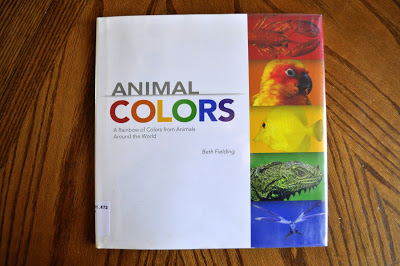 I threw this book in this week to show how rainbow colors are found in animals throughout the world. Each page is dedicated to a different color of the rainbow and has a paragraph about each animal pictured. We had fun trying to think of more animals other than those pictured. I also thought this book would be excellent paired with a rainbow collage craft.
Elmer and the Rainbow by David Mckee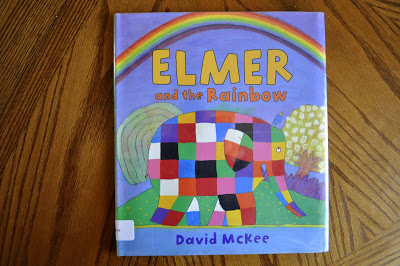 Elmer is sad when he discovers that the rainbow has lost its colors. He decides he will give the rainbow all of his colors but he has to find the end of the rainbow first. All of the animals help him but they are worried that Elmer will lose all of his colors if he gives them to the rainbow. Elmer finds the end of the rainbow behind a waterfall so he goes in to give it colors. When he returns and still has all of his colors he learns some things you can give and give and not lose any, like happiness, love or his colors.  🙂
Happy Crafting!!
I like to link my posts up to THESE fun link parties.