Every day, people dream about what their perfect car would be. Every car enthusiast has their favorite car, and opinions can differ greatly among them.
Many car fans love the style, speed and elegance that sports cars provide, so they are a common choice among car lovers.
While not everyone gets to own one of these beasts, it can still be fun to learn how to draw a sports car to imagine what your own one may look like.
This will be the perfect tutorial for any speed freaks that have dreamed of having their own sports car!
So get ready for some high-octane drawing fun in this step-by-step guide on how to draw a sports car in just 6 easy steps!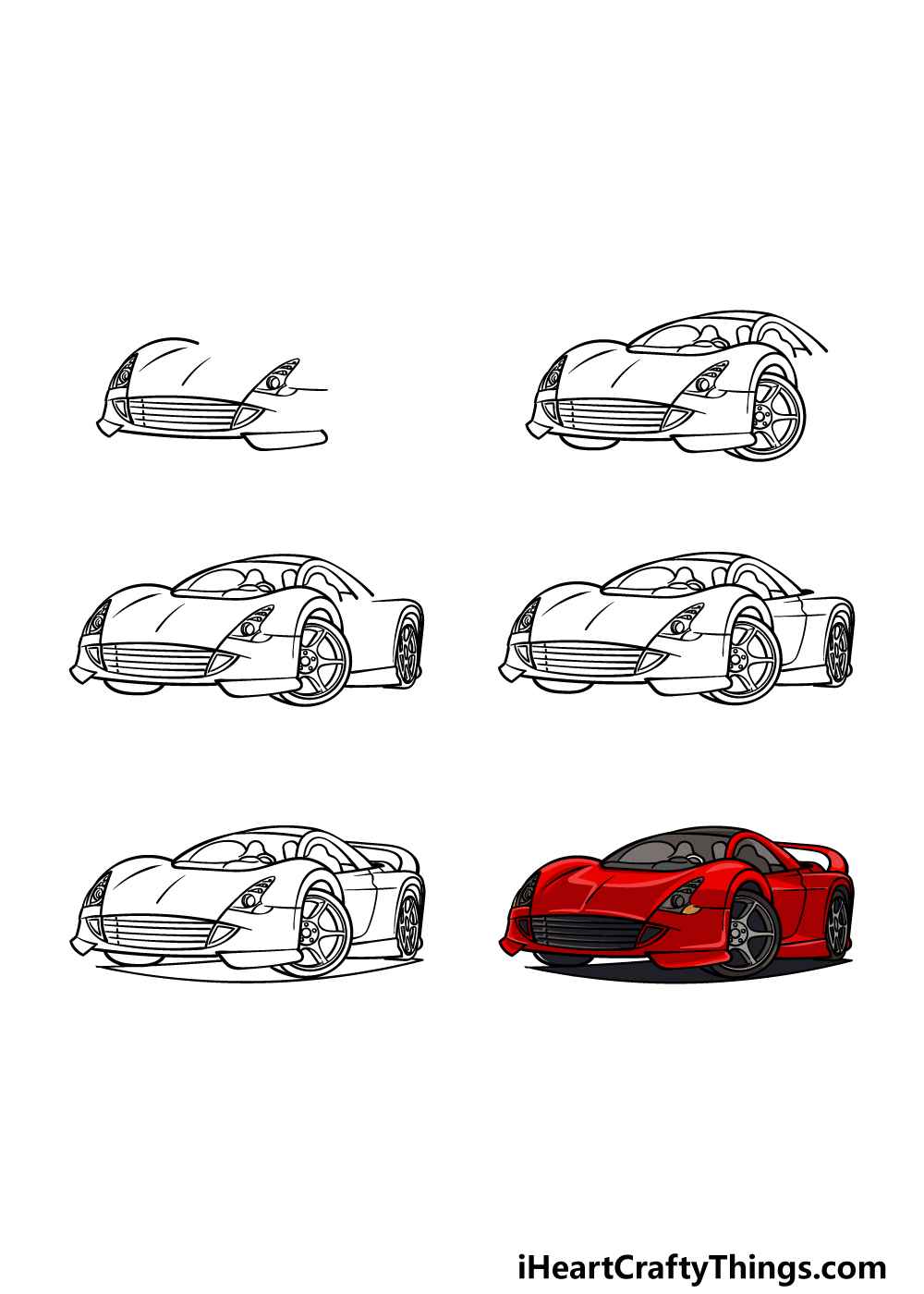 How to Draw A Sports Car – Let's Get Started!
Step 1
Anyone who has ever tried to draw one will tell you that drawing any type of car can be quite a challenge!
That's why even though these cars are known for their speed, we will take this guide on how to draw a sports car slowly as we work through it step by step.
When working through these steps, you should try your best to replicate the reference images we provided as closely as you can.
First, draw some rounded shapes and lines for the front lights of the car, and then draw the hood as it appears in our example.
Finally, draw the shape of the grill and the bumper, and then we can move on to the second step of this guide!
Step 2 – Now, draw the top of the car and the wheels
In this second step of your sports car drawing, we will be adding the top of the car along with the wheels.
Use some curved lines for the roof of the car, and then add some outlines for the car seats inside.
Then, draw a circular outline for the wheel on the right. This will then have some intricate detailing inside of it that you can draw using some smaller rounded shapes.
We won't be able to see much of the wheel on the left, but you can still draw the base using some more rounded lines. Then you will be ready for step 3 of the guide!
Step 3 – Draw the side of the car and the back wheel
Now we shall be drawing the side of the vehicle along with the back wheel as we begin this third step of our guide on how to draw a sports car.
First, use some straight lines for the base of the side of the car, and then use some curved lines for the top of this portion. Then, you can draw the back wheel of the car.
This wheel will be very similarly detailed to the first one, but due to the angle it is at we won't have such a good view of it.
Then, it's time for step 4 of the guide!
Step 4 – Next, draw the outline for the car door
We shall keep things nice and simple for this step of your sports car drawing! In this step, we will be drawing the line for the separation of the car doors.
To do this, simply draw a curved line extending up from the base of the middle section of the car.
We shall also create more definition for this area by drawing some short horizontal lines along the side of the door.
Once you have drawn these details, you will be ready for some final touches in the next step of the guide, so when you're ready let's head to that step!
Step 5 – Add the final details to your sports car drawing
This is the fifth step of this guide on how to draw a sports car, and in it we shall finish off with some final details.
First, we will finish the outline for the car. Like many sports cars, this one has a curved spoiler at the back of it. You can draw this using two curved lines, as shown in our reference image.
Finally, we will create a shadow beneath the car by drawing a rounded shape beneath it. Once this shadow detail is drawn, you will be ready for the final step of the guide!
Before that, you could also add some details of your own. There are lots of ideas you could go for when doing this.
You could draw a cool background or maybe even draw a driver for this awesome sports car!
These are just a few ideas, but how else can you think to finish off this image?
Step 6 – Finish off your sports car drawing with color
In the final part of this sports car drawing, we will bring it to life with some amazing colors! In our reference image, we used a beautiful bright red for the finish of the car while working in some black elements.
You could also go for this color scheme if you like it, but you also have many other options you could go for.
Sports cars can come in any color you can imagine, so you could use any of your favorite colors to finish it off!
When coloring your creation, you can also play around with various art tools and mediums to achieve your chosen color scheme. How will you finish up this incredible picture?
5 Tips To Make Your Sport's Car Drawing Even Better!
Race into drawing fun with these tips for your sport's car sketch!
When customizing a real sport's car, you may start with the color of the car. This drawing of a sport's car shows one that is a flashy red, and this does look great!
Even though this color really suits it, you may have a favorite color that would make it even better suited to you. If so, you should feel free to use your chosen color for this sport's car!
There are also other features you could add or remove to make this sport's car more ideal for your tastes. For example, you could add some rims to the wheels or give the car a sunroof.
These are just a few simple changes you could make to create your ultimate sport's car, but what are some others you could add?
Many people dream of owning their own sport's car, and many of these people also dream of racing them. For that reason, you could add a second car to this sport's car drawing.
This second car could be based on any of your favoirte types of sport's car, and you could depict an exciting race that's about to start!
Another way that you could envision yourself in this sport's car would be by adding yourself to the image! That way, you could make it look like this is your very own sport's car.
To do this, you could draw yourself sitting inside the car, or maybe you could have your character working on the car's maintenance. Would you add yourself or another character to the scene?
Finally, you could finish off your sport's car sketch by showing where you would like to drive it. You could do this by adding a cool background for your artwork.
This could be based on a road near where you live that you would like to ride a sport's car through. Or, maybe you could take inspiration from one of the more exotic roads found in the real world.
Your Sports Car Drawing is Complete!
We mentioned at the start of this guide on how to draw a sports car that drawing a car of any kind can be a rather tricky task!
By following the steps in this guide, we hope that you found it to be a fun and easy experience to take on. As long as you follow all of the steps and take your time, we know you will do an amazing job!
Then you can finish off with your own awesome extra details, additions and color choices. We can't wait to see what you choose when finishing it off!
Then, when you're done with this guide you will definitely want to check out our website. We have some great guides waiting for you there, and this collection is constantly growing!
Lastly, it would be amazing to see how your sports car drawing turned out. You can show off your creation by sharing it on our Facebook and Pinterest pages.