Ancient Greece is known for many things, from its innovative society and architecture to the incredible myths and legends that many of its people believed in.
Ancient Greece was also often known for its formidable military prowess, and the city-state of Sparta is especially recognized for this.
Spartan warriors were a force to be reckoned with, and today they are still well known and recognized by aspects such as their distinctive helmets.
Learning how to draw a Spartan helmet is a great way to relive some of the great adventures these warriors took part in.
If you are a fan of the Spartans, then this should be a great tutorial for you!
Our step-by-step guide on how to draw a Spartan helmet in 6 steps will help you to recreate this iconic helmet.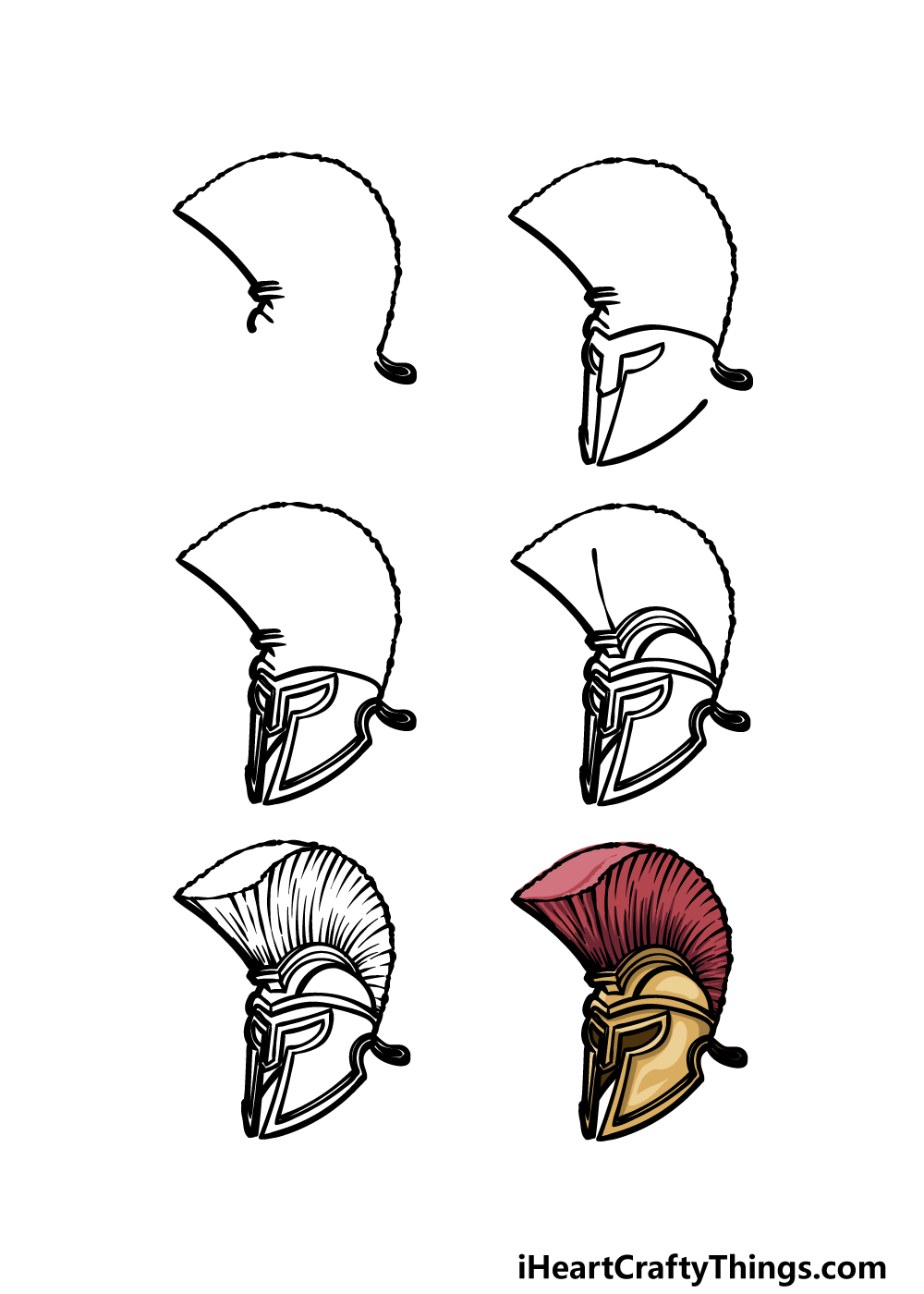 How to Draw A Spartan Helmet – Let's Get Started!
Step 1
Spartan helmets often had an impressive crest on top of them, and they would be made from substances such as feathers or horse hair.
We will be drawing the outline for this crest in this first step of our guide on how to draw a Spartan helmet.
To start this, use a smooth and slightly curved line for the front of the crest. The crest will extend all the way to the back of the helmet, and to draw the top of it we shall be using a bumpier line.
This kind of line will help to make the top of the crest look a bit more textured.
We shall also start drawing the top of the helmet that the crest will be attached to, and once that is done we shall move on to step 2!
Step 2 – Now, draw the faceplate of the helmet
The faceplates of Spartan helmets were quite distinctive in appearance.
They had holes over the eyes with an opening down the front of the face, and this is the design we will be adding for your Spartan helmet drawing.
Start by drawing a curved line with a bit of a sharp portion dipping down near the left-hand side of the faceplate. This will form the top of the faceplate, and then we can start drawing the rest of it.
Using the reference image to guide you, use some curved and straight lines for the various sections of the faceplate.
Remember to include the holes over the eyes and mouth, and also be sure to draw a section covering the nose. Once this faceplate is complete, it will be on to step 3.
Step 3 – Draw some details for the faceplate
Now that you have most of the faceplate done, we shall add some more details to it in this step of our guide on how to draw a Spartan helmet.
To do this, draw some more lines along the perimeter of the faceplate that you started in the previous step.
This will create a sort of rim for the outline of the faceplate, and will help to make it look a bit more dynamic.
This rim will also extend from the back of the faceplate to fill in the gap between it and the back of the helmet.
Step 4 – Next, start drawing the base of the helmet crest
Continuing with this Spartan helmet drawing, the next thing we will be drawing will be the base of the crest.
This would have been a small metallic section clamping the material that the crest is made of inside of it.
To draw it, we will be using some curved lines near the top of the helmet. The front of this section will be smaller and drawn with some straighter lines.
While drawing this section, you can also use a curved line for the top of the helmet. Once these aspects are done, we will be ready to add some final touches in the next step of the guide!
Step 5 – Add the final details to your Spartan helmet drawing
Before you add some color to your artwork, we have a few final details and touches to add in this step of our guide on how to draw a Spartan helmet.
The main thing that we will be touching on will be to add some texture to the crest.
You can do this by adding some straight lines along the side of the crest to make it look more like clumps of material held together.
Once these texture details are done, you will be free to add any additional details of your own! Maybe you could draw someone wearing the helmet or create an awesome background for the image. How will you finish it off?
Step 6 – Finish off your Spartan helmet drawing with color
Now you're ready to finish off your Spartan helmet drawing by adding some amazing colors to it. In our reference image, we went with a pretty classic Spartan helmet color scheme.
This means that we used a lovely rich red color for the crest of the helmet with some gold for the metallic portions of the helmet.
For an image like this, striking mediums such as acrylic paints and colored markers would really make the image stand out.
Any mediums you choose will look great, so now it's your chance to show off the colors and mediums you would choose to finish it off!
4 More Ways To Make Your Spartan Helmet Drawing Unique
Get this Spartan helmet sketch ready for battle with these fun and easy tips!
One of the easiest ways to make this Spartan helmet drawing look even better would be to add a face wearing it. This would be easy, because the helmet doesn't show much of the face!
That means that there would be only a small portion of the face that you need to draw. You could still show off a fierce facial expression with this limited space, however!
What kind of facial expression could you create for this image?
Once you have added a face to this drawing of a Spartan helmet, you could take it even further by drawing more of the body. The Spartans had distinctive armor, and it would be fun to draw it!
If you don't know what their armor would look like off the top of your head, you could look up pictures and drawings online. These would help make the proportions and details so much easier to do.
What sorts of poses would you create if you were to add more of the soldier's body?
If you added a body, then you could make the scene even more realized by drawing a background for this Spartan helmet drawing.
There are loads of cool scenes you could create! For one, this soldier could be in an epic battle with many other soldiers in the scene.
It could also be a calmer scene of soldiers marching or feasting together. These are just a few ideas, but what else could you depict for a background scene?
If you would prefer to keep the design focused on the helmet, you could add some more tools that a Spartan would use to this Spartan helmet drawing.
For example, the helmet could be sitting on a table along with a sword and pieces of armor. You could even add some burning candles or maybe battle maps for some simple details.
What are some other tools and weapons that you could include with this Spartan helmet?
Your Spartan Helmet Drawing is Complete!
The Spartans may have been known for their battle prowess, but hopefully this guide on how to draw a Spartan helmet was no battle for you to complete!
This helmet is pretty detailed and specifically designed, so that's why we tried to break it down into smaller steps for you to take on.
When you have completed this guide, you can keep it going by adding some ideas of your own.
We mentioned drawing a face and a background as a few ideas, but what else can you think of to finish off this awesome drawing?
If you had fun with this guide, you'll be pleased to know that we have many more drawing guides on our Facebook and Pinterest pages! We upload new ones often, so we hope you'll check in frequently.
When your Spartan helmet drawing is complete, we would be thrilled if you would share it on our Facebook and Pinterest pages so we can see how it turned out!