There have been many technological innovations that have made transportation and exploration easier than ever.
Of all of these, spaceships are probably the most incredible, and these technological marvels capture imaginations around the world.
Whether they're real designs or featured in a science fiction movie, many people love these machines and would like to learn how to draw a spaceship.
This guide will help you in your journey to design your own awesome spaceship! By the time you finish this tutorial you will be ready to fly into space with your imagination.
We hope that you enjoy this step-by-step guide on how to draw a spaceship in 8 easy steps!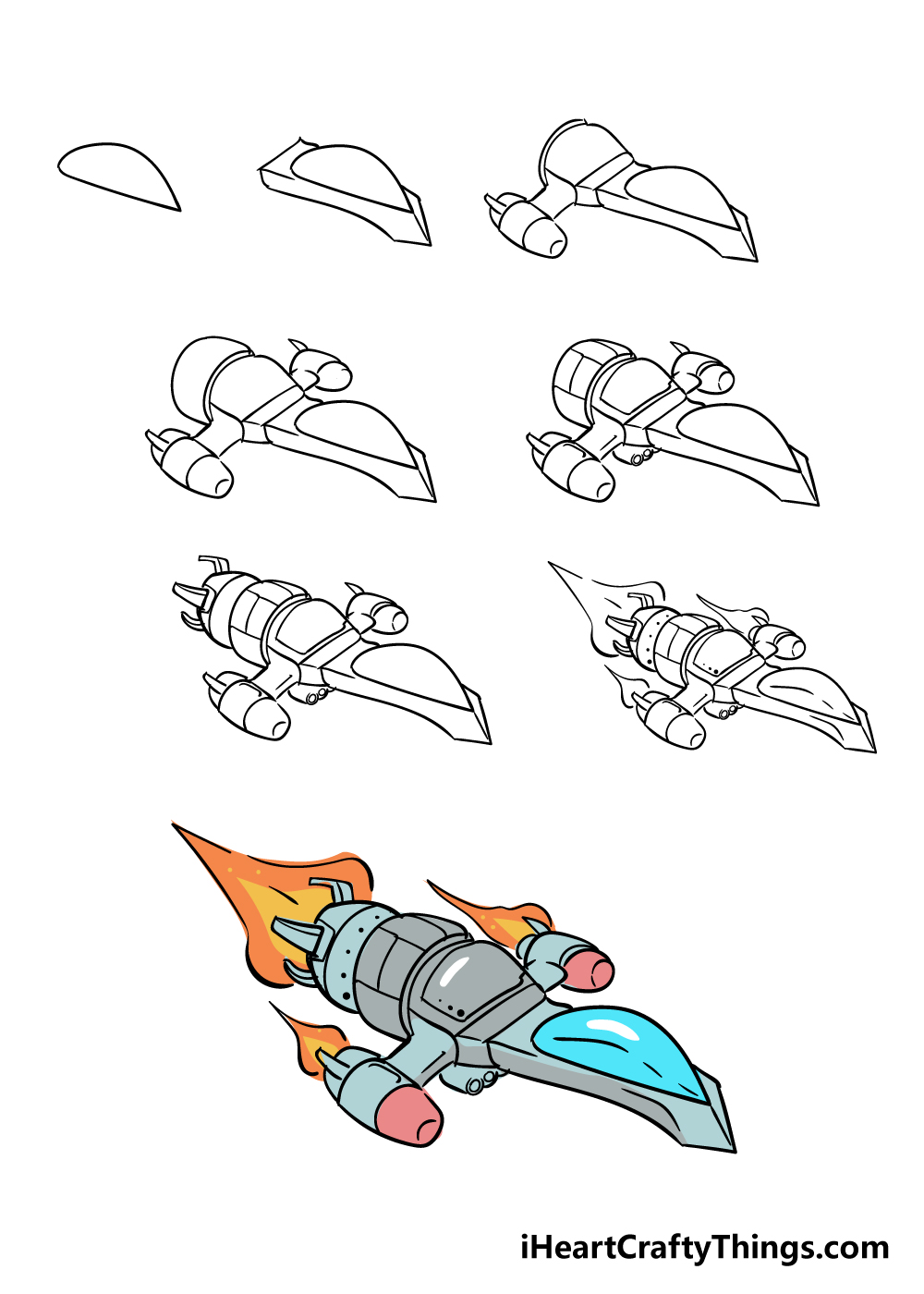 How to Draw A Spaceship – Let's get Started!
Step 1
To launch this guide on how to draw a spaceship, we shall begin with the glass covering of the cockpit for the spaceship.
As you can see in the reference image, this will be a rounded shape with a sharp point on the right-hand side.
The shape should look a bit like a sideways teardrop shape that you will be adding on to in the next few steps.
Step 2 – Next, draw the next section of the spaceship
You will be adding on to the cockpit of the spaceship for this next step of your spaceship drawing.
This next step can sound a bit tricky, so referring closely to the reference image will help a lot as you draw!
The front section of the cockpit will be more pointed, will curve on the bottom and then have a more rectangular back.
This is a step you'll want to take slowly as you draw, and be sure to refer closely to the reference image. Once you're happy with how it looks, it's on to step 3!
Step 3 – Now, draw the back section of the spaceship
The section that we will be adding behind the cockpit you've been drawing will consist of the thrusters for your spaceship.
This will have quite a large, rounded section connected to the cockpit, and this rounded section will have a thin section extending from it.
Finally, you can draw a rounded thruster at the end of that thin section. It sounds tricky, but it becomes much easier when you follow along with the image!
Step 4 – Next, draw some more of the thrusters
In this part of your spaceship drawing, you can add another thruster on the right-hand side of the spaceship.
This one will be smaller than the first in order to show perspective. Finally, you can add a large, rounded thruster onto the backside of the spaceship.
That's all there is to it for this step, so now you're ready to move on!
Step 5 – Now, add some detailing to the spaceship
You will be adding some detailing to the body of the craft in this fifth step of our guide on how to draw a spaceship.
Using some curved lines, these details will go on the body and thrusters of the spaceship, as shown in the reference image.
There's also another shape that you can add underneath the body of the spaceship that has some small circles within it.
Step 6 – Next, finish off the back thruster of the spaceship
The main thruster at the back of your spaceship is not quite finished yet, so we shall be adding another section to it in this step of your spaceship drawing.
This section will be rounded like the rest of the thruster, and it will have three angular sections coming off of it.
Step 7 – Now draw the final details
You will be able to add some color to your picture very soon, but first you have some final details to draw in this step of our guide on how to draw a spaceship.
The main element to add is some intense flame coming out of each of the three thrusters.
There are also some minor details that you can add to the cockpit and throughout the spaceship to really finish it off.
Before you move on to the final step, be sure to add any final details that you would like for your image! One idea you could use would be to draw a background for your spaceship. It would really finish this image off nicely if the spaceship is soaring through space!
Step 8 – Now finish off your spaceship drawing with some color
Your spaceship drawing is pretty much done at this point, but there's still one more fun step to take care of!
Before this picture is fully done, you can finish it off with some brilliant colors. This spaceship has a futuristic and creative design, so while we showed one way that you can color it in you should use any colors that you love!
This spaceship would look great whether you use more bright and vibrant colors or keep it more muted.
For brighter colors, you could use mediums such as acrylic paints or colored pens for colors that pop!
For that more muted look, you could play with some mediums such as watercolors and colored pencils.
It's completely up to you, and we can't wait to see how you finish off this amazing spaceship drawing of yours!
Your Spaceship Drawing is Complete!
We hope that you had some out-of-this-world fun while working on this step-by-step guide on how to draw a spaceship!
This spaceship design is quite creative and intricate, and you should be very proud of reaching the end of this guide.
We created the tutorial to make drawing this awesome spaceship not only much easier but also a lot of fun! Hopefully it achieved both of those goals for you.
Now you can get even more creative with how you finish off and personalize this spaceship drawing!
Whether you do it with extra details, a cool background or with some creative colors and art mediums we know you'll do a great job.
When you're ready for more drawing fun, we have many more awesome step-by-step drawing guides for you to enjoy on our website.
We upload new guides frequently on our site, so be sure to check in often to never miss out!
We would also love to see your incredible spaceship drawing, so please be sure to share it on our Facebook and Pinterest pages when it's done for us to enjoy!