While there may be many things that separate different people, there's one thing we all have in common. Everyone reading this guide, along with everyone on Earth, has a skeleton head!
The skeleton head is very important, as it helps to protect the brain and helps to keep our heads together!
They have also become a symbol of spookiness, and skeleton heads are popular as Halloween decorations.
Because they are so complex, it can be a bit tricky to learn how to draw a skeleton head, unless you have the right guide.
Luckily, that guide is in front of you now!
Get ready for this incredible step-by-step guide on how to draw a skeleton head in just 6 steps.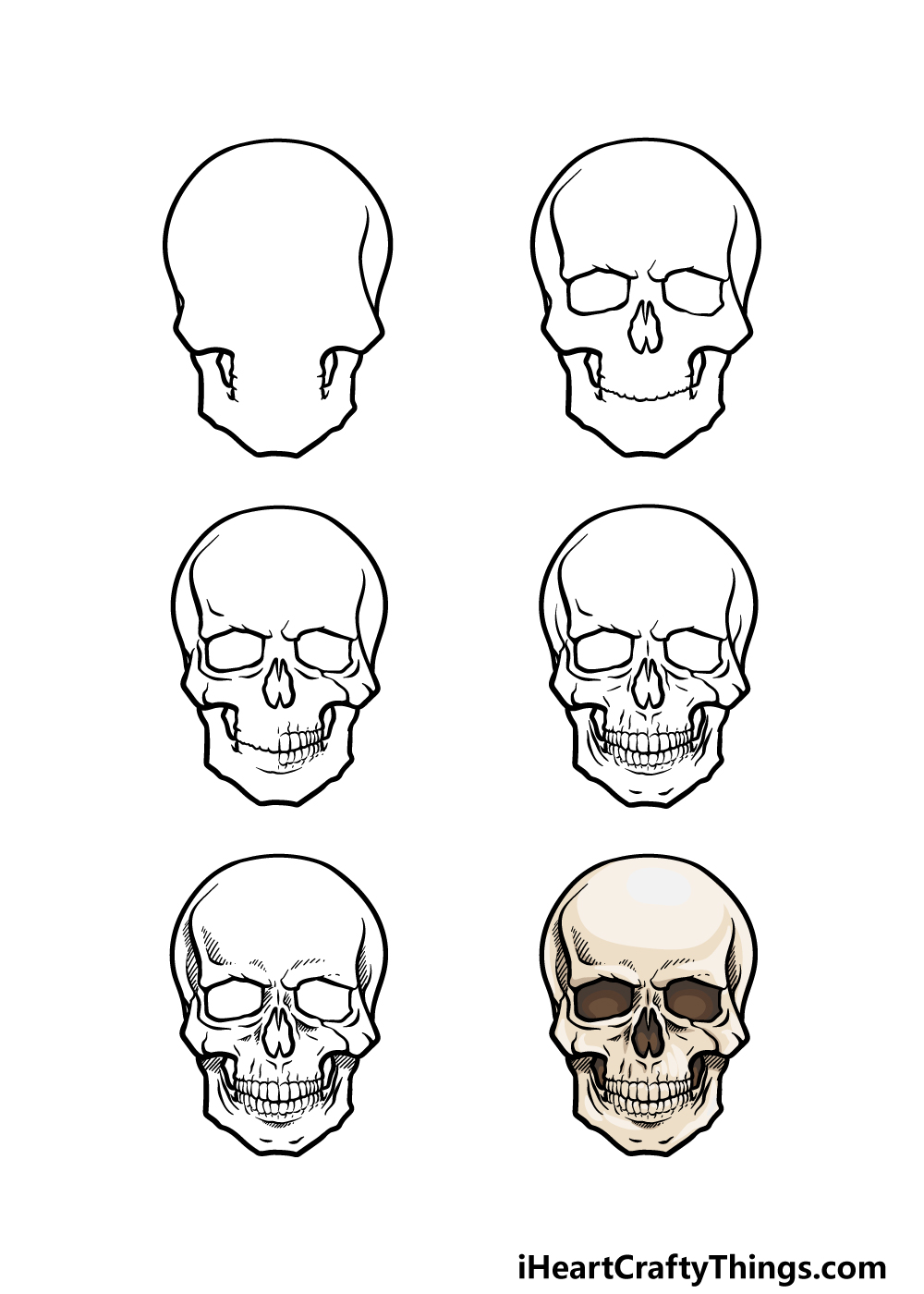 How to Draw A Skeleton Head – Let's get Started!
Step 1
We will begin with the outline of the picture in this first step of our guide on how to draw a skeleton head.
The skeleton head outline has some specific shapes, lines and structure to it, so we will cover each element slowly and individually.
The top of the skeleton head will be quite rounded and it will lead directly to some sharp lines for the cheekbones.
The jaw bone will also be drawn with some straight lines to make it quite squared and angular.
Finally, you can extend some lines inside the skeleton head down from the cheekbones, as this will start off the outline of the teeth that we will be drawing later.
Step 2 – Next, start drawing the facial details
We have the general outline completed, so now we can start to add some of the facial features to your skeleton head drawing.
First, we will be drawing the eye sockets. These will be some flat, generally oval shapes, but we will be using some fairly angular lines to draw them.
There will also be some curved lines extending up from their outer corners. We will then be drawing the nose cavity, and this has quite a curious shape.
It will have two sharp points at the top with two slightly rounded points at the base. Finally, you can finish off this step by starting the bumpy lines that will be where the rows of teeth connect.
Step 3 – Now, draw some teeth and facial details
For this step of our guide on how to draw a skeleton head, we will be focusing on the beginning of the teeth and facial details.
For the teeth, you can start drawing a row of rounded teeth shapes connecting to the central line that you started earlier. For now, we will be working on the right-hand side, but we will finish it off later.
Then, we will be adding some simple detail lines around the eyes and cheeks of the skeleton head to help give it some more definition. Then you're ready to move on to step 4!
Step 4 – Next, finish off the teeth and add some more facial details
This step of the tutorial will see you adding the rest of the teeth along with some more facial details.
For the teeth, you will simply be extending what you started in the previous step by adding some more individual tooth shapes onto the central row that you started earlier.
Then, we will be adding some more line details throughout the skeleton head, and these areas will include the jaw, cheeks and around the eyes to name a few.
Then all that remains is to add some final details in the next step and you're ready to color in!
Step 5 – Now, finish off your skeleton head drawing
We will be focusing on some final details for this part of our guide on how to draw a skeleton head. Mostly, we will be focusing on some shading details for the skeleton head.
To do this, we will be adding some thin line details to most of the contours of the skeleton head, and the reference image will show you where these should be placed.
These lines will help to give the skeleton head a bit more depth to it. Then, you're ready to move on! Before you do, you should be sure to add any details and additions that you may want for it.
You could draw some more of the skeleton, create a background or maybe turn this into a spooky Halloween poster!
There are lots of creative ways that you can put your own spin on this drawing, so be sure to get creative with it and see what you can come up with.
Step 6 – Finish off your skeleton head drawing with some color
Now comes the final step of your skeleton head drawing, and in this step you will be bringing some amazing colors to your drawing.
In our reference image, we went with a light beige for the skeleton head while using some browns for the eye sockets and nose cavity.
These are just some examples for what you could go for, however, and you should feel free to use any colors you like for it.
You could keep the colors more realistic like our example, but you could also be more stylistic with it by using some brighter colors.
Then you can have some fun deciding on the art mediums you will use to apply the colors, and we can't wait to see what colors and art tools you choose!
Do this to take your skeleton head drawing to the next level
Find out how you can make this skeleton head sketch even better with 4 fun ideas!
A skeleton head is inherently creepy for some reason, but you could make this one even creepier! This would help to give it a Halloween spin, and there are many ways to do this.
You could add some red eyes to this drawing of a skeleton head or maybe change the facial expression to be more sinister. Adding things like cobwebs or gravestones to the background would also help to make it creepier.
How else can you think of to make this drawing even creepier than it is now?
It would also look really cool to incorporate a background into this skeleton head drawing. You would have many options for how to do this whether you decided to go for a Halloween spin or not.
Maybe it could be on the shelf of a room in a haunted house or at the entrance of a pirate's lair. These are just a few ideas, but you can probably think of many more to try!
Next, you could also draw more of the skeleton that this skull is attached to. This could be trickier than you think, so you may want to consult some diagrams of real skeleton structures.
Or, you could add a different kind of body to turn this skeleton head into a scary horror character! This would work even better if you added a creative background as we suggested in the previous step.
What kind of pose would you choose to depict this character in?
Another fantastic way to make this skeleton head sketch even cooler would be to turn it into a sugar skull.
These colorful skulls are adorned with flowers, shapes and bright colors to celebrate the Day of the Dead.
Adding this touch would allow you to draw some beautiful patterns and use all of your favorite bright and vibrant colors.
You could look up some examples of sugar skulls online if you need some inspiration!
Your Skeleton Head Drawing is Complete!
You have completed all 6 steps of this guide on how to draw a skeleton head!
We aimed to create a more realistic skeleton head for this guide, and for that reason there were quite a few small, intricate details to work in.
This can make it tricky, but we hope that this guide showed you that it can be easy and fun to do if you have the right steps.
Now you can decide on what kind of picture you would like! You could make this picture more subdued by portraying the skeleton head as an object, or you could maybe go more stylistic by making a Halloween-inspired picture. It's up to you and there are many options to go with!
Seeing as this guide is complete, you are now ready for your next drawing challenge! You can visit us on our website for a huge list of guides that we upload frequently to.
We would be glad to see your finished skeleton head drawing, so please be sure to share it on our Facebook and Pinterest pages!