Our oceans hold some of the most incredible creatures on the planet. There are amazing animals to behold all over the world, but the sea truly holds some of the most unique and intriguing creatures.
The seahorse is one great example of this. This weird and wonderful creature looks unlike any other animal, although it does resemble a horse a bit.
Learning how to draw a seahorse is a great way to visually represent this odd little fish.
If you love the seahorse and would like to feature it in some fun artwork, then this will be a tutorial you won't want to miss!
Our step-by-step guide on how to draw a seahorse in just 6 steps will show you just how fun and easy it can be!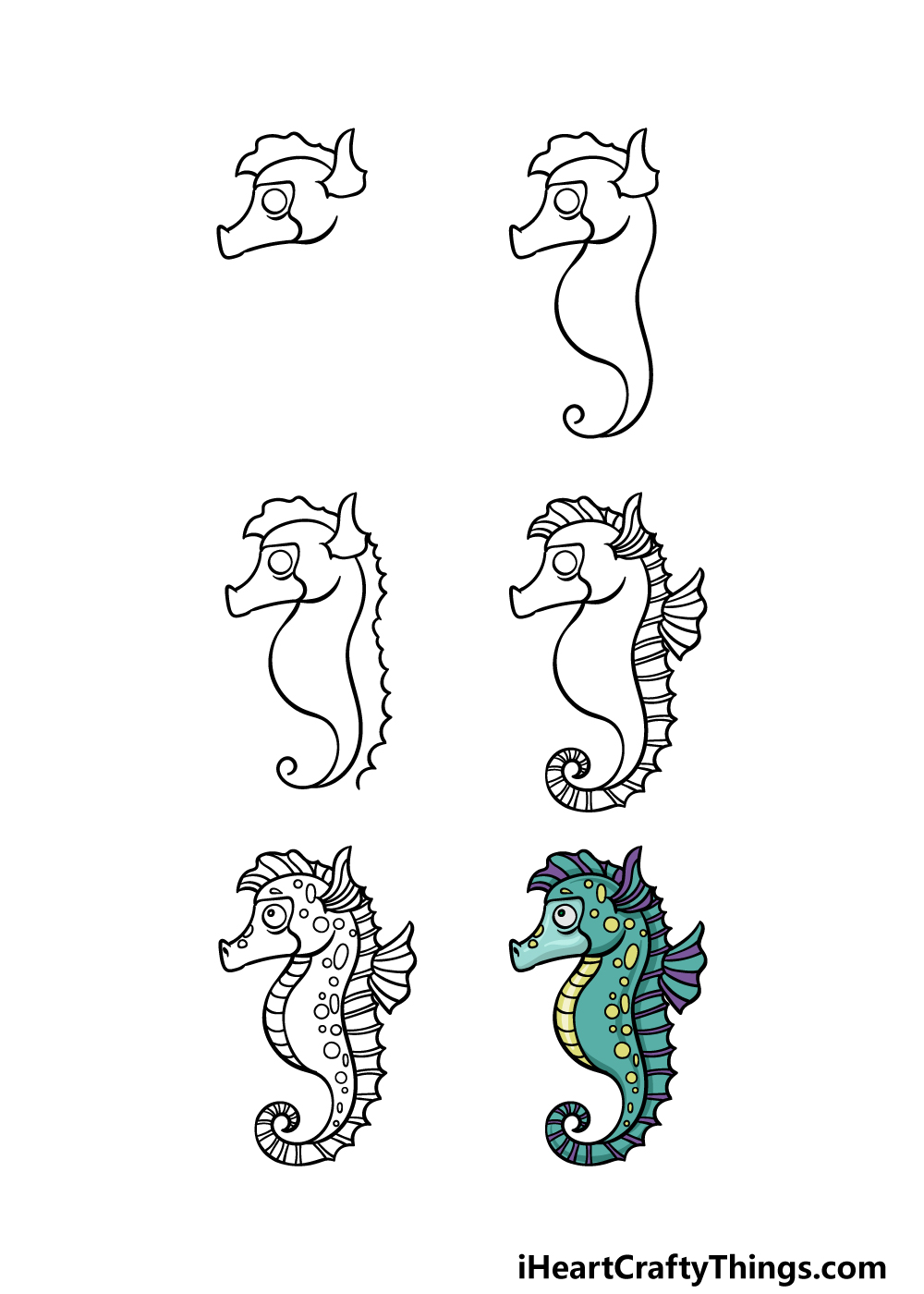 How to Draw A Seahorse – Let's Get Started!
Step 1
The seahorse is a rather unusual-looking creature, and that can make it a bit of a challenge to draw one.
That's why we will take it slowly and take it step by step as we work through this guide on how to draw a seahorse.
You can start by drawing a small circle for the eye on the side of the face. Then, use some long, curved lines for the snout of the seahorse extending to the left of the image.
Use some more curved lines for the rounded outline of the head, and then add a long, pointy fin extending up over the top of the head.
Finally, use some bumpy lines for the fin on top of the head. Then you can move on to step 2!
Step 2 – Now, draw the outline for the body of the seahorse
You've drawn the head of this seahorse drawing, and in this second part we will be focusing on the body outline.
This is an important aspect to get looking right, as it plays a big role in creating that recognizable look of the seahorse.
The body is rather curved and rounded, and we will be drawing it using some wavy, curved lines.
The belly will be extending outward a bit, whereas the back will curve inward, as shown in our reference image.
Finally, you can also draw the start of the tail. The tail of a seahorse ends in a spiral shape, and you can use a rounded line to draw the start of this shape before moving on.
Step 3 – Draw the rest of the pointy back fin of the seahorse
Seahorses have a pointy fin that extends from the top of their heads and all along their bodies.
You drew the section of this fin that is on the head in an earlier step of our guide on how to draw a seahorse. In this one, we will be drawing this fin extending down the back and towards the tail.
To do this, we will be drawing a rather bumpy line running parallel to the back and tail.
Each bump will be sharp and pointy to give the edge of this fin a pointier look. It will end with a blank space near the bottom of the tail, but we will be finishing that off very soon.
Step 4 – Next, finish off the fin and the tail
This fourth part of your seahorse drawing will see you finishing not only the fin on the back but also the tail and side fin.
First, draw a curved line from the end of the pointy back fin to form the curly tail of the seahorse. Then, draw some stripes onto this end section of the tail.
Once that is done, we will also draw some stripes along the back fin. Each of these stripes will end at each pointy tip of the fin, as shown in our reference image.
Finally, draw a large fin onto the right-hand side of the seahorse near the fin. Then, we can finish up the final details and touches in the next part!
Step 5 – Add the final details to your seahorse drawing
Soon, you will have the opportunity to have some fun coloring in your creation in the final step of this guide on how to draw a seahorse, but first we have some final touches to add.
First, add a small circle inside of the eye for the pupil. Then, we drew lots of small, rounded shapes all throughout the interior of the body outline.
These are the details we went for, but you could also add some of your own! Another fun thing to do with a drawing like this is to draw a background.
This would be a great opportunity to draw a vibrant ocean background, so do you think you will create one for your artwork?
Step 6 – Finish off your seahorse drawing with color
Now you can finish off this seahorse drawing with some amazing colors! In our reference image, we showed you just one way that you could color this cute seahorse in.
We used some light turquoise for most of the body, and then we used highlights of purples and yellows for some of the finer details.
Do you think you would like to use similar colors to the ones we chose, or do you think you will pick a completely unique color scheme?
Be sure to have fun with it as you play with your colors and favorite art mediums to finish this off!
Do this to take your seahorse drawing to the next level
Dive into this selection of tips to make your seahorse sketch so much better!
This unusual fish will often be found in pairs, and that means it would be great to add a second fish to your drawing of a seahorse! You know how to do it after finishing this guide, so it should be easy.
One easy way to do this would be to draw the second seahorse facing the opposite direction to this one. You could do this by flipping the images in the guide and then following it that way.
How many seahorses would you like to add to the image?
Adding a second seahorse is just one way that you could populate this drawing. There are so many different sea creatures that you could also include in the image.
These could be some normal fish or maybe something more exotic like an octopus. You could include all of your favorite sea creatures in order to make a vibrant underwater scene.
What kinds of creatures do you think you would like to have in this scene?
Speaking of building an underwater scene, you could also create a background for your seahorse drawing. This could be a great addition especially if you added more sea creatures.
This could include a sandy seabed with coral, rocks and all kinds of other underwater features. Even if you just add some blue with some bubbles, it would make this such a stunning scene!
What are some other details you could add to an underwater scene?
A seahorse can come in many amazing color combinations, and you could use any colors you love for your seahorse sketch. We spoke a bit about colors you could use for the seahorse, but there is so much you can try.
This not only includes unusual color choices, but you can also play around with different art tools and mediums. It can also be fun to mix various mediums together, such as colored pens or paint.
What kinds of colors and art tools would look best for this image?
Your Seahorse Drawing is Complete!
We hope that you had an amazing time recreating this wonderful little creature as we worked through this guide on how to draw a seahorse!
When drawing such a unique animal, it can become difficult to get right, but as long as you follow all of the steps we laid out then you should get the hang of it easily!
Then, you can have even more fun as you finish off with some details and ideas of your own! What details, backgrounds or creative colors will you use to bring this image to life?
There's more fun to be had on our website, as we have dozens of amazing drawing guides like this one for you to enjoy!
If that wasn't enough, we plan to bring out many more soon, so keep checking in to enjoy those as well.
Lastly, we would be thrilled if you would share your finished seahorse drawing on our Facebook and Pinterest pages for us to see!