For many years, cartoons were regarded as a medium exclusively meant for children, but that has changed in the last few decades.
While many cartoons are still made for kids, there are many more that are definitely aimed at adult viewers.
The show Rick and Morty is one of the most popular recent examples of one of these shows. Known for its smart, dark humor and quirky characters, many people can't get enough of the show.
Many of them also like to learn how to draw Rick and Morty to display their love for the characters.
If you're a fan of this grandfather and grandson adventure duo, then this will be a tutorial you won't want to miss!
We hope that you have a great time working alongside us on this step-by-step guide on how to draw Rick and Morty in just 6 steps!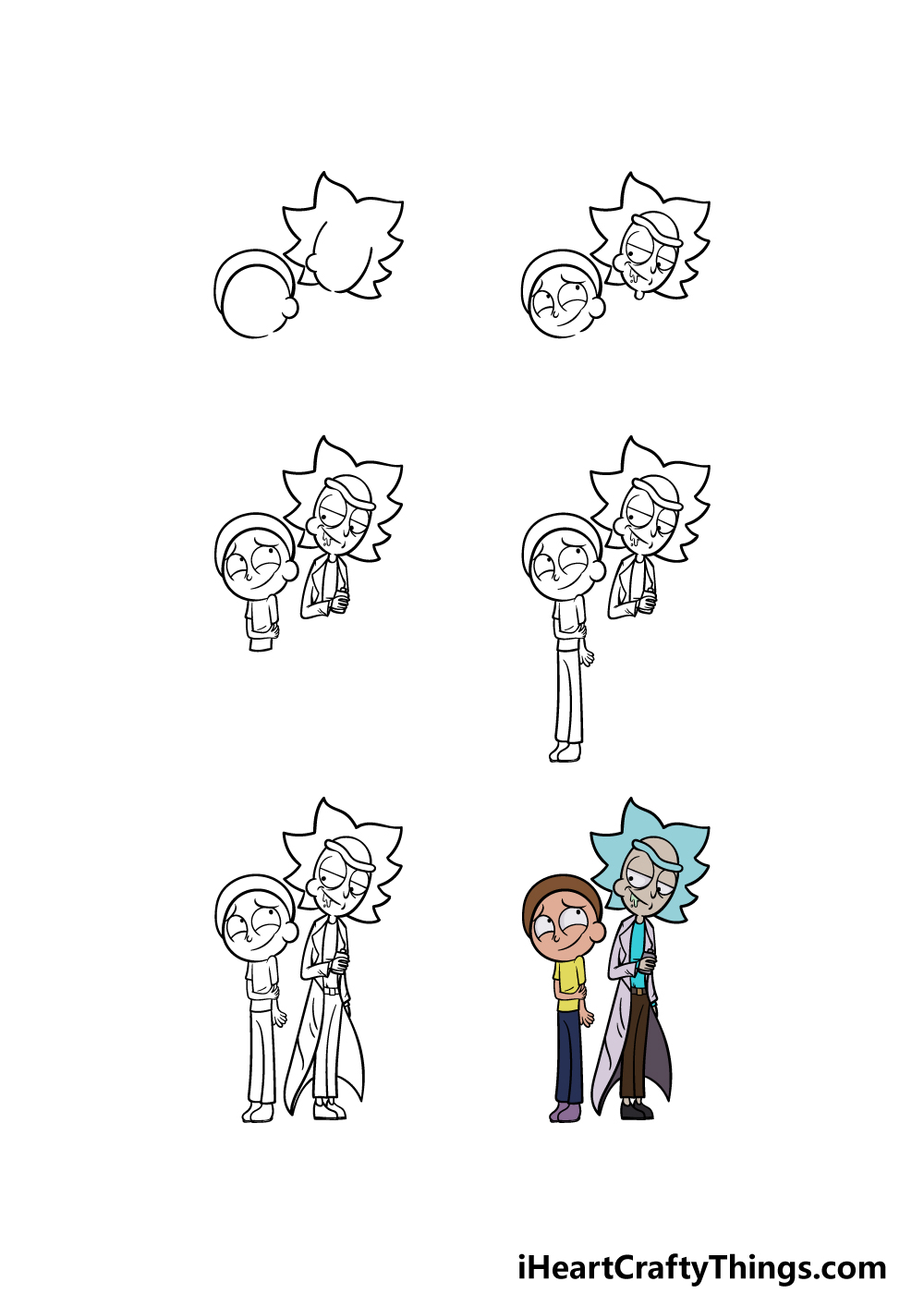 How to Draw Rick and Morty – Let's Get Started!
Step 1
In this guide on how to draw Rick and Morty, we will be drawing the pair in a slightly stylized style, so they will look a bit different to how they look in the show.
First, we will begin with the head outlines for Morty on the left and Rick on the right. Morty has a rounded head shape, and his hair is also rounded and flat against his head.
Rick has a thinner, longer head, and his hair is large and spiky on top of it. We won't draw any facial details for now, but we will add these elements soon as we proceed further into the guide.
Step 2 – Now, draw the facial details for Rick and Morty
For this part of your Rick and Morty drawing, we will start their facial details.
Morty is a more nervous, anxious character while Rick is more confident, and these character traits will be represented by their expressions.
Morty has rounded eyes with simple line details for his eyelids, eyebrows and mouth. Rick has a single thick eyebrow over his rounded eyes, and his mouth has some drool perpetually dropping down from it.
Once you have drawn all of these features, we can then move on to the third step of the guide.
Step 3 – Draw the chests and arms for the characters
In this third step of our guide on how to draw Rick and Morty, we will focus on the chests and arms of the characters.
These elements will also help to highlight the personality traits of each character. Morty is wearing a simple shirt, and his arm on the left will be nervously clutching the one on the right.
Rick will be wearing an open lab coat, and his hand will be clutching his ever-present flask that he drinks from. That's all there is to it for this step, and then we can move on to step 4!
Step 4 – Next, draw some legs for Morty
We will turn the focus to Morty in this fourth step of your Rick and Morty drawing! To finish him off, we will be drawing his legs and shoes.
His legs are long, thin and slightly curved. His shoes are also quite small, and they are drawn using some curved, rounded lines.
With Morty's outline complete, we can focus on Rick's outline along with any final details and additions in the next step of the guide.
Step 5 – Add the final details to your Rick and Morty drawing
Now you're ready to finish off the final details of this guide on how to draw Rick and Morty by completing the design for Rick!
Finishing off Rick's design will be a bit more involved than it was for Morty. First, use some more curved lines to draw his lab coat flowing down from the upper sections.
Then, we will use some simple rectangular and square shapes for the belt that he is wearing. Finally, finish off with some more long, slightly curved lines for the legs of his trousers.
Once you have finished Rick off, you're ready for the final step! Before you do move on, there's a lot of room for you to get creative with the image.
In the show, Rick and Morty go on many adventures to imaginative alien worlds, and this could be a chance for you to flex your creative skills as you design a cool setting.
If you have a favorite location from the series, you could also recreate it for this image. How will you complete this Rick and Morty drawing?
Step 6 – Finish off your Rick and Morty drawing with color
This is the final step of your Rick and Morty drawing, and in it we shall finish off with some colors!
These characters each have a specific color scheme for their clothing, and we aimed to keep the colors accurate to how they look in the show.
Starting with Morty, he has light brown hair with a simple yellow shirt and blue pants.
Rick has light blue hair, and his skin is a pallid grey color. His shirt beneath his white lab coat is a brighter blue, and his pants are brown.
For your image, do you think you will stick with these established colors, or will you create a unique color palette for the duo?
Your Rick and Morty Drawing is Complete!
These characters are known for the wacky adventures they embark upon, and we hope that you enjoyed the drawing adventure in this guide on how to draw Rick and Morty!
Drawing characters like this can be quite challenging even if you're very familiar with them, so we hope that this guide made it fun and easy for you to do.
There's a lot of room for you to show off your imagination as you finish this image.
The show is also known for the whimsical, colorful settings the stories take place in, and you could have some fun creating a fun background for them.
What kind of setting would you put these two adventurers in?
You can then venture to our website when you're ready to take on a new drawing challenge.
Our many drawing guides cover everything from famous characters to awesome animals, so keep checking in to experience our ever-growing selection!
We would be interested to see how your Rick and Morty drawing came out, so please share the finished image on our Facebook and Pinterest pages!