There are lots of characters that have gained a lot of love and fans on the Internet. One of the most popular and iconic of these characters is the adorable Pusheen Cat!
This round and cute kitty has won fans the world over, and has been shown in all manner of cute scenarios.
Pusheen Cat may be super popular, but even with her simple design it can still be a challenge learning how to draw Pusheen Cat.
Worry not though, as with the right guide it can be made much easier!
This step-by-step guide on how to draw Pusheen Cat will show how to recreate this Internet icon with ease.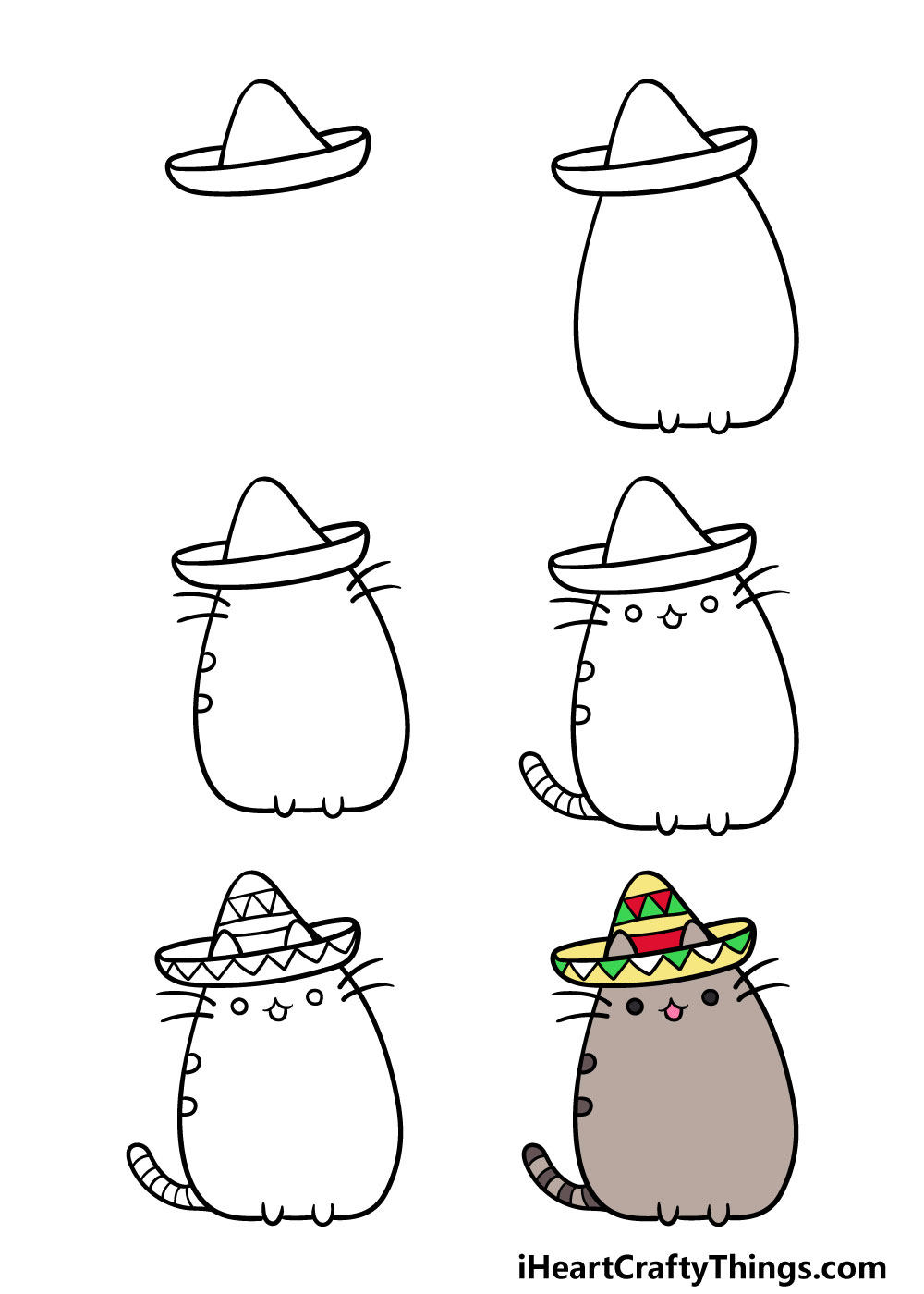 How to Draw Pusheen Cat – Let's get Started!
Step 1
In this guide on how to draw Pusheen Cat, we will be drawing her in a cute sombrero. We will begin with that sombrero in this first step before we draw Pusheen herself.
First, use some sharp lines to create the rim of the hat. Then, use a rounded triangle shape on top of the rim for the tip of the hat.
Finally, use two more lines from the tips of the rim going towards the tip of the hat, as shown in the reference image.
Step 2 – Draw the body for Pusheen Cat
We will be drawing the entire body for your Pusheen Cat drawing in this step. Drawing the whole body in a single step may sound like a tall order, but her simple design will make it possible!
Her body is a round, chubby oval, and you can use a curved line to draw it coming down from the hat.
Finally, at the base of her body you can draw two small curved lines for her little paws. That's all there is to it for this step, so let's move on!
Step 3 – Now, draw the whiskers and spots for Pusheen
This next step of our guide on how to draw Pusheen Cat should be a simple one for you to do! First, use two curved lines on each side of her face for the whiskers coming from it.
These will be quite high up on the body, and will start just under the sombrero hat.
Before you move on, you can also draw two small circle shapes on the left hand side of her body for some spots on her body.
Step 4 – Next, draw her face and tail
It's about time that we added a cute face to your Pusheen Cat drawing, so let's go ahead and do that now! Much like other aspects of Pusheen, her face is quite simple to draw.
Her eyes are two simple, small circles on either side of her face. Then, between the eyes you can use two small, curved lines for the top of her smiling mouth. Finally, there will be one more small, curved line beneath this for the bottom of her mouth.
Before you move on, you can also give her a wavy tail and draw lines all along it. You can also change the positioning of the tail a bit if you want to as well!
Step 5 – Now, you can finish off the ears and final details
You're almost at the final step of this guide on how to draw Pusheen Cat! Before that, we have just a few details to add first.
First, you can use two small, rounded triangle shapes on the rim of her hat for her ears poking up.
Then, once you have the ears drawn, you can add some detail to her sombrero. We used some jagged lines to create a triangular pattern for the hat, but this is just one of many ways that you could go about it.
You could replicate our design, or you could decorate her hat with your own patterns! That will finish off the final details, but before you move on, you can also add your own details and elements.
One great idea would be to draw a cool background for Pusheen.
This would be a great way to show what kind of fun setting she is in! Pusheen Cat loves to eat, so maybe you could draw some tasty treats for her to enjoy as well.
What extra details and elements can you think of to cap off this adorable drawing of yours?
Step 6 – Finish off your Pusheen Cat drawing with some color
This final step of your Pusheen Cat drawing is all about finishing it off with some amazing colors. Pusheen herself has quite a muted color scheme, as she usually appears with a more muted grey color scheme.
We can counter this more muted look with her sombrero accessory, however, so it's a good thing that we added that! Having some brighter colors for the hat will contrast nicely with her more muted body color.
If you drew a background, then you can also incorporate some amazing colors for those aspects.
Once you know what colors you would like to use, you can bring them to life with your favorite art mediums and tools.
For more muted colors, you could use something like watercolors and colored pencils for that look. More vibrant colors can be achieved with tools like colored pens and acrylic paints.
Will you stick to one medium or mix some together for some incredible colors?
Here's how you can make your Pusheen cat drawing even better…
Make your Pusheen cat sketch even better with these tips for your adorable artwork.
This drawing of Pusheen cat is wearing a fun sombrero hat, and this is one example of how you could dress up this character.
You could keep it simple by adding different hats for Pusheen cat to wear.
Some examples would be a chef's hat or even a top hat. These are just a few examples, but there are so many more you could add!
What are some hats you could give to Pusheen cat?
Of course, you don't have to stick to just hats, as you could also add different items of clothing. For instance, she could be wearing a scarf, sweater or other kinds of outfits.
If you wanted to create a themed outfit, she could be outfitted in a Christmas sweater and Santa hat for a festive spin. There are many other fun themed outfits you could create as well, however!
If there's one thing that Pusheen cat loves, it's food! For that reason, you could add some fun food items to this Pusheen cat drawing.
There are so many different kinds of food that you could add, and picking some of your own favorites would be a good place to start. Some tasty doughnuts or maybe a big birthday cake would surely be appreciated by Pusheen cat!
These are just two of millions of food items you could use, so now you get to show off what your perfect culinary showcase would be.
Finally, you could finish off your Pusheen cat sketch with a background setting. The style of Pusheen cat is simple, so the background could be just as simple which means you could portray anything you like.
Earlier we mentioned a festive theme, and if you did that then you could draw objects like Christmas trees and decorations.
This is just one example, but you could make all kinds of themed backgrounds.
Do you think you would like a themed background or would you prefer something more standard?
Your Pusheen Cat Drawing is Complete!
You've made it this far, and that means that you have successfully completed this guide on how to draw Pusheen Cat!
We hope that by using this guide you found drawing this beloved internet cat to be easy and lots of fun.
Remember that whenever you face a drawing challenge you can help conquer it by breaking it down into steps and taking it slow.
Now you can take over and put your own spin on your Pusheen Cat drawing. You could design a background, change up Pusheen's pose or even change her hat accessory!
Along with the colors and art mediums you use, you can really bring your image to life and personalize it.
Once you're satisfied with your drawing, you can visit our website for more awesome drawing guides! We upload new ones covering all manner of topics frequently, so be sure to check in often!
We would also love to see your cute Pusheen Cat drawing, so please be sure to share it on our Facebook and Pinterest pages when it's done!