My 5yr old has been asking me non-stop for a couple days if he can make a pumpkin faces craft so I decided to turn the activity into something educational. Remember when I did that fun
Snowman Math Activity
with my preschooler last Winter? We did it again, but made pumpkins instead of snowmen.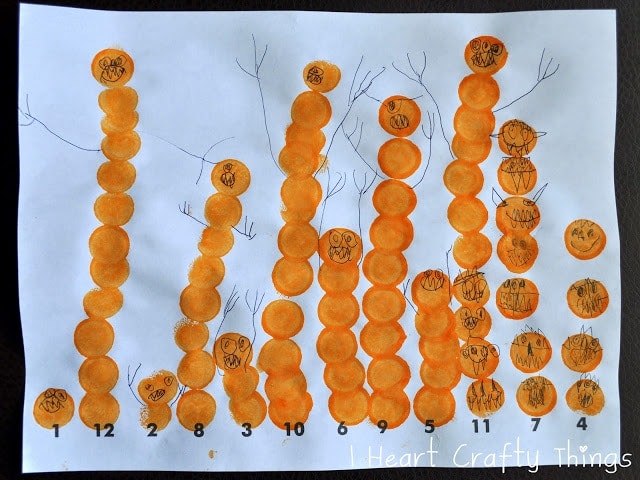 The activity is so simple. I printed out a sheet that had numbers 1-12 on the bottom. Last year I kept them in order but since Luke just started Kindergarten, I wanted to make it a little more difficult so I mixed the numbers up.
Have your child use an orange Dot Marker to make the correct amount of pumpkins above each number, then they can decorate them to their hearts content. You can clearly see my son lost a little steam after decorating 15 pumpkins, so I suggested he just decorate the top pumpkin in each column. He liked that idea.
If your child is learning their number words, check out my Snowman post for an an idea of using flashcards with this activity. I made a quick printable with the numbers at the bottom if you need one. For the numbers in order click HERE. For the numbers out of order click HERE.
My son's idea to decorate pumpkin heads came from him checking this book out at the library this week, Night of the Pumpkinheads by Michael J. Rosen.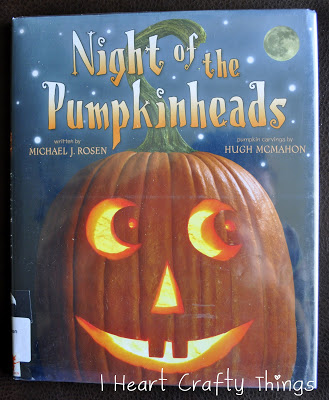 A group of restless pumpkinheads are tired of spending every Halloween sitting
on the porch while all the kids get to dress up and go trick-or-treating. This
year, the pumpkins magnificently transform into fearsome Frankenstein, the Loch
Ness monster, a woolly mammoth, and even a grand slime beast . . . and then hit
the town!
Luke was astounded by the amazing photographs of Hugh McMahon's real carved pumpkins and he laughed at the story's surprising ending. I thought it was a fun read for Halloween, especially since Luke enjoyed the carved pumpkins so much. There are even directions in the back to make one of the carvings in the book.