The Powerpuff Girls are some of the most beloved little superheroes of all time!
These little girls were created in a lab accident that left them with incredible powers that they use to save their home, the city of Townsville.
They have also featured on many products, TV shows and even movies, and their many fans may like to know how to draw the Powerpuff Girls.
By the end of this guide, you will know how to do it yourself so you can create your own superhero adventures!
This step-by-step guide on how to draw the Powerpuff Girls in just 8 steps will show you how easy and fun it can be!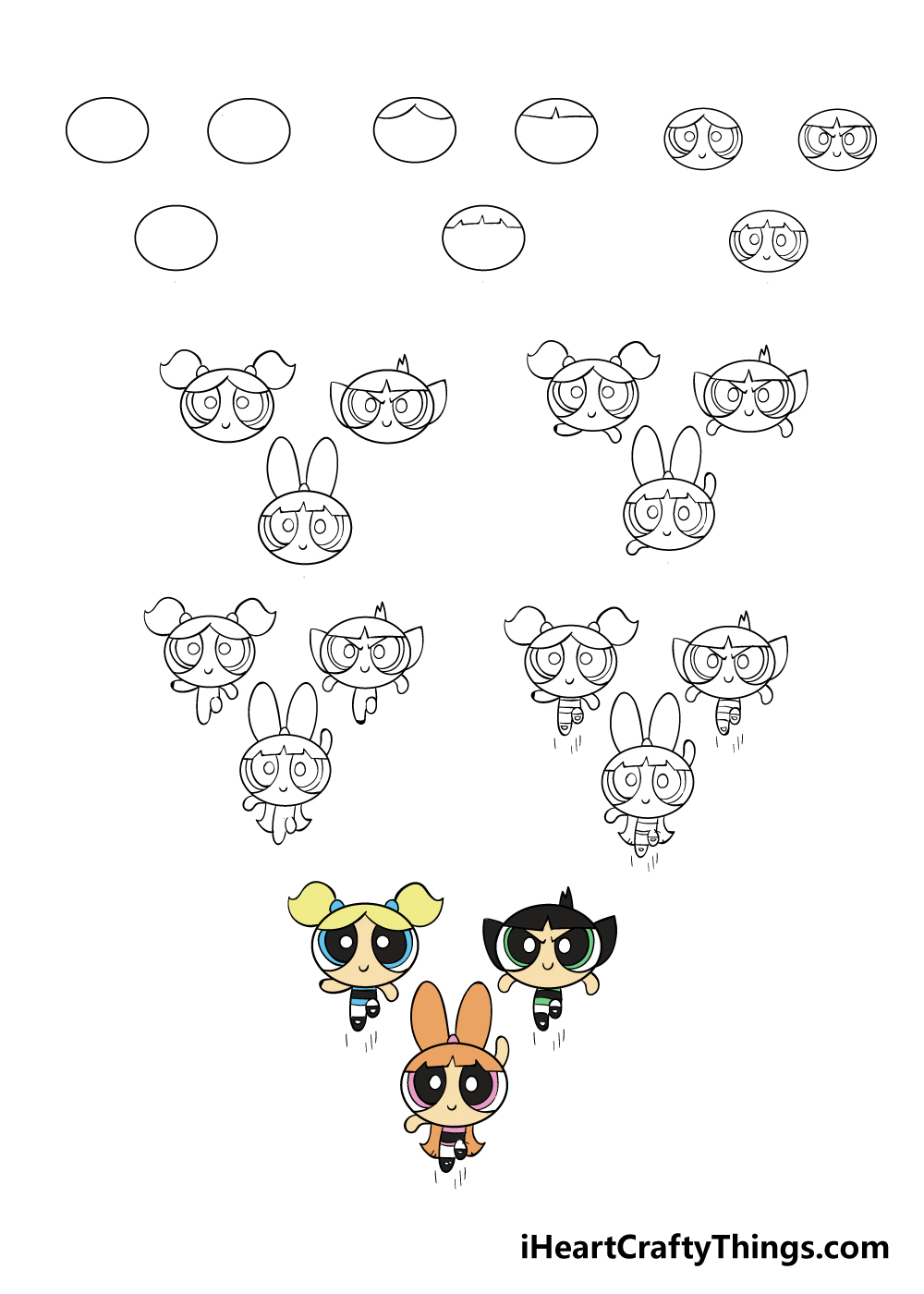 How to Draw The Powerpuff Girls – Let's Get Started!
Step 1
The three Powerpuff Girls are Blossom, Bubbles and Buttercup, and we shall be drawing all three in this guide on how to draw the Powerpuff Girls.
This first step should be quite easy, as we shall be drawing their rounded heads in this step. All you have to do for this part is carefully draw three flat oval shapes.
Be sure to leave enough space between all of them!
Step 2 – Next, draw their fringes
Each Powerpuff Girl has a unique hairstyle, so we shall draw each one in for this part of your Powerpuff Girls drawing.
Bubbles will be on the top left, and we'll start with her. Her fringe will be drawn with two rounded lines like the ones in our reference image.
Buttercup is on the top right, and she will be next. Her hair can be drawn with some straight lines that will have a sharp shape in the middle.
Finally, Blossom will be on the bottom, and you can use some straight lines to create a jagged fringe for her.
Step 3 – Now, draw the eyes in this step
For this part of our guide on how to draw the Powerpuff Girls, we shall be drawing their big round eyes. The eyes will be drawn with some rounded lines that take up the whole sides of the face.
Then, you can add some more rounded lines within these eye outlines with a circle at the middle. It sounds a bit complicated but the guide will show you how it's done!
Bubbles and Blossom on the top left and bottom will have identical eyes, whereas Buttercup will have sharp angles lines on the tops of her eyes to give her a tougher look.
Finally, use a small curved line for the smiling mouth of each Powerpuff Girl.
Step 4 – Next, draw the rest of the hairdos
This part of your Powerpuff Girls drawing will see you further detailing the hairstyles of the girls.
Bubbles will have two ponytails on the top of her hair that you can draw with some curved lines.
Buttercup will have a more angular hairstyle that sits close to her head, and Blossom will have a big rounded bow on top of her head.
Once you have it looking like our reference image then you're ready to move on!
Step 5 – Now, draw some little arms
The girls have some simple little rounded arms, and we will draw them in this step of our guide on how to draw the Powerpuff Girls.
Each arm is made with a thin rounded shape. As you can see in the reference image, each girl will have her arms in different positions and angles for some variation.
Step 6 – Next, draw the bodies of the girls
We will be adding the bodies and legs of the girls in this step of your Powerpuff Girls drawing. These will be made with simple shapes, and each girl has an identical body.
The leg on the left will extend down, whereas the one on the right will be raised.
Step 7 – Draw some clothes details next
This part of our guide on how to draw the Powerpuff Girls will see you adding the final details to your picture!
To do this, simply draw some simple horizontal stripes on each girl's body for their clothes details. Then you can add some small shapes to the bottom of their feet for the shoe details.
That finishes off the details for this guide, but before you move on be sure to add any details of your own that you would like! Maybe you could draw a fun background to really bring it to life.
Step 8 – Now finish off your Powerpuff Girls drawing with some color
In this final part of your Powerpuff Girls drawing, you can add some beautiful colors to finish it off!
Each girl has a unique color scheme, and we have shown you each one in our example image.
Bubbles has yellow hair with a blue color scheme, buttercup has black hair with green clothes and Blossom has red hair with pink clothing.
When coloring it in, I bet that some colored pens or markers would look great for this drawing!
That is just one medium out of many that you could use for this image though, and anything you use will look amazing! Which art mediums and tools will you use to finish off this picture?
5 Tips To Make Your Powerpuff Girls Drawing Even Better!
Get these heroes ready for action with these tips for your Powerpuff Girls sketch!
In this drawing of the Powerpuff Girls, we have the three sisters looking ready to go. There are so many memorable characters that you could also add to finish off this scene!
These could include allies such as Professor Utonium or the quirky Mayor. These are a few of the good characters that you could add to aid the girls in their adventures.
Of course, every great superhero team needs villains to go up against. Once again, you would have dozens of characters to choose from.
These could include iconic bad guys like Mojo Jojo or the mysterious villain Him. These are just a few of the many villains you could add, and you can look to the show for inspiration for characters you could add.
The show is filled with many iconic locations and scenes, and you could depict them in this Powerpuff Girls drawing.
If you have some favorite moments from the show, you could replicate the background for this artwork.
Adding a background is always a great way to make any drawing even better! Plus, you have the fun of recreating your favorite Powerpuff Girls battles and moments.
We mentioned adding established characters to your Powerpuff Girls sketch, but you could also create some of your own!
The girls face off against many monsters and fiends, and it would be fun to create some of these adversaries. This would be a great chance to let your imagination run wild!
What kinds of horrifying monsters can you imagine for the Powerpuff Girls to be facing off against?
The show is also filled with many memorable lines and catchphrases. It could be fun to finish off this drawing by adding your favorite Powerpuff Girls quotes!
Once you have the lines you would like to include, you could draw speech bubbles near the characters and then write in the lines.
You could also create some unique quips and catchphrases to make it even more unique!
Your Powerpuff Girls Drawing is Complete!
You have successfully reached the end of this guide on how to draw the Powerpuff Girls! We hope that this guide made it easy and lots of fun for you to learn how to draw these tiny superheroes!
Taking on a new drawing can be intimidating at first, however when you have a guide to follow it can be made so much easier.
This guide was also created to give you some freedom to personalize your drawing as well.
You could change up the positioning of the girls, change their facial expressions or even create some fun backgrounds.
You could create some action-packed scenes for the girls to be taking part in!
When you're ready for more drawing fun, we have plenty more guides on our guide for you to enjoy!
Be sure to check in often to make sure you never miss out on the new guides that we upload all the time.
We would love to join in your superhero adventures, so please be sure to share your finished Powerpuff Girls drawing on our Facebook and Pinterest pages for us to enjoy!