Popcorn is a very simple food on the surface, as it is pretty much just corn that has exploded.
Popcorn has come to be an iconic treat to enjoy at the movies, and it has come to symbolize the act of enjoying a film.
Movie and snack enthusiasts alike will be happy for the opportunity to learn how to draw popcorn so that they can celebrate this movie icon!
This guide you're about to go through will show you how to recreate this favorite food. We hope that you enjoy this step-by-step guide on how to draw popcorn in just 6 steps!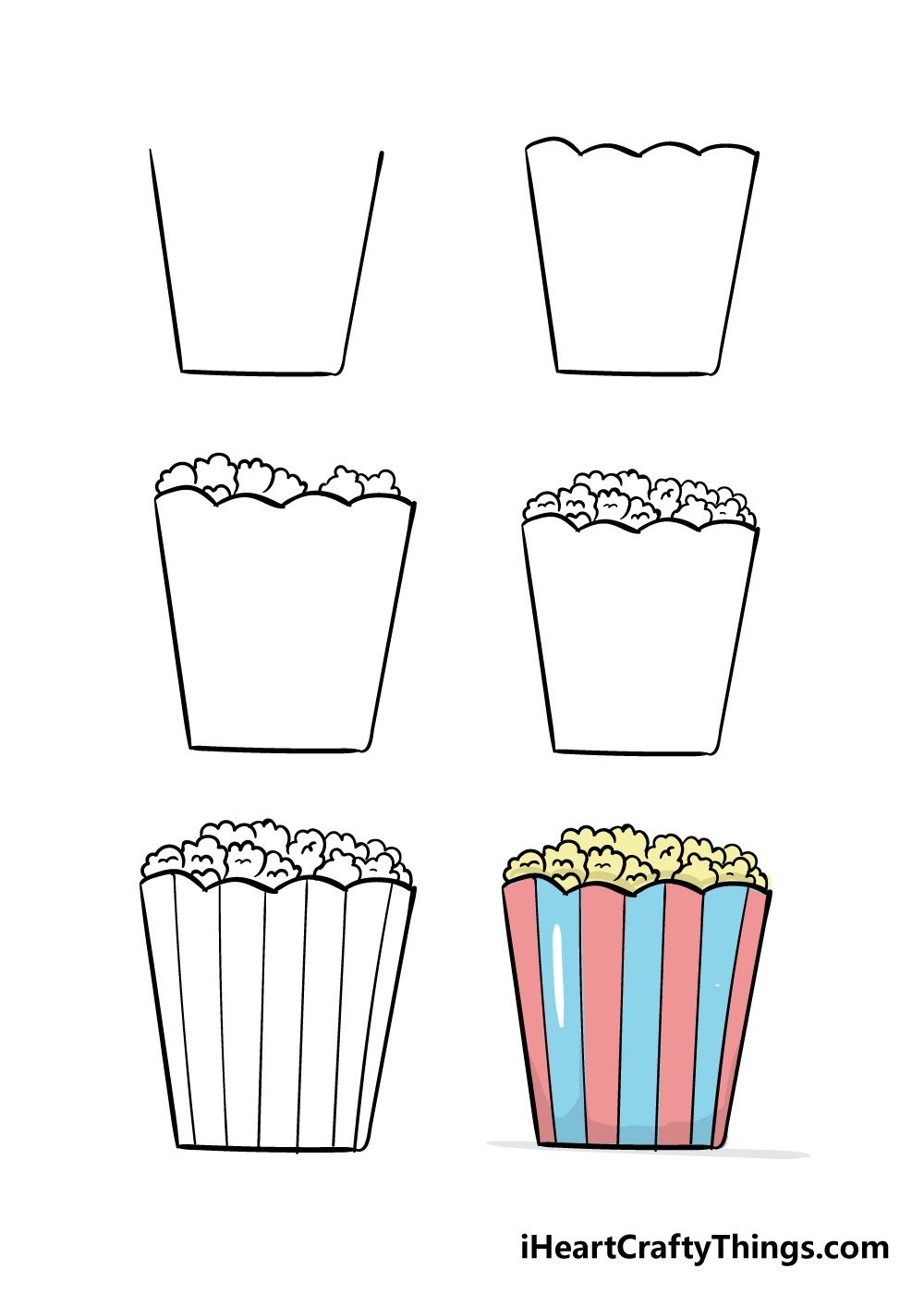 How to Draw Popcorn – Let's get Started!
Step 1
The popcorn that you will be drawing in this guide on how to draw popcorn will be in a nice decorated bag, and that is what we will start with for now.
To do this, you will want to use a ruler to make things much easier for yourself.
Then, once you have your ruler ready to go you can draw two vertical lines moving very slightly outward. Then, you can connect these two lines at the bottom to form the base of the popcorn bag.
That's all there is to it for this step and you're ready to move on!
Step 2 – Draw the top of the popcorn bag in this step
This second step of your draw popcorn drawing will see you adding the top of the bag that you started in step 1.
You won't be needing your ruler for this step, as the top of the bag is not flat. Instead, you can use a series of rounded lines to create a wavy edge for the top of the bag.
The reference image will be very helpful in seeing how it should be looking!
Step 3 – Now, we shall add some popcorn
You have the bag of the popcorn drawn now, and for this step of our guide on how to draw popcorn we shall be drawing the star of the show: the popcorn!
This looks like a complicated step on the surface, but it's actually easier than you might think.
To draw each popcorn kernel, all you need is to draw some rounded little shapes that have outlines made of lots of little wavy lines.
For now, try to add just one row of the popcorn, as we shall be building on to it a bit later.
Step 4 – Add the next layer of popcorn
You're getting the hang of drawing the popcorn kernels now, so you should have no problems adding more in this step of your popcorn drawing!
Simply add one more layer to build up the look of the popcorn. You could also add another layer or two for an even fuller bag of popcorn!
Once you have the next layer drawn, you can finish off some detailing for the popcorn by adding some small lines onto the popcorn kernels to really make them look like proper popcorn!
With these drawn, we can then add some final details in the final few steps.
Step 5 – Now, you can add in the final details of your popcorn drawing
Before you move on to the coloring stage, you have a few final details to add. In this step, we shall be decorating the popcorn bag itself!
We used a simple stripy pattern for our example, but this is a step where you could get creative and design your own look for the popcorn bag!
Popcorn bags often feature some wonderfully colorful and creative artwork, so there is a lot you could do to make it your own!
You could even do something like draw a poster for one of your favorite movies on the popcorn bag to fully embrace the movie theme.
You could also do your own bright and intricate pattern, or make another kind of movie theme by drawing film reels and spotlights on it.
How will you make this popcorn drawing more personalized with your details?
Step 6 – Finish off your popcorn drawing with some color
That brings us to the final step of this guide on how to draw popcorn! The drawing is now finished, and this is the step where you can have some fun coloring in your awesome drawing!
For our reference image, we used a light yellow for the popcorn kernels and then some blue and red for the popcorn bag pattern.
These are the colors that we chose for our image, but you should feel free to use any colors that you love!
Sometimes popcorn can be dipped in wild colors so you could incorporate some bright colors onto the popcorn as well.
If you created your own design for the popcorn bag, then you can add some colors to that design as well.
Once you know which colors you would like, you can also have some fun choosing the art mediums that you will use to bring them to life.
For a design like this, I think that some acrylic paints or colored pens and markers would be great for a nice vibrant look to the image.
That's just one idea of many that you could try, so how will you color in your wonderful popcorn drawing?
5 Tips To Make Your Popcorn Drawing Even Better!
Grab a snack and enjoy these tips we have for your popcorn sketch!
Popcorn is most commonly seen as a snack to be enjoyed at the movies. That would be a great way to enhance this popcorn drawing!
One way of doing this would be by drawing some posters for some of your favorite movies in the background. Or you could add elements such as film or projectors.
What are some other ways you could create a film theme for this picture?
Whether it's enjoyed at the movies or elsewhere, it's often best to enjoy popcorn with other snacks. You could show off what you would like to enjoy with this snack by adding them to your drawing of popcorn.
There are so many options you could go for, from large sodas to all kinds of candy. What treats would you add to this picture?
We have a decent amount of popcorn in the box for this image, but it could also use a bit more! It could be fun to add a lot more popcorn to this picture.
You could pile it on top of the existing popcorn and even have it spilling out. You could also make it look like popcorn is popping from the box!
Drawing a background is another great way to take a picture to the next level. We think you could do that for this popcorn sketch!
Going back to one of our earlier suggestions, you could draw a movie theatre as a background for this popcorn. You could even show the screen in the background with a movie playing on it.
You might prefer a home setting, so it all depends on your own tastes!
When it comes to popcorn boxes, you will see all sorts of designs. We went for a simple striped approach for this one, but you could change the design if you wanted!
For your popcorn drawing, you could add logos, pictures, text or anything else you like! How would you like to customize this popcorn box?
Your Popcorn Drawing is Complete!
That brings us to the end of this step-by-step guide on how to draw popcorn!
We hope that by following this guide you found that drawing some delicious-looking popcorn was much easier than you may have expected. We also hope that it ended up being a lot of fun for you to do!
Now that you have mastered this guide, why not make some popcorn in real life and relax with some drawing fun as you design even more variants for the popcorn bag?
You could try out some cool designs or maybe even draw some background elements for some extra fun.
There's a lot that you can do to make this drawing your own, so we look forward to seeing what you come up with!
This guide that you have just finished is one of many awesome guides that we have on our website for you to enjoy!
We upload new ones all the time so be sure to check in often for new guides!
We would also love to see your awesome popcorn drawing, so please be sure to share it on our Facebook and Pinterest pages for us to enjoy.