There are many different dog breeds in the world, and every dog lover has their favorite breed!
Some people like small, fluffy breeds for their cuteness, while others like bigger, more tenacious breeds.
The pitbull would definitely fall into this second category. This breed has gained a bad reputation for being vicious, but with proper training and a good home they can be lovely pets!
This set of free pitbull coloring pages for kids will be celebrating this often misunderstood breed.
There are many different poses and styles within these pages, so you will really get to express your creativity as you fill them in.
It will be very interesting to see how you finish off your favorite printables!
All of these pitbull coloring printables are free for you to print and enjoy as many times as you like! You'll certainly want to share these pages with the dog lovers in your life to enjoy as well.
Whether you pick a few favorites or color in every single pitbull coloring sheet, we hope that you enjoy this collection!
Remember to share your favorite finished pages to our Facebook and Pinterest pages so we can see your art skills on display!
10 Brand New Pitbull Coloring Pages – Free to Print and Color
The first image that we have in this collection of free pitbull coloring pages is quite an interesting composition!
We are zoomed in on the face, and that allows you to really get in there with some detailed colors.
Pitbulls can come in many different colors and fur patterns, and that gives you a lot of freedom with how you can color in this first printable!
What colors are you thinking of using to kick off this collection?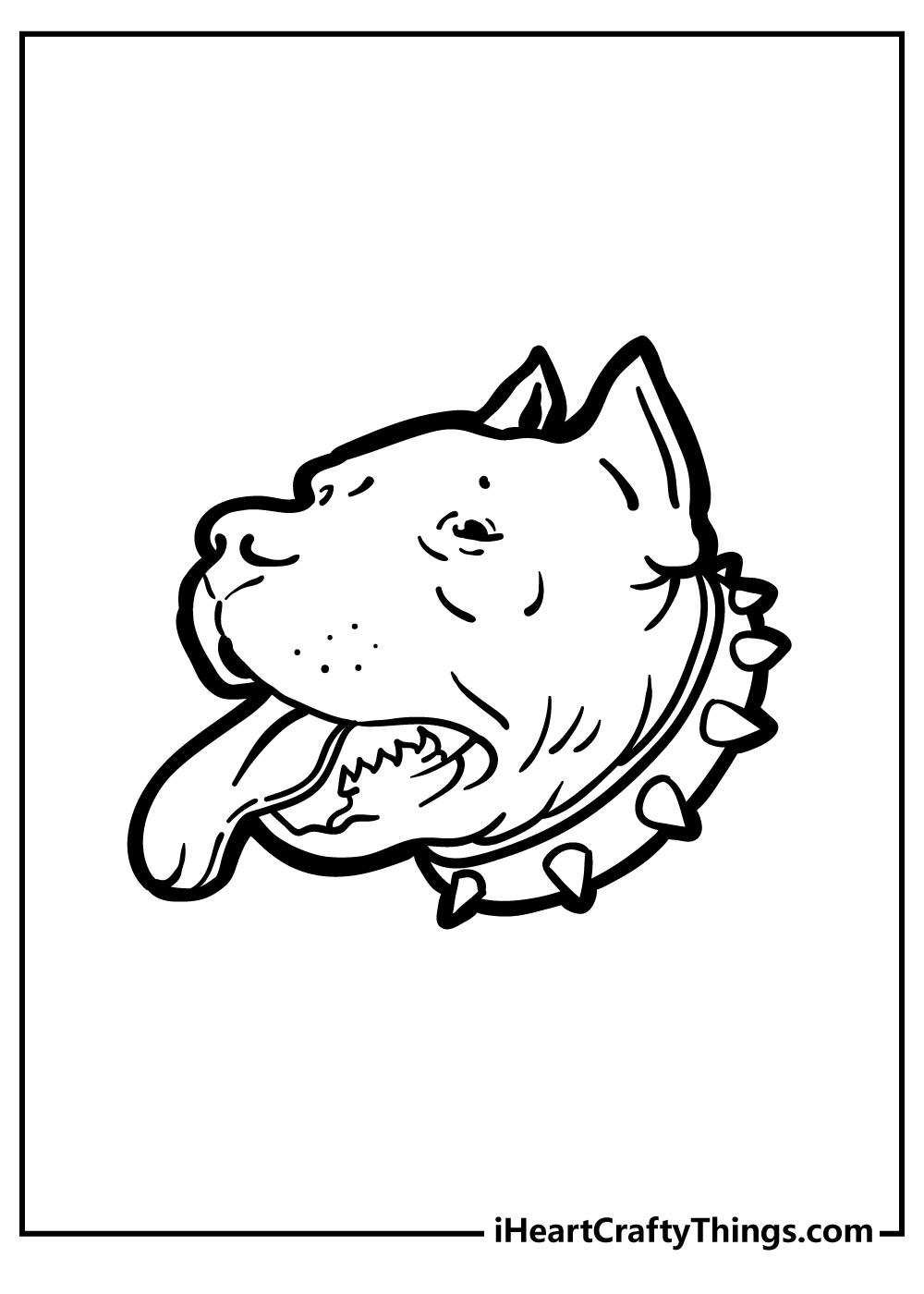 We have a nice profile shot of an entire pitbull in this next pitbull coloring sheet. There is a large empty background behind this one, and that means that you could draw in a background if you wish!
What kind of setting do you think you would create for this pitbull?
Some ideas would be to draw a garden with some toys for it to play with, but it could also be in a nice home setting instead! These are just two ideas, but what more can you think of?
This third free pitbull coloring printable is a really cute portrayal! Pitbulls are often unfairly dismissed as violent brutes, and this coloring sheet really captures the lighter, cuter side of these dogs.
For this lighthearted image, we would recommend using some brighter colors and art mediums to finish it off.
While that is one approach that you could go for, you have many other options at your disposal! How will you color in this happy canine pal?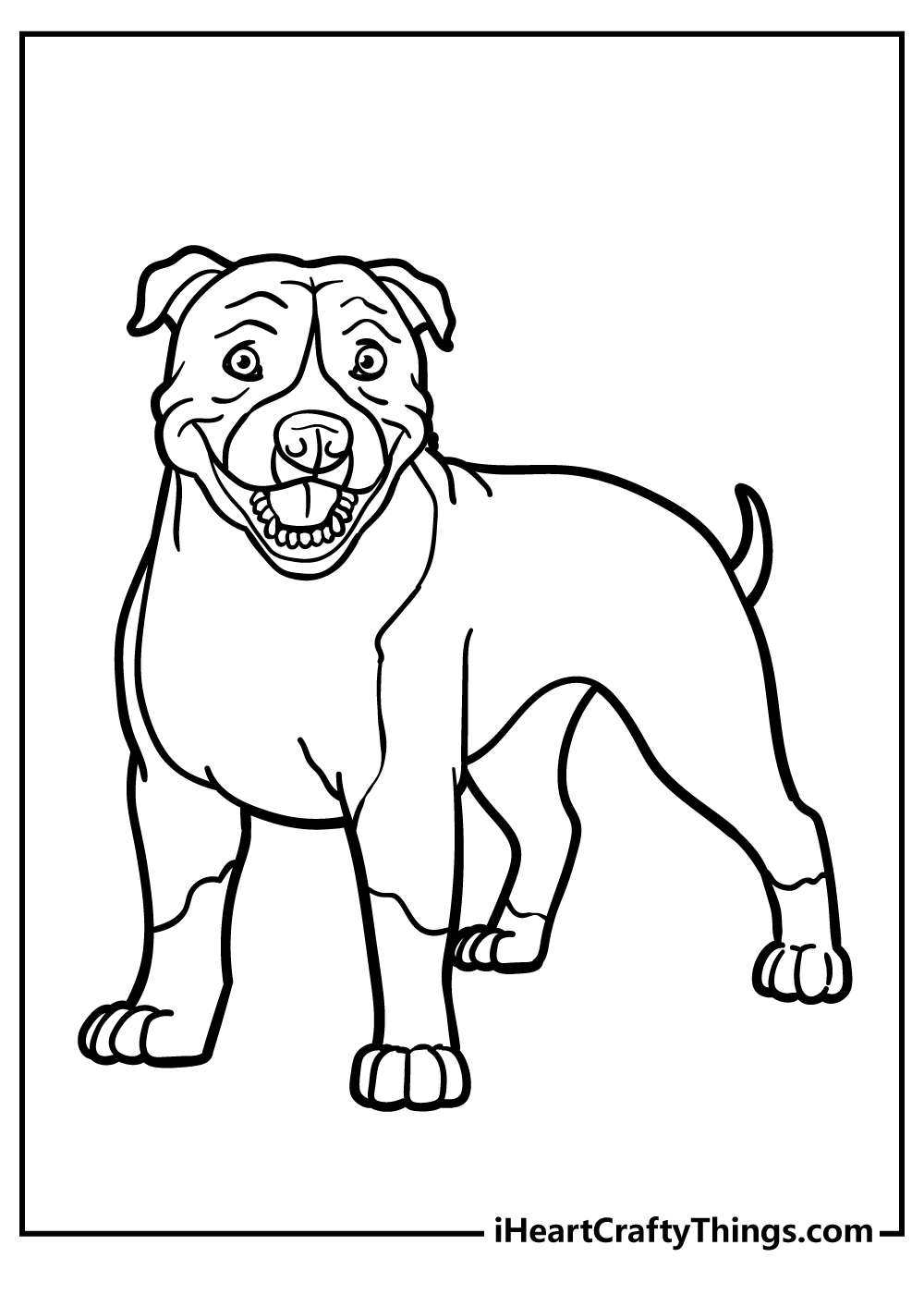 There is an intense expression on the face of the dog featured in this next pitbull coloring page.
Because of this more serious mood, we think that some darker colors would look great for this printable.
Some dark blues, greens or purples would be some interesting shades to try, but this is your coloring page!
Will you go for the colors we suggested or use some unique ones of your own?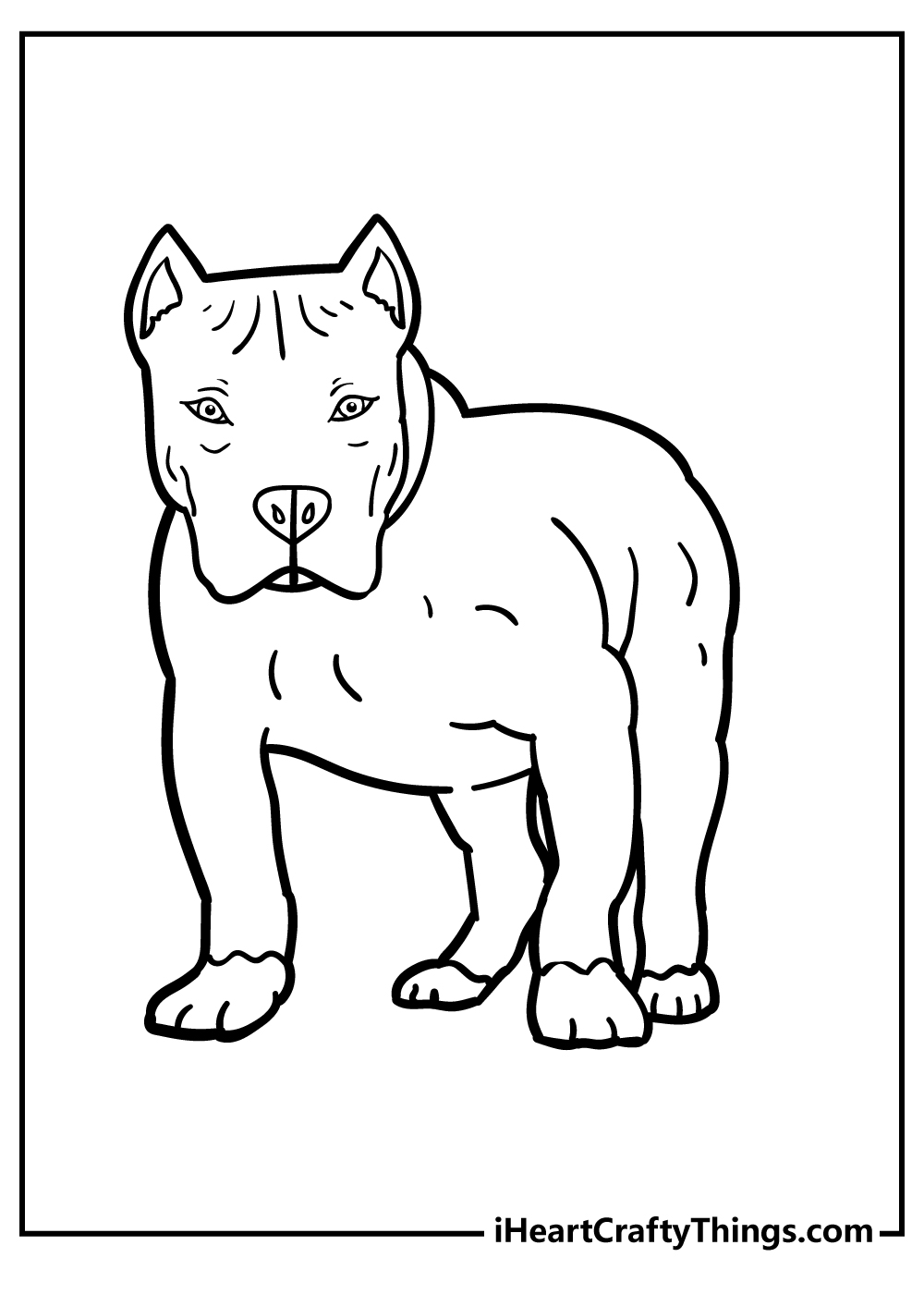 This breed of dog is very protective of their owners and their loved ones, and this one in this pitbull coloring sheet looks like it means business!
This is another image that has a lot of empty space in the background, and that leaves you lots of room to add your own background if you're feeling extra creative.
What kind of setting do you think would suit this particular pitbull scene? We can't wait to see what colors, mediums and extra details you choose for this intense image!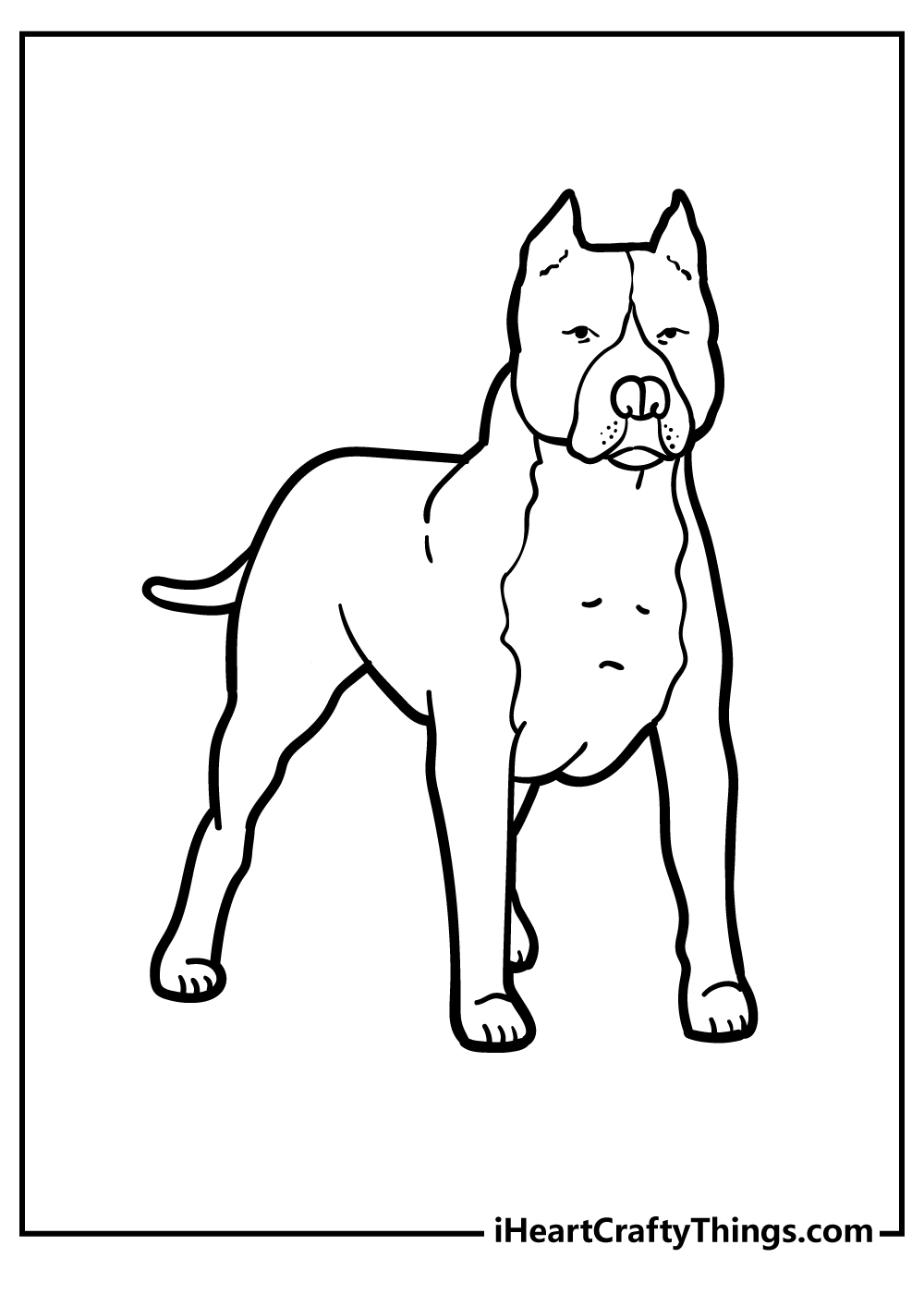 We had a more intense image in the previous picture, but for this pitbull printable we have another adorable portrayal of a pitbull!
This cute little guy is looking very happy and friendly, and he is ready for you to color him in.
For this picture, we would probably use bright, cheerful colors to fit the mood of the picture, but as always it is completely up to you! We will be interested to see how you choose to color this in.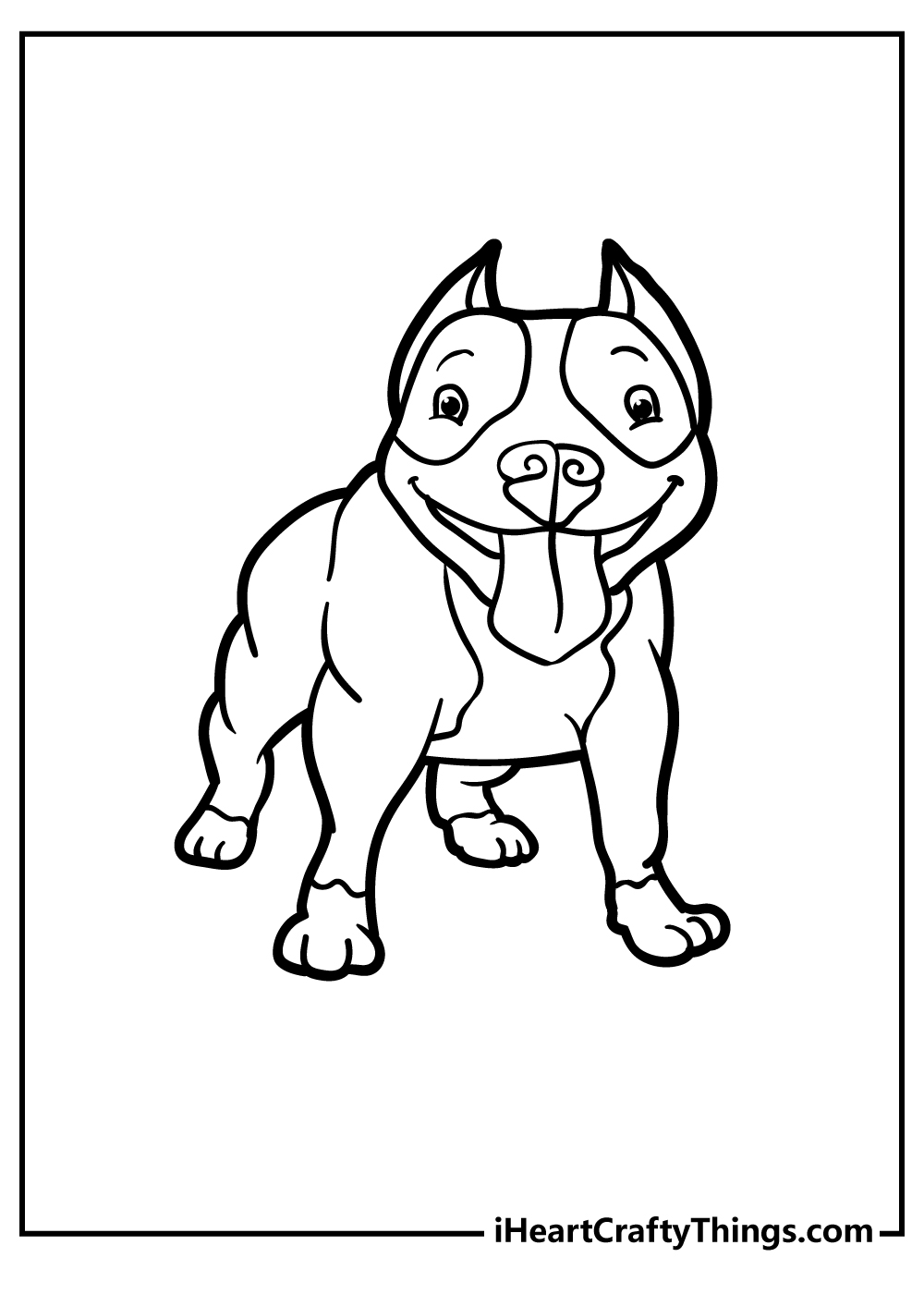 The next free pitbull coloring page shows a pitbull that is alert and ready for anything! It looks like this one has seen or heard something that has caught its interest.
What do you think has made this pitbull so alert?
By drawing a background, you could show us what kind of setting this pitbull is in and what seems to have gotten it a bit riled up.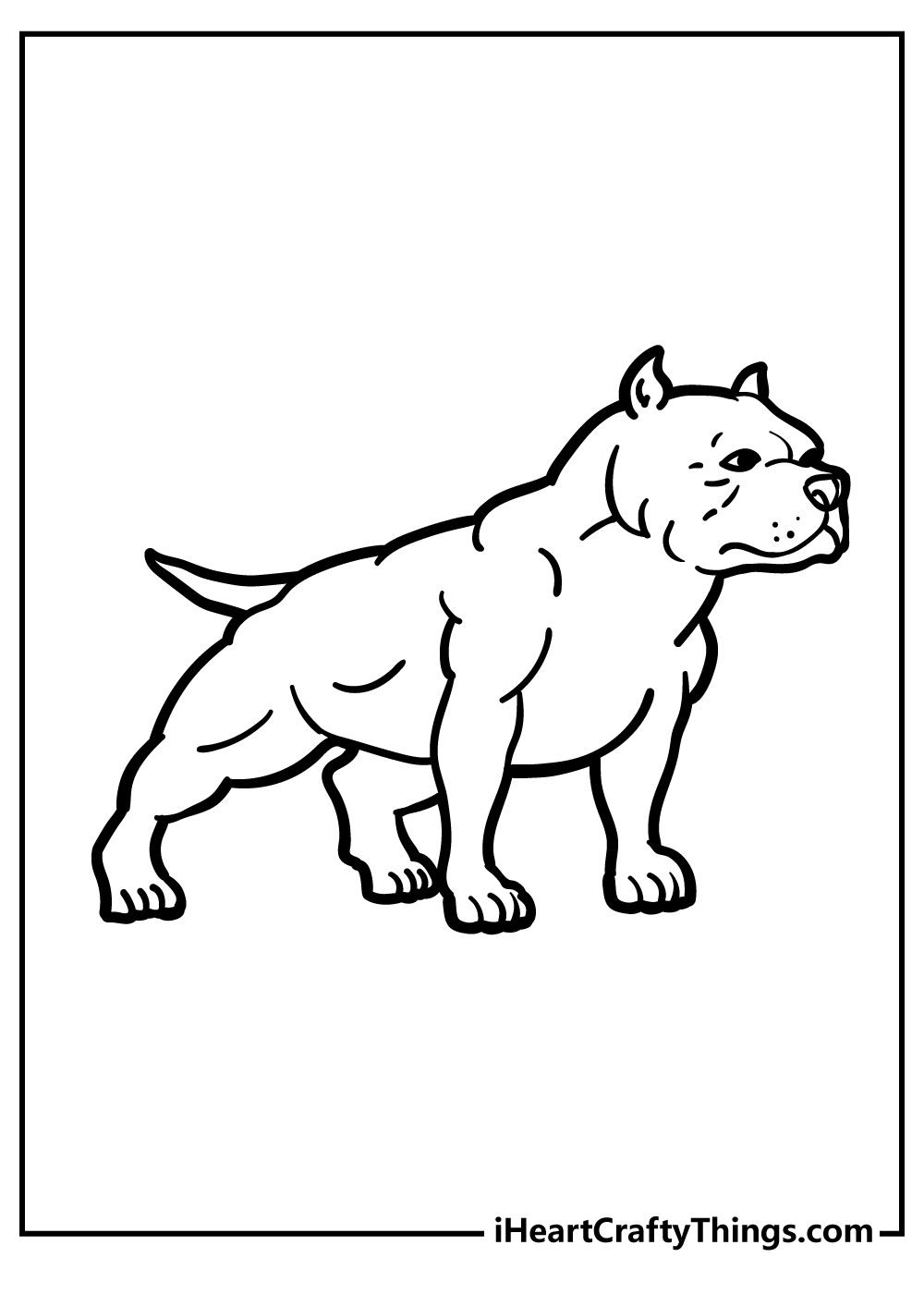 For the eighth pitbull coloring sheet we have prepared for you, we have an image of a pitbull that looks a bit concerned or even a bit nervous.
It's looking like this pitbull isn't having the best day! Remember that colors can really create a mood for an image, and using milder colors like light blues and greens would fit the nervous atmosphere of this picture.
Will you use milder colors or maybe go for something brighter to contrast the subject of the image?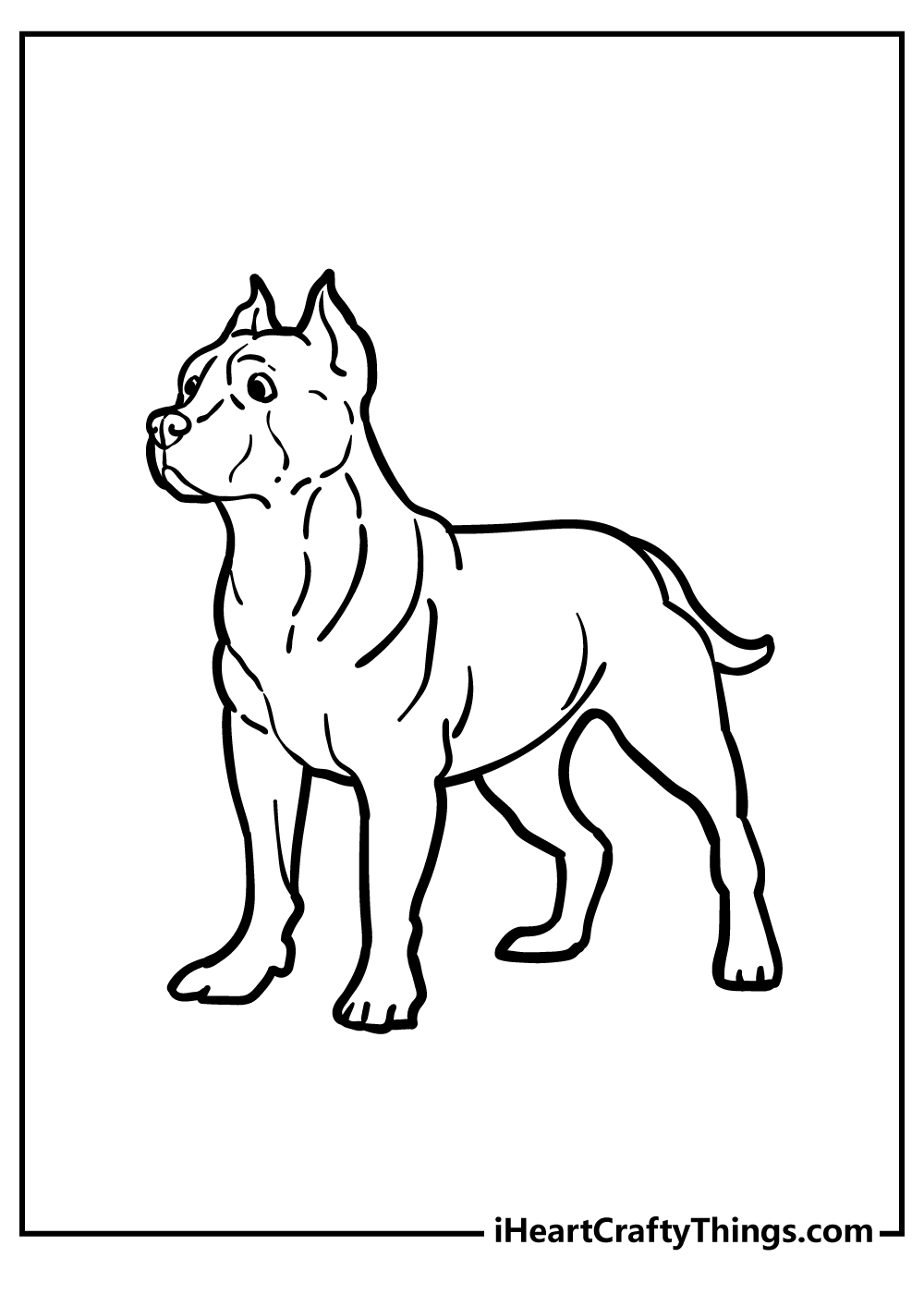 The previous pitbull printable showed one that was looking a bit nervous and uncomfortable, but we're back to a really confident one in this image!
This proud pitbull is standing tall and looks rather noble.
For this image, maybe you could try using an art tool or medium that you don't use as much, as it's always fun to try out new techniques and styles!
Then, you will be ready for the final printable in this collection.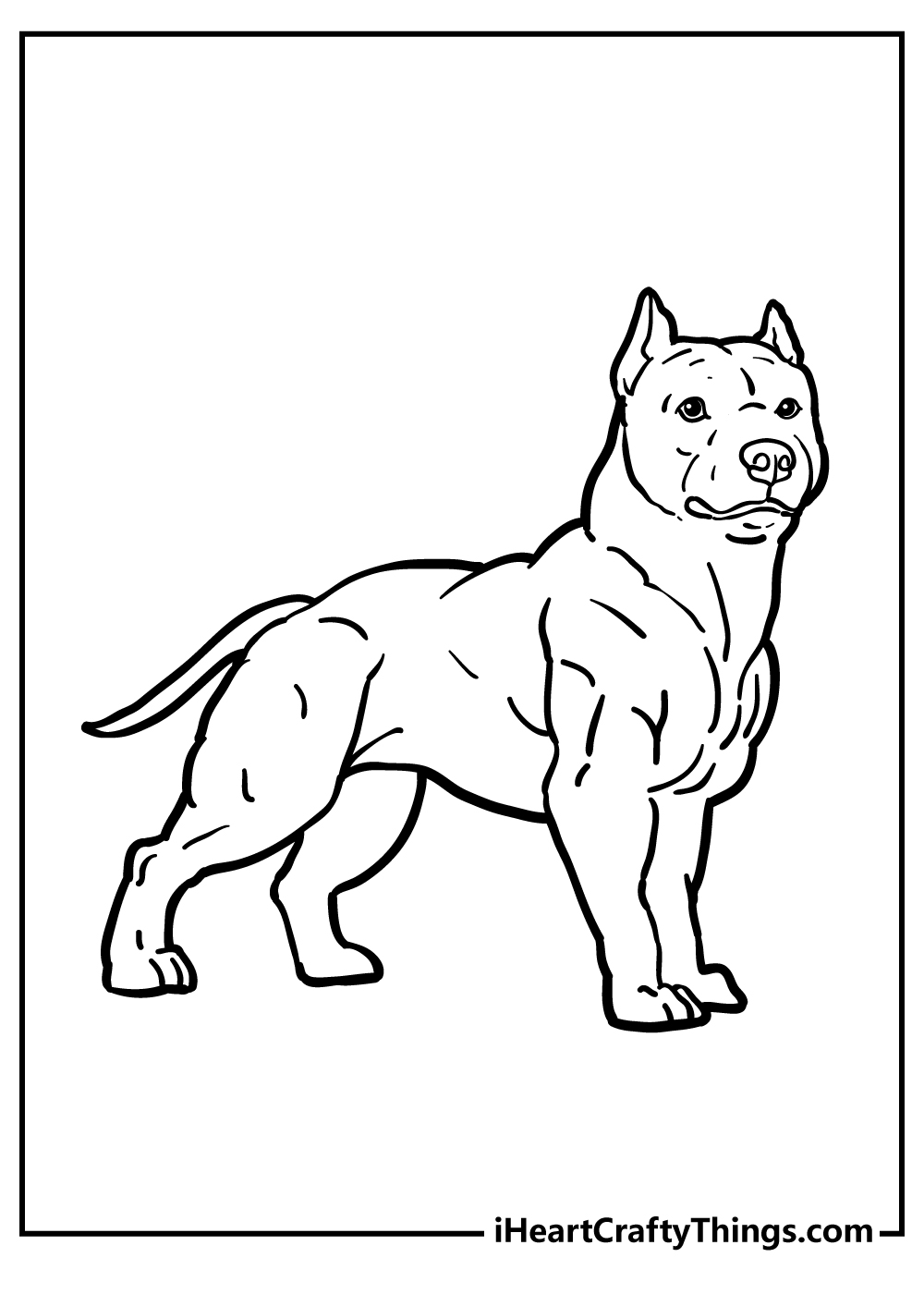 You have arrived at the final free pitbull coloring sheet in this collection, and we have a fun picture to close off this series!
This one is looking pretty happy with its tongue hanging out. It also brings to mind that this pitbull could be enjoying a hot Summer day.
If you agree, then you could add some bright colors and sunshine to the background to give off that mood.
How will you finish off this final image in the collection?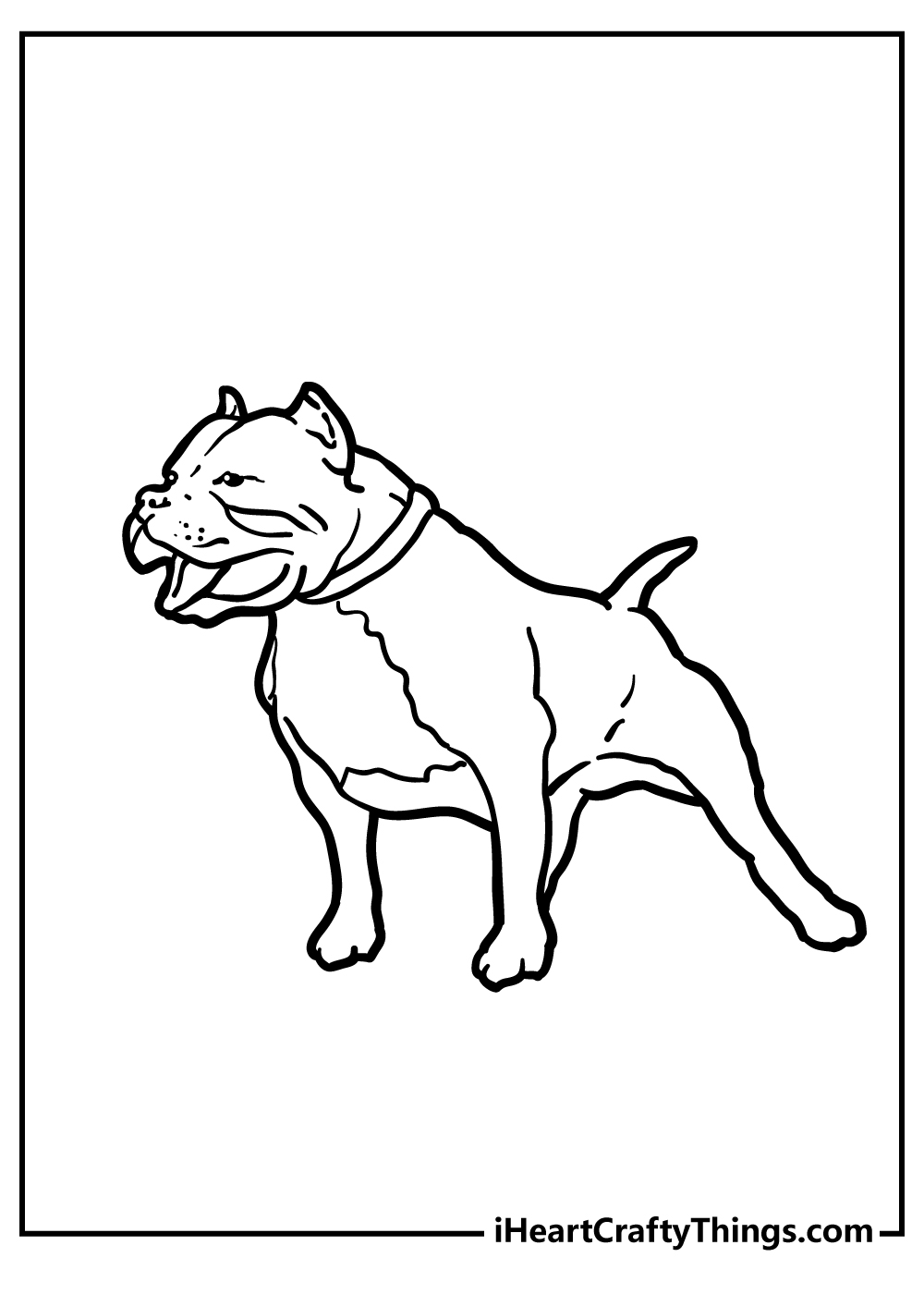 Pitbull Coloring Pages – Which will you choose?
You have reached the end of this set of free pitbull coloring pages for kids, and we hope that you had a fun time filling in your favorite pages!
The great thing about these pages is you can print them out and share them as much as you like, so be sure to share the collection with your fellow dog fans.
Once you're ready for more coloring fun, you can head on over to our website for many more coloring collections to sample.
Be sure to check in often, as we upload new free printables frequently!
We're sure you'll want to show off your finished pitbull coloring sheets, so please remember to share your favorite finished pages on our Facebook and Pinterest pages for us to see!