Some shapes have a famous or familiar association to them. Plates are round, tables are rectangular and ice blocks are cube-shaped.
Of all the shapes, few have a claim to fame as significant as the pentagon! The famous Pentagon building houses the US Department of Defense and is one of the most recognizable landmarks in the country. Despite this fame, it can still prove difficult to learn how to draw a pentagon.
Luckily, with the help of this guide you will discover how easy and fun it can be!
This step-by-step guide on how to draw a pentagon will help you recreate this classic shape with ease!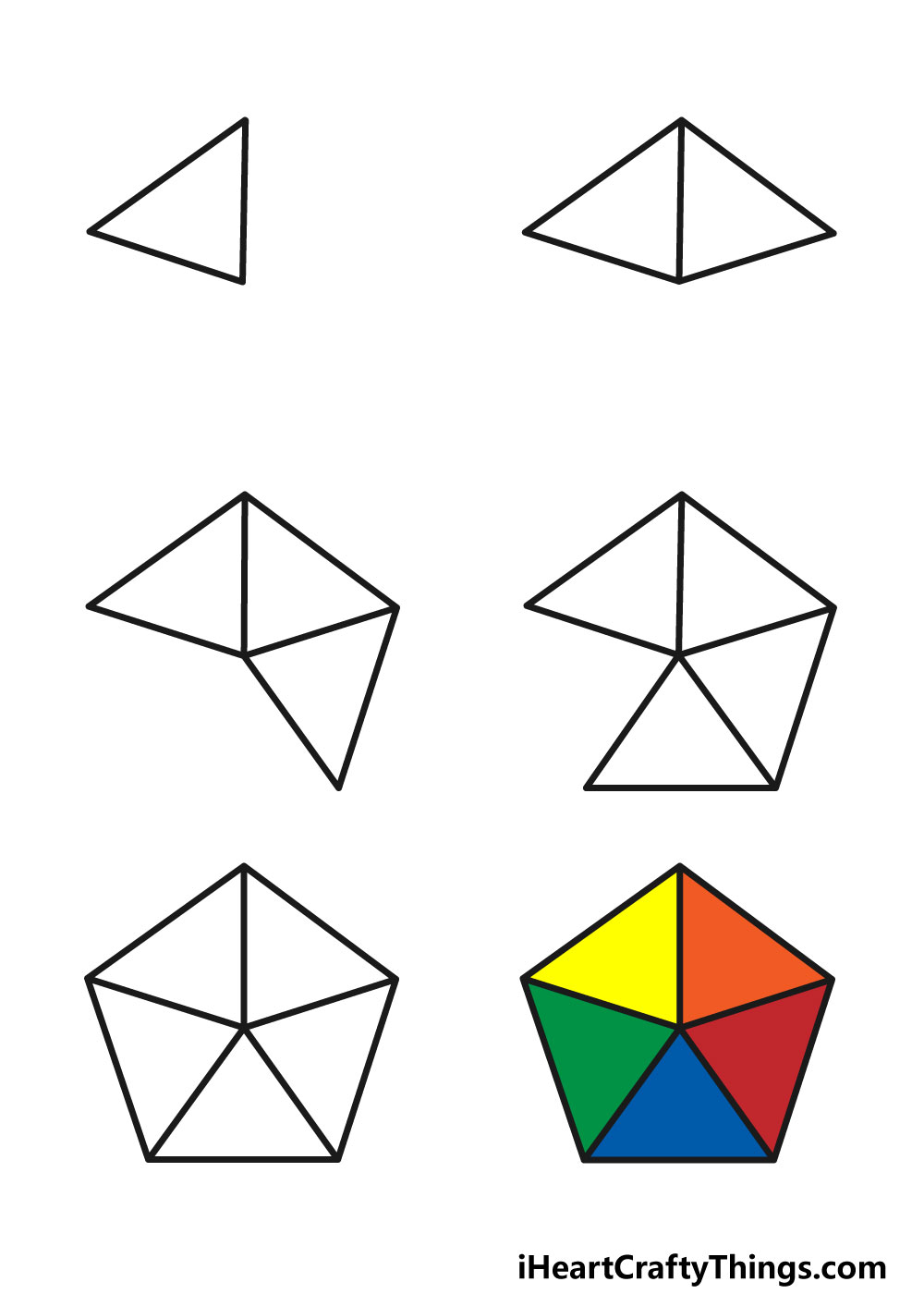 How to Draw A Pentagon – Let's get Started!
Step 1
We will be building up the pentagon you'll be learning to draw from a few smaller shapes in this guide on how to draw a pentagon.
Your best bet for this drawing would be to use a ruler and a pencil to draw the shapes before going over with a pen.
Using a ruler will be helpful not only in making sure the edges are straight but also in making sure that the lines are equal in length.
Using your ruler, you can start off by drawing a triangle. The reference image that we have provided will guide you as to the shape, size and position it should be. Once you have this first triangle drawn, then you're ready for step 2!
Step 2 – Next, add another triangle for your pentagon drawing
For this second part of your pentagon drawing, you will continue to build on to the shape as a whole.
To do this, simply use your ruler to draw a second triangle onto the other one as shown in our reference image. By the time the two are together, it will look a bit like a pyramid.
Step 3 – Now, draw a third triangle
A third triangle will be added in this step of our guide on how to draw a pentagon. This triangle will go on the right-hand side of the pyramid shape that you ended up with in the previous step.
That will leave just a few more spaces to fill, and we will do so in the next few steps of this guide, so let's move on!
Step 4 – Next, draw a triangle for the base of your pentagon
You drew some more triangles for the last few steps of your pentagon drawing, and this step will be no different!
This one will be filling in the space that will make up the base of the pentagon, as shown in our reference image. With that triangle added, all that remains is to fill in the final spot.
Step 5 – Fill in the remaining space of the pentagon
Before you move on to the final coloring step of this guide on how to draw a pentagon there is just one more triangle shape to add to it.
This should be the easiest out of all of them, as all you need to finish this one off is to add one more line to the shape.
With that your pentagon is complete! At the end of it, it should look as if this is a pentagon-shaped pie sliced into different pieces.
Your pentagon is technically complete, but before you move on, there are a few things you can do to put your own spin on it!
First, if you used a pencil to draw the pentagon then this would be a great time to start going over the pencil lines with your pen if you wish to do so.
You could also take one of the shapes out to look like a slice is missing or draw some extra line or pattern details onto the pieces of the pentagon.
If you're feeling a bit creative and ambitious, you could look up a picture of the Pentagon building and alter this shape to look like the famous structure!
These are just a few of the many ideas that you could do for this drawing, so be sure to let your creativity flow and see what you can come up with.
Step 6 – Now finish off your pentagon drawing with some color
Now that you have reached the end of your pentagon drawing, this final step will be all about bringing it to life with some amazing colors.
In our reference image, we used some nice bright colors, but this is just one of many ways that you could color this in.
You could keep one color for all of the slices of the pentagon or add even more colors onto them.
If you drew extra details or patterns onto the pentagon then these will give you the opportunity to add even more color variation.
Choosing the colors is just part of the fun, as you can also play around with different art mediums and tools!
You could use acrylic paints or colored pens and markers if you would like to replicate the bright look of our image. How do you think you will color in your amazing pentagon drawing?
Here's how you can make your pentagon drawing even better…
There are many angles to how you can make your pentagon sketch even better!
For this drawing of a pentagon, we used a specific set of bright colors to bring it to life. You could change up the colors you use for it in order to create your very own variation.
To do this, you could go for a different color for each segment, alternate a few or even use some patterns or smaller shapes within.
What colors would you like to use for this pentagon?
Once you have your pentagon looking as you want it, you could create some contrast by adding other shapes around it. It could be a circle, square, triangle or any others that you like.
These shapes could also be separated into segments like this one, and the color scheme could match the one you use for the pentagon or it could be unique.
It's up to you whether you would want each shape to look unique or part of a larger set. What shapes could you include?
Another interesting angle to take with this pentagon drawing would be to turn it into an object. This would be a challenge, but it would look really cool!
Try to imagine that this pentagon is a 3D object and then imagine what it would look like at certain angles. You may have to look up some pictures online or use a physical pentagon object if you have one.
That would certainly be something different for this portrayal of this shape!
Finally, you could also recreate the most famous pentagon in the world, the Pentagon building in Washington DC! You could use the shape as we created it in our guide, but then you would want to leave out the segments.
Then, using photos of the building, you could add the various details you would see on the real structure. Then, you could use this photo to add the surrounding areas of the building as well.
How detailed do you think you would want to make this portrayal?
Your Pentagon Drawing is Complete!
With these final details and colors added and complete, that means that you have reached the end of this guide on how to draw a pentagon!
Drawing shapes can be more difficult and frustrating than one might expect when you sit down to do it.
However, when you have a guide showing you some steps to follow it can be easier and more fun as well!
Finishing this guide is just part of the fun, though. You can take charge from here on out and add your own touches and details to it.
We mentioned a few ideas that you could try earlier in this guide, and these included drawing some pattern or texture detail onto the shape or changing up the design a bit.
We also mentioned the possibility of recreating the famous Pentagon building, so that would be a cool idea to try!
Once you're done with this guide and are ready for more drawing fun we have plenty of guides for you to enjoy on our website! We upload new ones often as well, so be sure to check in frequently.
Once your pentagon drawing is complete, we would love to see the creative methods you used to finish it off. You can share it on our Facebook and Pinterest pages for us to see!