When it comes to different sea creatures in our oceans, there are several that tend to come to mind first.
Animals such as sharks, dolphins or whales may be the first that one will imagine, but there are many other incredible animals that may be a bit less well known.
The manatee would be a great example of this! These gentle giants are also known as sea cows, and they are always an incredible sight.
Learning how to draw a manatee is a great way to create an awesome representation of this awesome animal!
If you love this more unusual sea creature then this will be the perfect tutorial for you!
Our step-by-step guide on how to draw a manatee will teach you everything you need to know about creating a great manatee artwork!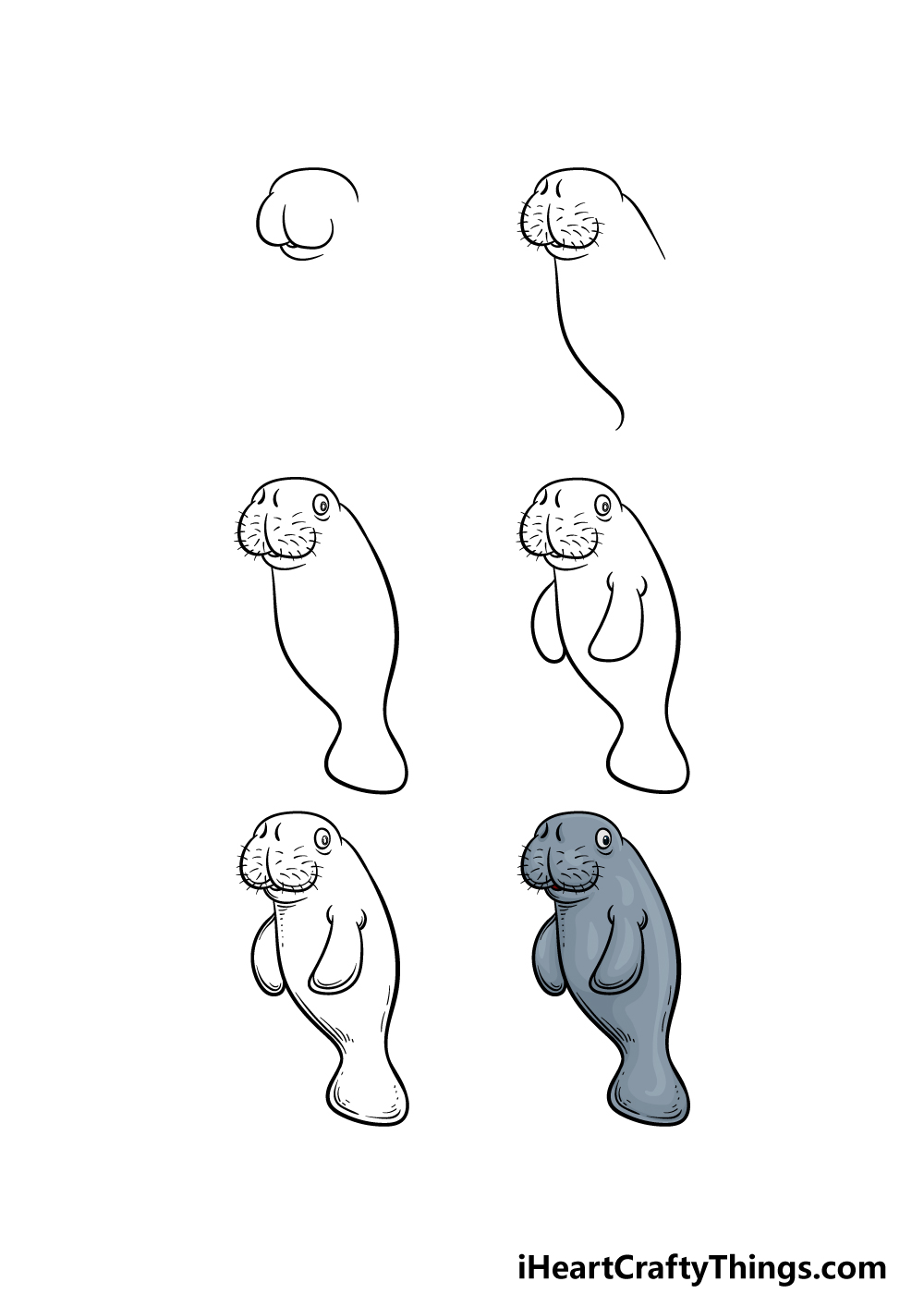 How to Draw A Manatee – Let's Get Started!
Step 1
To begin this guide on how to draw a manatee, we will begin with the head of the animal. To start this, you can draw two curved lines that connect to each other for the muzzle of the manatee.
Then, draw a small opening where the lines meet for the opening of the mouth, and then draw a chin beneath that.
To finish off this step, you can then draw another curved line for the top of the head.
Once you have drawn all of these aspects as they appear in our reference image, we will then be ready to move on to step 2!
Step 2 – Now, draw some details and add to the body outline
Continuing with this manatee drawing, we will now be adding some details as well as some more lines for the body outline.
First, we shall focus on those details. You can start by drawing some nostrils by using some inverted curved lines near the top of the face.
Then, we will be drawing lots of small curved lines onto the cheeks of the manatee so that it will look nice and hairy.
Once these details have been added, we will then add some more of the body outline. Use a curving line coming down from the bottom of the head to draw the neck and belly portions for the manatee.
Finally, draw another curved line coming down from the back of the base of the neck.
Step 3 – Draw the eye and finish off the body outline
For this third step of our guide on how to draw a manatee, we will be drawing the eye for the animal as well as finishing off the outline.
First, draw an oval shape for the eye outline, and then add some smaller rounded shapes for the pupils. Underneath that, add a small curved line to give the face a bit more expression.
We will then be able to finish up the outline for the body. There will be a thin portion at the base of the tail, and then the flippers of the tail will fan outward as shown in our reference image.
With this outline drawn, we will move on to the next step of the guide!
Step 4 – Next, draw the front flippers for this manatee
Your manatee drawing is already looking great! In this fourth step of the guide, we will focus on the front flippers for this sea animal.
For the flipper on the left, we will be using a simple curved line attached to the side of the body.
The flipper on the right will be drawn inside the body outline, and there will be some smaller curved lines at the base of the flipper.
That will finish off the main outlines for this manatee, and in the next step we will add some final details, touches and other elements!
Step 5 – Add the final details to your manatee drawing
In this fifth step of our guide on how to draw a manatee, we will finish off the final details to get you ready for the last step of the guide.
These details will be mainly to add some dimension to the image, and they should be rather easy to add.
You can add some curved line details to the inner outlines of the head, body and flippers of the manatee to add this dimension.
Once these are drawn, you will be ready for the final step! Before you proceed, you could also add some fun extra details and ideas of your own.
These could include drawing a background, adding more sea creatures around this one or by adding some cool new details.
These are just a few ideas, but there is plenty of room for you to get creative with it! How will you finish up this awesome image?
Step 6 – Finish off your manatee drawing with color
This is the final step of your manatee drawing, and in it we shall finish off with some coloring fun. In our reference image, we used a few different shades of grey to finish off this adorable manatee!
You could go for some similar colors if you like the look of these colors, but at the end of the day it is completely up to you!
Changing up the colors is just one aspect, and you can also change up the art tools and mediums that you use to achieve your color choices.
We can't wait to see how you finish up this picture with your color choices!
Do this to take your manatee drawing to the next level
Prepare to dive into some tips we have to make your manatee sketch even better!
This drawing of a manatee shows a happy manatee having a great day. We think it would make him look even happier if he had another manatee friend to hang out with!
This second manatee could be drawn following the same steps you followed to draw the first one.
By changing a few details such as the facial expression or the pose, you could still make this second manatee look distinct.
You don't need to stick to just one additional manatee, either! You could create a manatee party by adding a few to the image.
If you want to add some friends for the manatee, you could also add different kinds of sea creatures. You would have so many to choose from, and they could all be drawn in a similar cartoon style.
They could be smaller fish or larger creatures like sharks or dolphins. What are some of your favorite sea creatures that you could add to the image?
Once you have added all of the animals you want for this manatee drawing, it could also be fun to add some objects for them to interact with.
Earlier, we mentioned creating a manatee party. You could make that literal by adding some party hats, games and maybe something like a beach ball.
That is one silly yet fun idea, but you could add all sorts of fun objects to complete the scene you have in mind.
The last thing you could add to finish off this manatee sketch would be a background. We think there are two main ways that you could incorporate a background.
One would be to draw a natural background to show off the habitat that a real manatee may live in. Or, you could something more fun and imaginative.
For example, if you went with the manatee party idea then they could be dancing on a dancefloor for one idea. What other background settings could you create?
Your Manatee Drawing is Complete!
You have completed this guide on how to draw a manatee, and you have ended up with an incredible drawing to show for it!
We hope that the steps in this guide helped you to show just how fun and easy this wonderful image can be to create when you know what to do.
Now that you have finished, you can also keep it going by adding your own awesome details, ideas and additions.
This is your chance to really show off your creativity, so be sure to have fun with it and let your creativity flow!
Then, when you're ready for more fun, you can check out our website! We have tons of amazing guides to enjoy, and we plan to release many more soon.
When you're ready to show off your finished manatee drawing, we hope that you will share it on our Facebook and Pinterest pages!