Action Art: Hands on Active Art Adventures by MaryAnn F. Kohl and Barbara Zaborowski is a fabulous book filled with over 50 active art ideas for children. It has been a fantastic addition to my home library and I believe it's a must-have for anyone with children or who work with children and are passionate about process art. Today I'm happy to share a Lazy Susan Action Art Collage activity that is found in the book. It's a small glimpse of what kind of great activities you will find inside Action Art. Make sure to enter to win a copy of Action Art in the giveaway at the end of this post.
Disclosure: I was sent a complimentary copy of this book in exchange for my full and honest review. All opinions expressed are my own. This post contains affiliate links. See my disclosure policy for more information.
When I first learned about
Action Art
, my heart fluttered with excitement. Art and being active are two things that my kids enjoy and when you put them together with Action Art, it is a guaranteed hands-on art experience that I know my kids will love! We enjoy making crafts in our home on a regular basis, but just as important I believe in children being involved in open-ended art activities that do not result in a finished product.
"We all know that children prefer to be active, and Action Art incorporates the child's natural need for activity with the always important need for creativity. The art experiences are based on the philosophy that children will learn from the process of creating, and that the finished product is the result of that process, not the goal." -from Action Art
I love how the activities in the book are organized so well and separated into different categories and how there is a wide variety of projects ranging from easiest to challenging. There is something for every age group included in the book and that is wonderful to me since I have children that range from 4 to 10 years old. I am also amazed at the variety of fun materials used throughout the book like bicycle wheels, power drills, windup toys, car tires and so much more.
We have already bookmarked several different activities in the book that are on our to-do list this summer and the first activity we tried was the Lazy Susan Collage. I already had all the materials on hand at home so it made the project super simple.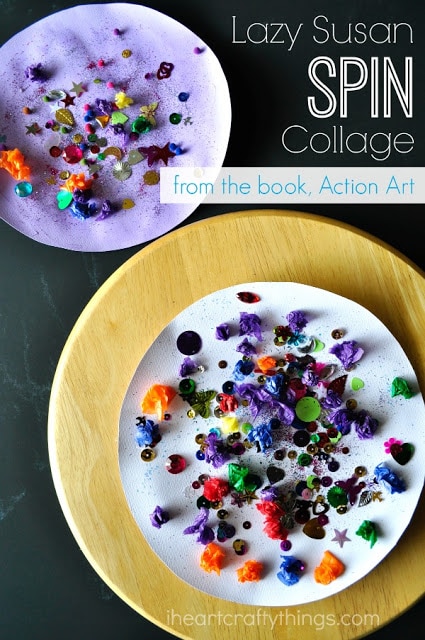 LAZY SUSAN ACTION ART COLLAGE
I set this art process up for my 4 year old, and she enjoyed every aspect of it from beginning to end. I let her choose what collage materials she wanted to include in her art and she even portioned them into small bowls for the project herself. We taped our cardstock circle onto our Lazy Susan so it wouldn't move while it spinned, and my daughter set off creating her work of art.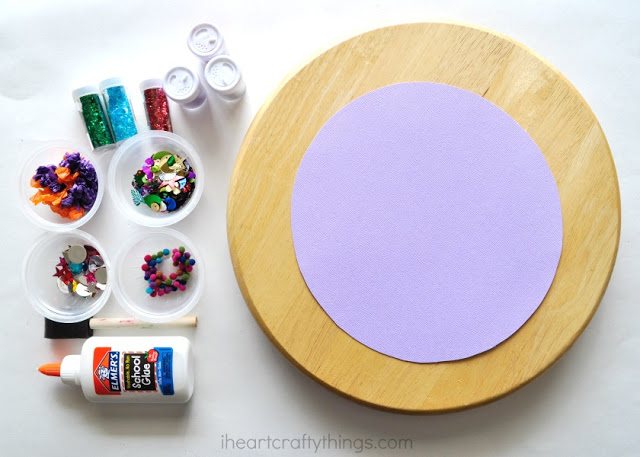 She started by painting her circle with school glue and then as she spinned the Lazy Susan around she dropped her collage materials and enjoyed watching where they fell on her circle.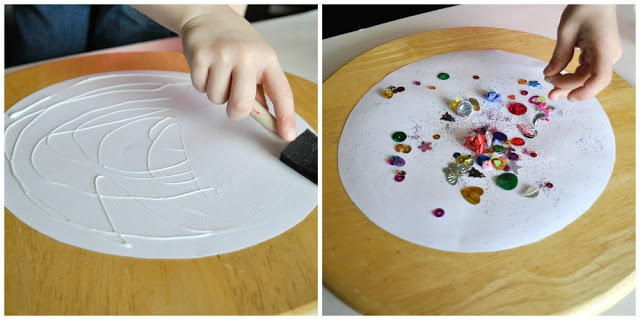 She made one collage in white and then asked for purple cardstock paper to make another colorful collage. The glitters were among her favorite to use on her collage. Watching her enjoy the process made me remember why I love doing art projects with my kids so much.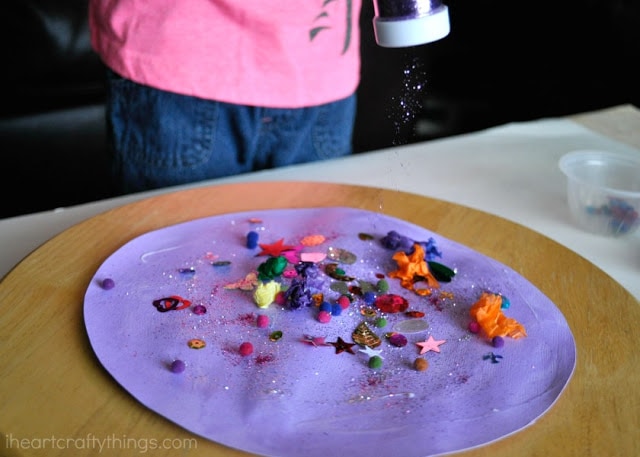 After letting the pieces dry for about 10 minutes, my daughter used her school glue to help reapply any of the pieces that hadn't stuck on quite well. Later in the evening I found my daughter browsing through the book marking pages of more activities she wants to try.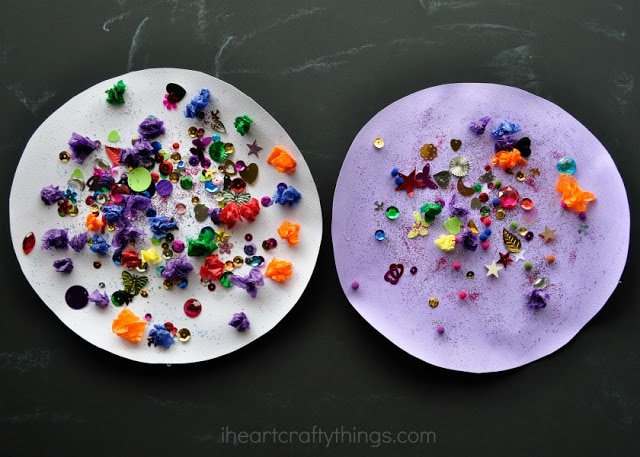 WHERE CAN YOU GET A COPY OF ACTION ART?
I'm certain you and your kids will create priceless memories with the fantastic art ideas found in this book. It's a must-buy!
GIVEAWAY
Enter for a chance to win a copy of Action Art by MaryAnn F. Kohl and Barbara Zaborowski. Just fill out the Rafflecopter Form below to enter. Good Luck! You must 18 years old to enter. Prize can be shipped to US addresses only. The giveaway ends on 7/14/15 at 12:00 am (MST). Winner will be notified via email and has 24 hours to respond to the email with their mailing address. If winner does not respond, a new winner will be randomly chosen.