Naruto is one of the most popular series in the world! Starting out as a manga, it has since been adapted into an anime series, video games and more forms of media.
It has many iconic and recognizable characters, but one of the most popular of all is the character of Kakashi.
This mysterious and powerful character is popular not just because of his complex personality but also his really cool visual design. This design leads many fans to learn how to draw Kakashi.
If you are a fan of this awesome character then this guide is for you!
We hope you have a great time in this step-by-step guide on how to draw Kakashi.
Make Sure You're Prepared For This Drawing With These Tips
When you look at the later images in this guide, you will see that even though this Kakashi drawing is quite detailed. Even though he is drawn in an anime style, the proportions are fairly realistic.
You might find that it will be harder to draw this character than you think, so we think you would benefit from preparing for this drawing. This is especially the case if you don't typically draw characters in this style.
First, make sure you have all of the tools you will need for the drawing ahead. These will include the pencils and pens you like to use for your drawings, but having a selection of drawing pencils can also help.
This way, you can sketch the drawing out first and then draw the final lines when you're happy with how they look. You can always erase any mistakes and any parts you're not happy with.
One trick many artists use with human figures is to break them down into their simplest shapes and forms with your pencil first. It could even start as little more than a stick figure before you add more layers of shapes and details.
It could also be helpful if you had a real person to refer to. You could ask a friend or a family member to help you with this.
It would be better if they have a similar build to Kakashi, but they don't have to be the same. Get them to pose the way he is in the picture, and then you can use that as a reference.
It could help you to visualize the various proportions and details of the character. We hope keeping these in mind will help you as you begin the first step of the guide!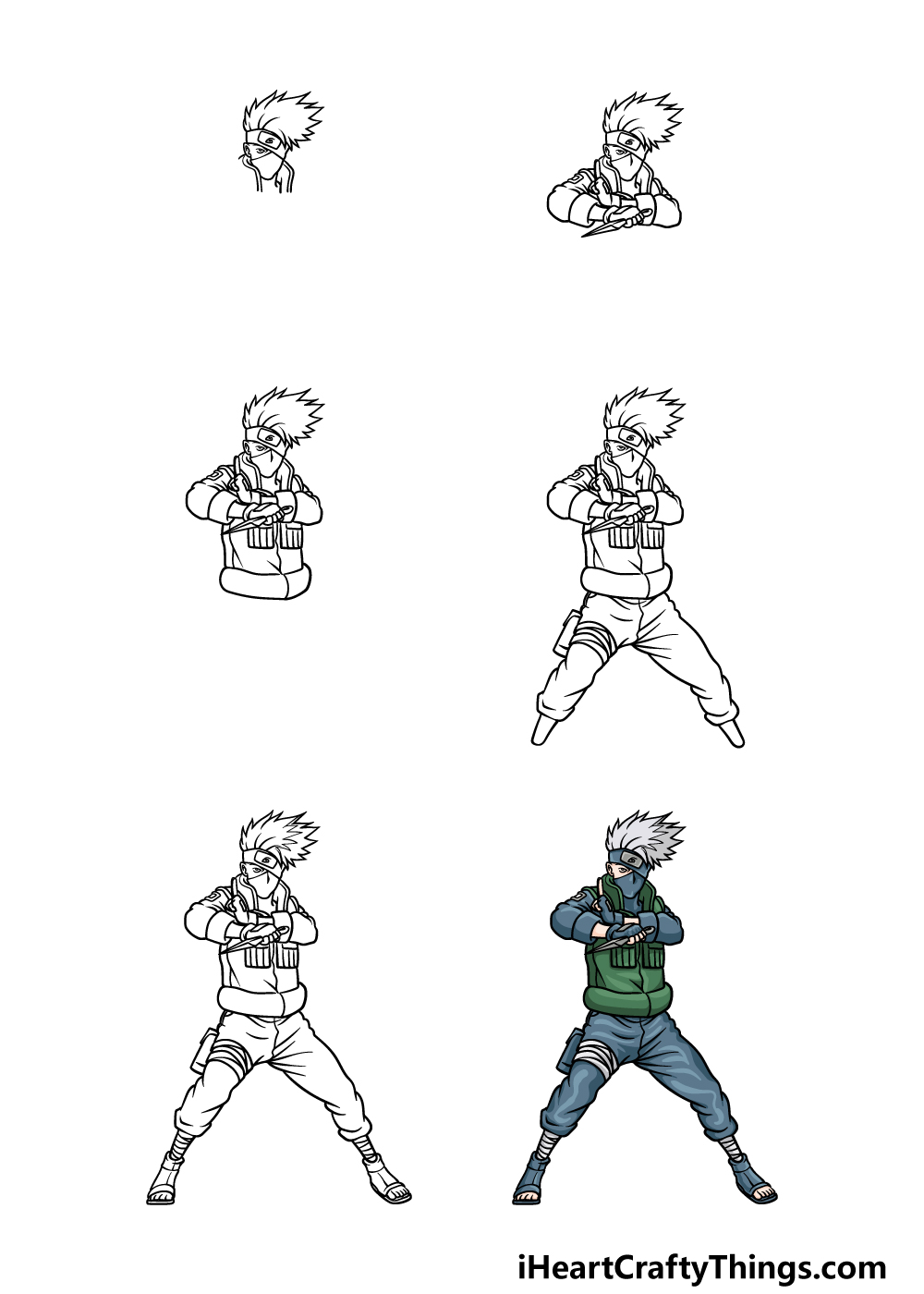 How to Draw Kakashi – Let's get Started!
Step 1
We will be starting with the head in this first step of our guide on how to draw Kakashi. Kakashi has some rather distinguishing features for his head.
First, he wears a face mask that covers half his face along with a headband that also functions as an eye patch. Finishing off these features is his head of spiky white hair.
These are all the elements that we will be drawing in this first step. Kakashi's design is quite detailed and intricate, so that is why we are focusing on it section by section.
Using the reference picture to guide you, simply use some curved lines with sharp points for his hair.
Then we will draw his headband with the symbol on it going over his eye on the right. Finally, we will draw his eye and ear before finishing off with the start of his collar.
Step 2 – Now, draw his arms
Kakashi is going to be ready for anything in an action pose in this picture. For the second part of this Kakashi drawing, we will draw his arms that are braced for action.
There are a lot of details to draw here, so don't be afraid to closely copy the lines as they appear in the reference picture.
His arms will be crossed beneath his head with one arm holding his sharp weapon. Once you have drawn his arms as they appear in the picture, you're ready for step 3
Step 3 – Next draw his waist
Now that you have his arms drawn, we can start on his waist in this part of our guide on how to draw Kakashi.
To do this, we will draw some very slightly bent lines coming straight down from his arms. Then, we will draw two pouches on the front of his waist.
We will finish off this step by adding a thick rim at the base of his top, and then add some line details to it.
Step 4 – Draw the start of his legs
We mentioned how this Kakashi drawing will see him in an action pose, and we will further emphasize that with how we draw his legs here.
His legs will be spread out a bit to the sides, and his pants will be quite loose on him. We will achieve this look by using lots of curved lines with plenty of crease details in them.
There will also be some smaller details such as a strap across the leg on the left with a pouch attached to it.
Where his pants end, we can then use some straight lines for the start of his ankles. Once you have finished his legs then you're ready for some final details in the next step!
Step 5 – Now, finish off your Kakashi drawing
This part of our guide on how to draw Kakashi will be all about adding some final details to finish him off before you add some colors to the picture.
You will also get to draw some details of your own by the end of it, but first we will finish off the final elements.
First, draw his feet at the base of his ankles, and they will be drawn to make it look like he is on his toes.
He is wearing some sandal-like shoes that cover most of his feet except for his toes. Then, you can finish off with some lines across his ankles to make it look like they're bound in straps.
Now that you have finished off his feet, this is where you could add some details of your own to really finish him off! You could draw a cool background for him to represent your favorite Kakashi scene, or perhaps draw another character like Naruto himself beside him.
These are just a few ideas you could go for, but this is your chance to make this drawing your own as you show us how creative you can be!
Step 6 – Finish off your Kakashi drawing with some color
You have reached the final step of your Kakashi drawing, and this is the one where you get to finish off with some amazing colors.
In our reference image, we went with Kakashi's standard muted color scheme of greens and dark blues for his outfit and silver for his spiky hair.
This will serve as a reference point for you if you want his colors to be accurate to the series, but you could also use some colors of your own to put your own spin on it!
Once you know the colors you would like for it, you can also experiment with your favorite art mediums.
You could try out various paints, colored pens or many others to really bring this Kakashi drawing to life!
5 Tips To Make Your Kakashi Drawing Even Better!
Get this Kakashi sketch ready for action with 5 more ideas to make it even cooler!
We created a really cool pose for this Kakashi drawing, but there are many other awesome poses you could create!
He has been in many awesome scenarios in the anime and manga, so you have plenty of inspiration. If you want to create new poses, simply follow the guide again and change a few details.
What cool poses would you like to create?
This character is a fighting master, and he has used many tools and weapons over the years. You could make this drawing of Kakashi more distinct by giving him some of these tools and weapons.
If you have a favorite Kakashi scene where he used a distinctive weapon, it would be great to add it here. What weapon would you like him to wield?
If you haven't had enough Kakashi after this guide, you could have some fun drawing him in different styles. He is drawn here to match his anime appearance, but you could draw him in a simpler cartoon style, for instance.
That is one style you could use, but there are many others you may like!
The Naruto series that Kakashi is from is filled with many distinct and iconic characters. You could add some of these characters to your Kakashi sketch to showcase all your favorite characters!
If you want to do this, you could look up pictures of your favorite characters or use the anime directly. You could draw them all in some cool poses to create some interesting and exciting scenes.
Which characters would you like to add?
Finally, why not finish off this Kakashi drawing with a background? If you add one, you could base it on a specific scene from the series or create your own.
This would work well with any of the previous ideas that we have suggested, and you could create some really cool scenarios!
Do you have a specific background in mind that you could use here?
Your Kakashi Drawing is Complete!
This will conclude this guide on how to draw Kakashi! He is a highly detailed character with some specific elements, and we know that can get intimidating.
For this guide, we aimed to make it easy and fun for you by breaking it down into smaller parts that are easier to manage. We hope we succeeded in this regard for you!
Don't forget that you can also add your own details, additions and cool color choices to put your own spin on this image. We can't wait to see what you come up with!
We have many awesome drawing guides for you on our website! Some of these include other iconic heroes from manga and anime along with dozens of other subjects. Be sure to visit often to never miss out!
Once your Kakashi drawing is complete, please be sure to share it on our Facebook and Pinterest pages. We look forward to seeing your awesome artwork!