The Jeep is known as one of the toughest and hardiest land vehicles you can find. It has garnered this reputation throughout the world, and they have become well known as the go-to choice for anyone needing a tough and capable vehicle that will get the job done.
This brand has also won many fans around the world, and it can be great fun learning how to draw a Jeep!
While fun, it can also be tricky, making a guide like this quite essential.
Our step-by-step guide on how to draw a Jeep will make sure that this drawing is not rough terrain!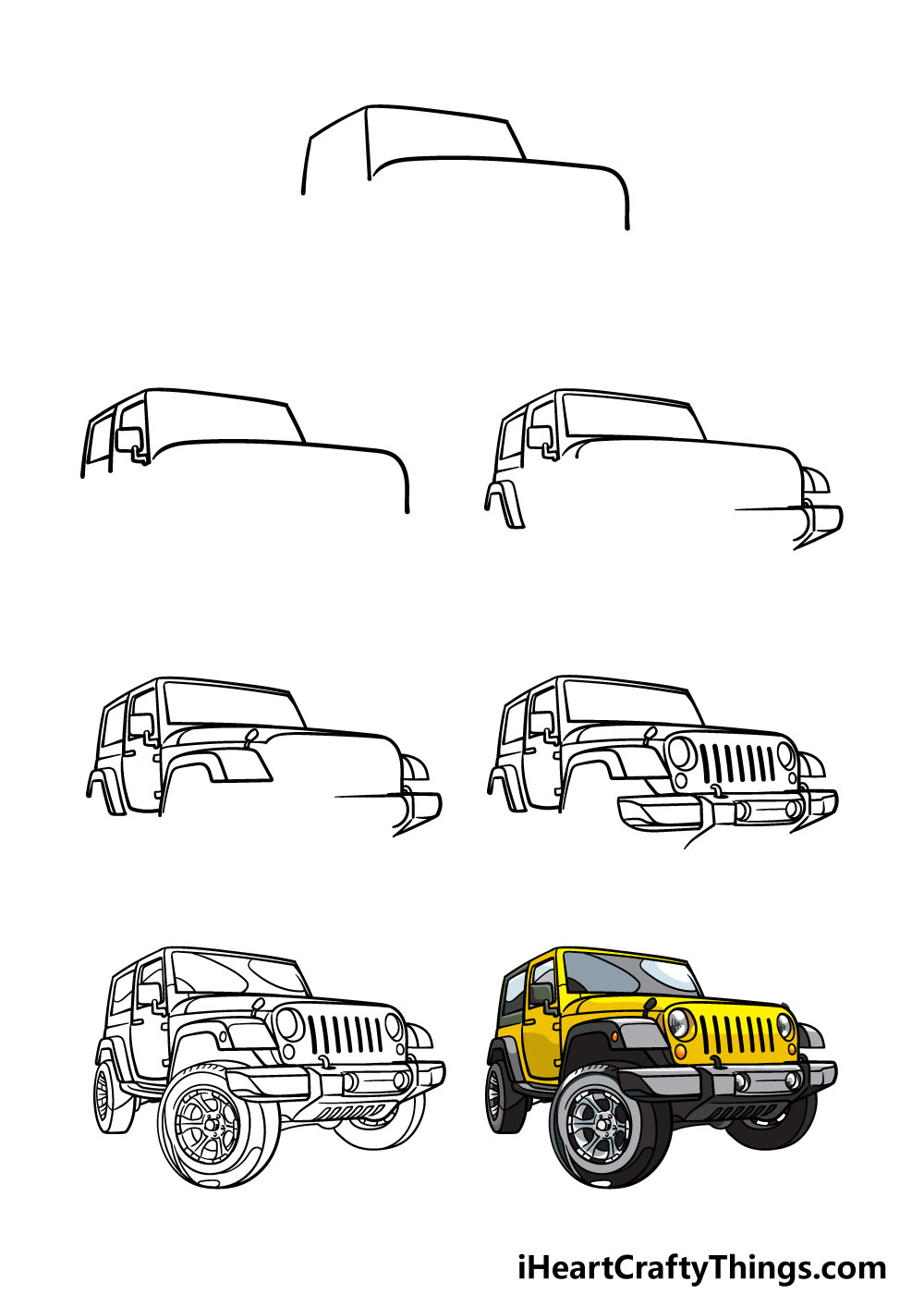 How to Draw A Jeep – Let's get Started!
Step 1
This first step of our guide on how to draw a Jeep will see you starting on the outline of the vehicle. Primarily for this step, we will be drawing the front and top of the vehicle.
The front will be drawn with a curved line that arches sharply down. For the top of the Jeep, you will be using some straighter lines instead, as shown in the reference image.
Once you're happy with how it looks then you're ready for the next step!
Step 2 – Draw the windows and the side mirrors
Using the outline that you started in the previous step, we will start to add some more elements in this part of your Jeep drawing.
Using some more curved and straight lines, you can draw the windows with a separation in the middle. Then, you can draw the small square side mirrors to finish off this step.
Step 3 – Add some more details for the Jeep
There are going to be a lot of different details in this guide on how to draw a Jeep, so we will be taking it slowly as we work on them!
Starting with the details in this step, we will be drawing the windshield for the Jeep. Then, you can add some more details underneath the windows and start to draw the mudguard for one of the wheels.
Finally for this step, you can start to draw the front bumper using some more curved lines. We will continue adding some details in the next steps, so let's move on!
Step 4 – Keep adding some more details
Continuing on with your Jeep drawing, we shall continue to add some more details and aspects to the vehicle. One of the main elements in this step is the mudguard over the wheel on our left.
There will also be some details on the hood of the car, as shown in the reference picture. Finally, you can add some more lines for the doors of the Jeep.
That's all that we will be adding in this step, and in the next few we will start adding the final elements.
Step 5 – Add the grill and headlights of the Jeep
We will be adding quite a few details in this step of our guide on how to draw a Jeep. To start, you can use some oval shapes for the headlights set into the grill of the vehicle.
Speaking of the grill, we will also be drawing that now. This will be drawn as a rounded rectangle shape, and there will be a row of long, black shapes along it.
Finally, we will be drawing the front bumper of the Jeep. the bumper is made up of many smaller parts and elements.
It may look intimidating, but if you go slowly and follow the reference image closely then you should have no problems with it!
If you are having a hard time with it, you could simplify it and keep it to the basic outline of the bumper.
Step 6 – Now, add the final details and elements
It's almost time for you to add some color to your awesome Jeep drawing, but first we have a few more details to add.
This is another step that may seem a bit intimidating, but as we mentioned you can take it slow and follow the reference image. First, you can add the final section to the bumper to finish off that aspect.
Then, you can add the wheels for your Jeep. The wheels will be drawn with some curved lines and circular shapes. There are also loads of details inside of the wheels.
This is another time where if you're having trouble with it then you can simplify the details a bit.
Then, there are many more details that you can add throughout the Jeep. You can also add some more details of your own that you may want before you move on.
Perhaps you could draw an awesome background for it to show what kind of terrain this Jeep is traversing.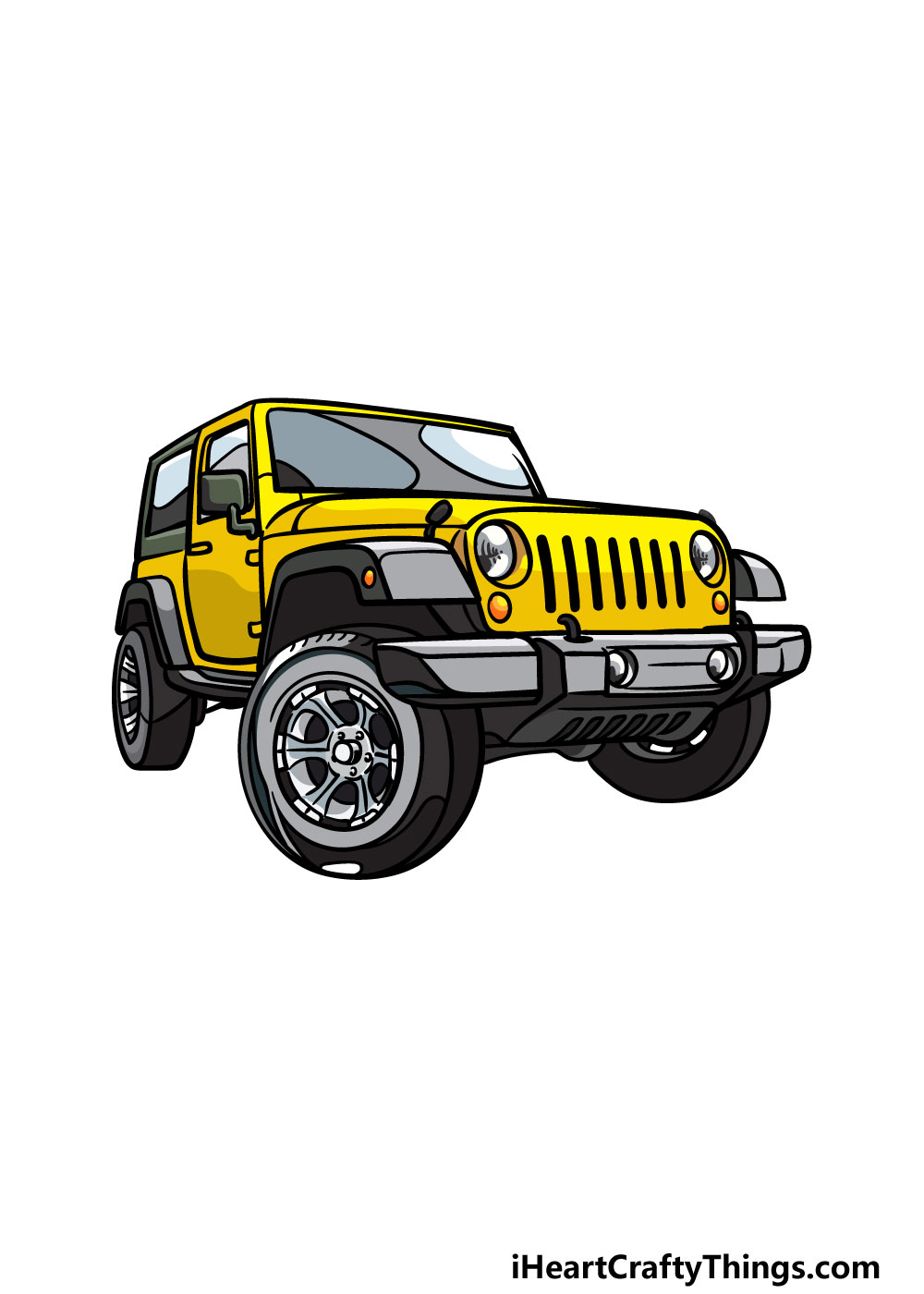 You've worked very hard on this guide on how to draw a Jeep! Now that all of the details and final elements have been added, you can have some fun coloring in your drawing.
In our reference image, we used yellow for the body of the Jeep and then used black and grey for most of the other elements.
This is just one of many options you could go for, however, and you should feel free to use any colors that you may love.
This is your chance to have fun and get creative with it, and we can't wait to see what you come up with!
5 Tips To Make Your Jeep Drawing Even Better!
Make this awesome Jeep sketch even greater with these 5 fun ideas!
For this drawing of a Jeep, we went with a bright yellow color scheme for this vehicle. This color looks striking, but Jeeps can also come in any other colors you can imagine!
This could be a flat red, black, blue or any other color. You may also wish to use a camouflage pattern to make it look like an army Jeep.
This is your chance to show off what your perfect Jeep would look like!
This Jeep that we drew has windows that have been colored in. If you wanted to show who is driving this particular Jeep, you could remove that coloring and draw someone at the wheel.
The only question is who would you draw behind the wheel of this awesome Jeep?
If you love vehicles, then you probably love lots of these powerful machines other than the Jeep. If that is so, then you could add another vehicle to this Jeep drawing.
This could be a car, a truck or even something bigger like an army tank. Adding a chopper or another aircraft above it would also be a great way to enhance the image!
The magic of the Jeep brand is that these vehicles can traverse all kinds of different environments. You could show what kind of tough terrain this Jeep is traveling through by adding a background.
For a few ideas, it could be some rocky desert terrain, or it could be going through the snow of an icy tundra. What are some harsh environments that you could use for the background of this image?
Finally, you could present your Jeep sketch in a few interesting ways to enhance it even further. One idea would be to draw the Jeep on a huge piece of paper to turn it into a poster.
Or, you could even frame the picture once it's done. That way, you could display it in your room or even give it to someone as a fun gift!
Your Jeep Drawing is Complete!
You have reached the end of this guide on how to draw a Jeep, and you should be very proud of your drawing!
This was quite a tricky drawing project as there were many small details, but we know that if you follow this guide closely and try your best that you will be able to do it.
Now that the drawing is done, you can take it even further with your own elements. We can't wait to see the creative ways that you add your own touches to this picture!
When you're ready for more, we look forward to seeing you on our website! We have tons of amazing guides for you to enjoy, and we upload new ones all the time as well.
Once your Jeep drawing is finished, we would love to see it! Once it's done, please feel free to share it on our Facebook and Pinterest pages for us to enjoy.