They say that style and fashion cannot be taught, and while that may or may not be true there is one thing that is true; some fashion items are timeless and look good on anyone!
Jeans would be an excellent example of this, and they are worn from everything from cowboys to fans of the dark goth look.
There are many different kinds of jeans to enjoy, and learning how to draw jeans is a great way to imagine your own designs!
This can sometimes be harder than one may think, but this tutorial is here to help!
By the end of this step-by-step guide on how to draw jeans you will know everything there is to know about creating this classic piece of clothing!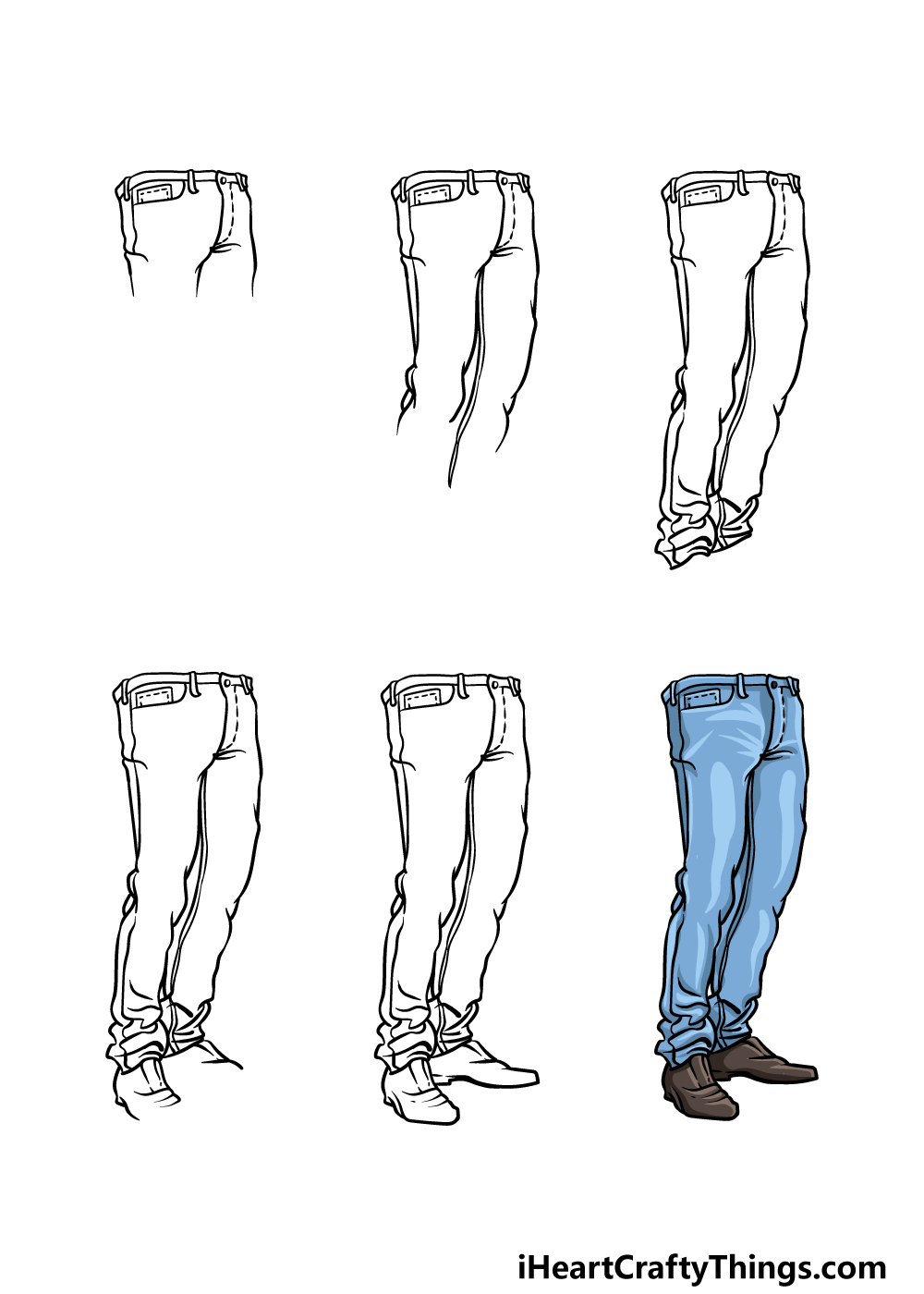 How to Draw Jeans – Let's Get Started!
Step 1
One thing that we can all agree on is that every good pair of jeans needs a hole in which to put one's legs.
For that reason, we shall start this guide on how to draw jeans by drawing this very important part of them. This pair of jeans has a thin rim at the top of it that you can draw with a flat shape.
Every so often, there will be some belt loops breaking this shape. Near the right-hand edge of this shape, there will also be an opening where the zip goes. For this part, draw a small circle near the opening and then extend a line down from it.
Finish off this step by drawing a dotted line near the zip area, and then you can draw some pockets along with the top of the leg portions.
Step 2 – Next, start drawing the legs of the jeans
We will be creating this jeans drawing the same way everyone else does; one leg at a time. Drawing the legs of these jeans should be a pretty easy step!
To start them, first extend some slightly curvy lines down from the outlines that you started in the first step.
Near where the knees are, there will be some curved lines poking outward a little bit. You'll see what we mean when you look at the reference image!
Then, when you're ready we can move on to step 3.
Step 3 – Draw the rest of the jeans outline
In this third step of our guide on how to draw jeans, we will be finishing off the outline for the jeans themselves.
First, you can extend some lines down from near the knees of the jeans for the shin portions. These can also have some line details added to them for further realism.
Then we can finish off by drawing the bottom of the pant legs. These will be bunched up near the shoes, and you can draw them using lots of smaller curved lines to create this effect.
This is probably the trickiest part of the drawing to get right, so don't be shy to take it slowly and copy the reference image closely!
Step 4 – Now, start drawing the shoes beneath the jeans
You've finished the jeans portion of this jeans drawing, so for the next few steps we will be drawing some shoes and other final details.
For now, we will just be drawing the tops of these shoes, and we will do so by using some smaller curved lines.
Once you're happy with how the shoes are looking so far, we can then move on to some final touches and details in the next step!
Step 5 – Finish off your jeans drawing
We will be finishing off the picture in this step of our guide on how to draw jeans. To do this, we will focus on finishing the outline of the shoes that you started in the previous part.
Simply use some more curved lines to create the tips and bases of the shoes, as shown in the example image.
Once these shoes are complete, you can also add some touches of your own to really finish it off! You could draw some more of the person wearing these jeans, or perhaps draw a background to create some context for this image.
These are just a few out of many ideas you could go for, but how will you finish off this picture?
Step 6 – Finish off your jeans drawing with some color
At this final step of your jeans drawing, you can finish it off with some color! Jeans can come in many different styles and colors, so that gives you a lot of freedom with how you can finish off this picture.
In our reference image, we went with the classic blue color scheme that jeans are often associated with.
Even though they are primarily blue, we found some ways to make them look a little more dynamic. To do this, we used various shades of blue to help make it look like the fabric is a bit more creased.
You could go for a similar color scheme for your own picture, but don't be afraid to go for a different one if you prefer!
Then you can have some fun picking which art mediums you will use to accomplish your chosen color scheme.
Will you go for some paint mediums or keep it to colored markers and pencils? We can't wait to see!
4 More Ways To Make Your Jeans Drawing Unique
Try on these tips that we have for your jeans sketch to make it even better!
Jeans can come in many different colors and styles, and this drawing of jeans shows just one possible style. One way you could easily customize the jeans would be by changing the colors.
This could be done by making the blue lighter, darker or a different color entirely. There is no wrong approach to take here, and it all depends on your personal preference.
What colors would you like to use for these jeans to make them fit your style preference?
There are other details you can add to these jeans to make them fit your style. For instance, many jeans will have rips and tears incorporated into the design.
It's a cool feature that you could incorporate into these jeans. There are other subtle details you could use to make these jeans more distinct as well.
If you have some favorite pairs of jeans in your clothes collection, then you could use them as inspiration for this drawing.
Once the jeans drawing looks exactly as you want it, you could then take it further by adding more of the outfit that is being worn with it. This could be as simple as some sneakers and a t-shirt.
Or, you could incorporate jackets, hats, gloves and any other accessories you may want. This is a great way to try and visualize some fashion designs you have imagined before!
Finally, adding someone wearing the pants in this jeans sketch would be a great way to finish it off. You would have a few options for who could be wearing the jeans!
One fun idea would be to use yourself as the model and show a depiction of yourself in the picture. Or, you could also use someone else that you know.
Otherwise, you could find a picture of a favorite celebrity and show them wearing the jeans design that you have created. Who would you like to have in this outfit?
Your Jeans Drawing is Complete!
We hope that you had a great time recreating this famous clothing item in this guide on how to draw jeans!
Even though we have all seen many pairs of jeans in our lives, it can still be difficult to draw something like this when you sit down to it.
That's why in this guide we aimed to make it easier for you by breaking it down into smaller steps.
Now it's your turn to show off your creativity by adding your own touches and extra elements to really finish it off!
There is a lot that you can do to make this picture your own, so definitely be sure to have fun with it as you get creative.
Be sure to check out our website for more drawing guides like this one! We have a ton there for you already and we have more on the way, so stay tuned for that.
We would be thrilled to see your finished jeans drawing, so please share it on our Facebook and Pinterest pages so we can take a look!