We experience many emotions and feelings in our day-to-day lives. Some are not very pleasant, like sadness, anger and mourning.
Others make us feel really good, and few things can compare to the floaty feeling of falling in love!
When you love someone, it can really make them feel special if you draw an image or card feating an I love you design.
Learning how to draw I love you is the perfect way to prepare yourself for creating a loving image for the apple of your eye!
If you would like to create a loving image, then you've chosen the right guide!
Our step-by-step guide on how to draw I love you in just 6 steps will show you how fun and easy it can be to share the love!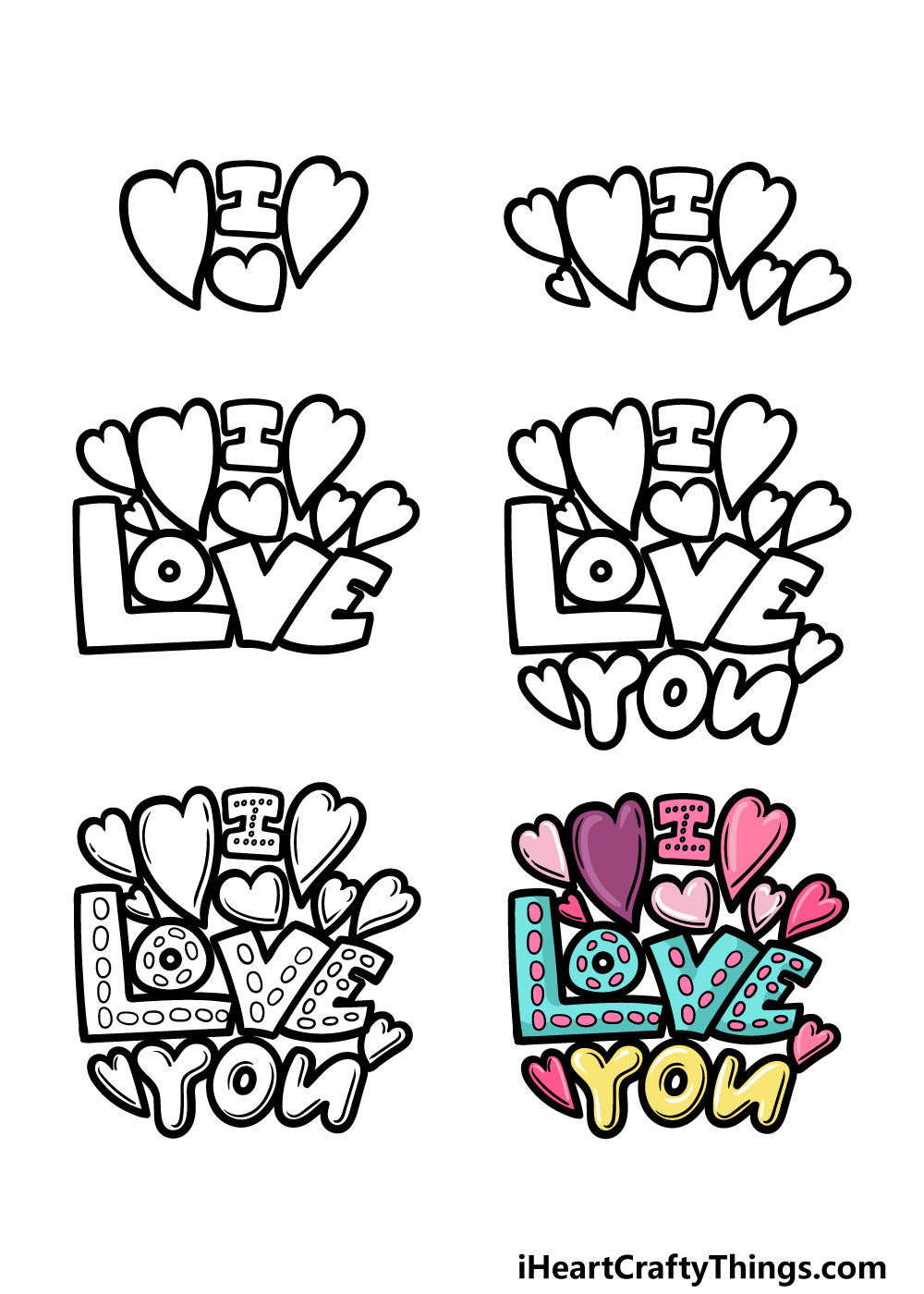 How to Draw I Love You – Let's Get Started!
Step 1
We have a whimsical and heart-filled design for you to work on in this guide on how to draw I love you. To get things started, we will begin with the "I."
The letters that we will be drawing in this image are thick bubble letters, and that is certainly true for this letter.
Using some thick lines and the reference image to help you, you can draw the capital letter I. This image will have a lot of hearts in it to represent the love theme, and we will add the first few now.
Draw two hearts next to the letter I, and then draw another more squat one underneath it. Once you have drawn these hearts, we can move to the next step.
Step 2 – Next, add some more hearts for the drawing
You can never have too many hearts with a drawing like this! For that reason, we will keep adding even more in this step of your I love you drawing.
For now, we will be adding four more hearts, and they will all be of varying sizes and shapes. You could also change up the sizes and shapes to your own specifications as well!
Later on you will be able to add even more hearts if you wish, but for now let's go to step 3.
Step 3 – Draw the word 'love.'
For the next part of our guide on how to draw I love you, we will be drawing the 'love' part. First, we will draw the capital L. This will be quite large, and the bottom will extend to the right.
The bottom of the L will serve as a little base for the O, which will be much smaller than the L was.
Finally, you can finish off with the V and the E, and these will be more or less the same size, larger than the O but smaller than the L.
The way you have drawn these letters will give it a nice vibrant feel! Then we can draw the rest of the phrase in the next step.
Step 4 – Now, draw the rest of the phrase
This I love you drawing would not be complete without the final word in the phrase! That's why we will draw the final word before we move on to some decorative details.
First, you can draw another heart under the word love. After that, you cab then draw YOU in a similar style to the other words you have been working on.
Once that is drawn, you can then add one more heart on the other side of YOU. That will finish off this step, and next we will add those decorative elements that we alluded to earlier!
Step 5 – Add some fun details to the drawing
This fifth step of our guide on how to draw I love you should be a really fun one to do! You have worked hard drawing all of the outlines and shapes for the image, and now you can have some fun adding all sorts of cool details.
We decorated the words I and LOVE by adding lots of little circles inside the outlines of each letter.
Then we added some line details inside the outlines of not only the remaining letters but also all of the hearts that have been drawn thus far.
This is a step where you could also add any details that you would like! Maybe there still aren't enough hearts for your liking, so why not draw even more?
You could also draw different shapes and patterns into the letters or add the name of your beloved underneath the drawing to turn it into a nice card. How will you finish off this delightful drawing for the final step?
Step 6 – Finish off your I love you drawing with some color
A nice and bright image like this needs some nice and bright colors, and that is what we will take care of in the final step of your I love you drawing!
We used a large variety of different pretty colors to really make our example image pop. as you may imagine, we used a bunch of pinks and purples, as those are often associated with love.
Then we mixed things up a bit by using some lovely blues and yellows.
These are our color choices, but feel free to incorporate your own as well. Using bright mediums like colored markers or acrylic paints would work brilliantly for an image like this, but anything you use will look amazing!
Your I love you Drawing is Complete!
We're really feeling the love at the end of this guide on how to draw I love you! We hope that you had a lovely time working on this image, and we also hope that it was fun and easy for you to use.
We also tried to leave a lot of room for you to express your own creativity, so go wild with your own details and see what happens!
Be sure to head on over to our website, because we have many more incredible guides just waiting for you! If that wasn't enough, we have plenty more coming soon, so you'll want to visit often.
We would really like to see how you showed some love in your I love you drawing, so when it is complete please be sure to share it on our Facebook and Pinterest pages!