Halloween is one of the more unusual holidays that is celebrated around the world.
While many holidays are about creating a bright, jolly atmosphere, Halloween is all about celebrating anything spooky and creating a creepy atmosphere.
For many people, this is their favorite holiday of the year, and learning how to draw a Halloween kid is a great way to get into the spirit of the spooky season.
If you love this unusual holiday as well, then this will be a tutorial that's not to be missed! This is a guide that you will certainly want to see all the way to the end.
Our step-by-step guide on how to draw a Halloween kid in just 6 easy steps will show you how to create a wonderful interpretation of this spooky event!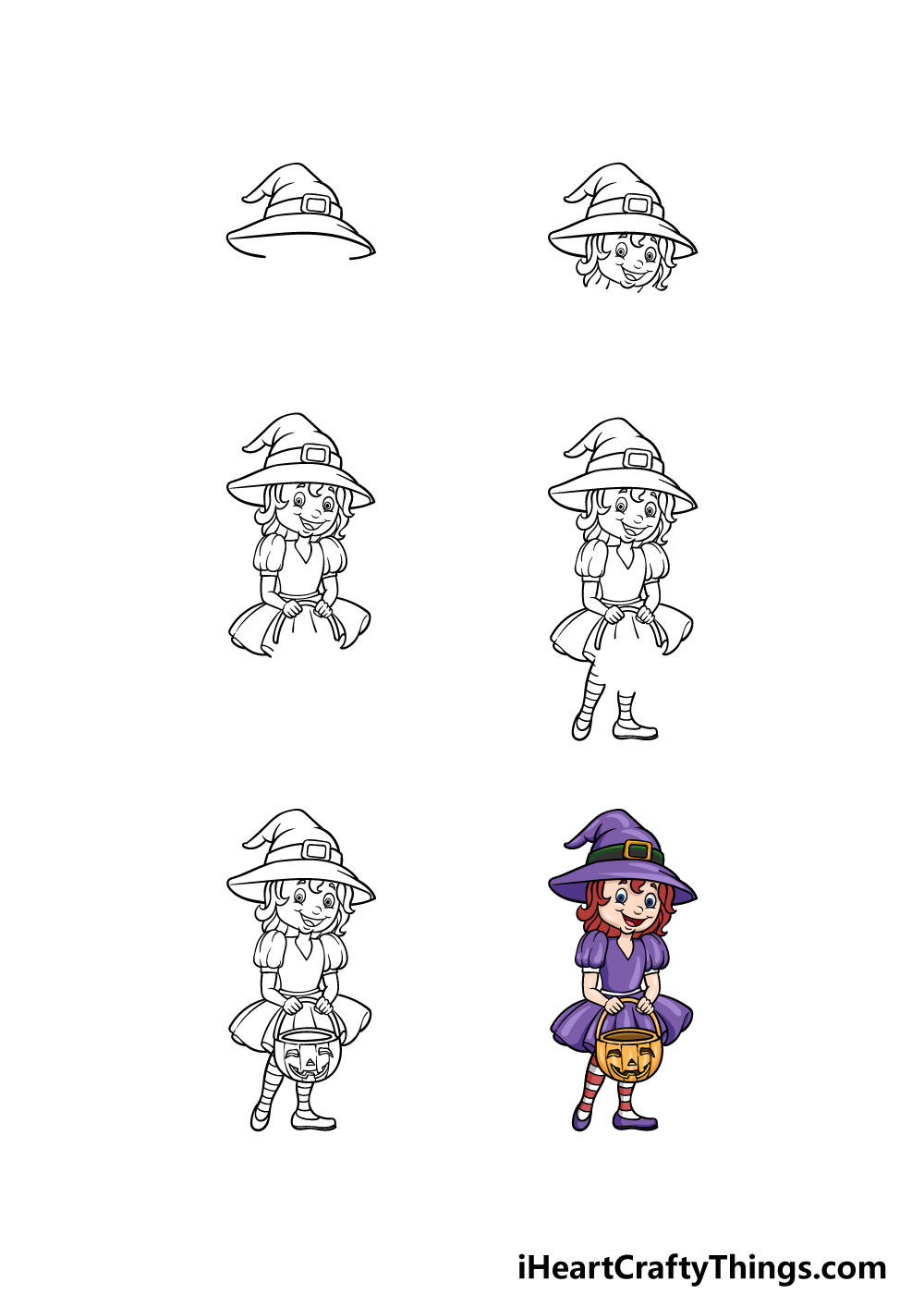 How to Draw A Halloween Kid – Let's Get Started!
Step 1
During this guide on how to draw a Halloween kid, we will be portraying a little girl who is dressed in a witch outfit. To begin this process, we will start with the hat that she is wearing.
This will look like a traditional witch's hat, as shown in the reference image. This means that you can use some curved lines for the large rim of the hat. Then, it will have a belt around the top of the rim.
Finally, use some more curved lines for the top of the hat. It will get quite thin and pointy near the top, and it will be flopping over as well.
With this hat drawn, we can then proceed to step 2 of the guide!
Step 2 – Now, draw the face for this Halloween kid
This second part of your Halloween kid drawing will have you drawing the head and face of the kid.
First, use some curved, wavy lines for the locks of hair dropping down from her hat. Then, draw some ovals with circles inside of them for her eyes.
We will then use some simple curved lines for her nose and mouth, and then use some more for the outline of her head.
Once these aspects are complete, you will be ready for the third part of this guide.
Step 3 – Draw the outfit for this Halloween kid
In this third step of our guide on how to draw a Halloween kid, we will be focusing on the outfit that she is wearing.
We will be using a lot of curved lines for the outlines of this outfit, as we want it to look quite puffy.
There will be some thick shapes used for the outlines of the sleeves, and the skirt will fan out at an angle as well.
Then, we will draw her hands extending down from the sleeves where she shall be grasping her Halloween basket in a future step.
Step 4 – Next, draw the legs for this Halloween kid
Before you add the final details for this Halloween kid drawing in the next step, we will first draw some legs for her.
There will be a big empty space near the top of the legs, as this will be where the basket will be going later on.
As for the legs, you can use some curved lines for the outlines and then draw some lines across them for the patterns on her long socks.
Finish off by drawing her shoes, and then you will be ready for those final details that we mentioned as we move to the next step!
Step 5 – Add the final details to your Halloween kid drawing
Trick or treating would be made quite difficult without a container to receive candy in, so that's why we will draw a treat basket in this step of our guide on how to draw a Halloween kid.
These baskets will often take on the theme of a Halloween jack-o-lantern, and this one is no different.
Use some curved lines for the outlines of the basket, and then add some lines vertically along it.
Then, draw the jagged eyes, nose and mouth for the face of the lantern. You could also go for a different design for this basket if you prefer!
One idea would be to draw a cauldron-shaped basket, but there are many ideas that you could also go for instead.
You could also draw a Halloween background or even add some more costumed kids! How do you think you will go about finishing off this image?
Step 6 – Finish off your Halloween kid drawing with color
All of the outlines for this amazing Halloween kid drawing are complete, and that means that you're ready for some coloring fun as you finish it off!
Witches are often associated with the color purple, and for that reason we went with purple as the primary color for this image.
We used purples for her hat and outfit, and then incorporated some orange for the jack-o-lantern. Then, for her socks we used some white and red stripes.
These are the colors that we went with, but they are merely a suggestion! You could go for these same colors in your own picture, but there's also a lot of freedom to use any of your own color choices instead.
You could also play around with different art tools and mediums for some color variations, so what will you decide on when finishing this image?
Here's how you can make your Halloween Kid drawing even better…
Make your spooky Halloween kid sketch even better with these 4 tips!
This drawing of a Halloween kid shows a kid out on Halloween night with her basket ready for trick or treating. You could change the timeline of the image a bit by showing her basket full of candy.
This would be a small detail, but it would help to capture that excitement of a great Halloween haul! Plus, you would be able to work in some wonderful color details if you were to do this.
The kid in this picture is dressed as a witch, which is a classic Halloween costume. While it look great, you could also try out some different costumes in order to make this a more unique picture.
There are some classic choices like ghosts or zombies that would work perfectly for a Halloween outfit. These are just a few ideas you could go for!
This would be a great chance for you to imagine your next Halloween outfit you would like to wear.
Continuing on from our last suggestion, you could also add some friends to this Halloween kid drawing. This would be a great way for you to include some other costume ideas.
If you have friends or family that you would go trick or treating with, then you could use them for this drawing.
You could have as many characters as you like, and then you can have fun creating some awesome costumes!
What kinds of costumes do you think would be worn by this kid's friends?
Halloween is lots of fun for many reasons, and one of them would be the many scary decorations that are put up. You could have fun designing some of these by adding a background!
This would be a great way to finish off this Halloween kid sketch, as it would show where they are enjoying Halloween. You could add a background even if you added more characters as we suggested.
Where would you set this artwork if you were to add a background?
Your Halloween Kid Drawing is Complete!
Halloween may be the scariest holiday of the year, but hopefully with the help of this step-by-step guide on how to draw a Halloween kid you found the experience to be anything but scary!
In this guide, we aimed to break it down into smaller steps to make the process that much easier for you to take on.
Now that you have completed the image we laid out for you, you can finish off with your own additions and details to really finish it off.
Will you draw a background or some extra Halloween touches to create your perfect Halloween setting?
If you had a good time working on this guide, we have plenty more waiting for you on our website. There is a huge selection to choose from, and we add new guides frequently as well!
When your Halloween kid drawing is all finished, you can show us how it turned out by sharing your creation on our Facebook and Pinterest pages.