They say a dog is man's best friend, and it's easy to see why.
There are so many beloved dog breeds out there, and if you want one that is known for joy and playfulness then look no further than a golden retriever!
Because so many people love this dog breed, it has made many people wonder how they can learn how to draw a golden retriever.
If you count yourself among them, then this is the guide for you!
This step-by-step guide on how to draw a golden retriever will have you drawing this lovable canine pal in no time!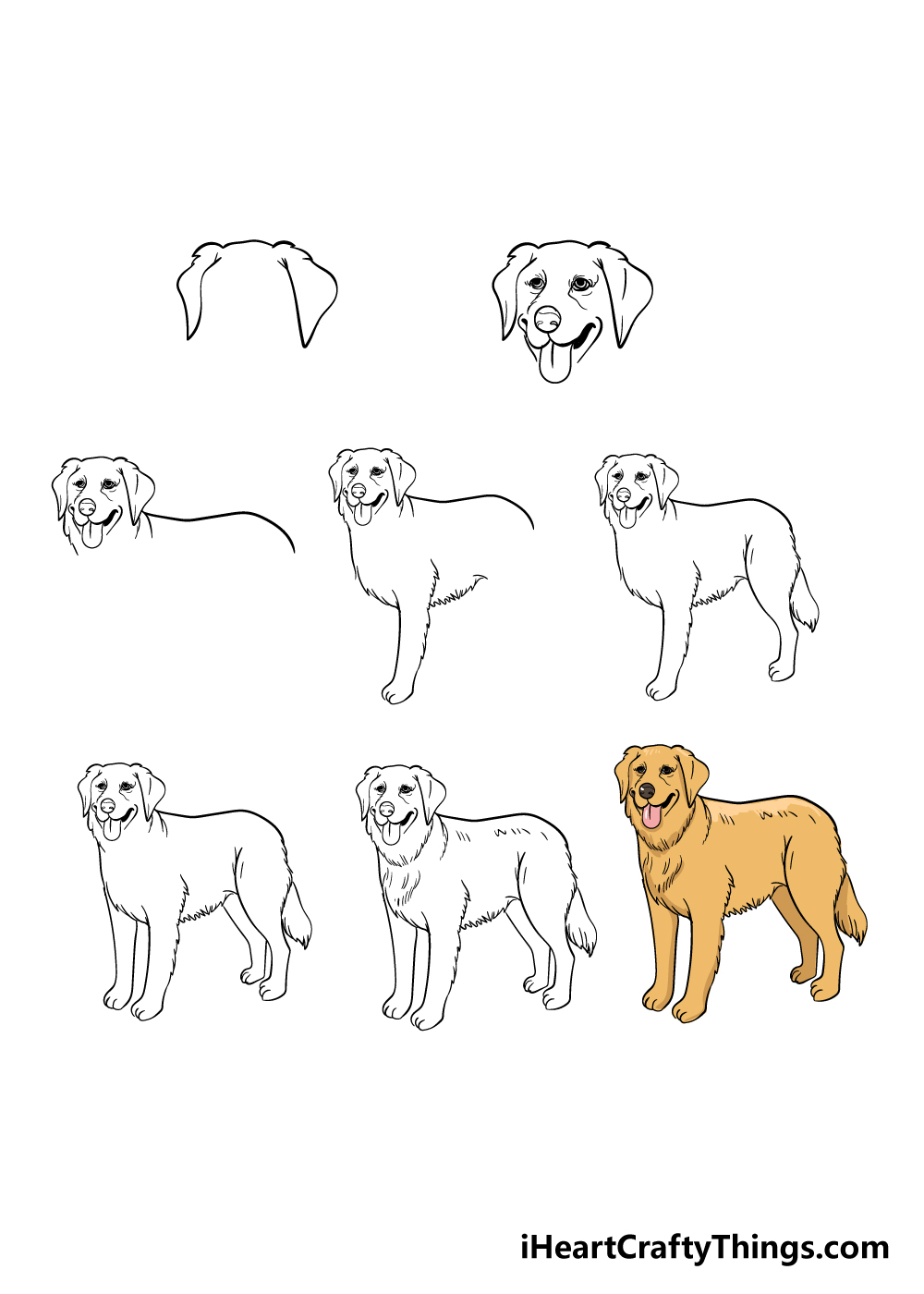 How to Draw A Golden Retriever – Let's get Started!
Step 1
To begin this guide on how to draw a golden retriever, we shall be starting with the top of the head and the ears.
You can draw the top of the head using a fairly flat line, as you can see in the reference image. The ears will then be curved on the outer sides but will be straight on the inner edges.
The ear on the left will also be a bit thinner to show perspective.
Step 2 – Next, draw the face for your golden retriever
This second step of your golden retriever drawing is a bit tricky, so don't be afraid to take it slow and closely follow the reference picture!
The eyes will be drawn using some circular shapes with sharp corners on each side. You can then add a big black dot inside each one.
There will then be some short lines around each one, with a long curved line extending down from each one towards the nose.
Speaking of the nose, it will be big and quite rounded. The mouth is then divided into two main sections that come out from a center point on the nose.
Finally, you can add a big tongue dropping down from the mouth.
This can definitely sound very complicated, but if you look closely at the image and try your best you can definitely do it!
Step 3 – Now, draw the back of the dog
Now that you've drawn the head and face of your drawing, the hardest part is behind you and you should have no trouble finishing this guide on how to draw a golden retriever!
To draw a back for your golden retriever, simply extend a curved line from the head going backward. It will curve sharply at the end as you can see in the reference picture.
Finally, you can extend a jagged line down from the left-hand side of the head for the neck of your golden retriever.
Step 4 – Next, draw the chest and first leg
Continuing on for your golden retriever drawing, you can use a jagged line that curves down from the neck and then extends backward.
This will make it look nice and furry! Then, you can draw the first leg of your golden retriever. The front of the leg will be more straight, whereas the back of it will also have a jagged line for furriness.
Once you're happy with how it looks, you're ready for step 5!
Step 5 – Now, draw the first back leg and tail
For this step of our guide on how to draw a golden retriever, we shall be adding the first back leg.
The back leg will have a thicker, more rounded top portion, whereas the bottom part will be thin and at more of an angle. Then, you can add a nice fluffy tail hanging down at the back.
Step 6 – Draw the rest of the legs in this step
You've drawn two legs so far, so you should have no problem drawing the other two for your golden retriever drawing!
These will go on the other side of the body and will look almost identical to the first two you drew. They will be a bit smaller to show perspective, of course.
Step 7 – Finish off the drawing with some final details
In this step of our guide on how to draw a golden retriever, you can add some final details! You can use some short, curved lines throughout the golden retriever to give a look of fur on the body.
A golden retriever has a thick coat, so this will help to convey this! Before you move on, be sure to add any extra details you want for your image!
You could draw a beautiful background, draw in some toys for your golden retriever to play with or draw the body of the owner standing next to it.
How will you finish off your golden retriever drawing?
Step 8 – Now finish off your golden retriever with some color
This has been a tricky drawing, so now you can relax with some fun coloring! The golden retriever gets its name from its wonderful golden coat, so that should make for a striking drawing!
You can also color in any extra elements such as a background that you added in the previous step.
Which art mediums will you choose for your golden retriever drawing? A nice bright medium such as acrylic paint or colored pens would be great to compliment this friendly dog!
You could also use something more muted like watercolors or colored pencils for a different approach that would also look beautiful.
We can't wait to see what you choose!
Do this to take your golden retriever drawing to the next level
Make your drawing even better with these tips for your golden retriever sketch
This drawing of a golden retriever is looking very happy, but you could add some details that would make it look even happier! A good way to do this would be by drawing some toys.
These could include tennis balls, frisbees or maybe a rope chew toy. You could add anything you can think of in order to give this adorable golden retriever plenty to keep it occupied!
We gave you a few suggestions, but what else could you add to make this golden retriever even happier?
There are other objects you could add to the scene that are less fun but still very important. You could start thinking about all of the things a dog needs to thrive day to day.
This could include having a food or water bowl or maybe a collar around its neck. These are objects and details you could add along with some other fun ones from the previous step.
Dogs are very playful most of the time, and they love to play with other dogs. You could make this golden retriever drawing even more joyful by adding some more dog friends for it to interact with!
One of the simplest ways to do this would be by adding another golden retriever. This would be easier as you can simply follow through the guide again and add a second golden retriever.
Or, you could add any other dog breeds you love to fill this picture with even more joy!
Finally, you could finish off this golden retriever sketch with a background setting and scene. There are so many places that this golden retriever could be!
Maybe it is in a house setting, or it could be playing at a park. If you were to make a scene, you may also want to add a human character to interact with the golden retriever in your chosen background.
What are some background settings you could use for this golden retriever
Your Golden Retriever Drawing is Complete
You should be very proud of reaching the end of this guide on how to draw a golden retriever!
This was a tricky tutorial, but we hope that it was made much easier when you had some steps and a guide to follow.
We always aim to make our guides informative and fun, so we also hope you had a great time with it!
It doesn't end here though, as now you get to take over and make it your own! Whether you do this with a background or some amazing art mediums, we know it will look amazing!
We have lots of awesome step-by-step drawing guides like this one for you to enjoy on our website!
Be sure to visit us often, as we upload new guides constantly.
We would love to see your adorable golden retriever drawing when it's done, so please be sure to share it on our Facebook and Pinterest pages for us to enjoy!