The dog, also known as a canine, is a domesticated carnivorous mammal that typically has a long snout.
Dogs are also known for their intuitive sense of smell as well as their distinct barking, howling, and whining voice.
A dog is considered a man's best friend because of their dependence on humans. Without a doubt, we've all dreamt of having a pet dog.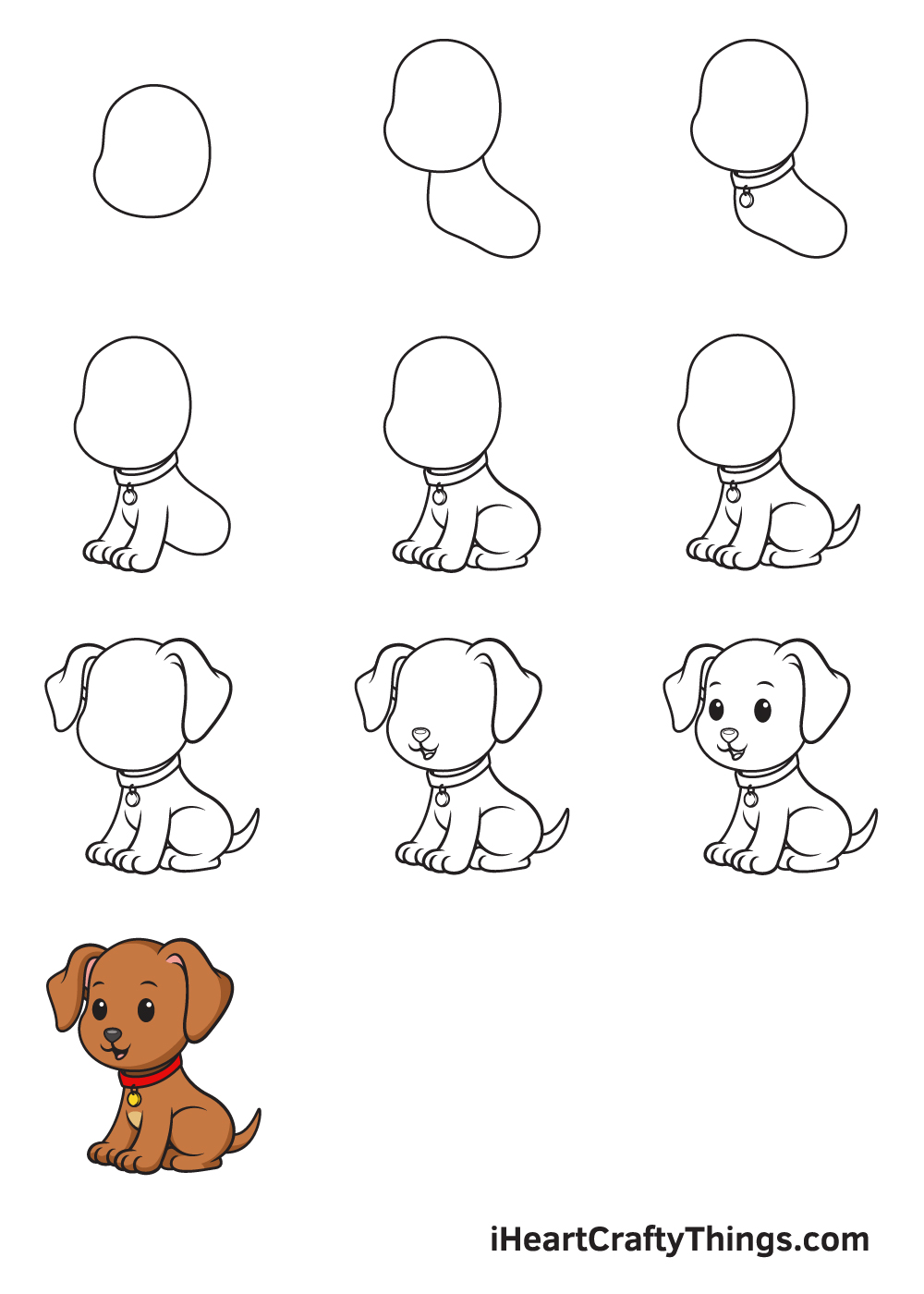 With its huge, gleaming eyes and playful attitude, the charm of a dog is absolutely irresistible.
Their adorable features are what makes them very appealing to draw, thus creating a huge demand for a dog drawing tutorial.
To meet our readers' demand, we have created a step-by-step tutorial on how to draw a dog, summed up in 9 easy and simple steps. With the help of this guide, drawing a dog is made easier and more fun!
Have fun and use your artistic skills to draw a dog!
How to Draw a Dog – Let's get started!
Step 1
Draw an irregular circle shape to outline the shape of the dog's head.
Emphasize both sides of its face when drawing the head to form chubby cheeks. This will definitely make your dog look more adorable!
Make sure that the outline of your dog's face is drawn in the upper portion of the paper. This ensures that there will be sufficient space at the bottom for its body.
Step 2 – Outline the Dog's Head and Body
Draw an outline of the dog's body right underneath its head. As you can see in the illustration, its body is positioned sideways because the dog is looking at its left side.
You can opt to follow the drawing in the illustration exactly how it is or position the dog any way you like!
Step 3 – Put a Collar on the Dog's Neck
Draw a long, narrow rectangular shape across the dog's neck to create a collar. Don't forget to adorn the collar with a jewelry dangling at the bottom!
Feel free to style and design the collar any way you want! You can add patterns on the collar itself, or customize the ornament hanging down from the collar.
Step 4 – Draw the Dog's Front Legs
Draw the dog's front legs with a paw right below its chest. Don't forget to add three toes on each paw!
You can create the paws by simply drawing separate curved lines to form the toes.
Step 5 – Next, Draw the Dog's Hind Legs
Now that we have successfully drawn the dog's front legs, it's time to draw the ones at the back to complete its set of legs.
Create a bended hind leg by drawing a curved facing towards the bottom part of the dog's back. Afterwards, draw a paw with three toes right underneath the leg.
Since the dog is facing sideways, only one hind leg should be visible, as shown in the illustration.
Step 6 – Afterwards, Draw the Dog's Tail
Form the tail of your dog by drawing a curved, narrow line with a tapered end. Draw the outline of the tail upwards to make your dog seem happy and excited.
In the illustration, we drew a pointed tail, but you can definitely draw a furry tail or any shape or form of tail you prefer.
Step 7 – Then, Draw a Pair of Dog Ears
Continue by drawing an ear on each side of the dog's face. We think droopy or folded huge ears would look best, as shown in the illustration.
However, don't hesitate to draw the ears however you want, whether it's standing upright or cropped.
Remember, the structure of the dog's ears largely depends on its breed and the emotion it is feeling.
Step 8 – Now, Draw the Nose and the Mouth
On the bottom portion of the face, draw an upside down triangle shape to outline the dog's nose.
Then, draw two connected upward curved lines to create the lips. Now, to structure the mouth, draw a curved V-shaped line right underneath the lips. Don't forget to add a curved line inside the mouth to create the tongue!
Step 9 – Draw the Eyes to Complete the Drawing
Finish your drawing by completing your dog's facial features.
Draw two upright oval shapes above its nose to outline the eyes. Then, draw two tiny circles inside the eyes. Shade the entire eyes except the tiny circles.
These two unshaded small circles will serve as the "glimmer" in your dog's eyes, adding a more dramatic effect to its facial expression.
Now, it's time for the most exciting part—choosing the colors and coloring your dog drawing!
The coat of a dog comes in four primary colors: black, white, brown, and red. However, these primary colors exist in various shades, thus so can the color of a dog's coat.
This gives you a wide range of color options to choose from when coloring your dog drawing.
Don't forget to add shading and highlights to make your drawing stand out!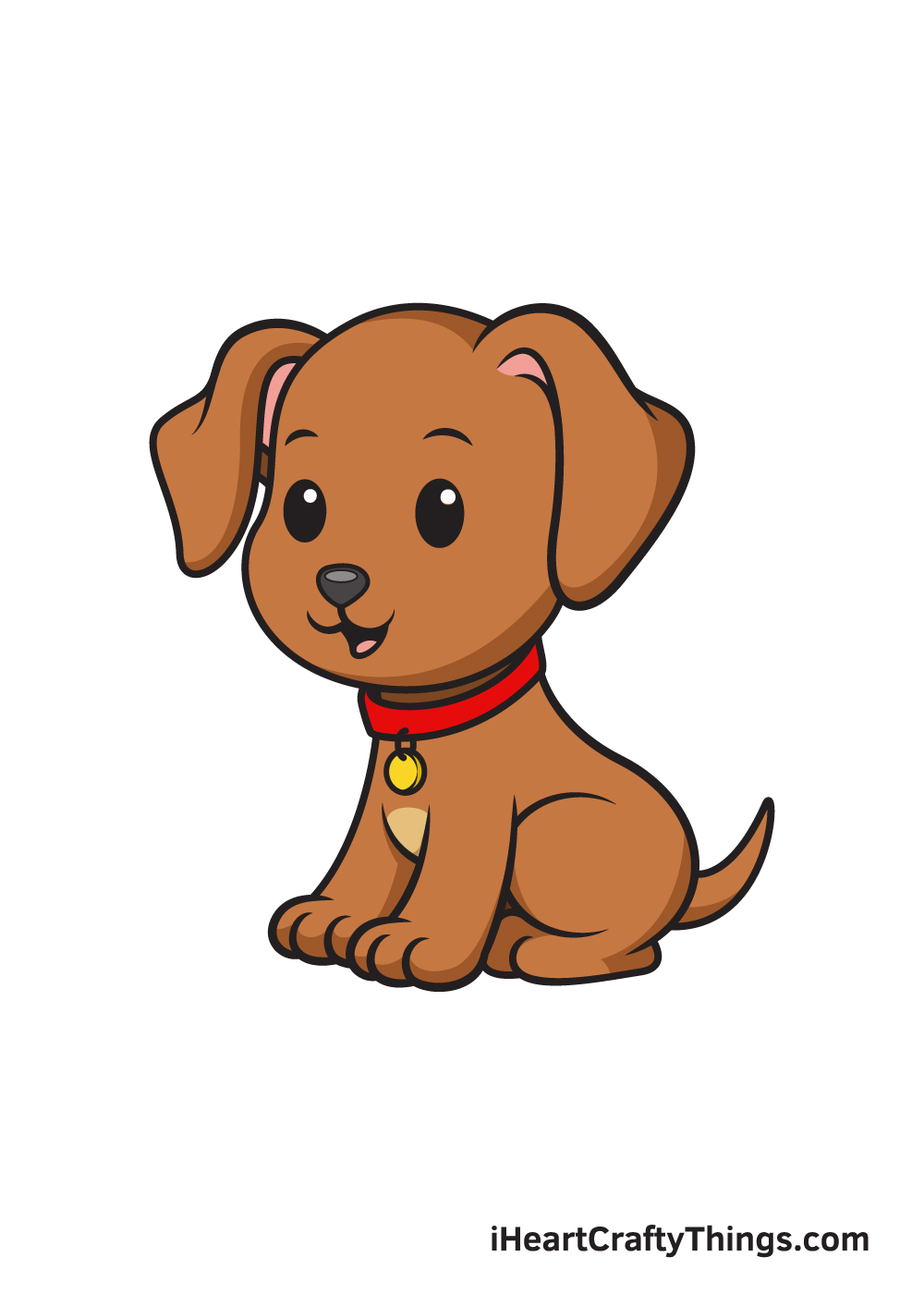 Here's how you can make your dog drawing even better…
Make this cute dog drawing even better with these fun and easy tips!
This dog sketch looks great already, but you could add a few minor touches to make it even better.
For instance, you could add some lines around the tail to make it look like it is wagging its tail.
Or, you could make it look like the dog is panting by drawing its tongue hanging out. These are just a few ideas for some more minor details, but what else could you add to the design?
We love the design of the puppy in this drawing of a dog, but once you have the hang of it you could portray a different breed of dog. If you have a favorite dog breed, then you could change a few details to create it!
If you don't want to replace the dog we created, then this new design could be sitting with this puppy. What are some cute sog breeds you would like to create in this image?
Another idea to take this dog drawing to the next level would be by adding some more animals. If you were to do this, you could add some more animals that are traditionally seen as pets.
These could include a cat, parrot or maybe a hamster. You could also go for a different kind of animal instead!
For example, you could go for some farm animals and show a pig, chicken or a horse. It all depends on what you like, and you can have a ton of fun adding more of your favorite animals!
Finally, it would really enhance this drawing if you were to add some accessories for the dog. These accessories could take on all kinds of forms!
For instance, maybe you could have a food or water bowl that the dog can use. Or, maybe you would like to have some toys for it to play with.
If you added any additional animals, then you could also add accessories that correspond to them.
Your Dog Drawing is Complete!
We hope you enjoy this step-by-step car drawing tutorial. Whether you are a beginner or an expert in drawing, you can draw a charming dog effortlessly with the help of this all-inclusive drawing guide.
The most fun part about this tutorial is that it allows you to customize your drawing and use a unique set of colors! That means, you can create your very own one-of-a-kind dog straight from your imagination.
We are regularly uploading new drawing tutorials to update our catalog, so don't forget to keep re-visiting our website to check out brand-new content.
If you enjoyed this drawing tutorial, let us know what animal you would like to learn how to draw next!
Most importantly, make sure you show off your work of art by sharing it on our Facebook page and Pinterest.
Don't hesitate to flaunt your artwork! You've worked so hard for it and we're sure it looks absolutely amazing!
We can't wait to see your colorful dog drawing!