When it comes to horror films from the 70s and 80s, three names struck fear into the hearts of movie lovers. Jason Voorhees, Michael Myers and of course Freddy Krueger.
Of these titans of horror, Freddy was possibly the most frightening, as he would attack his victims in their dreams.
Since his debut in the original Nightmare on Elm Street, Freddy has become a pop culture icon recognized around the world.
His distinctive design can also make it lots of fun to learn how to draw Freddy Krueger!
This step-by-step guide on how to draw Freddy Krueger will make sure you can draw this king of horror with no nightmares!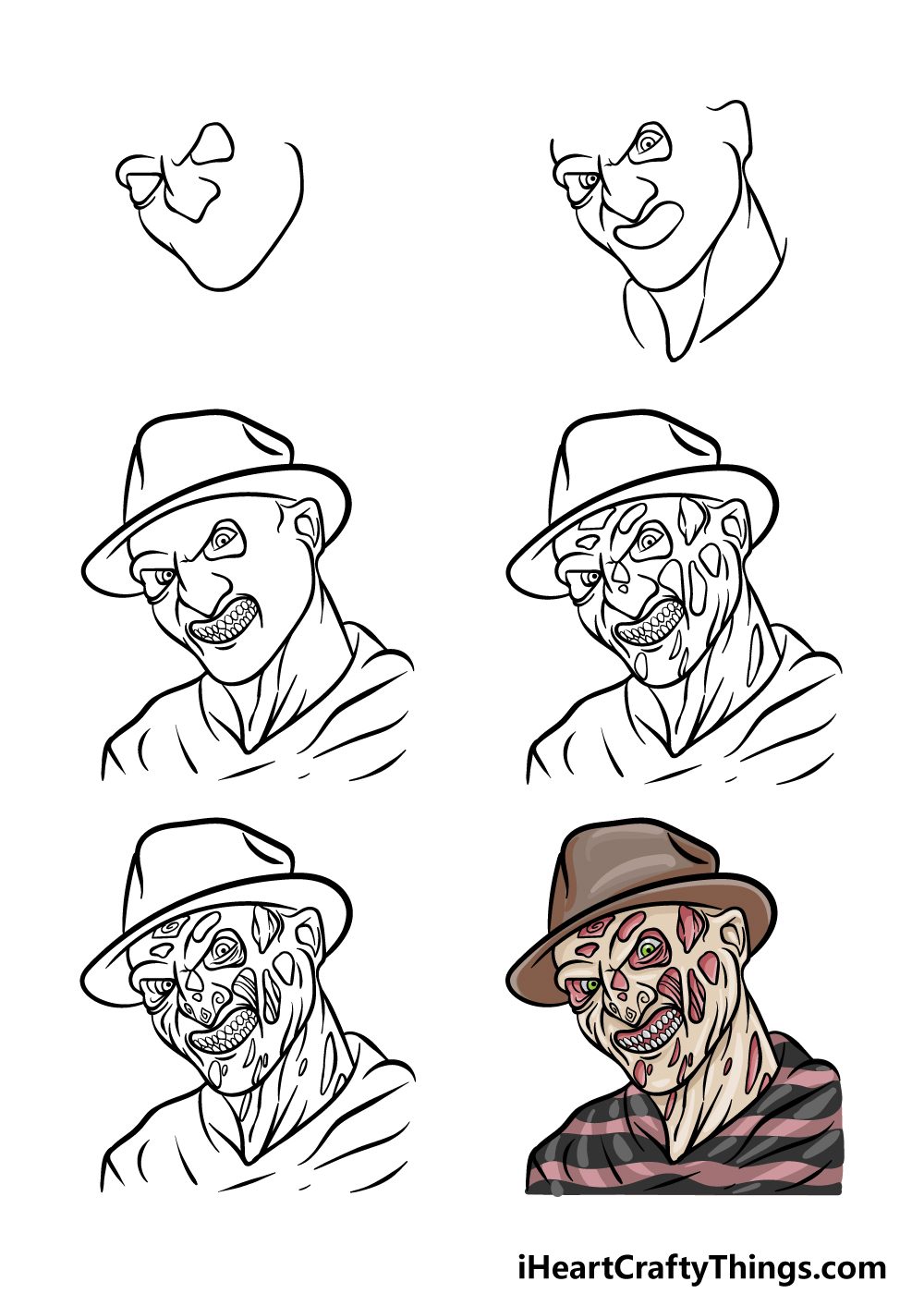 How to Draw Freddy Krueger – Let's Get Started!
Step 1
This first step of our guide on how to draw Freddy Krueger will be focused on drawing the facial outline for Freddy.
First, draw a curved line for his jaw and chin. Then, draw two rounded shapes for his deep eye sockets.
We will be drawing his eyes into them in the next step! Finally, you can finish off this step by drawing his nose.
Use a vertical, slightly curved line for the bridge of his nose, and then add another wavy line underneath it for his nostrils.
Once you have drawn all of these outlines, you're ready for step 2!
Step 2 – Next, draw some more facial details for Freddy
Now that you have the facial outline done, we can start to draw some more specific facial details for your Freddy Krueger drawing.
Let's start by drawing his eyes inside of the large sockets. You can do this by drawing two rounded shapes with circles inside of them.
Simply add a dot inside each one for the pupils. Then, draw a curved shape underneath his nose for the outline of his grinning mouth. Once again, we will add some detail to it in a later step!
Add another curved line at the side of his head for his ear, and then another for the side of his neck. Finally, add some more curved lines for the front of his neck and a horizontal one for the start of his sweater.
Step 3 – Draw his teeth, hat and sweater
Freddy is a very distinctive character when it comes to appearance. Some of the most iconic aspects of his design are his fedora hat and striped sweater.
We will be drawing both of those elements in this step of our guide on how to draw Freddy Krueger.
Before we work on those, we will first draw some teeth into his grin. While Freddy is a fearsome villain, he's also darkly comic and often making quips to taunt his victims.
That's why we will be giving him a sinister grin by drawing all of his individual teeth forming a smile in his mouth.
Then, draw some curved lines for the rim of his fedora hat, and use some more for the top of the hat. Finally, use some wavier lines for his sweater beneath his head.
Step 4 – Next, start drawing the details of his face
Another iconic aspect of Freddy is the burn scarring on his face. This scarring forms an integral part of his backstory, and we will start adding it in this part of your Freddy Krueger drawing.
You can do this by drawing several rounded shapes all throughout his face. These shapes don't need to be the same shape or size, in fact it's better if each one is a bit distinct!
Once you have drawn these shapes, we can move on to the next step for some final details and elements.
Step 5 – Finish off your Freddy Krueger drawing
We will be finishing off with some great details in this fifth step of our guide on how to draw Freddy Krueger.
We will be making his scarring even more horrific by adding some subtle line detailing inside the shapes that you drew for the scarring earlier. Some of these lines will be straight while others will be curved and even twisty.
Once you have finished the detailing for his face, you could also add some details and elements of your own! One idea would be to draw a cool background to go behind Freddy.
Perhaps you could replicate the iconic Freddy boiler room! If you're feeling extra creative, you could draw one of his horror contemporaries like Jason Voorhees or Michael Myers beside him for a cool horror poster.
What will you do to finish off this horrifying drawing?
Step 6 – Finish off your Freddy Krueger drawing with some color
This final step of your Freddy Krueger drawing will be all about finishing off with some amazing colors. In our reference image, we went with some browns for his fedora while using a mixture of beige and pink for his face.
When it comes to his sweater, you have a few options for how you can color it in, as there have been a few variations throughout his many film appearances.
In our picture, we made his sweater red with black stripes.
This is how his sweater looked in his first film appearance, but in subsequent films his sweater would typically be red with green stripes.
The red and green are what he's commonly known for, but either color scheme will look great!
How will you color in your own Freddy Krueger drawing to finish it off?
Here's how you can make your Freddy Krueger drawing even better…
This Freddy Krueger sketch won't be a nightmare after you follow these fun tips!
Freddy Krueger as appeared in many movies, and his look has changed a bit throughout his appearances.
He can also change his look to create his nightmare scenarios, so you could alter this Freddy Krueger drawing to look vastly different.
You could use one of the forms that he has taken in the films, or you could give him a unique appearance. The only limit is your imagination when it comes to forms Freddy Krueger can take!
For this drawing of Freddy Krueger, we stuck to portraying his head and chest. You could draw some more of his body if you wanted to show more of this classic horror icon!
Drawing some more of his body would also allow you to show off his famous clawed glove and striped sweater. You could find pictures online if you need help drawing more of his body.
If you were to do this, what kind of pose would you choose for Freddy Krueger to be in?
Freddy is one of many famous horror villains in film history. You could draw some other classic characters to make this Freddy Krueger sketch even more horrifying!
There are characters like Jason Voorhees, Michael Myers and Ash Williams that could make for some interesting team-ups and rivalries. Once again, you could look up pictures online to help you draw these characters.
What sorts of crazy scenarios could you create with these characters and Freddy Krueger?
Freddy has the power to create nightmares for his victims, and the films showcase many imaginative settings. You could create some pretty cool background settings for this Freddy Krueger drawing!
This is another case of where you could really use your imagination to create some awesome ideas. There are lots of different locations from the films you could use, but you should feel free to create your own ideas as well.
What are some background settings you could use for this scary picture
Your Freddy Krueger Drawing is Complete!
Hopefully this guide on how to draw Freddy Krueger wasn't a nightmare to work on! Freddy has a lot of detailing in his design, so for this guide we tried to break it down into smaller steps.
That way there is a lot less frustration so you can focus on the fun of drawing!
Now you can go further with it by adding some details and elements of your own. We mentioned a few ways to do this such as drawing a background or even adding some more horror icons, but what ideas do you have for this image?
If you're ready for more drawing fun, you can check out our website for many more drawing guides to enjoy. These guides get updated often, so be sure to keep checking in!
Once your Freddy Krueger drawing is finished, we would love to see how you portrayed this horror master! Please share it on our Facebook and Pinterest pages for us to enjoy.