Football is an immensely popular sport, but there can be some confusion about which sport the name refers to!
You have the sport that is also known as soccer, and then there is American football.
In this collection of free football coloring pages for kids, we will make sure that fans of either sport are covered as we present some awesome scenes featuring both!
There is plenty of coloring fun for fans of either sport to enjoy, and it's all completely free to share and enjoy!
So get ready to kick off this collection as we begin the first page.
15 Brand New Football Coloring Pages – Free to Print and Color
The focus of our first free football coloring page for kids features a goalkeeper, a very important part of every team.
Unfortunately for whoever kicked the ball to the goal, it looks like this goalie is going to intercept the ball! There are tons of great details for you to color, so you can really get creative with it.
How will you get this football collection started with your colors?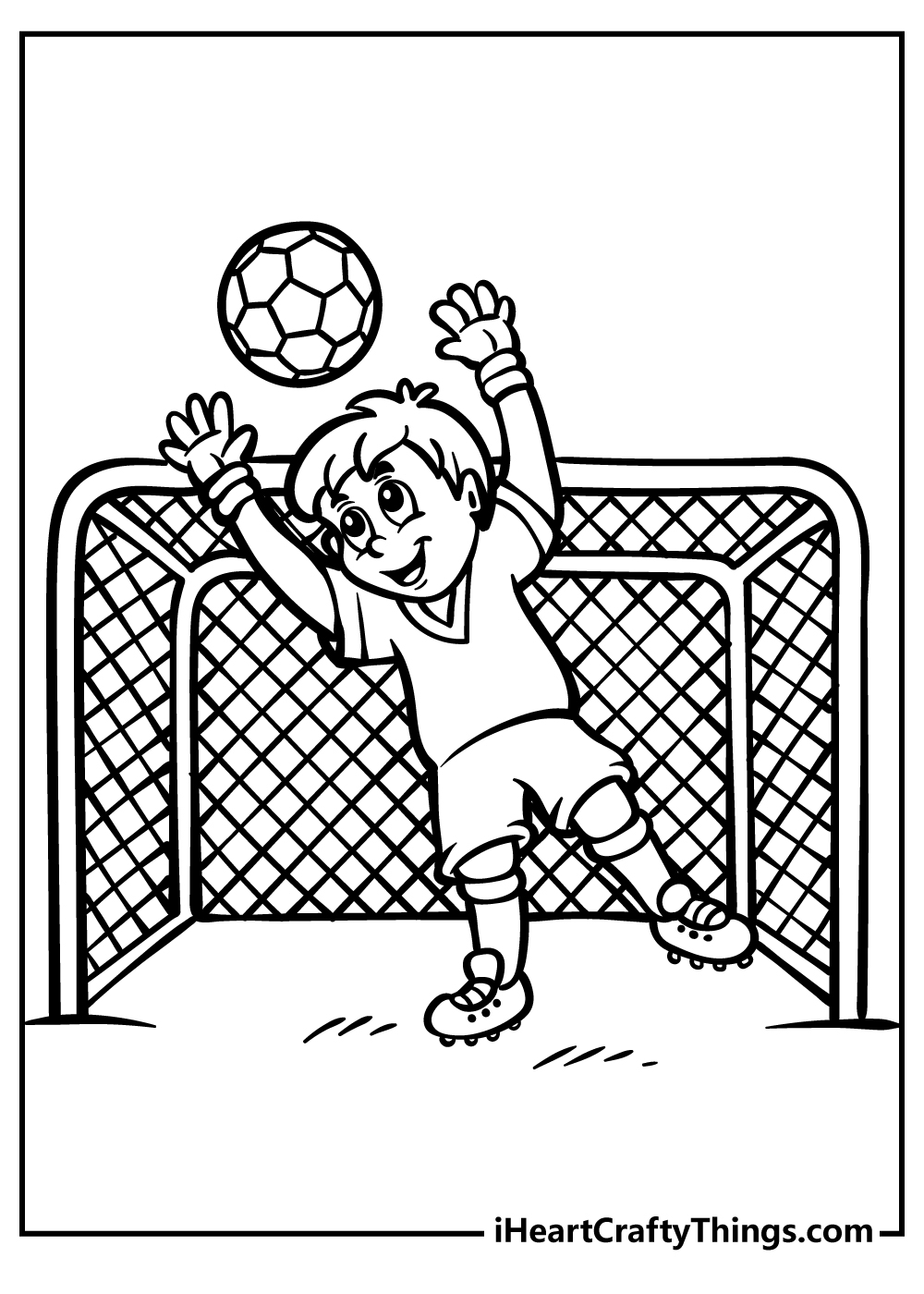 This next kid is having tons of fun as he kicks the ball around.
We're still focused on the soccer side of football here, and if you have a favorite football team you could color this boy's uniform to match their colors!
Which team would you use if you were to match this boy to one?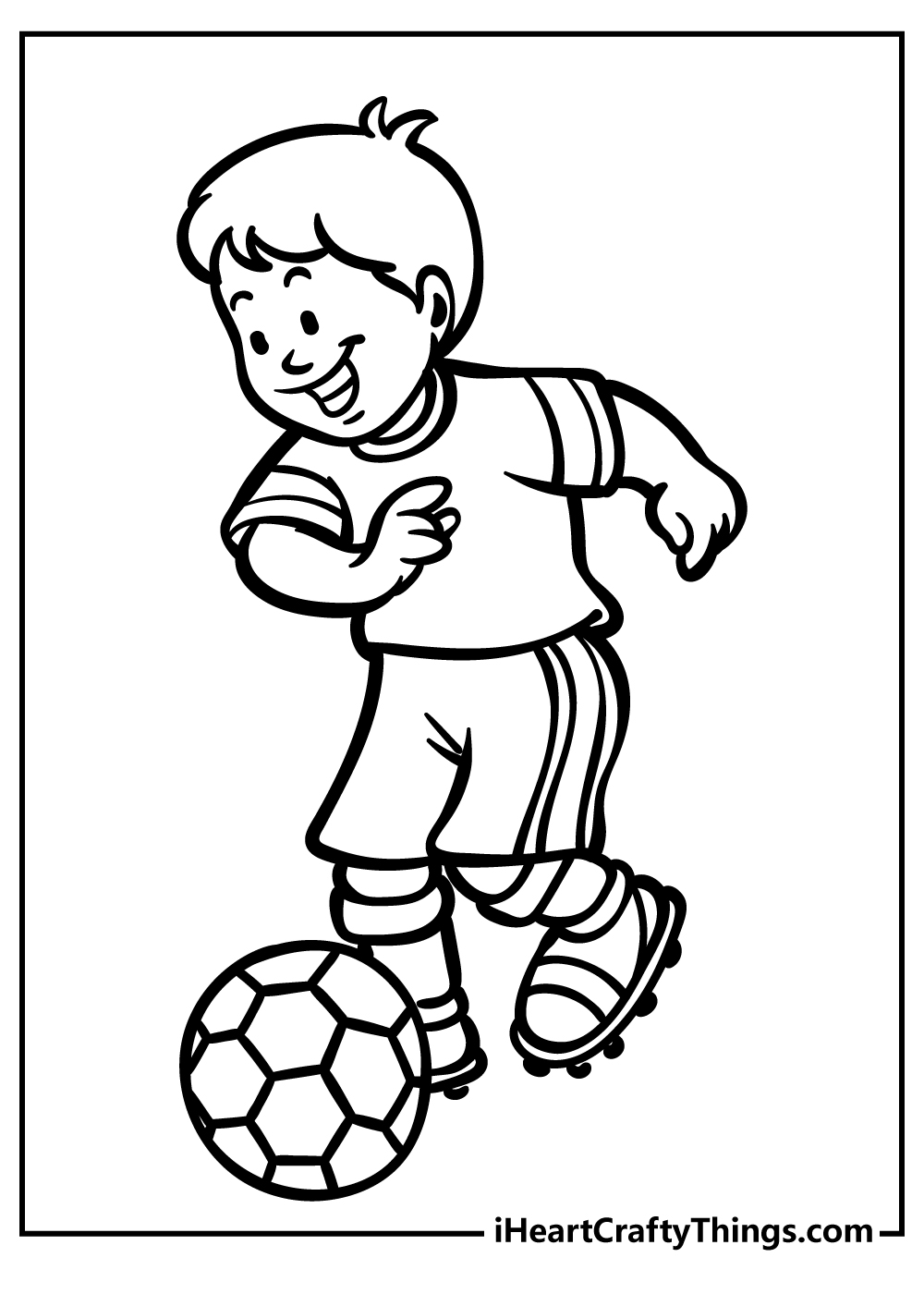 This third picture featuring a boy playing football would go brilliantly with the previous one! This scene looks like it could be a direct follow-up to the previous one.
If you pair these two pictures, you could use similar colors for them both to create some consistency! Will you make them go together or use unique colors for this one instead?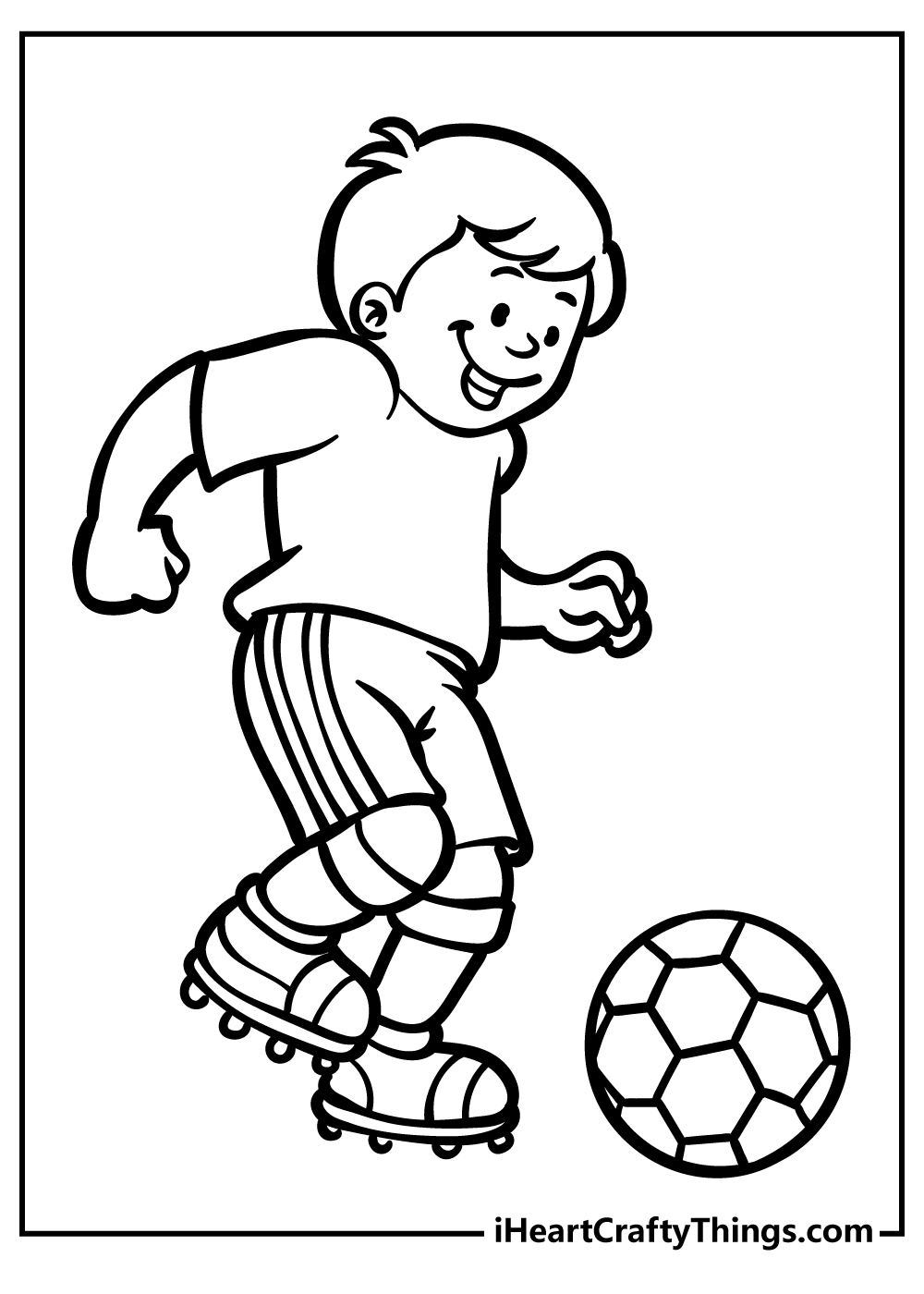 We have a simple but really cool image for this fourth page.
Instead of featuring a football player, we instead have some football shoes arranged in front of a football, and it makes for a really cool image that captures the football atmosphere.
There are also some great details to color in here, so you may want to use a colored pen or pencil for the smaller parts.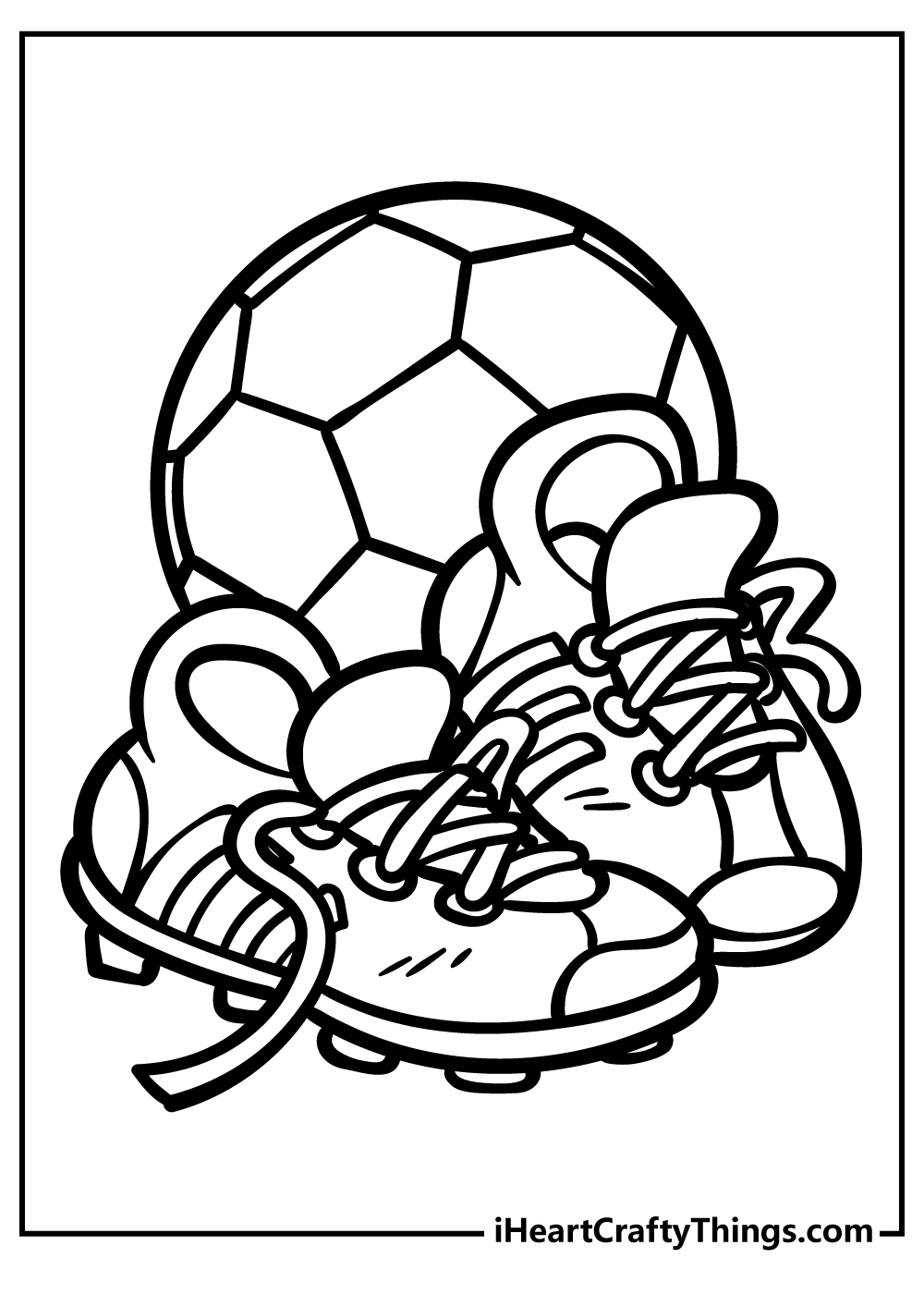 There is a thrilling move being performed in this next football coloring sheet! This player has had to leap into the air to get this kick, and it's a move that would require a lot of skill.
It is also the final page that focuses on the soccer variant of football for a while, so you can really break out all of your favorite colors and mediums before we move on!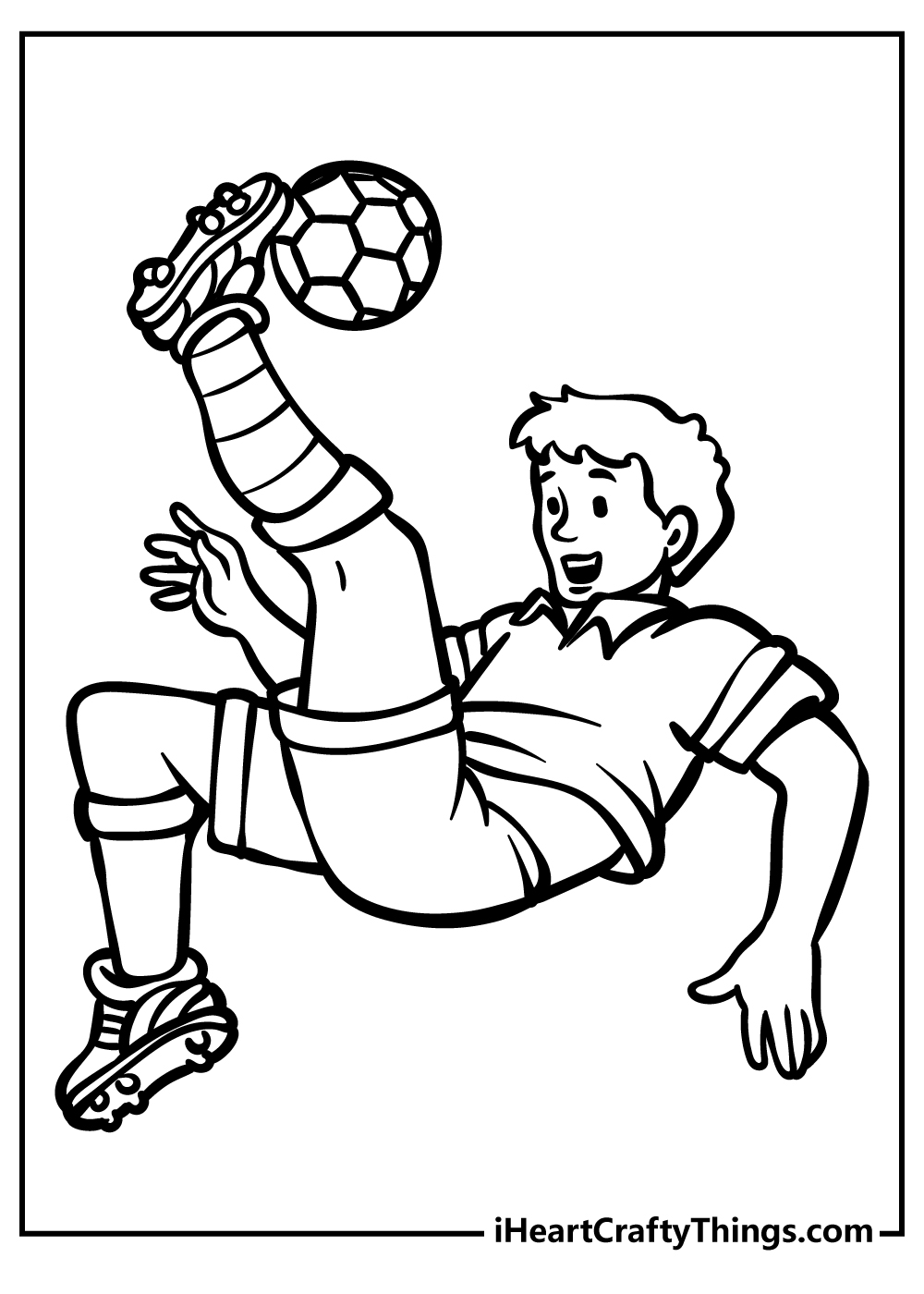 As we mentioned in the previous page, the rest of our coloring sheets will deal with American football, and the first page is another thrilling one!
This player is going for a daring catch, and he looks pretty positive about his chances of intercepting it.
Which colors will you choose for this page dealing with the second variant of football?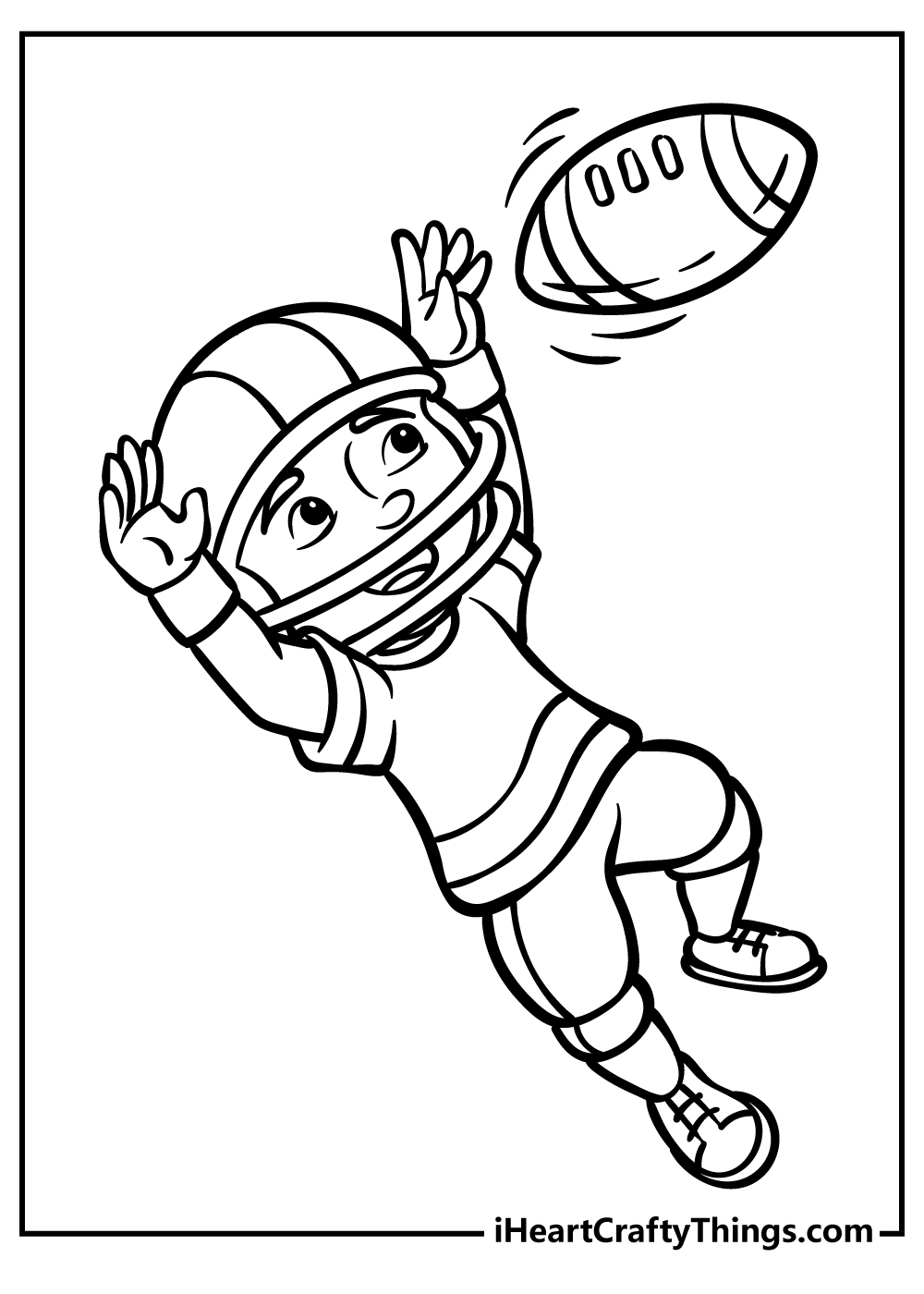 We have another great football image for you to color here. This player is going for it as they carry the ball, and we also love the style it has been drawn in.
The player in this image is drawn in a more detailed style, so you can work in some great color details to finish them off!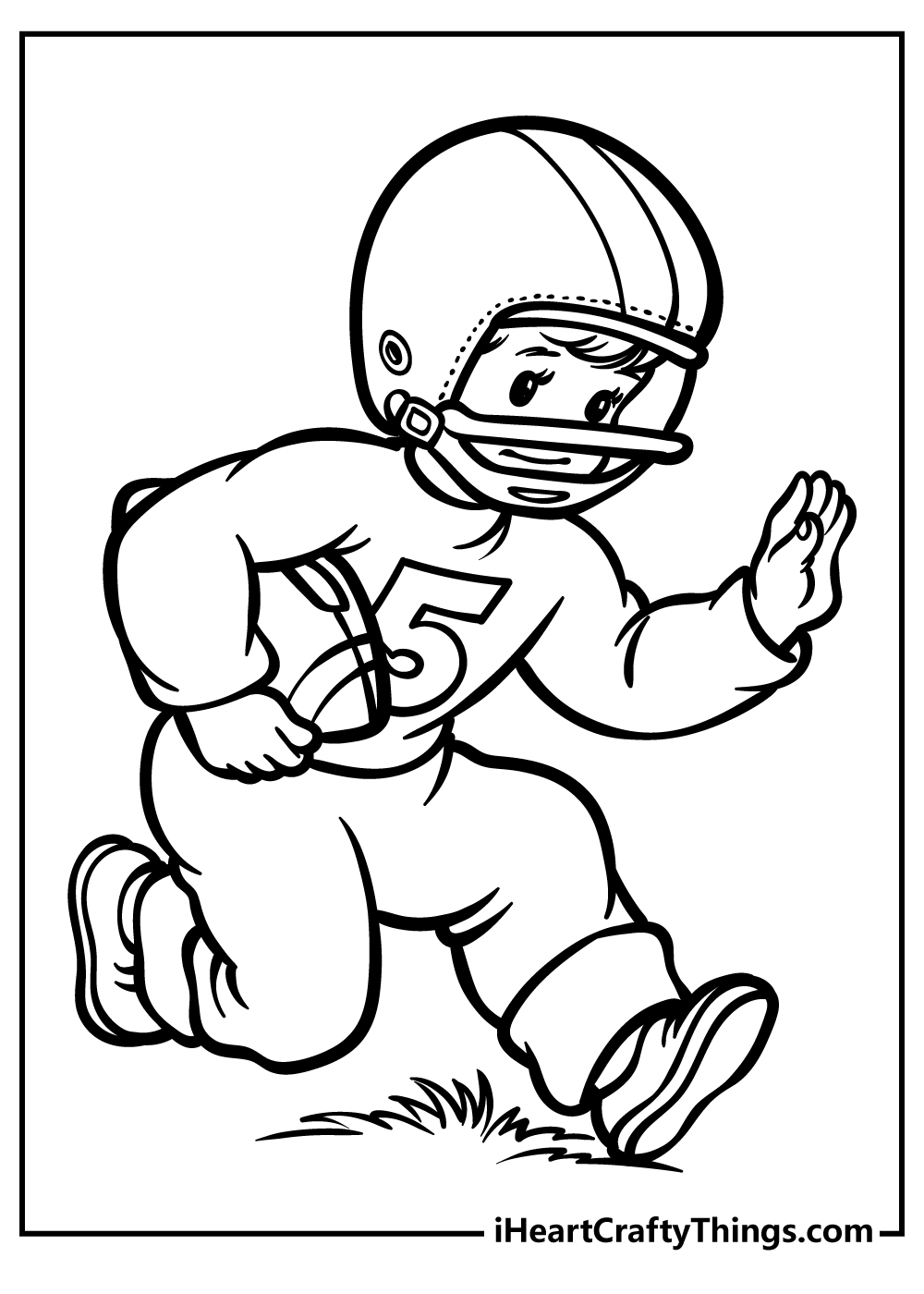 This eighth page we have for you features another player drawn in a unique style to all the previous ones. In fact, this may be the most realistic and detailed player we've seen yet!
He is drawn to look like a professional player, so this would be one of the best pages to incorporate the colors of a real football team that you support.
Which favorite football team would you use for this player?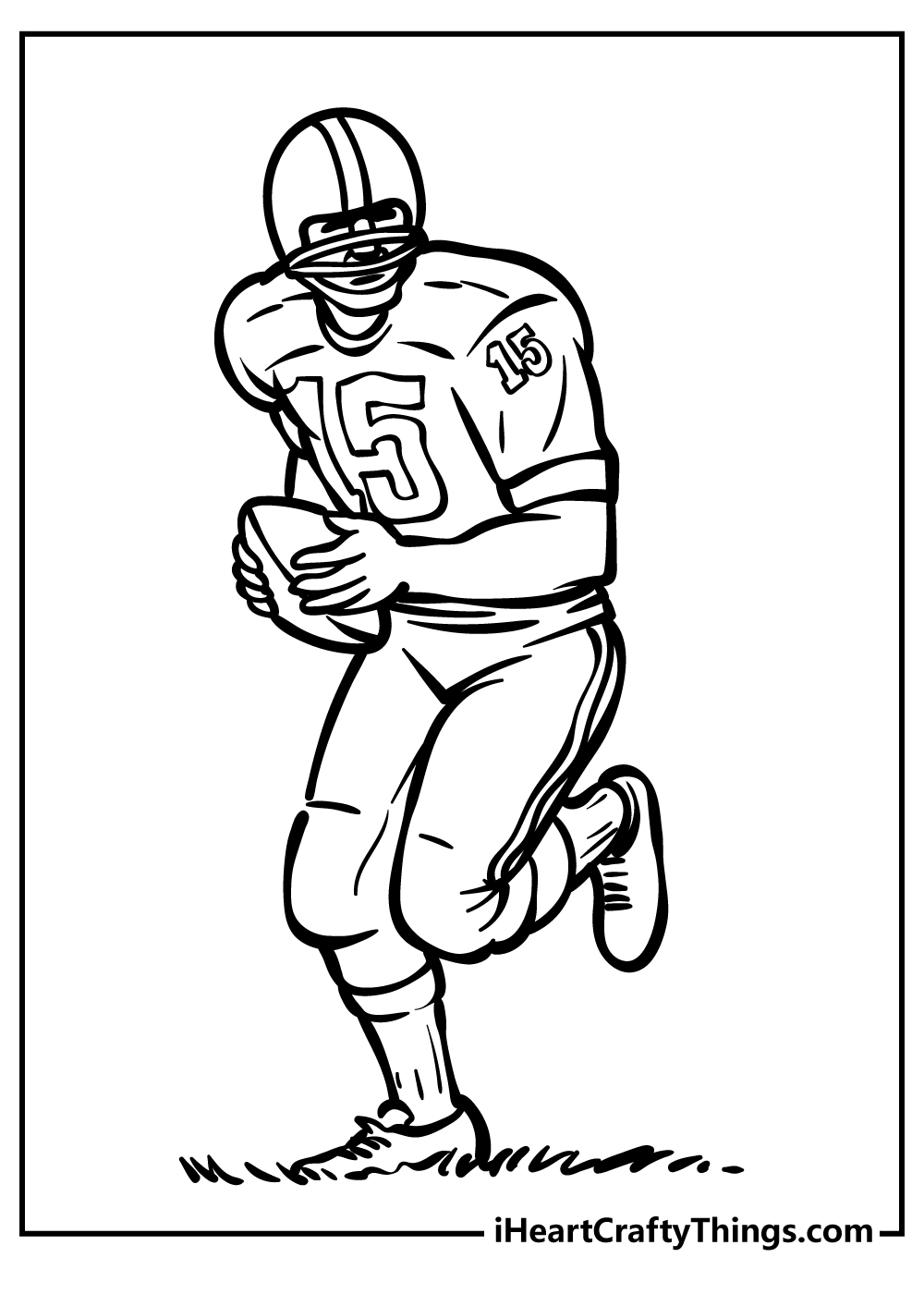 Our ninth football player is looking a bit nervous, but it seems that he needn't be as it looks like he will be catching it!
This is another page that is drawn in a really fun cartoon style, so we would use some bright and vibrant colors to complement the style.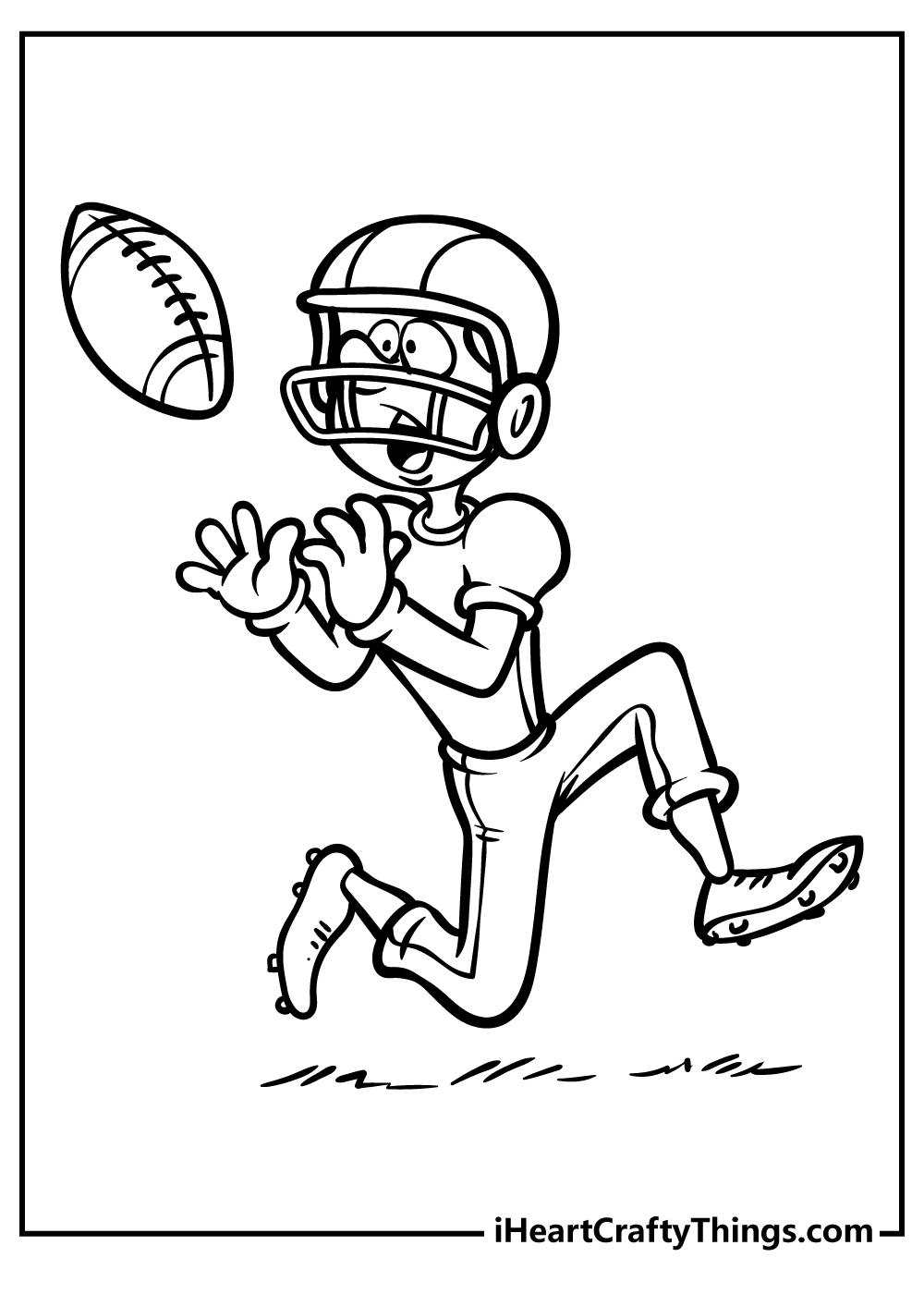 There is a real intensity to the image on this next football coloring printable!
This player looks like he means business, and that's pretty appropriate as football requires some serious skill and concentration!
For this one, we would use darker shades of colors such as blue or red for his uniform, as this would help with the intense feeling given off by the image.
Do you agree, or do you have something else in mind?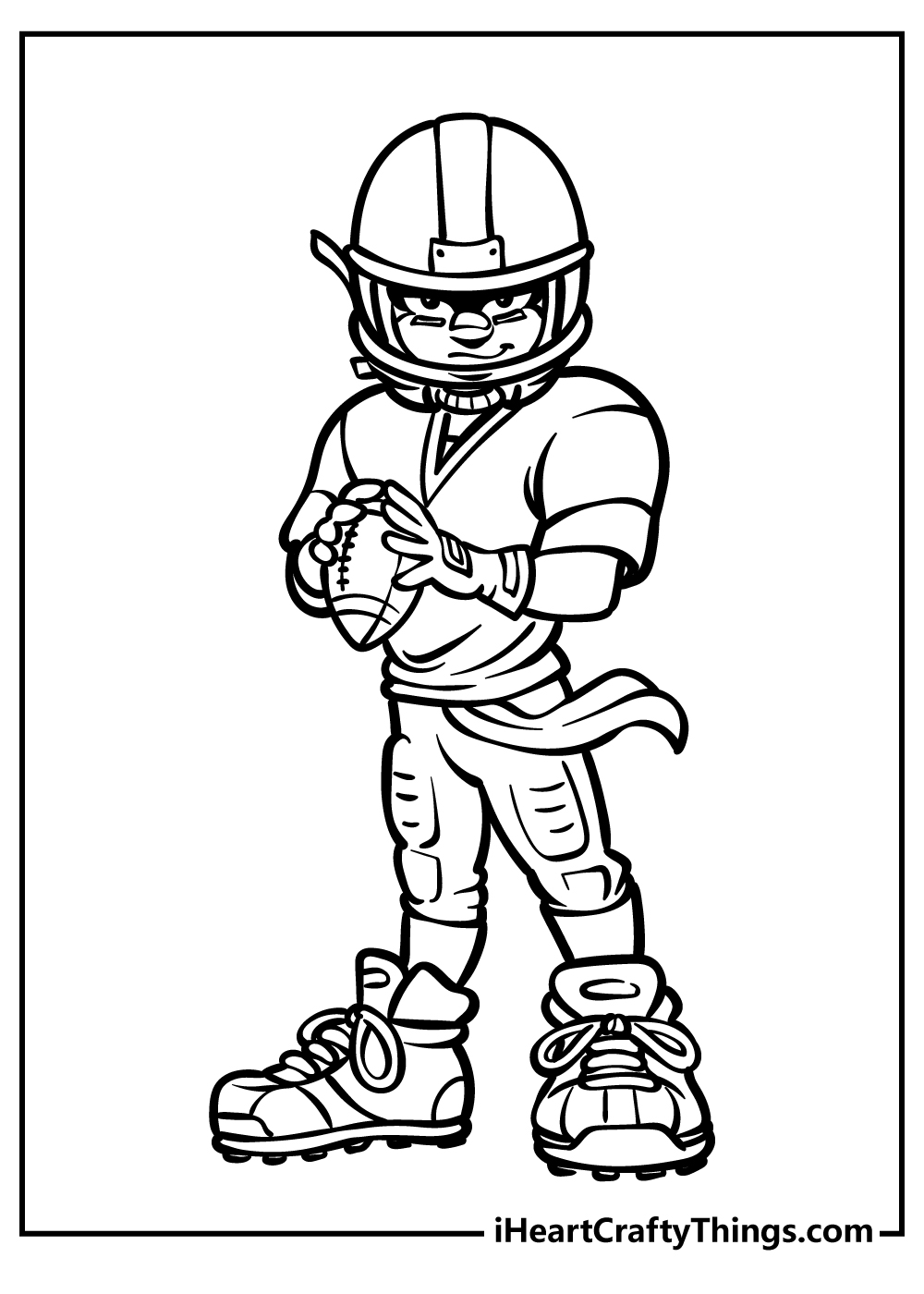 We're again capturing an awesome moment with this next page.
This player is also performing a dramatic catch, and it's another scene that really captures the kinds of thrilling moments that football provides.
Do you think you may also color this player to look like a favorite real-life team?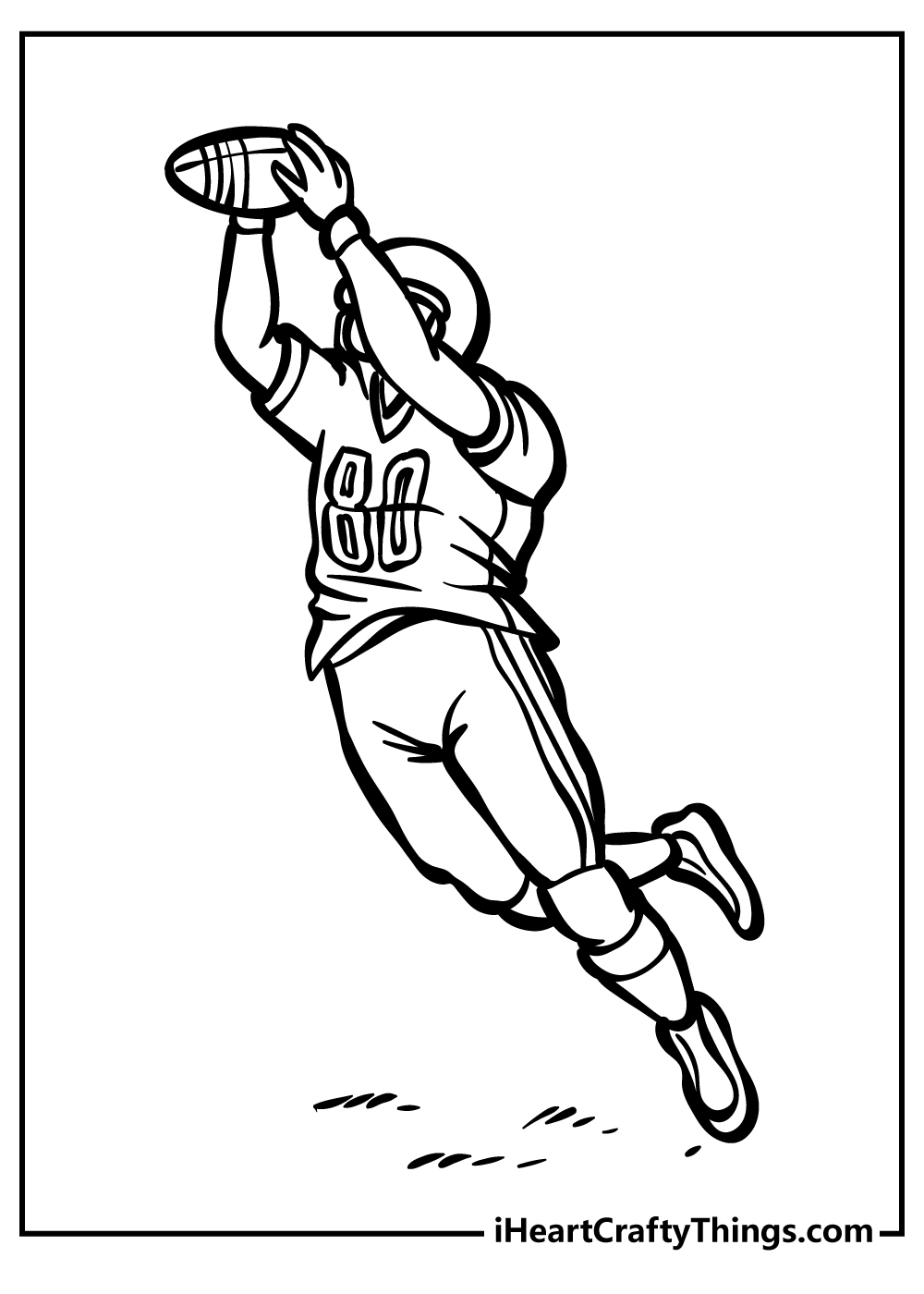 This next player is looking very cool as we switch back to the soccer variant of football!
He is kicking the ball up around his knees, and it's another move that requires a lot of skill. We will be interested to see how you color this stylish football player!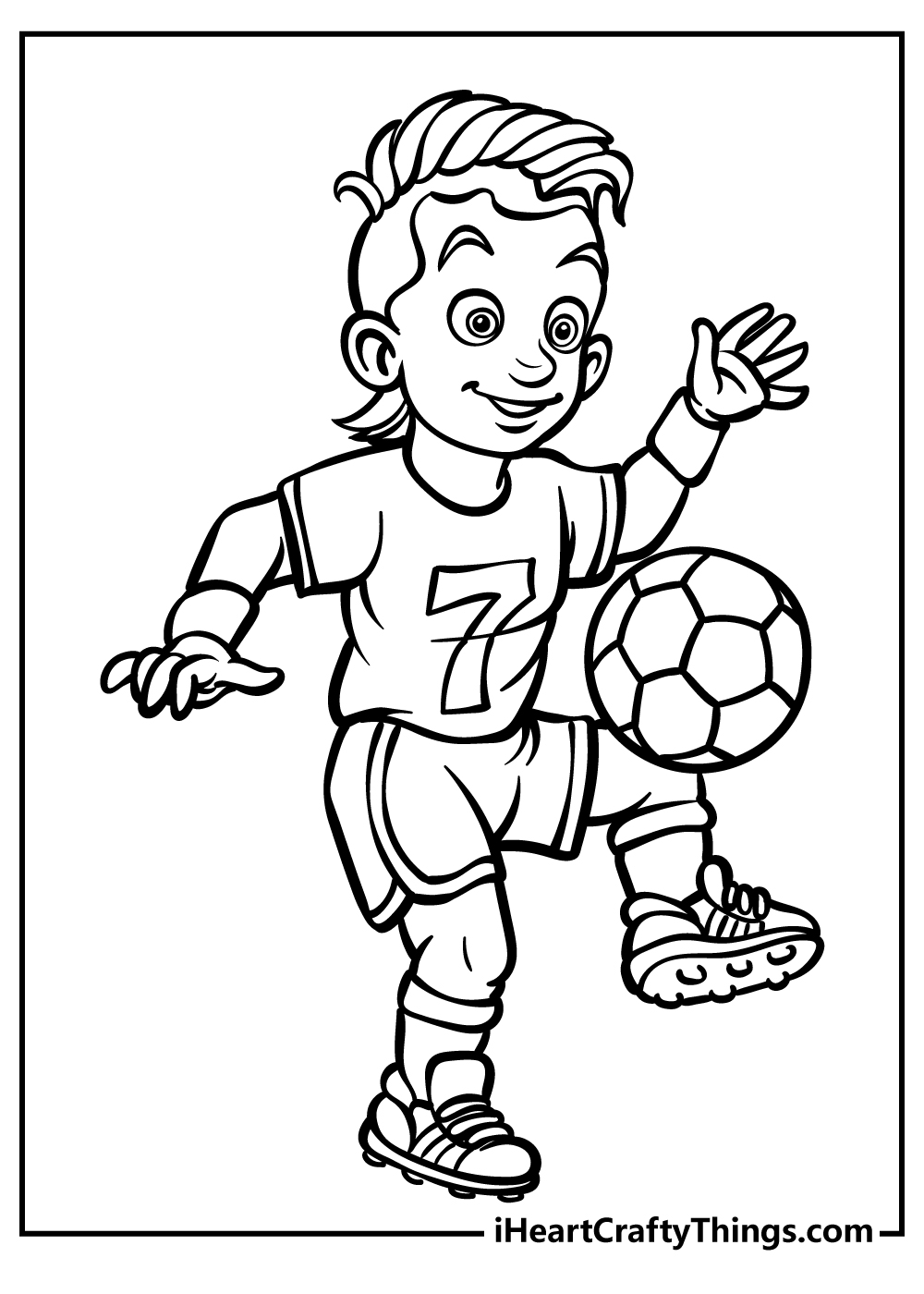 Heading back to American football, we have a player that is running for the end zone. He is looking pretty happy and confident, so it looks like he will be reaching his goal!
The background is pretty blank here, so you could draw in some background details for some extra fun.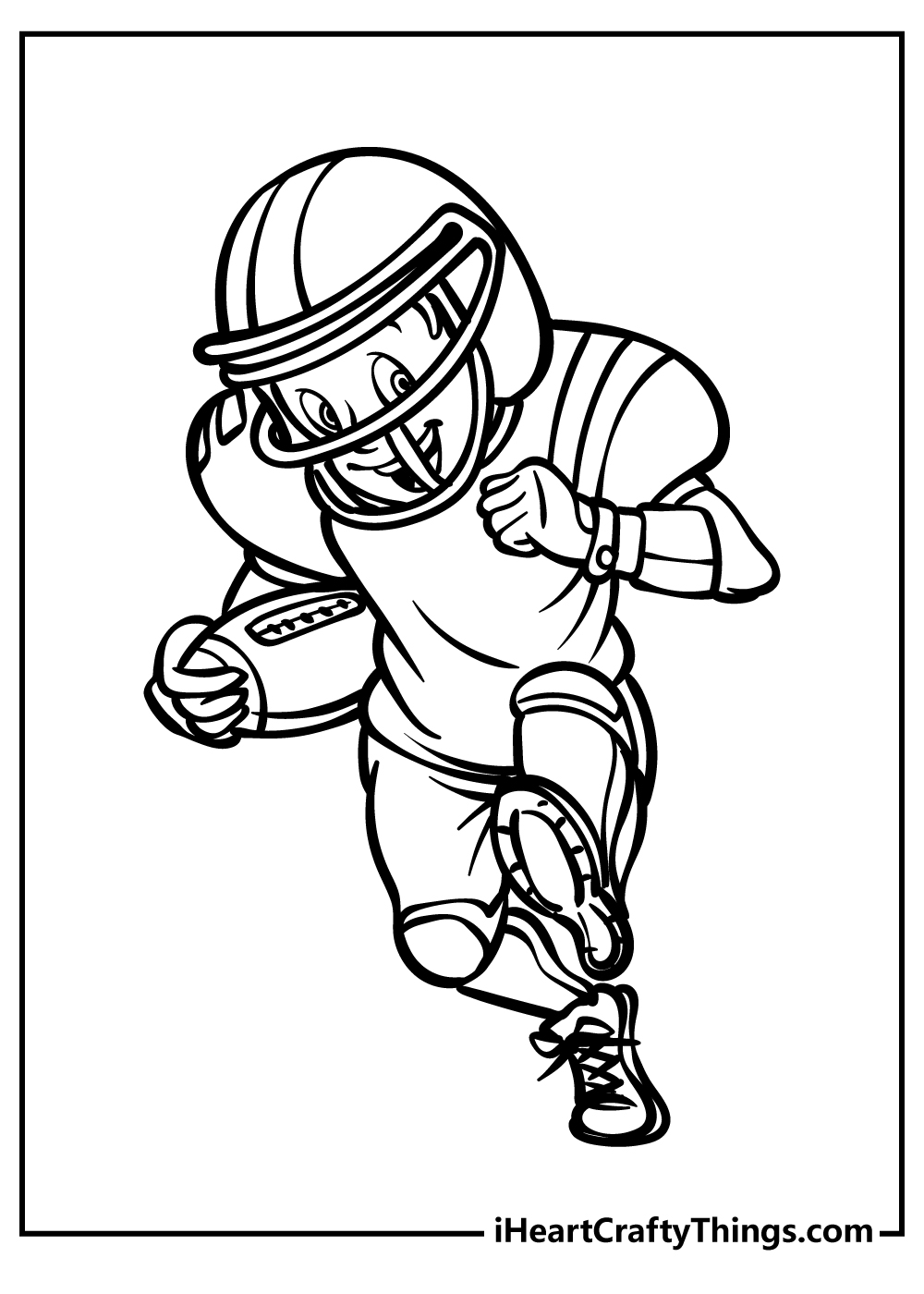 We have another image that focuses more on football gear than an actual player. This time, we have the iconic football helmet that many players have worn for protection over millions of games.
This picture captures all of the small details you will see on a real helmet, so it's another where we would recommend mediums that allow for greater precision.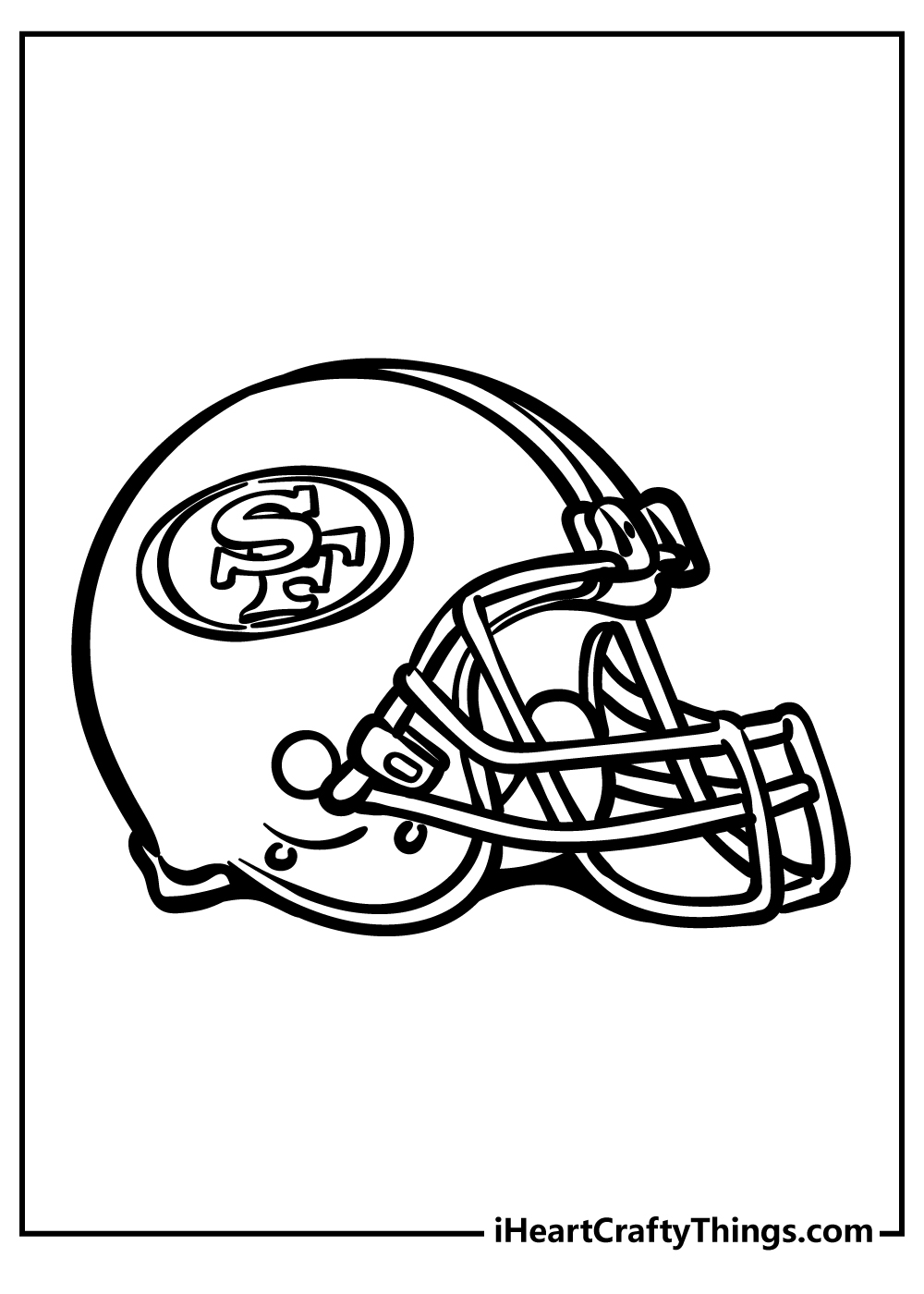 Now it's time for the final football coloring sheet we have for you! It features another player that is running for the end zone, and he is looking very happy.
This would again suggest that he is feeling confident about scoring the field goal! How will you conclude this collection with your favorite colors and mediums?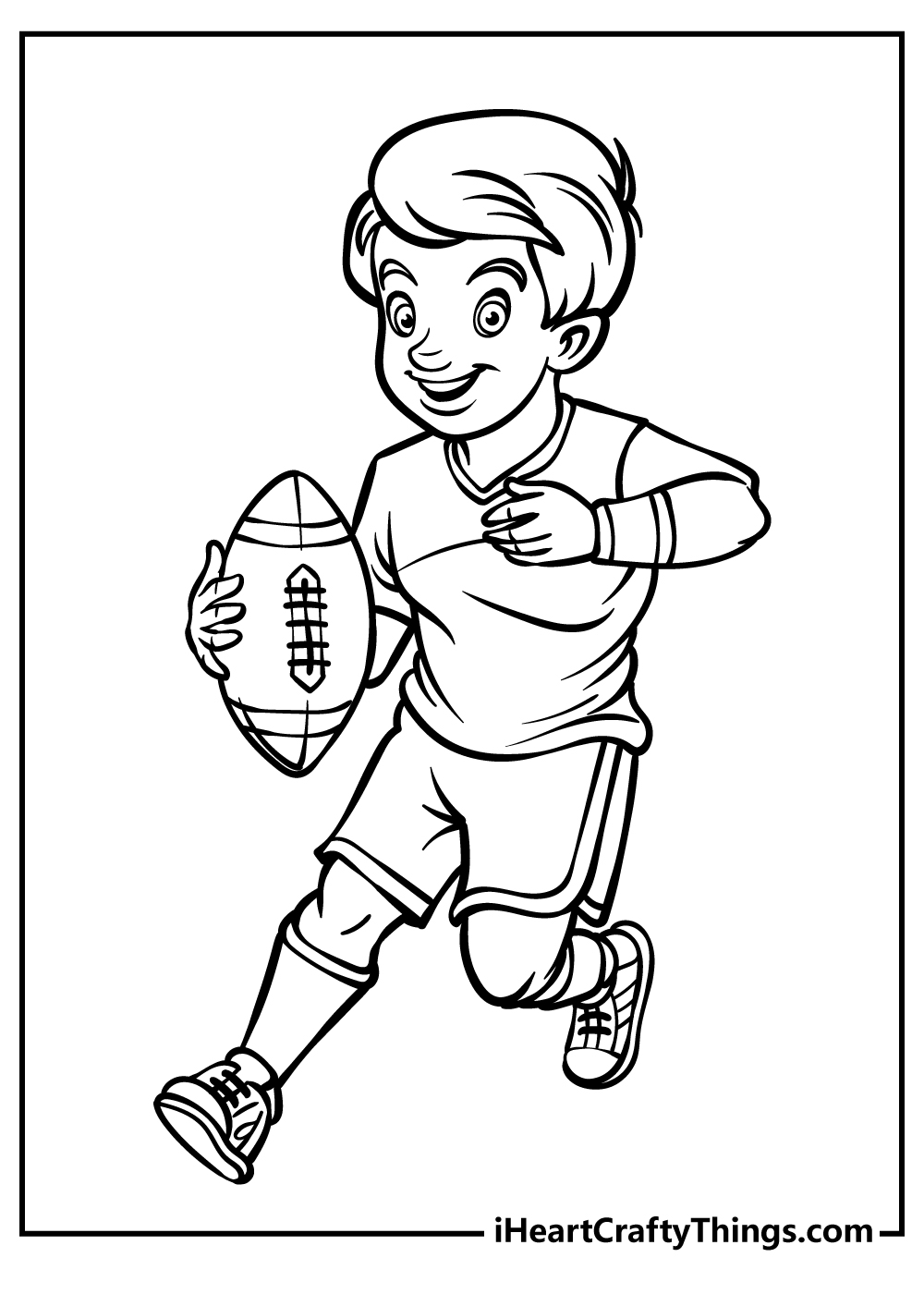 Football Coloring Pages – Which will you choose?
Football is a thrilling sport no matter which variation it may be, and we hope you enjoyed reliving those thrills with this collection of free football coloring pages for kids!
Whether you love soccer, American football or both, we wanted to make sure that you would be covered for some coloring fun.
Remember that all of these pages are free for you to not only enjoy but share as much as you like!
When you have colored your favorite pages, please also feel free to share some of your finished pages on our Facebook and Pinterest pages for us to see.