A flag may seem like a simple colored piece of fabric on the surface, but a flag can represent a lot more than the fabric it is on.
It can represent a country, organization, sports club or pretty much any other thing you can think of!
When it comes to learning how to draw a flag, it can prove challenging due to the lack of physical structure of a flag.
If you would like to learn how to do it, however, you have arrived at the right guide!
Our step by step on how to draw a flag in just 6 steps will have you drawing your own flags in no time!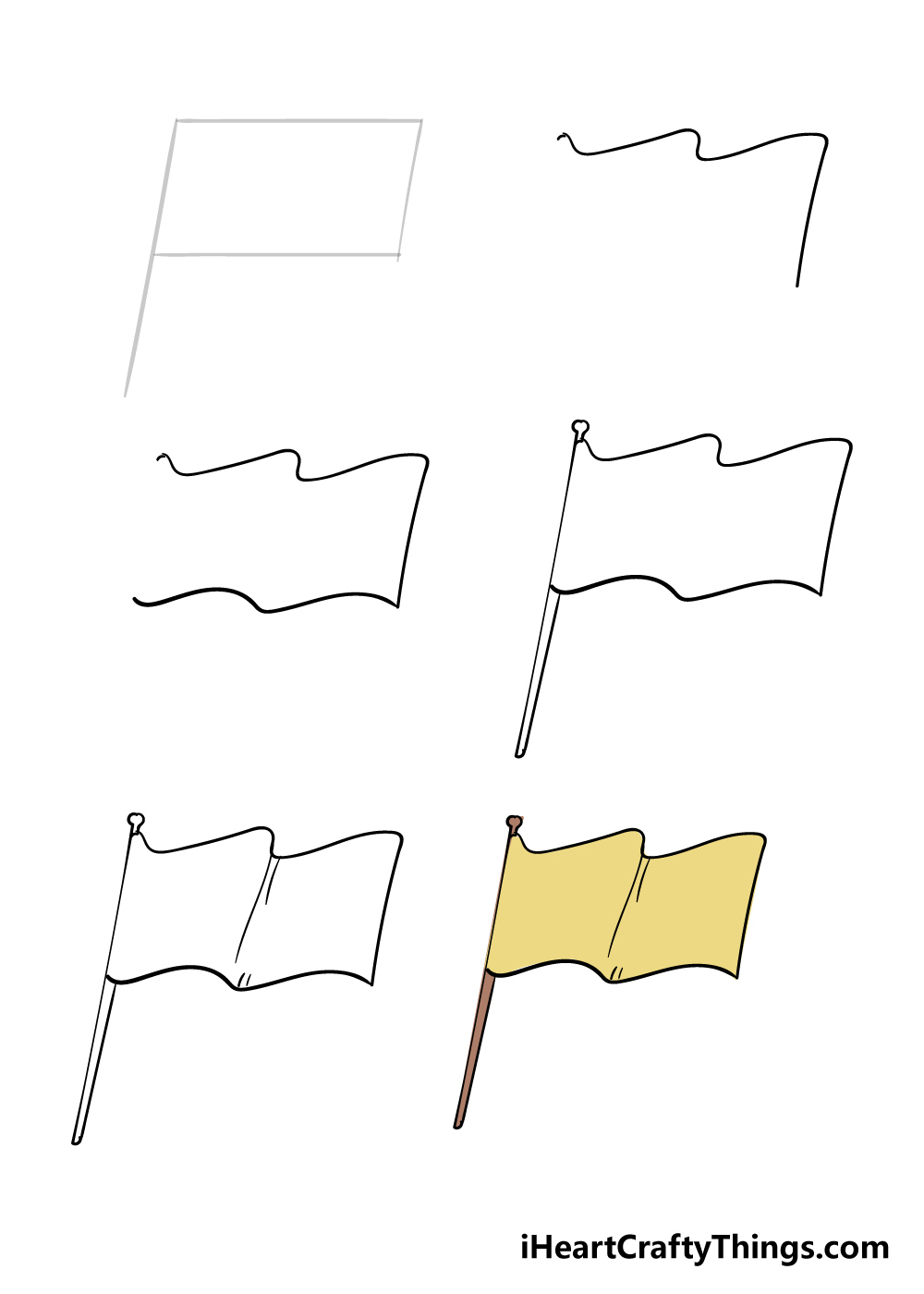 How to Draw A Flag – Let's get Started!
Step 1
For this first step of our guide on how to draw a flag, you will need a pencil and a ruler.
The reason you will be needing a pencil is that what we will be drawing in this step will not show up in the final image and will only be used as a guide.
Using your ruler, you can start by drawing a slightly horizontal line. Then, you can draw a rectangle at the top of this line.
This will be used as you draw the flag in later steps. Once you have it looking like our reference image, you're ready to move on!
Step 2 – Start drawing the top of your flag
Now that you have the pencil shapes to guide you, we shall draw the top of your flag drawing in this next step.
You can start drawing with a pen now if you're feeling confident, however it would be recommended to leave the pencil lines from step 1 until the end.
Using the pencil rectangle, carefully draw a wavy line across the top of it. Then, draw a mostly straight line coming down the right-hand side.
Step 3 – Now, draw the bottom of the flag
In this part of our guide on how to draw a flag, we shall be drawing the bottom of the flag.
This line that will extend from the bottom of the vertical line on the right will also be a wavy line like the one on the top.
As you can see in our reference image, it doesn't have to match the top line exactly, but it should have a similar intensity to the amount of waviness to it. That's all there is to it for this step!
Step 4 – Add in a flagpole for this step
A flag wouldn't be very effective without a flagpole to hang from, so we had better draw one in this next step of your flag drawing.
You will also be using the vertical, slightly horizontal pencil line from the first step for this part.
First, draw some lines from the upper left corner of the flag with a rounded top for the top of the flagpole.
Then, draw two lines coming down from the left edge of the flag that reaches the bottom of that pencil line. Finally, add a small, rounded bottom to the pole to finish off this aspect of the flag.
With the flagpole added, all that remains is to add some final details before you color it in, so let's move on!
Step 5 – Now, you can add in the final details of your flag drawing
You're probably excited to start coloring in your flag, but we just have a few details to add before we do that!
To finish off this step, all you need to do is draw some thin lines down the center of the flag to show the bend in the fabric.
That's all you have to do in this step, but you can take it even further! A flag usually has a design on it, so you could add one for your flag drawing before coloring it in.
Maybe you could look up some pictures of the flag for your country or state and draw that onto your flag!
Or you could look up the flag of your favorite country or place that you've visited. You could also design your very own flag for a country that you create!
Now that your flag is drawn, you can also erase the pencil lines from the first step now.
Step 6 – Finish off your flag drawing with some color
Flags are usually adorned in bright and distinctive colors that help to make them recognizable. That means that when coloring on in you have an excuse to use some amazing colors!
If you drew an existing flag design onto your drawing, then you can replicate those colors now! You can look up pictures of the flag design you chose to make sure you get all the colors right.
Once you have chosen the colors you want, you have a few options for how you could color them in.
If you want a bright and vibrant flag then you could use colored markers, pens or acrylic paints for colors that pop.
Alternatively, if you want a more muted, classic look then you could use some watercolors, colored pencils or crayons for that kind of look.
What will you choose to finish off this guide on how to draw a flag?
Do this to take your flag drawing to the next level
Create an even better flag sketch as we show you some fun tips and tricks!
You did a great job creating this flag drawing, but most flags will have something on them. That is a great way for you to make this flag more unique!
There are so many things you could put on the flag. One of the more obvious ideas would be to create the flag of the country you are from.
Or, you could draw a flag of a country you love or would love to visit! Many organizations have a flag as well, so you could draw one of these flags or maybe even design your own.
What would you like to put on this flag?
Once you have decided on the design of this drawing of a flag, you can also add some colors to it. If you created the flag of a country, then you will have some set colors to work with.
Let's say you created the US flag, you could use some beautiful red, white and blue on the flag. The colors are just a part of it, and you can try out some different art tools and mediums to make the colors pop.
Next, you could add some effects to the sky behind your flag sketch. Doing this would allow you to create a certain mood for the drawing!
If you love a nice sunny day, then you could draw that in the background and use some bright colors. If you would like something more somber, then you could use lots of grey clouds or add some rain
Finally, once you have added some sky details, you could take it even further by adding a detailed background beneath it. Flags can be found in front of houses, schools and many other places.
These are just a few examples, but you could create any setting you like! There are so many choices, and you could try out a few.
Where do you think this flag drawing could be set?
Your Flag Drawing is Complete!
We really hope that you had a fun time working through this step-by-step guide on how to draw a flag!
Drawing something like a flag can be harder than one might think, so our goal with this guide was to show you a way that you can draw a great flag easily.
If you follow the steps and take it slow then you'll have an amazing flag in no time!
Now that you can draw this flag, it's up to you to really bring it to life.
You could do this by drawing different flag designs onto it, by incorporating some brilliant colors or by creating a background for it as well. Be sure to get creative and have fun with it!
Once you are ready for more drawing fun, please visit us on our website for more awesome drawing guides! We upload new ones all the time so be sure to visit often to join the fun!
We would also love to see your incredible flag drawing once it's done, so please be sure to share it on our Facebook and Pinterest pages for us to enjoy!