Trains might not be used as much in modern times as they have in history, but these incredible and powerful machines have served many functions in society.
They have been used for everything from transporting all manner of cargo, transporting people and even as a luxury travel method.
If you love trains as much as many other people and have wondered how you can learn how to draw a train, then you're in the right spot. Be sure to read on to find out how it's done!
This step-by-step guide on how to draw a train in 9 steps will have you on the right track!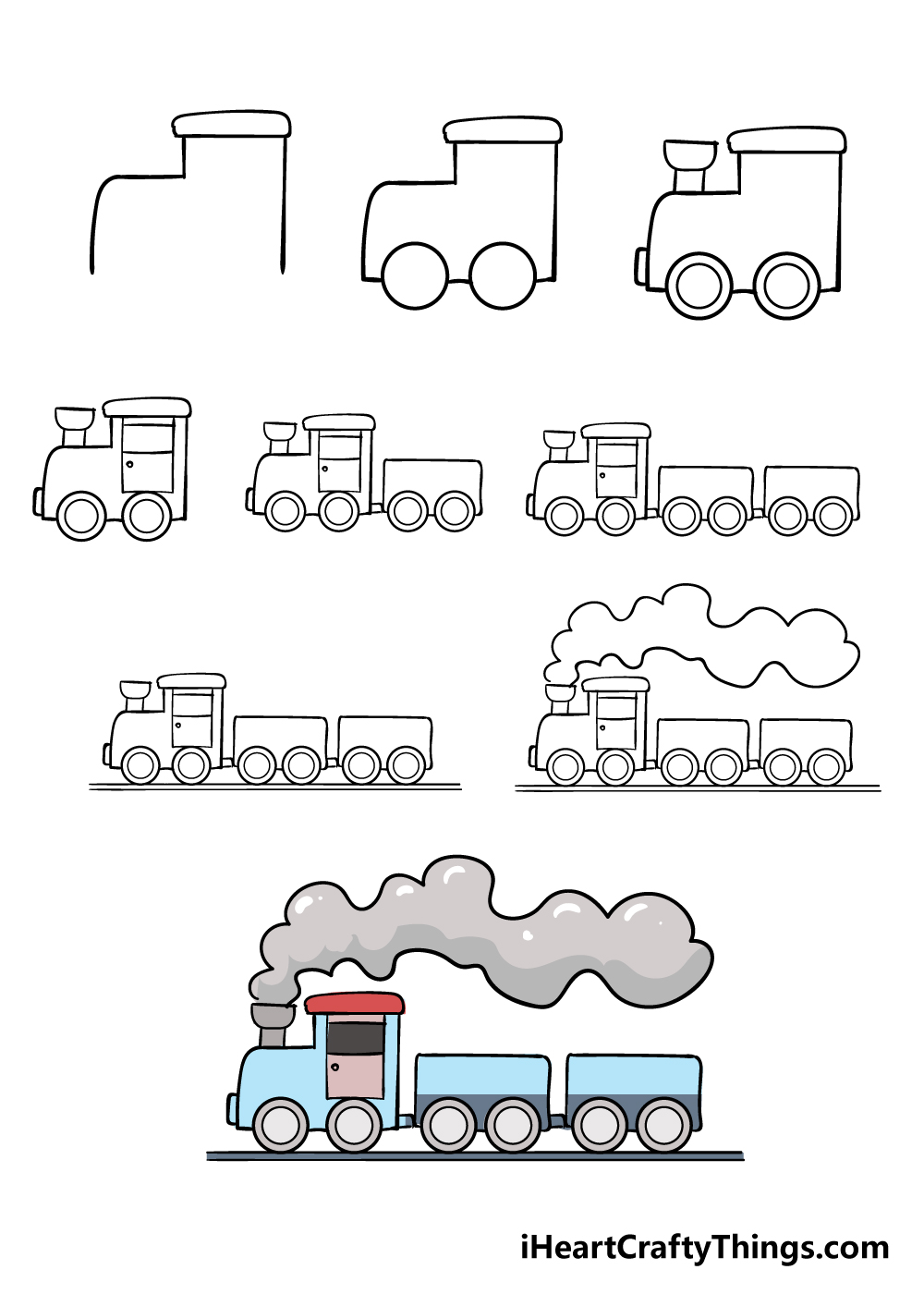 How to Draw A Train – Let's Get Started!
Step 1
To begin this guide on how to draw a train, we shall start with the front of the train. For this step, we shall be using lots of straight lines to create the locomotive of the train.
You can then draw a flat shape on top of the train as you can see in the reference image. There will be no bottom of the train, as we shall draw that later.
Step 2 – Next, draw some wheels for the train
In this step of your train drawing, we shall be drawing some wheels as a train wouldn't get very far without them.
This should be a very simple step, as all you need to do is draw two circles with a line between them. It's as simple as that, and we can move on to the next step!
Step 3 – Now, draw the chimney and wheel details
Many trains run on coal power, and they need a chimney to expel the smoke that is produced running on this fuel source.
For that reason, we shall draw a chimney for your train in this part of our guide on how to draw a train! Simply draw two shirt lines coming up from the front of the train to begin the chimney.
Then, draw a rounded shape with a flat top over those lines.
Finally, you can draw some slightly smaller circles inside of the wheels to finish off their detail.
Step 4 – Next, draw a door onto the front of the train
We have another simple step for this part of your train drawing. Simply draw a rectangle onto the front of the train and then draw two lines horizontally on it.
You can then draw a tiny circle to represent the doorhandle of the train.
Step 5 – Draw the next section of the train
You're really starting to get the hang of it now! To continue this guide on how to draw a train, we shall draw the next carriage of the train.
To do this, simply draw a rectangle trailing behind the front of the train and then have two short lines connecting them.
Then, be sure to draw two wheels exactly like the ones that you drew onto the first section to finish the wheels of this carriage.
Step 6 – Next, draw another carriage
Now that you have drawn one carriage, you can simply repeat exactly what you did in the previous step of your train drawing!
Simply copy the carriage you just drew to have it trailing at the back of the train.
Step 7 – Draw the track beneath the train
Step 7 of our guide on how to draw a train will be made much easier if you have a ruler on hand.
Once you're ready, carefully draw a horizontal line right beneath the train so that it is touching the wheels.
Then the next line will be a bit tricky, as it will go closely beneath the horizontal line you just drew but shouldn't be touching it.
With those lines drawn, your train drawing is really on the right track!
Step 8 – Draw the smoke coming from the chimney with any final details
We will be finishing off the drawing stage of your train drawing before moving on to the final step!
First, you should draw a big plume of billowing smoke coming up from the chimney.
You can use lots of small, curved lines to do this, and you could make it a bit smaller or bigger depending on your preference. Before you move on, be sure to add any details you would like!
This could be anything from windows with passengers looking through to a beautiful background to show where your train is moving through.
Step 9 – Now finish off your train with some color
This is the step of our guide on how to draw a train where you can kick back, relax and have some fun with your colors.
Trains can come in any color you can think of, so this gives you a lot of freedom for your drawing! You could make the colors bright and vibrant, darker and more muted or a mixture of both!
I would use watercolor paints for a more muted, classic look to this picture but anything you use will look amazing! We can't wait to see how you bring this image to life with color.
Your Train Drawing is Complete!
That concludes our step-by-step guide on to draw a train!
Hopefully this guide was not only helpful in showing you that drawing a train can be easy when you know what to do but was also lots of fun for you to work through.
Drawing a new picture is always made simpler when you have steps that show you how to break it down and take it slow!
Now that you know how to create a train drawing, there are many things you can do to make it your own.
We mentioned before how you can draw some of your own unique details or also create a stunning background.
These are just a few ideas, but you can also have fun by experimenting with colors and art mediums. Be sure to let your creativity take over!
Your drawing journey continues on our website! We have tons of step-by-step guides for you to enjoy, and be sure to check in often as we upload more all the time.
We would also love to join in on your train journey, so when you finish your train drawing please share it on our Facebook and Pinterest pages for us to enjoy.