With the huge amount of animal crafts we have made here at I Heart Crafty Things over the years I am sure you can tell I am a big animal lover. I'm constantly thinking of fun new ways to create my favorite animals in craft form and our latest craft project is this finger puppet zebra craft.
My kids love playing with finger puppets and the way this cute zebra can gallop around makes it a new favorite at our house. I think your kids will enjoy it too!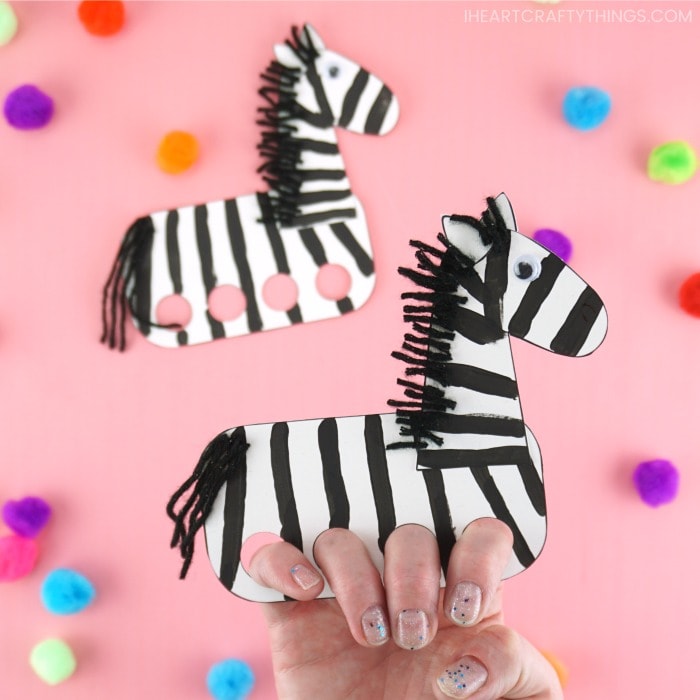 [This craft post was originally published on August 1, 2016. It has been updated to add a craft template, updated photos, tutorial text and a video tutorial.]
How to Make a Finger Puppet Zebra Craft
These zebra puppets are a fun craft for preschoolers and kids of all ages to make. As a bonus, kids using their fingers to play with their puppets after making them is a great fine motor activity too.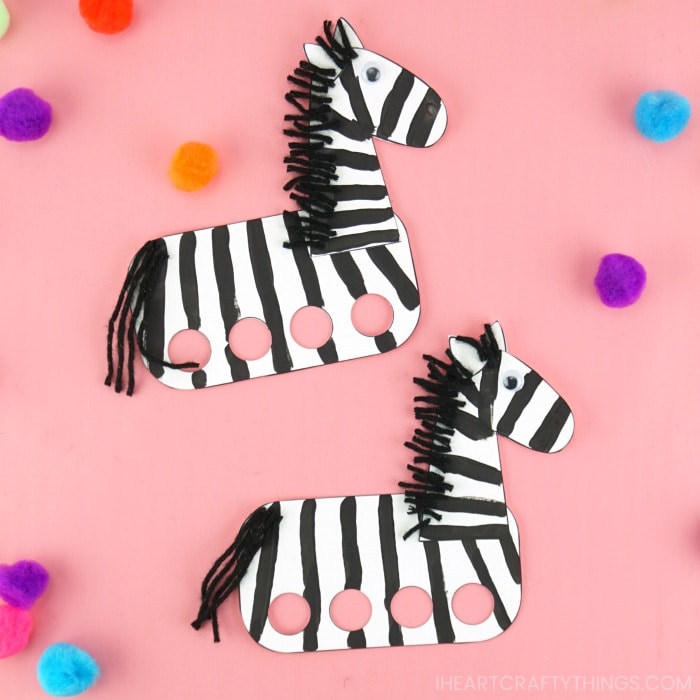 We've recently updated this post with a zebra craft template to make this craft even simpler for kids to make. Read our step-by-step tutorial below for how to make your own cute zebras and make sure to watch our how-to video inside this post before you get started.
Look for some fun book recommendations at the bottom of this post.
Supplies Needed for this Zebra Finger Puppet
This post contains affiliate links to the products mentioned. Read our disclosure policy for more information.
Directions for this Finger Puppet Zebra Craft
1. Download and print out the zebra craft template on heavy weight cardstock (we used 80 lb.). Pour a small amount of black paint on a small paper plate. Paint black and white stripes all over your zebra body, neck and face with a small paintbrush. Let the paint dry completely.
2. After the paint has finished drying, cut out the rounded rectangle shape for your zebra body,  the zebra neck and head shape and both of the ears from the template.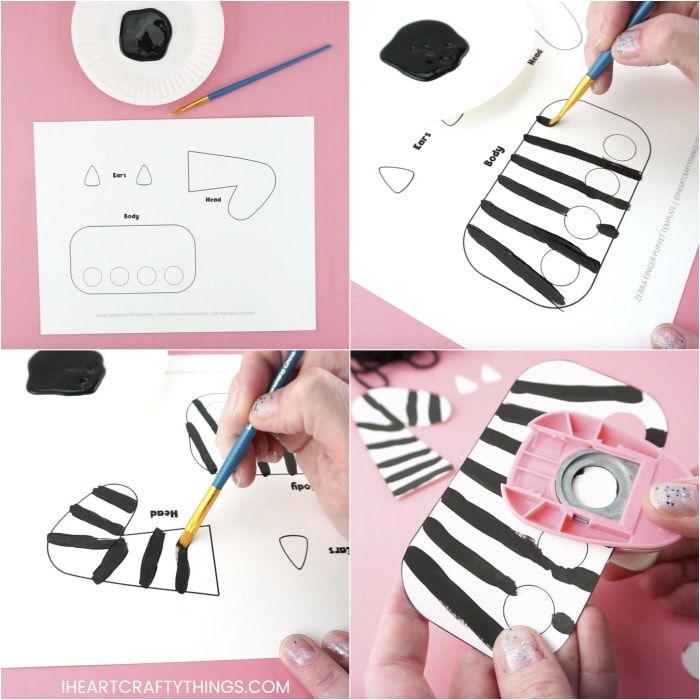 3. Punch four holes into the bottom of your zebra body with your 3/4-inch circle cutter. These will be the finger holes to make your zebra a finger puppet.
4. Glue your zebra neck and head onto your zebra body. Then glue your ears onto your zebra, one in front and one on the back of the head.
5. Glue a googly eye onto your zebra face. Then use a black marker to draw a nostril on the end of the zebra face.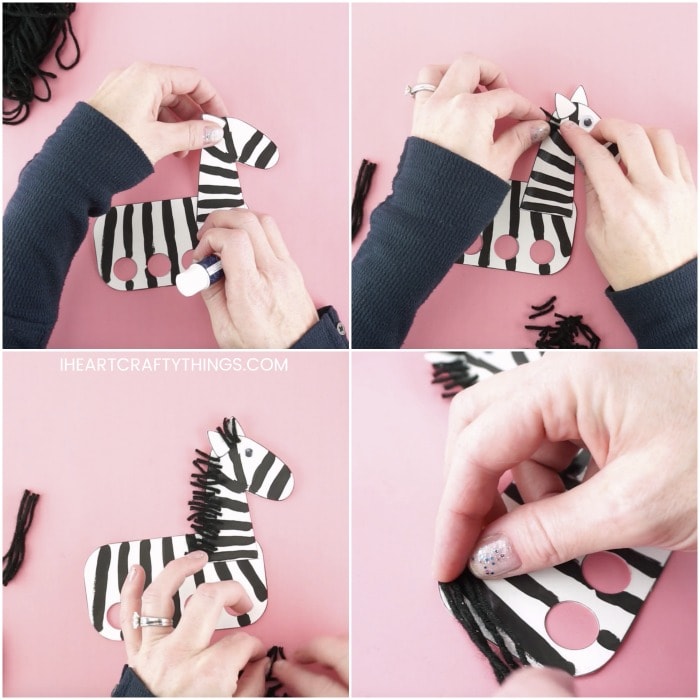 6. Cut out small strands of black yarn and glue them along the back of the zebra neck and a few on top of the zebra's head. Now cut off about four strands of yarn for the zebra tail. Glue the strands on the end of the zebra for a tail.
Once your glue is dry, your zebra is all ready for play. Simply place four fingers into the finger holes and you can have fun galloping your zebra around.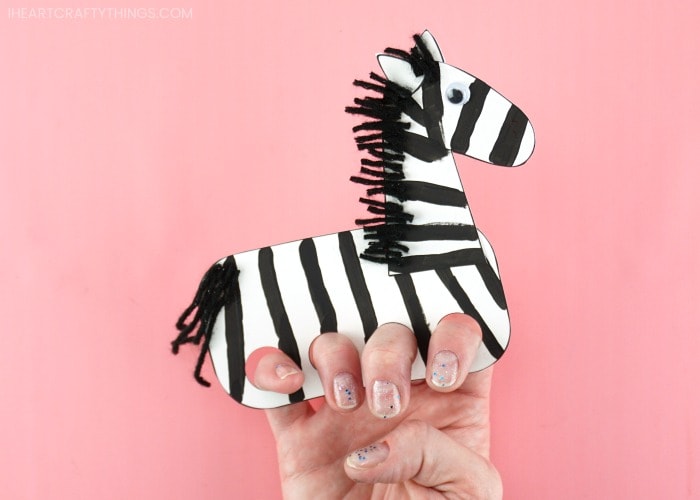 Looking for a zebra picture book to go along with this animal craft?
We love combining story time with craft time. If you are looking for a fun children's book to go along with making your zebra puppets, here are some suggestions you might enjoy:
How the Zebra Got It's Stripes by (A Little Golden Book)
The Zebra Who Ran Too Fast by Jenni Desmond
A Zebra's World by Caroline Arnold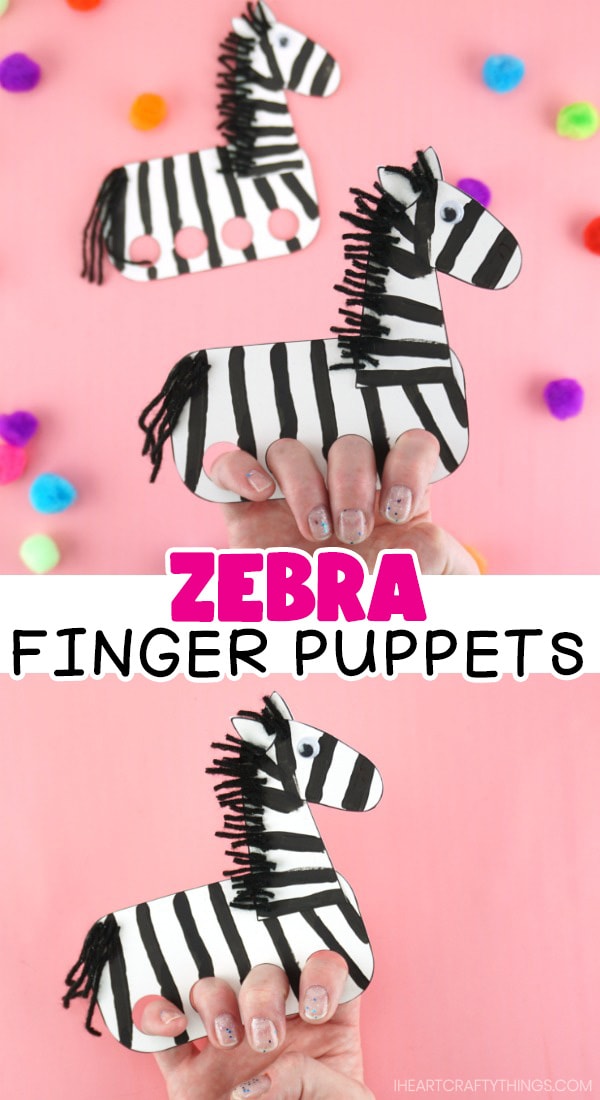 More Fun Finger Puppet Crafts for Kids
Cute little gnomes aren't just for the garden! Here's a fun way for kids to make and play with adorable paper gnome finger puppets. Our template makes creating them super easy for kids!
These fun owl and bear finger puppets are a perfect compliment to the book Bear's New Friend. Kids can retell the story by putting on a puppet show.
Have unicorn fans at your house? If so, they'll want to make these unicorn puppets immediately! They are so much fun!
Make these adorable giraffe finger puppets for a friend to your zebras and then have fun putting on a safari puppet show.