Throughout the history of film, there have been villainous characters that have become permanent aspects of pop culture.
Of all the film villains, Darth Vader has to be one of the most iconic and recognizable.
The first six Star Wars movies focused on the rise and fall of this tragic character, and now it would be hard to find someone who wouldn't recognize him!
With millions of dedicated fans, many would like to know how they can learn how to draw Darth Vader to pay tribute to this icon of cinema.
We hope you enjoy this trip to the dark side as we kick off this step-by-step guide on how to draw Darth Vader!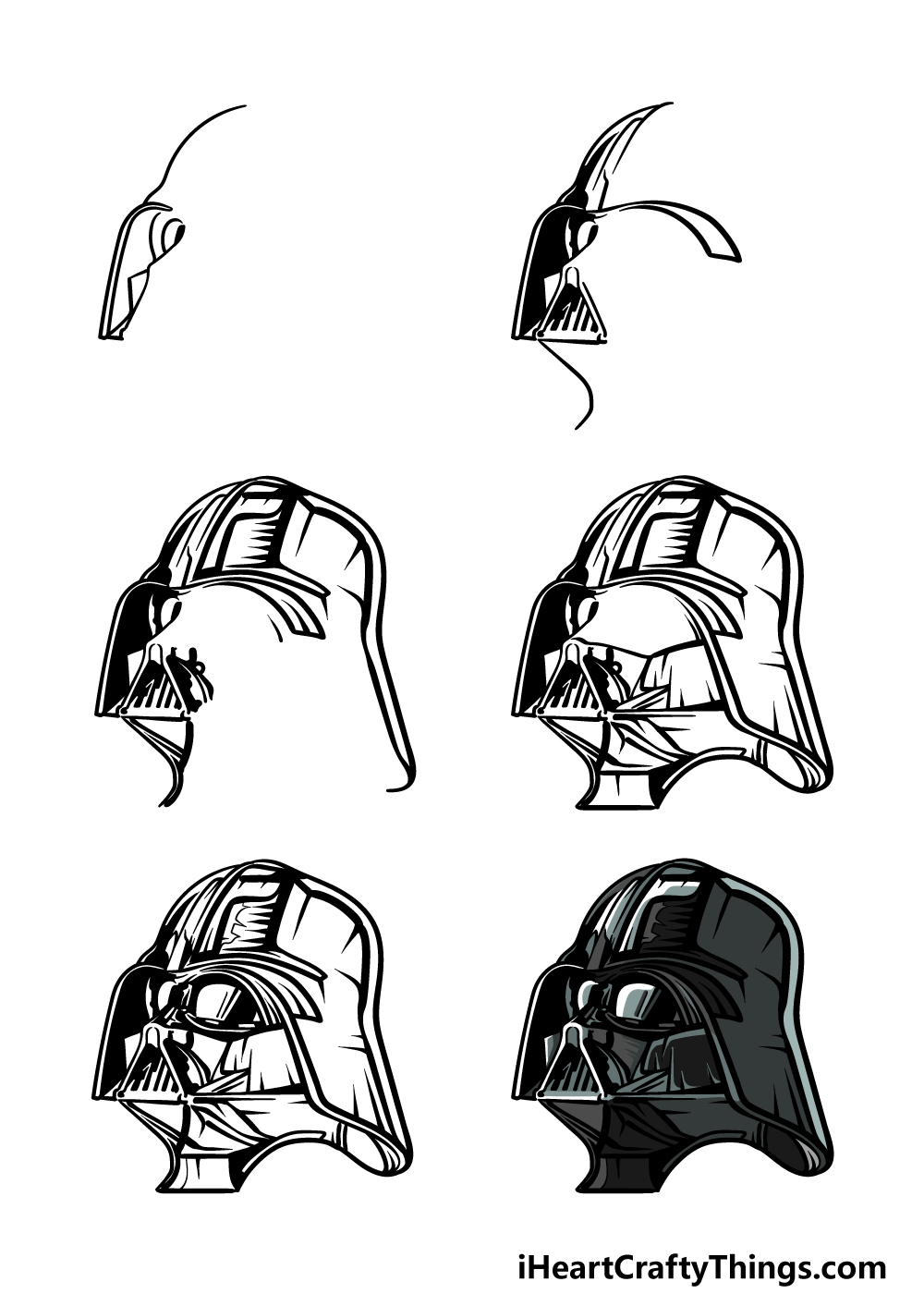 How to Draw Darth Vader – Let's Get Started!
Step 1
There are many distinctive aspects about Darth Vader; his deep and distorted voice, his red lightsaber and his dark uniform to name a few.
Perhaps the most iconic part of Vader is his mask, and that is what we will be focusing on for this guide on how to draw Darth Vader.
His mask and helmet were inspired by old army helmets and gas masks, and there are many different aspects to it that can make it a bit tricky to draw.
You may want to start by drawing an oval with your pencil and then draw some curved lines intersecting with one another to keep the angle consistent as you draw.
We will start with a curved line for the top left-hand side of his helmet, as shown in the reference image.
This will then extend out to the top arch of his helmet, and inside of that are we can start to draw the first parts of his mask.
Try your best to replicate the liens as they appear in the reference picture, and then we'll be ready for step 2!
Step 2 – Next, draw some shading and the ventilator for his mask
In this part of your Darth Vader drawing, we will add some shading to his mask along with his ventilator.
First, extend a curved line from the peak of his helmet into the interior of the mask, as shown in the reference image. Then, you can use some thick lines to form a triangular shape for the ventilator of his mask.
Then his chin will be drawn using some curved lines extending inward from this ventilator.
You can then finish off this step by adding some big black shapes throughout the parts you have drawn already for some shading. Then it will be on to step 3, so let us proceed!
Step 3 – Draw the top of his helmet
We will be drawing the top of his helmet in this step of our guide on how to draw Darth Vader. His helmet is a round dome on top of his head, and you can extend it with another rounded line there.
Then you will want to carefully copy the lines in the reference image, as we will be adding a ton of detail to this area as well.
You can also draw the area at the base of his ventilator with a curved shape as the part that will go over his chin.
Step 4 – Now, draw the bottom of his helmet and mask
You're doing a fantastic job on this Darth Vader drawing, so don't give up as you're over the halfway mark now!
We have been drawing lots of intricate shading details so far for the sections of the mask, and we will continue to add such details in this part.
These details will extend from the ventilator into the interior of the mask, and with all the line details will form the rest of the bottom half of the mask.
We will be adding a lot in this step, so be sure to carefully follow the reference image and take it slowly!
There will be a space left for his second eye, but we will finish that off along with some final details in the next step.
Step 5 – Finish off the details for your Darth Vader drawing
We will be finishing off the final details and elements in this step of our guide on how to draw Darth Vader. First, draw some more lines and shading details over the eye on the right to finish off that part of the mask.
Then you can finish off with some more final details throughout the mask. With those drawn, you are ready to move on!
Be sure to add any more details that you may like for this drawing as well before you do.
You could draw more characters from the movies or maybe even use some fancy lettering to write out your favorite Darth Vader quote. What else can you think of to personalize this awesome drawing?
Step 6 – Finish off your Darth Vader drawing with some color
Darth Vader isn't exactly known as a flashy dresser, so when coloring him in you will likely be using lots of greys and black colors.
These are what we used in our reference image, and to color in your Darth Vader drawing you will want to use lots of different shades instead of your darkest blacks.
This will help to give the picture some definition and make it look shiny.
Don't forget to color in any other extra details you may have added as well!
Do this to take your Darth Vader drawing to the next level
You won't need the Force to make your Darth Vader sketch even more incredible!
The helmet design for Darth Vader is possibly the most iconic helmet design in cinema history. We kept the design of this Darth Vader drawing to this famous helmet, but you could add some more.
Using his film appearances to help you, you could draw some more of his outfit. It is a really detailed design, but using pictures and the films would help a lot!
This way, you could even draw him in some different poses and emulate some famous scenes from the movies.
This character is often shown with his fearsome red lightsaber, and you could add it to this drawing of Darth Vader. This would also be a great addition if you added more of his body in the previous step.
If you draw the lightsaber, you could use mediums like colored pens or markers to make the red really pop off the page. You could even draw it in such a way as to make him look like he is swinging it!
The Darth Vader helmet is so iconic, but the Star Wars series is full of other iconic designs. You could add some to this Darth Vader sketch to create a bit of a collage!
For some ideas, you could draw the helmet of a stormtrooper or maybe some other villains. Boba Fett, Kylo Ren and Captain Phasma are a few examples of characters with cool hamlet designs.
What other helmets could you add to this drawing?
Vader is known for having many memorable lines, and you could incorporate them into this Darth Vader drawing. You would certainly have a few to choose from!
Once you have chosen the line you would like to use, you could then find a cool font and draw the quote under his head. This would be a great way to relive your favorite Darth Vader moments.
What are some Darth Vader quotes that would work best for this idea?
Your Darth Vader Drawing is Complete!
This was a highly detailed drawing that you worked on, so great job on finishing this guide on how to draw Darth Vader!
We hope that by taking it slowly and following our steps that you found it to be fun and easy to do.
Don't forget that you can also take this drawing even further by adding details such as extra characters, text, a background or fun and creative art mediums and tools. It's up to you, so let your creativity run wild as you complete this picture!
Then, when you're finished drawing Lord Vader himself, you can check out our website for many more awesome drawing guides. Be sure to check in often, as we upload new guides constantly for you to enjoy.
Once your Darth Vader drawing is finished, we would love to see your picture of this fearsome villain! Please be sure to share it on our Facebook and Pinterest pages for us to enjoy.