Some animals tend to acquire a bit of an unpleasant reputation. Rats would be an example of this, as many people view them as disease-carrying pests.
While this reputation is not entirely unearned, they are also rather intelligent, resourceful creatures that can also be very cute!
It is this interpretation of this rodent that we will be exploring in this guide on how to draw a cute rat. We have an adorable interpretation of this rodent that we will be working on today.
This is a guide that you will certainly want to read through all the way to the end.
Our step-by-step guide on how to draw a cute rat will show you everything there is to know about recreating this cute design!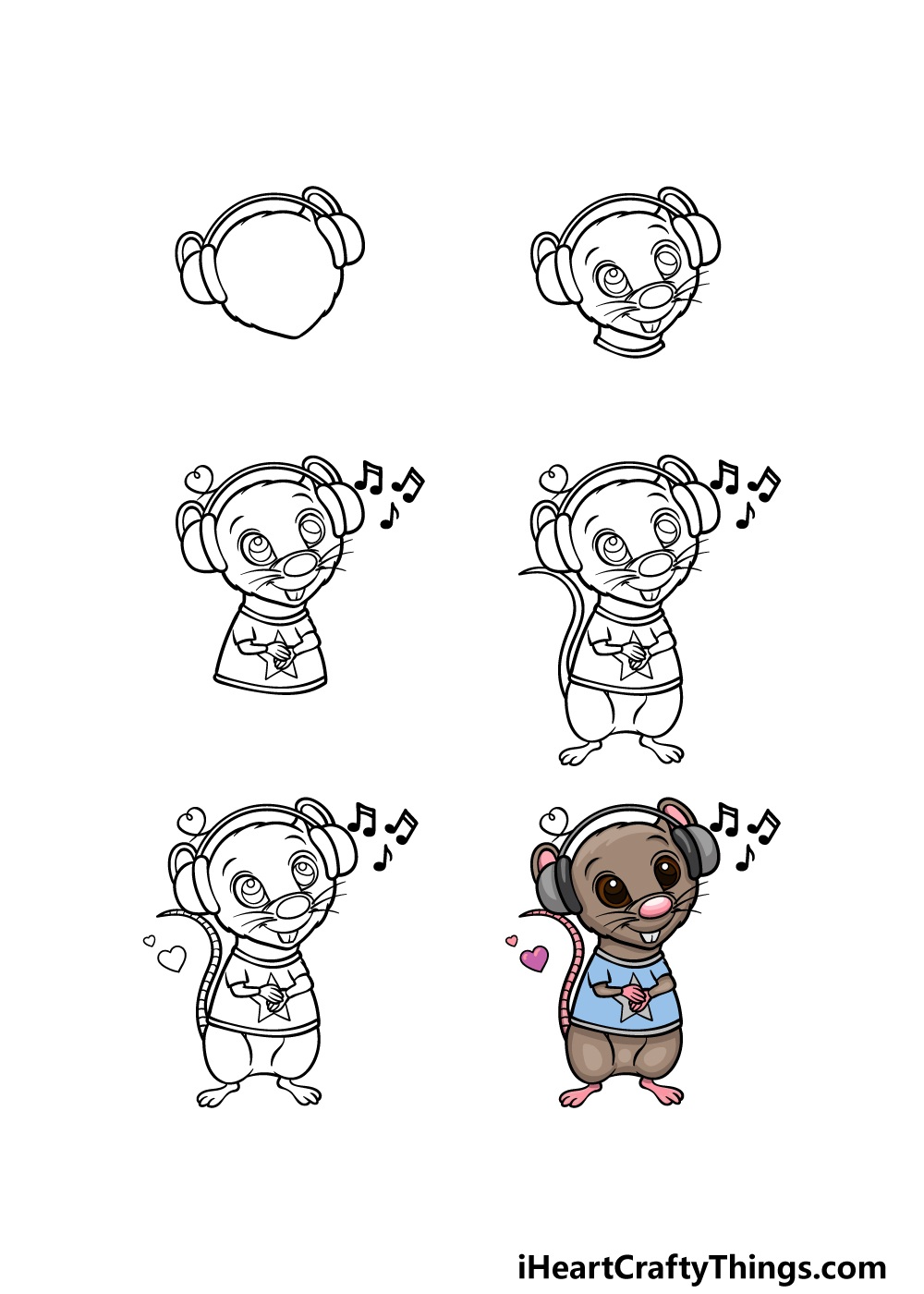 How to Draw A Cute Rat – Let's Get Started!
Step 1
The rat that we will be drawing during this guide on how to draw a cute rat will be looking very happy as it listens to some of its favorite tunes on its headphones!
For this first step, we will be drawing the head outline along with the big headphones that it is wearing.
The head will be drawn using some curved lines that have some small jagged points in them to make the head look furrier.
Then, we will be drawing the headphones. Each side of the headphones will have a thin, rounded shape up against the head, and then there will be a rounded line attached to either one.
Finish off by drawing the band that holds them together over the head, and then we can move to step 2!
Step 2 – Now, draw some facial details for this cute rat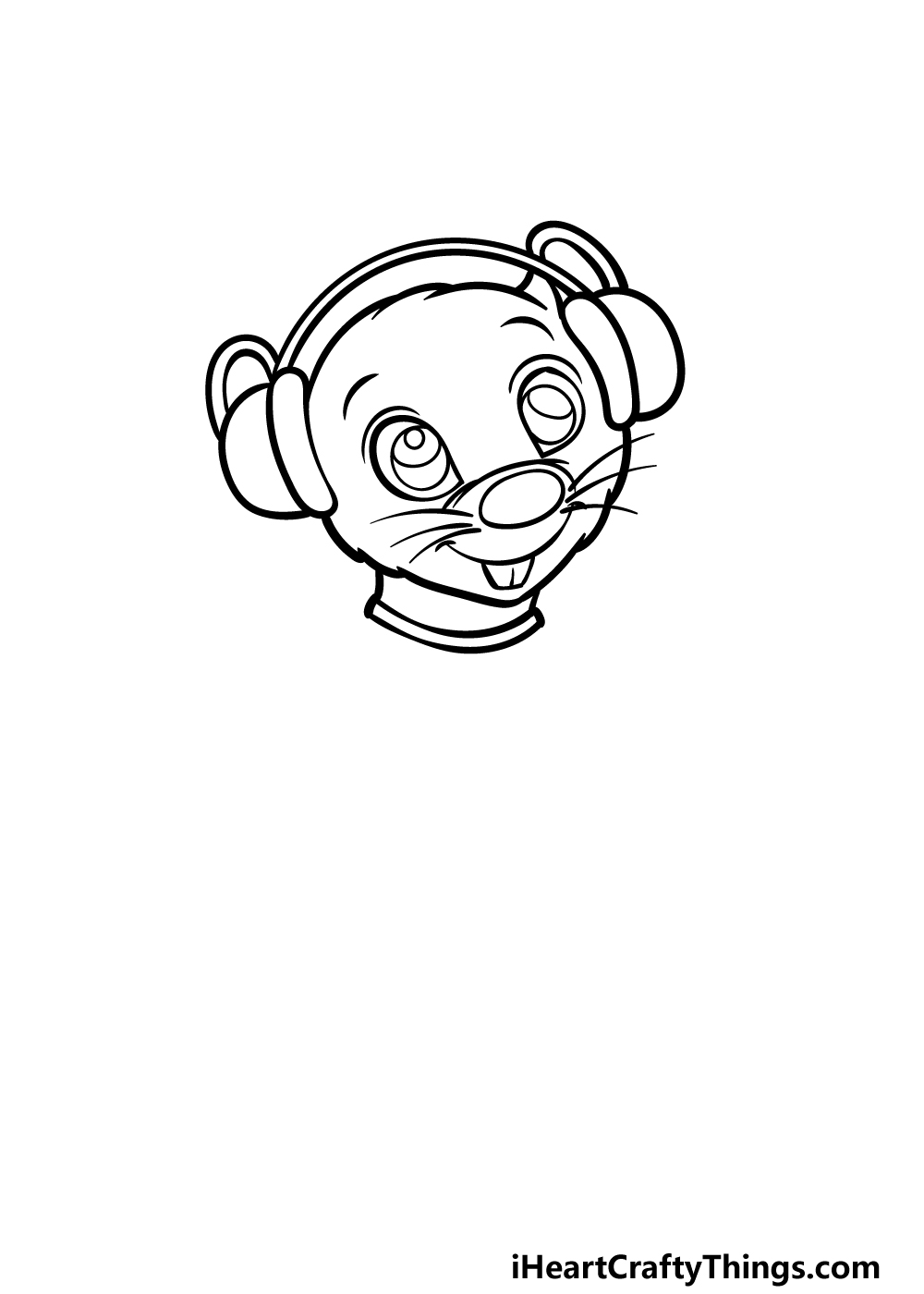 Now that you have the outline of the head drawn for this cute rat drawing, we can begin adding some facial details in this second step.
First, draw a rounded shape at the center of the face for the nose, and then add a curved line beneath it for the smiling mouth. This will then have some squared teeth poking down from it.
Next, draw some big round shapes for the eyes, and then add some circles inside of them for the pupils.
Finally, draw the neck below the head with the rim of the shirt it is wearing, and then it will be time for step 3 of the guide!
Step 3 – Draw the chest and arms of this cute rat
In this third step of our guide on how to draw a cute rat, we will be adding the chest and arms along with some other fun details.
Use some curved outlines for the sides of the shirt, and then add a thin portion at the bottom of it.
Once the shirt outline is drawn, you can draw the thin arms of the rat clasping in front of it. There will also be a star on its shirt that will be visible behind the arms.
Then, before we proceed to step 4 of the guide, you can draw some music notes around the head and also add a heart to show that this rat is having a great time listening to music!
Step 4 – Next, draw the legs and feet of the rat
For the fourth part of your cute rat drawing, we will be adding the legs and the tail for the rat.
Use some curved lines to draw the hips of the rat in such a way as to make it look like it is sitting down on its haunches. Then, you can finish off by drawing the long, thin feet at the ends of the hips.
The last thing we will be drawing in this step will be the tail. This will be drawn with some curvy lines that culminate in a sharp point.
Step 5 – Add the final details to your cute rat drawing
It's almost time for the final step of this guide on how to draw a cute rat, but first we have some final details to add to really finish it off.
First, draw some lines all along the inside of the tail to give it some more texture. Once those details are drawn, the last thing to add will be some more hearts floating around the rat.
With these details drawn, you can then add any additional details of your own that you may like for the image!
Drawing a fun background would be one idea, as this would give you a lot of room to have fun getting creative. What kind of fun setting can you think of for this adorable rat?
Step 6 – Finish off your cute rat drawing with color
Now it's time for the final step of this cute rat drawing, and in it we shall finish off with some great colors!
Rats aren't typically the most colorful of creatures in real life, and we went with this more realistic approach when coloring the rat itself in some lovely browns.
Then, for the shirt we used some dull blues and incorporated some lovely pinks for the nose, tail and feet.
When coloring this picture, you could go for similar colors to the ones that we used, or you could show off all of your favorite colors for a completely different picture!
What colors and art tools will you use to finish up this wonderfully cute picture?
Here's how you can make your cute rat drawing even better…
Make your adorable cute rat sketch even better with these fun tips to try!
This drawing of a cute rat shows a little rodent having a great time as it listens to some tunes. You could make the rat's day even better by adding some extra objects it would like!
Everyone knows that rats love cheese, so you could make this cute rat very happy by adding a big pile of cheese beside it.
This is one type of food you could add, but it would probably not say no to other tasty treats!
Music is often best when shared with others, so you could add some rat friends to this scene! Now that you know how to draw a cute rat, you could add some pals for this little guy.
Simply follow the steps of the guide again, and then change a few details in order to make these new rats unique. They could even be dancing along to the music and wearing fun clothing items!
As we mentioned, this cute rat drawing shows a little rat enjoying some music. This would be a great chance to incorporate some music that you love into the image!
One way to do this would be to pick a favorite line from a song you love. Then you could write some of the lyrics of this song around the rat to make it look like he is listening to that song.
Or, you could draw some albums lying around the rat to suggest the music he is grooving to.
Taking our previous tip even further, you could add more of a background to your cute rat sketch. This could include some music equipment such as a radio or maybe a CD player.
You could even go for something more elaborate and show this cute rat at a music concert or a party. These are just a few of the ideas you could use for the background of this picture.
Where do you think this cute rat is enjoying his tunes?
Your Cute Rat Drawing is Complete!
All of the steps in this guide on how to draw a cute rat have been completed, and now you have a really adorable image to show for it.
We hope that this guide made drawing this sweet little rodent a fun and easy experience for you to embark on!
Now that you have finished our design, you can keep the fun going with this picture as you add some of your own cool details, elements, color choices and background details.
It will be great to see what you bring to the picture!
When this guide is finished, you can find your next awesome drawing guide to enjoy on our website!
We have many there for you and plan to bring out a lot more soon, so keep checking in to make sure the fun never ends!
The last step of this picture is to share your finished artwork on our Facebook and Pinterest pages so we can see how brilliantly it turned out!