When it comes to fashion, it can be hard to stay up to date with the latest trends and styles.
Even though fashion is constantly changing and evolving, there are certain styles and types of clothing that maintain relevancy and can be incorporated into the very latest trends.
For the fashion-obsessed, staying up to date can be quite intensive, and it can help for them to draw out potential outfit ideas.
That can make learning how to draw a cute outfit essential for the budding fashion guru.
If you would like to know just how you can do that, then look no further than the tutorial in front of you!
Our step-by-step guide on how to draw a cute outfit in 6 easy steps will show you how you can design your own fashionable outfits!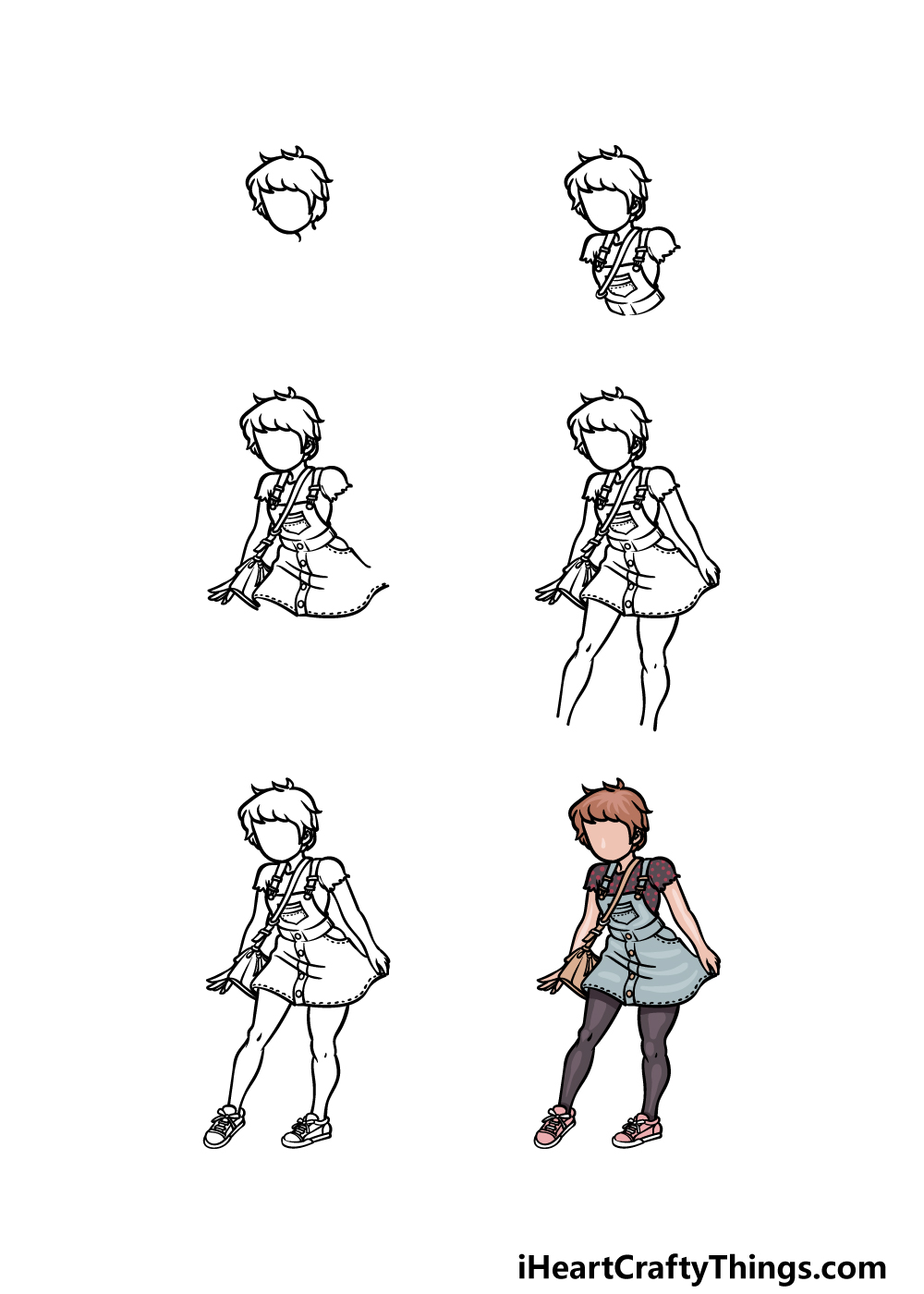 How to Draw A Cute Outfit – Let's Get Started!
Step 1
In this guide on how to draw a cute outfit, we will be putting the outfit on a faceless model, and this will help to keep the focus on the style of the outfit.
To do this, we used a smooth rounded line for the facial outline. Then, for the outline of her hairstyle we used lots of smaller pointy lines and shapes to give her a spiky hairstyle.
Finish off by drawing some small curved lines for her neck, and then we can move on to step 2 of this guide.
Step 2 – Now, draw the top of her outfit
The outfit that we have designed for this cute outfit drawing has her dressed in a denim dress that has some suspenders over her shoulders.
To start this part of the outfit, first draw the straps of the dress, and then draw another strap going across her chest. Then, draw a pocket onto the chest of the chest.
Finally, draw the belt section around her waist, and then add some short sleeves where her arms will go later. These sleeves will have jagged ends, and once they are drawn it will be time for step 3.
Step 3 – Draw more of her outfit
Continuing with this guide on how to draw a cute outfit, we will be adding more to her fashionable ensemble!
First draw a small purse hanging from the strap going over her shoulder. Then, use some curved lines for the outline of the dress skirt, and then add a dotted line along the ends of the dress.
Finish off by drawing her arm on the left, and then we can head onto step 4!
Step 4 – Next, draw her other arm and her legs
In this fourth part of your cute outfit drawing, we will be drawing more of her arms and her legs. First, you can add the arm on the right.
It will be extended straight out, and it will be holding the rim of her skirt. Then, we will be using some simple curved, smooth lines to draw the outlines of her legs.
Getting the proportions of the legs looking right can be tricky, so try to replicate the lines as they appear in our reference image!
The feet will be missing for now, but we will fill those and any final details in when we get to the next step.
Step 5 – Add the final details to your cute outfit drawing
Your design is almost complete, but before we move on to the final step of this guide on how to draw a cute outfit we must first add the final elements to the image.
In this fifth step of the guide, we will be adding some sneakers onto the ends of her legs.
We went with a simple and elegant sneaker design for our example, but you could go with any other kind of footwear that you would like for it instead!
For example, you could draw some fashionable boots to finish up the outfit. While you're at it, you could add some aspects or additional accessories to the design.
Or, you could take what you learned in this guide and design your very own fashionable design! How do you think you would like to complete the design before adding some color?
Step 6 – Finish off your cute outfit drawing with color
Color is usually a really important aspect of any style, and that is why we shall finish off this cute outfit drawing with some color!
In our reference image we showed you just one way that you could go about coloring this design.
For her shirt, we used black with red dots and then used some faded blues for the denim dress she is wearing.
Finally, we used blacks and dark greys for her leggings and finished off with pink for her shoes.
While you could go for similar colors in your own image, this picture is all about showing off your own creativity!
Be sure to really let your inspiration take over and really bring this image to life with your creativity.
You could also incorporate some cool art tools, mediums and crafts to achieve the colors you would like. How will you express your creativity with this design?
4 More Ways To Make Your Cute Outfit Drawing Unique
Reveal your inner fashion designer as we work on this cute outfit sketch!
Developing a style depends on the individual's tastes, so you could change up this cute outfit drawing to match your own style!
Even if you like the style we created here, you could make it more personalized with just a few changes.
If you wanted to make a brand new outfit, then you could also really create something unique with what you have learned in this guide! What sort of styles or eras of fashion would you like to take inspiration from?
Clothes are just an aspect of style, and you can also incorporate different accessories to complement them. These would be great to add to your drawing of a cute outfit!
These accessories could range from a handbag or a purse to some cute hats or boots. It's really up to you, and you could change the dynamic of the outfit quite drastically with these accessories.
You can look to your own closet or maybe some examples from celebrities you admire for some inspiration.
We kept the face of the character in this cute outfit sketch blank to make it easier, but you could also finish off the design with a face. When doing this, you could use your own face or maybe use the face of a friend or family member.
This suggestion would be great whether you make the face realistic or cartoony and expressive. Who would you use to finish off this person's design?
Finally, once you have finished your design and made all your changes, it could be fun to make a background. The background setting you choose would depend heavily on the kind of style you went with.
For the outfit we created in the guide, you would probably want a more casual setting like a mall or a party. If you went with a different look, then we're sure you can think of some locations you would wear this outfit to.
What are some backgrounds you could use for your design?
Your Cute Outfit Drawing is Complete!
You have completed all 6 steps of this guide on how to draw a cute outfit, and that means that your creative fashionable journey is at an end!
We really hope that this guide was helpful in helping you along in your goal to create some great outfits.
The steps in this guide were designed to not only make it fun and easy for you, but also to allow room for your own creativity.
Now that you have finished this design, you can keep the fun going by adding your own unique touches, by changing elements of the outfit or by creating an entirely new outfit design!
The possibilities are endless, and we hope you will have fun taking what you've learned to create some wonderful pictures.
Once you are ready for more fun, you can keep things going by checking out more of the guides we have in store for you on our website!
We have a massive selection that we add to frequently, so be sure to keep checking in to never miss out.
When your cute outfit drawing is complete, you can share your creation on our Facebook and Pinterest pages for us to look at and admire!