Sesame Street was introduced to the world in 1969 as a show that would provide educational segments that were presented in a fun and informative way.
Since its introduction, it remains popular to this day and has many colorful characters that have become iconic in their own right.
One of the most recognizable of these characters is Cookie Monster, and this cookie loving character has millions of fans worldwide!
Many of these fans may want to learn how to draw Cookie Monster but not know where to start.
This guide you have before you is the perfect place to start, so you'll want to read all the way to the end!
Our step-by-step guide on how to draw Cookie Monster in 6 steps will help you to recreate this classic character.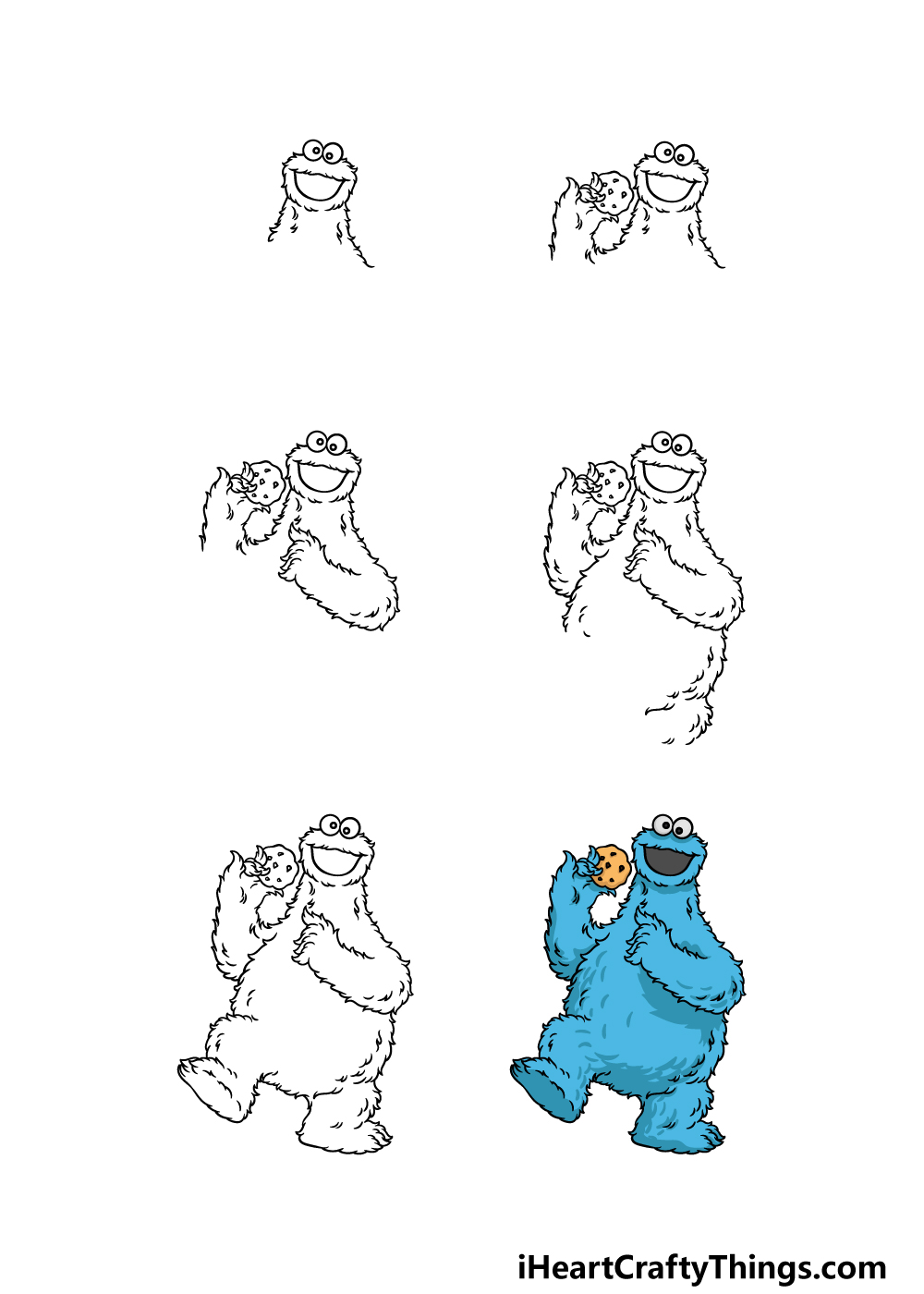 How to Draw Cookie Monster – Let's Get Started!
Step 1
For the first step of our guide on how to draw Cookie Monster, we will start with his head and face. You can start this by drawing two small circles next to one another.
Then, you can add an even smaller circle inside each one for his pupils. Then, we will be using some pointy and curvy lines for the outline of his head to make it look nice and furry.
Once you have drawn this outline, you can then add some lines underneath it for the bottom of his head. Then, extend the outline down and outward from the base of his head for the start of his shoulders.
Finally, we will be drawing his mouth. Draw another of those furry lines for the top of his smiling mouth, and then add a smooth curved line beneath it.
Step 2 – Next, start drawing his first arm
As is suggested by his name, Cookie Monster loves cookies! For that reason, no Cookie Monster drawing would be complete without a cookie for him to enjoy.
First, we will use some more of the furry lines you have been using for the outline to draw his hand near the base of his head.
Then, this hand will be holding a cookie that you can draw with a bumpy line. Don't forget to add some chocolate chips to it!
Step 3 – Draw his second arm in this step
You've started one arm in this guide on how to draw Cookie Monster, and in this third step we will add the other one.
This arm will extend from the base of the shoulder on the right, and you can use the same kind of line you've been using so far to continue the furry effect.
This arm will be bent upward to have him pointing at the cookie that he is about to enjoy! Once you have drawn this arm as it appears in our reference image, you will be ready for the next step.
Step 4 – Now, draw the body for Cookie Monster
In this part of your Cookie Monster drawing, we will start drawing his body to get you ready for the final details in the next step.
For the rest of this drawing, we will be using that furry line again. With that in mind, draw the two rounded sides of his belly.
The first of these will extend downward from the base of the arm on the right. It will also start leading into his leg on the right.
The left-hand side of his belly will extend from near the arm on the left, and will also be quite rounded.
Once that side of the belly is drawn, you can then fill in the gap between the belly and the arm to finish off the arm that is holding the cookie.
Then we will move on to the final details in the next step!
Step 5 – Finish off your Cookie Monster drawing
This step of our guide on how to draw Cookie Monster will be all about finishing off his outline to get you ready for some coloring fun!
The main focus of this fifth step will be finishing off the leg outlines. His legs are fairly short and quite big. The leg on the left will be raised up a bit for a more dynamic pose. Because of the angle of this leg, we will be drawing the bottom of his foot as well.
Then we will draw the second leg, and this is the one that he will actually be standing on. Once you have drawn both of these legs, you can also add some details of your own to finish it off nicely.
Sesame Street is full of lots of colorful characters, so maybe you could create a background featuring some of them!
This is just one idea, but what else can you think of for this picture?
Step 6 – Finish off your Cookie Monster drawing with some color
In this final step we will be coloring in this Cookie Monster drawing to finish it off nicely. Cookie Monster has a lovely blue color scheme, and this is what we went for in our reference image.
Instead of one solid blue color, we incorporated various different shades to help give him a  furrier appearance.
Will you stick with this classic color scheme or will you use some unique colors for your own Cookie Monster variation?
Here's how you can make your Cookie Monster drawing even better…
Have some fun making this Cookie Monster sketch even greater with these fun tips!
If there is one thing that the Cookie Monster loves, it's cookies! That won't be news to anyone who knows the character, and we made sure to include one in this Cookie Monster drawing.
However, one cookie would probably not be enough to satisfy his hunger for cookies. That's why it could be fun to add some more cookies to this image!
How many you add would be completely up to you, but we are positive that Cookie Monster would not mind if you filled the page with cookies!
When you see this character, he is usually shown simply with his distinctive blue fur.
Sometimes he will wear elements of clothing, and you could add these to this drawing of Cookie Monster if you want to make it more distinctive!
You would have many options if you would like to try this. For instance, maybe you could put him in a tuxedo if you want him to look nice and fancy.
This character is one of many iconic and colorful characters from the Sesame Street series. You could add some of these famous characters to this Cookie Monster sketch!
For example, you could add characters such as Elmo or maybe Big Bird. These are a few ideas, but you could also include characters from the Muppets such as Kermit the frog.
Can you think of other characters from these or other series that you could add to this drawing?
Once you are happy with how your Cookie Monster drawing looks, you can take it even a step further with a background. If you want to add a background, you have a few options for how to go about it.
One would be to use an existing background setting from the Sesame Street series as inspiration. Or, you could put Cookie Monster into a unique setting by designing your own background.
Which option do you think you would use to finish off this picture?
Your Cookie Monster Drawing is Complete!
Cookie Monster is such a classic character that everyone knows, and drawing him is a great way to celebrate this character.
We hope that this guide on how to draw Cookie Monster made this task a simple and pleasurable one to take on.
We aimed to make it much easier by breaking it down into more manageable steps so that you could focus on the fun of drawing.
Now you can draw some touches of your own to put your own spin on it! We mentioned how you could draw some more Sesame Street characters or change up the colors, but there are many other options to go for. How will you complete this image?
You can find many more guides featuring other classic characters and other subjects on our website. Be sure to keep checking in as we upload new ones often!
We always love to see your finished artwork, and the best way to show us is by sharing it on our Facebook and Pinterest pages!