Cheetahs are remarkable animals for a number of reasons.
The main thing that can be admired about the cheetah is that it is the fastest animal on the planet, however that's not all there is to admire about this creature!
It also has a beautiful spotted pattern that many people love, and once you know how to draw cheetah print it can also be great to use in many craft designs.
It can be a bit complicated to draw, but once you reach the end of this guide it won't seem hard at all!
We created this step-by-step guide on how to draw cheetah print in just 7 steps to make it easier than ever for you to create this beautiful design.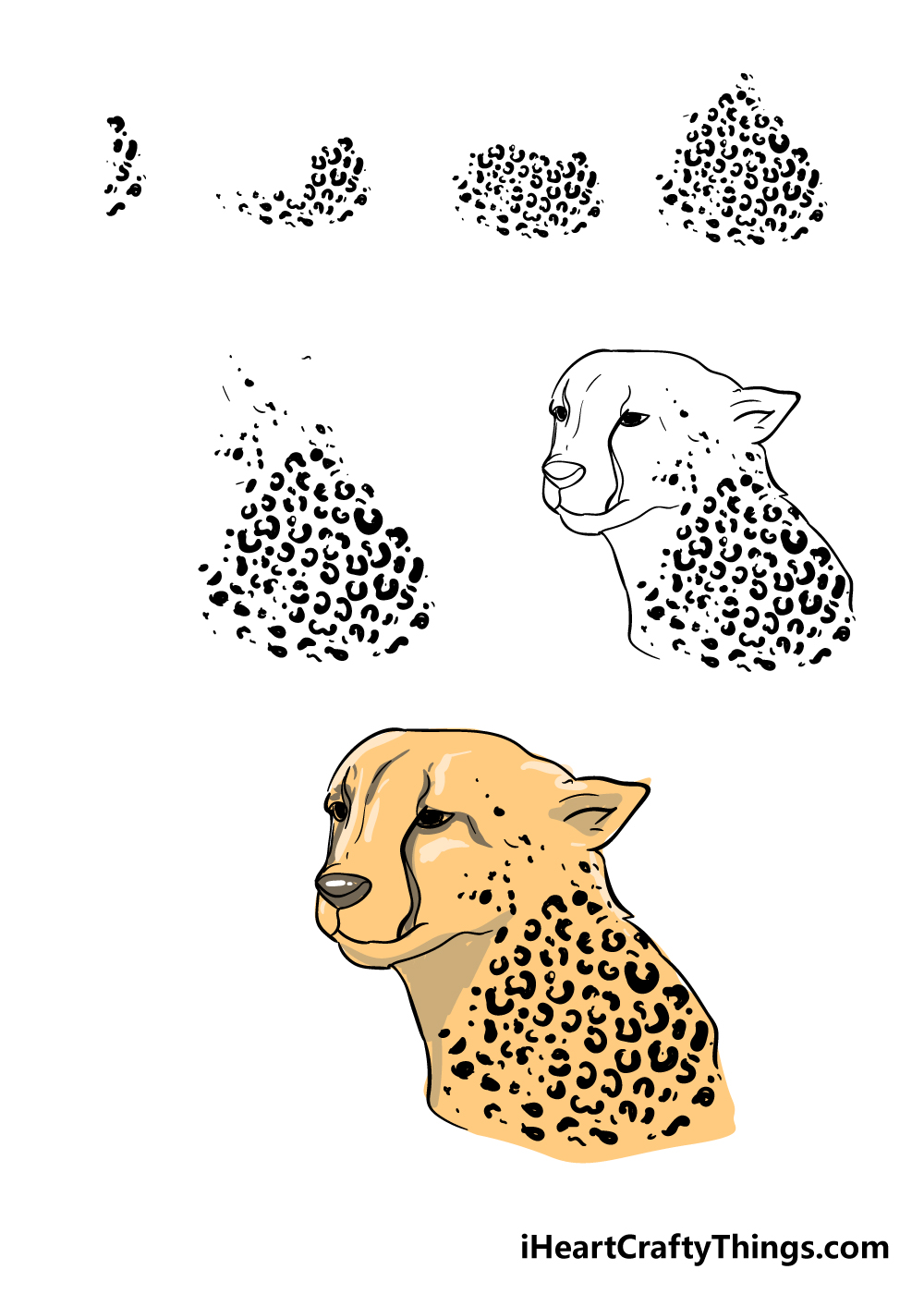 How to Draw Cheetah Print – Let's Get Started!
Step 1
When drawing a pattern like cheetah print, it may look complicated but it can be done by building up lots of small shapes.
For that reason, we will take it slow in this guide on how to draw cheetah print! To get started, we shall be starting with a small portion of the spotty pattern.
As you can see in our reference image, these little spots will be quite varied. They will mostly be drawn as irregular, thin oval shapes.
Some of these will be filled completely with black, while some will have some small holes in them. For this section, the shapes will be a bit smaller and more solid.
Once you have it looking how you like, then you're ready for step 2!
Step 2 – Draw some more of the pattern
For this step of your cheetah print drawing, we shall be moving further inward to create the design.
As they move more inward, the spots will get a little bit larger. Some of them will also have some white spots inside of them or a gap in the side.
There's no wrong way to do this, however, and as long as you keep it consistent you can vary up the design a bit!
Step 3 – Keep extending the design in this step
You're starting to get the hang of it now, so you should have no problems with the next few steps of this guide on how to draw cheetah print.
These next spots will continue into the center of the pattern, and these ones will also be relatively large compared to the ones that you drew in the first step.
They will also have some white spots inside many of them, as you can see in the reference image.
Step 4 – Now draw the design extending upward
We will be changing direction a bit for this part of your cheetah print drawing. These ones will move upward, and as they do they will start getting a bit smaller like the ones in the first step.
If you draw a face and neck for the cheetah later on, then these ones will be extending up the neck.
Step 5 – Draw some final spots
This step of our guide on how to draw cheetah print will have you drawing the uppermost spots of the spots.
These ones will be closest to the face of the cheetah, and for that reason they will be the smallest ones on the cheetah.
These last few spots will be more like thick pen dots covering the empty space of the face. You could always add even more spots or take some out if you prefer, as this is your drawing after all!
Once you're happy with the number of spots you have, it's on to the last few steps.
Step 6 – Now, draw a face outline for the cheetah
This last part of your cheetah print drawing is a bit more optional, as it deals with drawing the face of the cheetah that these spots are on.
We've shown you how you can draw the face of the cheetah, so if you would like to add it you can carefully follow the image to create the majestic face of the cheetah.
This is one way you can finish off this drawing, however. You could also incorporate this pattern into another drawing, and there are many options for this!
Maybe you could design a fancy dress with this pattern or create a bedspread with the design to unleash your inner interior designer.
These are just a few ideas, but what creative ways will you finish off this amazing cheetah print drawing of yours?
Step 7 – Finish off your cheetah print drawing with some color
Now that you have finished drawing the spots and pattern, it's time for the final fun step of this guide on how to draw cheetah print.
That means you can get out your favorite art mediums and tools to add some beautiful colors to your picture!
In our reference picture we showed you the realistic colors of a cheetah which you could use, but you don't have to go for that if you want a more stylistic look.
You could incorporate your favorite bright colors for some funky designs using this cheetah print!
Then you can experiment with some amazing art mediums like paints colored pens and markers or any others you love for some incredible color variations.
How will you color in this cheetah print drawing?
4 More Ways To Make Your Cheetah Drawing Unique
Quickly make your cheetah sketch even better with these fun tips!
Cheetahs are known for their incredible speed, so you could show this side of them in this drawing of a cheetah.
You could do this by showing the cheetah running, and this could be done by changing just a few details.
In order to make this tip easier, you could look up some pictures of running cheetahs and use that to help you change the details of this pose.
It may be easier than you think and it would give this drawing a whole new feel!
Of course, while cheetahs are incredibly fast they can only maintain that speed for a brief time. For that reason, you could also draw this cheetah relaxing after a hunt.
This could be done by showing the cheetah lying on the floor, and it's another case where using a photo of a real cheetah could be very helpful.
The cheetah could simply be relaxing or even sleeping, depending on your preference! How would you like this cheetah to relax?
This cheetah drawing shows one of these incredible animals, but it would be even more amazing to add more. You could create a whole cheetah family by doing this!
This would also be a great way to challenge yourself by trying out different poses for the various cheetahs. You could also have some cheetah cubs to add some cuteness to the scene.
How many cheetahs would you like to add to this scene?
Finally, when the cheetah sketch you have created looks exactly as you want it, you could finish it off with a background.
If you stick to the theme of the African wilderness, you would still have many options for background locations!
If you went with our suggestion of showing the cheetah in a relaxed pose then you could draw a tree casting a cool shadow over the cheetah. This is one example of a scene that you could create.
What are some other background settings you could create?
Your Cheetah Print Drawing is Complete!
With the spots drawn and the colors added, you have successfully reached the end of this guide on how to draw cheetah print!
Drawing a pattern such as this can be surprisingly challenging, so we hope that this guide showed you how easy it can be when you know what to do.
Now that you have mastered this guide, it's up to you to get creative with it and use it to create your own creative variations and designs!
This is your chance to let your imagination run free and really show us what you can do. What will you use this cheetah print pattern on?
We hope to see you on our website, as we have some incredible drawing guides for you to enjoy there.
We also release new guides all the time, so be sure to check in often to make sure you never miss out!
Once you have finished your cheetah print drawing, we would love to see your awesome artwork! Please feel free to share it on our Facebook and Pinterest pages for us to enjoy.