The world that we live on is incredibly beautiful whether seen from up close or from afar, and there is so much to see!
We all share the planet, and it is something that everyone has in common even when so much else separates people.
It is also common to depict it in artworks, and we are here to show you how to draw a cartoon world so you can create some too,
By the end of this guide, you will be able to draw your very own fun and creative interpretation of our planet. This picture is sure to bring a smile to whoever sees it!
So get ready to begin this step-by-step guide on how to draw a cartoon world so that you can create a wonderful artwork featuring our big blue planet!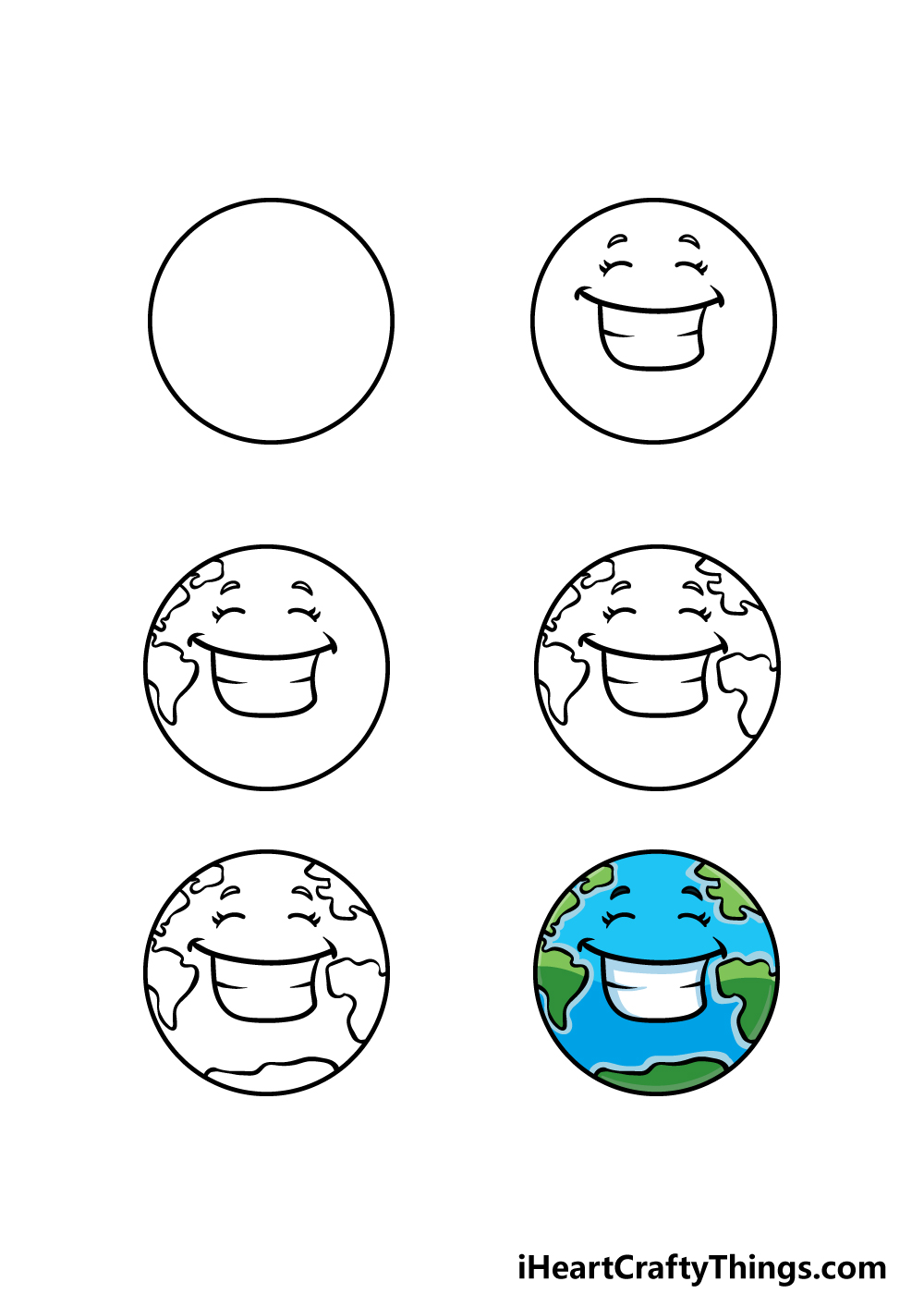 How to Draw A Cartoon World – Let's Get Started!
Step 1
We shall start things simply for this first step of our tutorial. All you will need to do is draw a circle that we will add all the details to later.
This can be easier said than done, however, as drawing a perfect circle free-hand can be next to impossible. Luckily, there are tools you can use to make things much easier on yourself.
The best tool for the job would be a drawing compass, as this simple tool makes drawing perfect circles a breeze.
If you don't have one handy, you could trace around a flat round object to create this circle.
However you end up doing it, you will be ready for the next step!
Step 2 – Now, draw a face for this cartoon world
This is a depiction of our planet, but it's not just any depiction of the planet! In this guide on how to draw a cartoon world, we are depicting a smiling version of our world.
To start this, we will draw two curved lines for the closed eyes. Each of these will then have two small eyelashes poking off of them.
Then, we will draw some small eyebrows over the closed eyes. Next, draw a wide smiling mouth, and then we will draw a big squared set of teeth.
Finish off this step by drawing the corners of the mouth, and then we shall head to step 3!
Step 3 – Next, draw the first continents
It wouldn't be much of a depiction of the earth without some continents, so we shall start adding some to your cartoon world drawing in this third step.
We're going for a more stylistic interpretation of the continents instead of trying to make them super accurate, and you can draw them using some curving, rounded lines.
These ones will go on the left side of the globe, as shown in the reference image. The rest of the globe is blank for now, but we will fix that in the next few steps.
Step 4 – Now, draw the next set of continents
We started drawing the continents in the previous step, and in this one we shall add a few more. The previous ones went on the left, but these ones will go on the right.
Once again, they are more of an approximation of the real continents than anything, but they create a great impression of our world!
They will also be drawn very similar to the first ones from the previous step, and will be separated into two.
There will be one more space left at the base, but we will take care of that along with any final details in the next step!
Step 5 – Add the final details to your drawing
We have one final continent to add to the planet before we get to the final step of this guide on how to draw a cartoon world.
This final one will go at the base of the planet, and it will be drawn using a curved and slightly wavy line.
Once this final continent is drawn, you will be ready to add some extra details of your own.
There is so much that you could do to make this drawing even more personalized, and it's a great way for you to show off how creative you can be!
You could draw space behind the planet, and this would be a great way to show off some details like stars or other planets. What ideas do you have for aspects you could add to this image?
Step 6 – Finish off your cartoon world drawing with color
This is the final step of your drawing, and in this one we will finish off this happy planet with some color.
We went with a classic color scheme of blue for the water and greens for the planets to give it a lovely vibrant yet realistic look.
You could go for this same set of colors if you like how it turned out, and it would create a lovely look for your drawing.
You could also go for some unique color choices of your own if you prefer! These choices could consist of some variations of the colors we chose or even entirely unique ones.
There is also fun to be had with the art tools and mediums that you pick, so this is a great chance for you to let your creativity run wild!
5 Tips To Make Your Cartoon World Drawing Even Better!
Travel the globe without leaving the house with these tips for your cartoon world sketch!
The drawing of a cartoon world that we created in this guide has a big beaming smile on its face. This looks great, but you could also create different facial expressions.
For example, maybe the world could have a smaller smile on its face or it could be looking nervous as a comet is hurtling towards it.
What are some fun facial expressions you could add to the world?
Speaking of comets, there are a few celestial objects that you could add to the drawing. Comets would be one idea, but you could also go for moons, planets or stars.
Any aspects that you add can also be turned into cartoon characters that are interacting with this cartoon world.
Another way of populating this cartoon world drawing would be to add some different kinds of spacecraft. These could include spaceships and rockets that humans are piloting.
If you're feeling extra creative, then you could draw some alien spaceships and crafts as well. It could be fun to draw both humans and aliens and show how they are interacting!
This is something you can really get imaginative with as you design the vehicles.
We kept the details of this cartoon world fairly vague in order to concentrate on the cartoony face of the world. If you fancy something more realistic, then you could make the continents more accurate.
If you really want the world to look more realistic, then you could even remove the face and focus more on the continents and other details of the world.
When you're trying to make a drawing look the best that it can be, you can play around with creative art tools and mediums. There are so many that you could use for this cartoon world sketch!
For example, if you want the stars in the background to look really twinkly, then you could use some light glitter or glitter glue.
What are some other crafts you could use for this cartoon world?
Your Cartoon World Drawing is Complete!
That brings you to the end of this guide on how to draw a cartoon world! All 6 steps are complete, and that means that you have a wonderfully happy drawing to show off.
Hopefully the steps in this guide helped to show you just how fun and easy it can be. Breaking it down into smaller steps is always the best way to make any drawing challenge much easier!
Then, you can keep the fun going by adding your own details and ideas to make it even better. We mentioned a few ways you could do this, but what else can you think of?
If you're ready for more when this is done, you can find many more awesome drawing guides and other fun activities to enjoy on our website! More are on the way soon, so keep checking in.
We would love to see how your cartoon world drawing came out, so please share your artistic creation on our Facebook and Pinterest pages for us to admire!