Flowers are probably the most beautiful plants that nature has to offer, and there are so many varieties and species to admire.
Each of these flower variations offers a unique color, shape or scent to enjoy, and everyone has their favorites.
It's hard not to love the sunflower, as this gorgeous, bright flower really stands out due to its large size and amazing colors. It is also the subject of this guide on how to draw a cartoon sunflower!
We have a really cute portrayal of this famous flower for you to work on in this guide, and we can't wait for you to have fun with it!
This step-by-step guide on how to draw a cartoon sunflower in just 6 fun and easy steps will guide you through the process of replicating this incredible flower.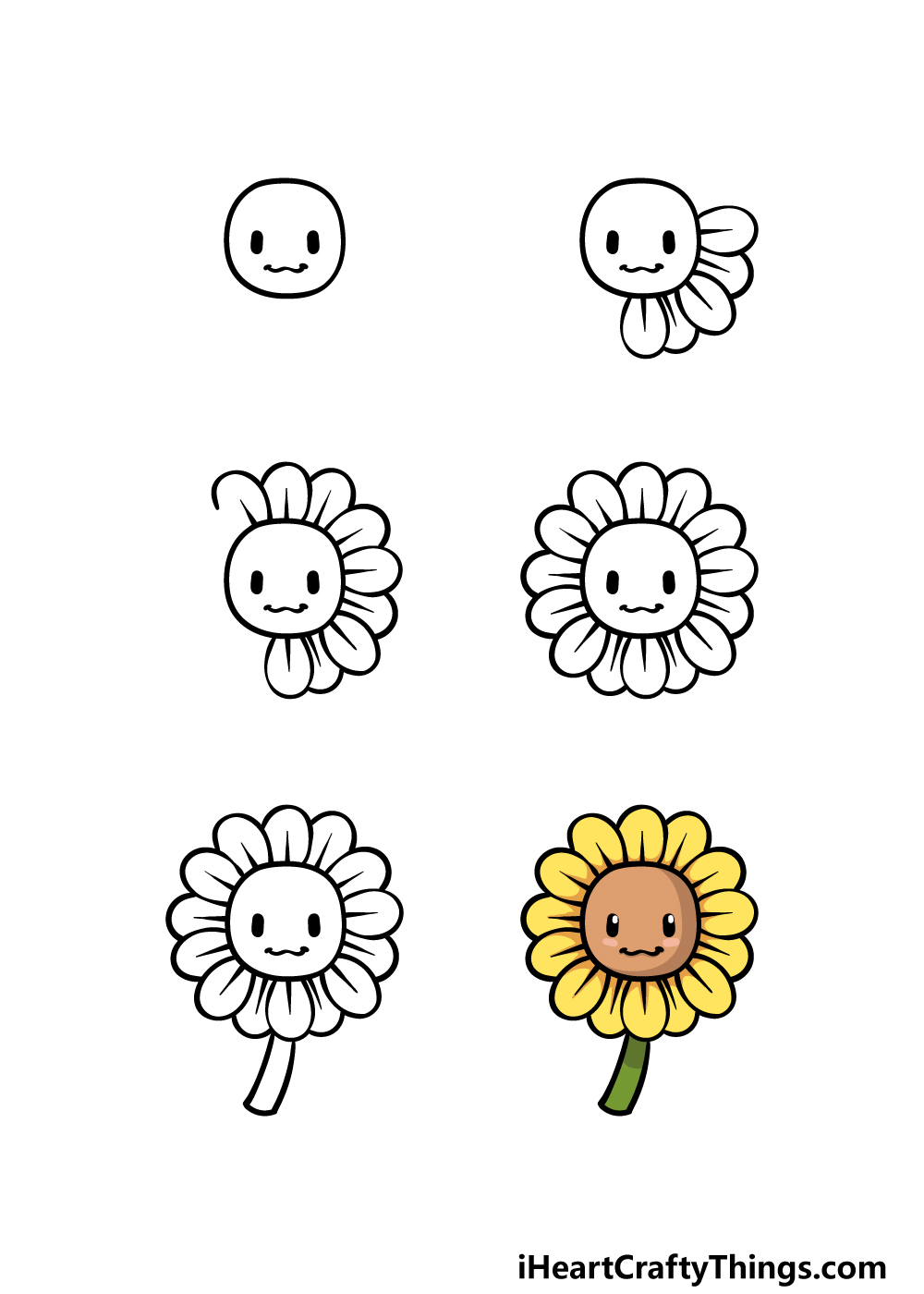 How to Draw A Cartoon Sunflower – Let's Get Started!
Step 1
We shall start things simply with this first step of your cartoon sunflower drawing. First, we will be drawing a circular shape for the outline of the center of the flower.
As you can see in later images, this portion will also function as the face of the flower, and we will be adding some facial features to it.
First, take your time drawing the outline of the face. It will be rounded, but also take on a vaguely squared shape with rounded edges.
Then, draw two thin, black ovals for the eyes of this cartoon sunflower. Lastly, we will be drawing a cute, smiling mouth beneath it.
You could go for a different mouth design if you prefer! Then, it's time for step 2.
Step 2 – Now, draw the first petals of this cartoon sunflower
What would a sunflower be without petals? In this step of our guide on how to draw a cartoon sunflower, we will be drawing some petals for this pretty sunflower.
Each of these petals will be relatively small and rounded in shape. As you can see in the reference image, some will overlap with others to give the appearance of the flower some more dimension.
Each petal will also have a straight line going through the center of the petal base and into the interior, as shown in the example.
Then, we can keep adding some more petals in the next few steps.
Step 3 – Next, draw some more petals
Now, we will be adding four more petals to this pretty sunflower to keep building it up. This next set of petals will go on the top edge of the flower.
These petals will look pretty much identical to the previous set of petals, and that means that there will be some rounded outlines with a straight line inside the center.
Like the previous set of petals, they will also overlap with one another.
Once these are done, it's on to step 4!
Step 4 – Now, draw the rest of the petals
When looking at what we have drawn of this cartoon sunflower drawing so far, you will notice there is one patch of petals left to add, and we will take care of them now.
These final 5 petals will fill the remaining space on the flower, and once again they will look very similar to the previous ones.
Spacing them out to fit the space that's left over can be a bit tricky, so you could draw them with a pencil first so you don't have to worry about mistakes.
Then, we can move on to the final details and additions in the fifth step of the guide.
Step 5 – Add the final details to your cartoon sunflower drawing
This fifth step of our guide on how to draw a cartoon sunflower will have you finishing off the final detail for this composition.
We will also cover a few ways that you could add some extra details and ideas of your own!
First, we will add that final detail. This will consist of a stem for the sunflower, and it is quite simple in design.
All you need to do is draw a long, thin rectangle shape coming down from the base of the flower. Then, you're ready for those extra details!
You could draw a background, as this is always a great way to make an amazing drawing even better.
t would also be a great opportunity to add some extra flowers and other plant life that would enhance this drawing even further.
What other fun details can you think of that would make this pretty cartoon sunflower even prettier?
Step 6 – Finish off your drawing with color
Now you're ready to finish off this drawing in style with some color! Sunflowers are known for their bright, vibrant colors, and we have replicated these in our reference image.
First, we used some shades of brown for the central portion of the flower, and then we used various yellow shades for the pretty petals.
Finally, we finished off with some greens for the stem. You'll notice that we used a darker green for the top of the stem, as this shows some shading from the flower itself.
Will you use the same colors we chose, or do you have some other colors in mind? We look forward to seeing what you come up with!
Here's how you can make your cartoon sunflower drawing even better…
Have some bright and sunny fun as we make your cartoon sunflower sketch even better!
One sunflower is a beautiful sight, but if you see a bunch then that is even more beautiful! That's why you could make this drawing of a cartoon sunflower even better with some more sunflowers.
This cute design is so easy to draw, so you could have a whole field of cartoon sunflowers to make this drawing even more stunning.
They could even have some fun facial expressions to make each one unique!
Adding other sunflowers is one way that you could populate this drawing. You could also add some cartoon versions of all your other favorite flowers.
These could be any and all flowers that bring you joy, and it would be interesting to convert them to a similarly cartoony style.
Even though they will be cartoon versions, you could still look up photos of the real flowers to make it easier. Now the only question is what are some flowers you would like to include?
It would also be great to add some other characters to this cartoon sunflower drawing! For example, you could add a human that is enjoying this cute cartoon sunflower.
Earlier, we spoke about adapting your favorite flowers to a cartoon style, but it could also be fun to adapt yourself to this cartoon style. You could also add some animal characters if you prefer.
Who are some characters you could use for this image to make it even more fun to look at?
The cartoon sunflower sketch we created in this guide has a simple and fun facial expression. You could add a personal touch to the picture by changing the facial expression up.
This could be simple such as a different expression drawn in the same style. Or, you could go for a completely different art style.
If you added other flowers, then each one could have a unique facial expression, and the flowers could even interact with one another.
Your Cartoon Sunflower Drawing is Complete!
This is such a stunning flower, and it's easy to see why it has become so beloved around the world!
We hope you enjoyed taking on this drawing challenge as you learned how to draw a cartoon sunflower alongside us.
As long as you follow all the steps, you will have a beautiful drawing in no time!
Then, when you have mastered this design you can add your own extra touches to make it even better.
We spoke of a few ways that you could do this earlier in the guide, but you can show us what you think by adding even more ideas!
If you enjoyed recreating this sunflower, you can head on over to our website for more drawing guides to enjoy. We upload new ones often, so check in often to never miss out!
We always love to see how your drawings turn out, so please share your finished cartoon sunflower drawing on our Facebook and Pinterest pages!