The possibilities of space are literally endless, and we have seen only a fraction of what it has to offer.
There is so much to see and explore, and to do so you will need a spaceship to transport you to strange new worlds.
Most of us won't get to own a spaceship, but it can be fun to imagine what it may look like if we did!
Learning how to draw a cartoon spaceship is a great way to imagine what your own spaceship may look like, and that's what we're here to do now.
Not only will you learn how to draw a fun spaceship design, but you will also be able to add some of your own details and touches to make it your own!
Now you're ready to begin this step-by-step guide on how to draw a cartoon spaceship in just 6 steps!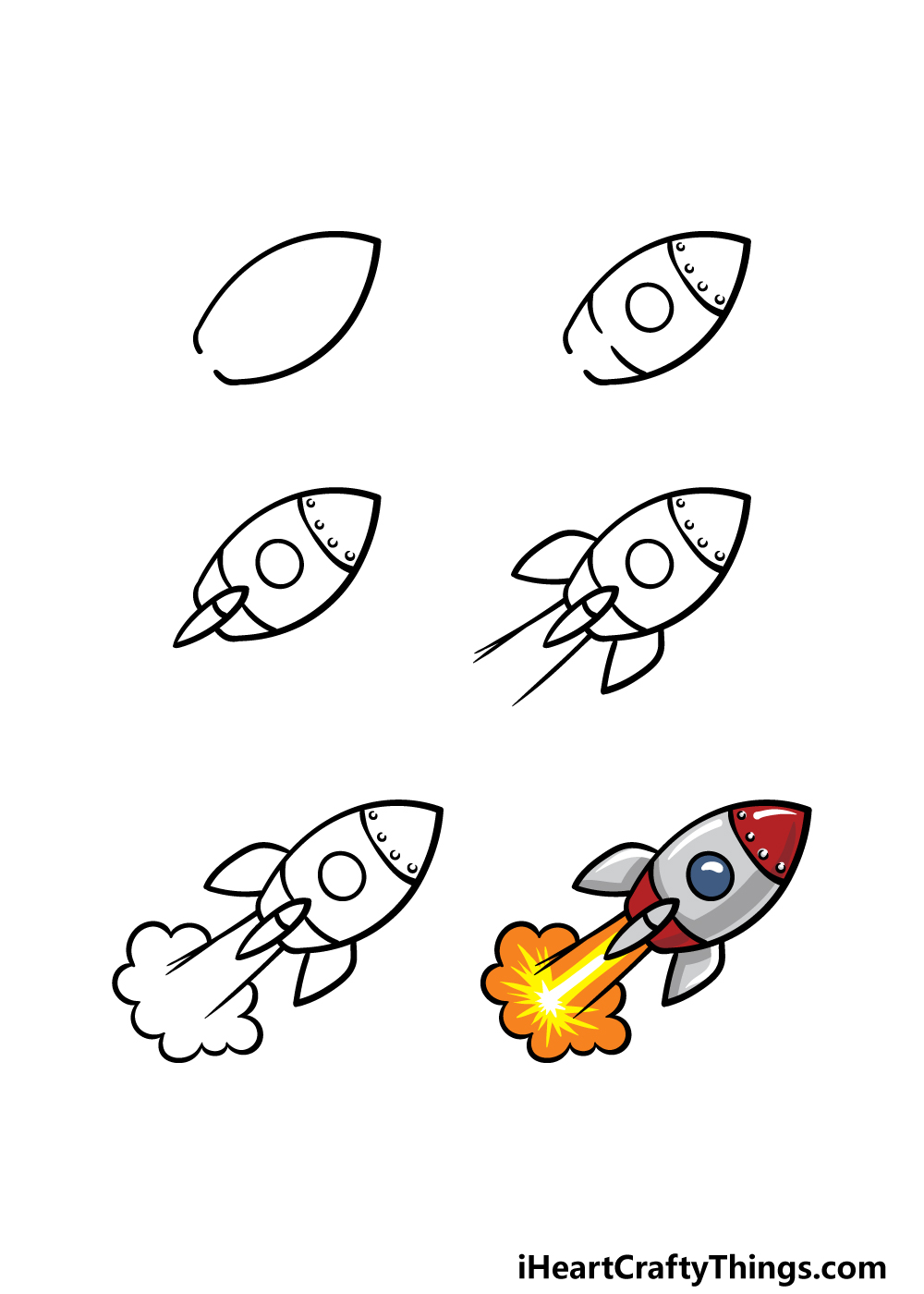 How to Draw A Cartoon Spaceship – Let's Get Started!
Step 1
This first step of your cartoon spaceship will be rather simple to do! For this part, we will be drawing the main body of the spaceship.
As shown in the reference image, this will be drawn using some curved lines that end in a pointy tip.
It will be shaped a bit like a football, but there will be an empty space on the left-hand side, as we show in our reference image. Then, we will be ready to move on to the next step of the guide!
Step 2 – Now, draw some details for your cartoon spaceship
You have the outline for the body of your ship, and in this second step of our guide on how to draw a cartoon spaceship we will be adding some finer details to the side.
First, begin by drawing a circle onto the side. This will be the window for the ship, and we will add some details to it later on.
Next, draw a slightly curved line horizontally across the body of the cartoon spaceship. We will then draw two more closer to the open end at the base, but there will be a small space left between them.
That's all there is to it for now, so let's move on.
Step 3 – Next, keep adding details
We shall keep adding finer details to your cartoon spaceship drawing in this third step. First, we will draw some large bolts going along the line near the tip of the rocket.
These can be drawn as some small circular shapes that have a small gap in each one along the line.
The next detail we will be drawing will show you why we left a gap in the previous step! We will be drawing a shape that is oval and shaped a bit like a bullet into that gap.
This shape will also have a line drawn across it near the top.
You can then finish off this step by drawing the base of the rocket with some more rounded lines, and then it's on to step 4.
Step 4 – Now, draw the fins on the side of the rocket
Your ship is looking really cool already! This and the next step of this guide on how to draw a cartoon spaceship will focus on adding the final details to finish it off nicely.
First, use some more rounded shapes with pointy tips on the sides of the base for the other two fins of the spaceship.
Once that is done, we will start drawing the propulsion of the spaceship. To do this, simply extend two straight lines out from the base.
There will be an empty space at the end of this propulsion, but we will fill that along with any final details in the next step.
Step 5 – Add the final details to your cartoon spaceship drawing
It's time to finish off this drawing before we add some colors in the final step. This is also where you will get to add some extra details of your own to make it look even better!
Before we cover those details, we will finish drawing the propulsion of the spaceship.
To do this, we will be surrounding the empty space that you left in the previous step with some bumpy, rounded lines.
Then, you will be ready to add your very own details! There is a lot that you could do for this.
One idea would be to draw an imaginative space background with planets and stars, and you could maybe even add a fun alien spaceship to go with it!
Adding some smaller details to the spaceship could also be fun, so how will you finish off this design?
Step 6 – Finish off your drawing with color
We shall be finishing off this amazing cartoon spaceship drawing with some colors in this next step!
This is another aspect where you will be able to add your own touches and choices, but we showed you just one way that you could color it in our example.
For the spaceship, we used reds and greys for the body and details of the ship.
Then, we used dark blue for the window and left a small white reflection on it as well. Finally, we used a combination of oranges, yellows and white for the propulsion blast coming from the base.
These are the colors we chose, but you should definitely go for any other colors that you would prefer! What colors and mediums will you choose?
Here's how you can make your cartoon spaceship drawing even better…
Blast off with these awesome tips we have for your cartoon spaceship sketch!
The design of this cartoon spaceship drawing was left pretty simple in order to make it easier for you to learn. Now that you have finished it, you could add some extra elements of your own!
For a few ideas, the spaceship could have some radars or maybe some weaponry attached to it. These would be easy enough to add, and they would make the design look more unique.
What are some other additions you can think of?
You've finished this drawing of a cartoon spaceship now, and seeing as you have the hang of it you could make your own designs. These could be variations on this one or brand new ones.
If you were to create these new designs, they could replace the one we created here or go alongside it! This would also be a great way to create a bit of a scene with the spaceships interacting.
What sorts of shapes and features would you like for your alternate spaceships?
Another option for adding more spacecraft to your cartoon spaceship sketch would be by drawing some alien ships. Doing this would really allow you to come up with some imaginative designs!
If you were to add some alien ships, they could be battling the spaceship we created together or maybe working with it. These are just two options, but you can decide on how you would like them to be interacting.
What sorts of fun and wacky designs can you think of for some alien spaceships?
Finally, once you have finished any extras you want for your cartoon spaceship drawing, you could cap it all off with a background. When it comes to making a space background, you have so many different options!
Adding elements like planets, asteroids and even black holes can make your image so much more interesting. Combined with our other suggestions, you can even portray a story in your picture and showcase different scenarios.
What are some background ideas you have?
Your Cartoon Spaceship Drawing is Complete!
The wonders of space really can take over your imagination. We hope you had a fun time imagining what your very own spaceship would look like in this guide on how to draw a cartoon spaceship!
The steps in this guide were designed to show you that it can be fun and easy, and they were also left open for you to add your own ideas.
This guide you have just completed is far from the only one we have in store for you! You can find many more fun drawing guides to enjoy on our website, and more are coming soon.
We would be thrilled to see how this cartoon spaceship drawing turned out, so please share it on our Facebook and Pinterest pages for us to see when it's done!