It's hard to not be at least a bit fascinated when you consider the possibilities of space!
The universe is an endless expanse of wonders we can only imagine, and we have only discovered a tiny fraction of what there is to behold.
It can be fun to imagine what it would be like to explore space, but only a lucky few ever get to live that dream.
Learning how to draw a cartoon space can be a great way to imagine what it would be like!
That is what we will be covering in this guide, as you will discover how to draw a really fun and creative portrayal of space.
So get ready for an intergalactic journey as we begin this step-by-step guide on how to draw a cartoon space in just 8 fun and easy steps!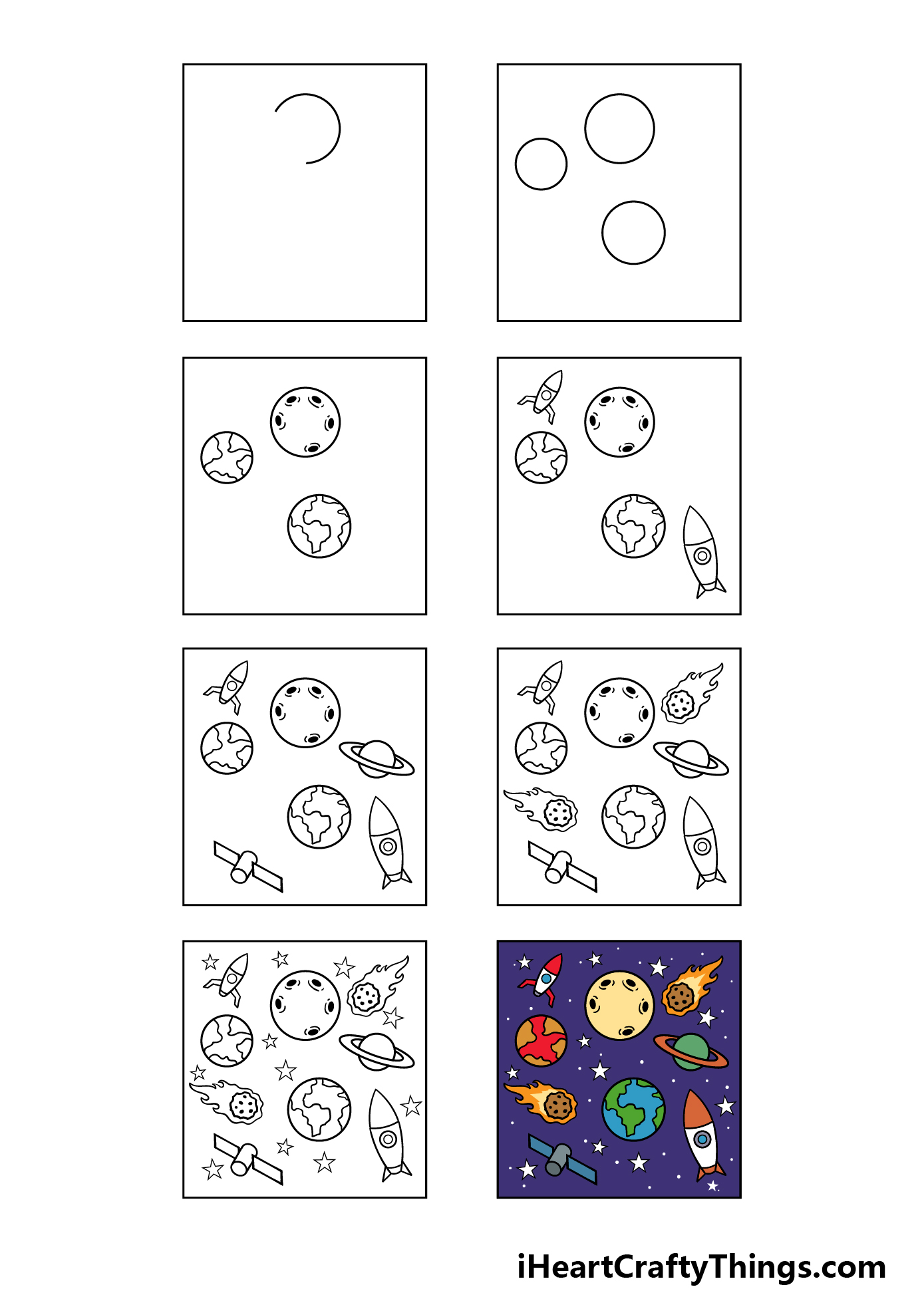 How to Draw A Cartoon Space – Let's get Started!
Step 1
In this first part of your cartoon space drawing, we will begin by drawing a square shape that will contain the drawing.
The easiest way to do this would be to use a ruler to help with keeping the edges straight! Then, we will be adding the first planet to the scene.
In this first image, you will see that we have only started drawing this planet. It will be a simple circle, and you could use a tool such as a drawing compass to make this much easier to do.
You can draw the full circle now if you like, and then we can move on to step 2!
Step 2 – Next, draw some more planets
This second step of our guide on how to draw a cartoon space will be focused on adding some more planets.
First, finish off the circle from the first step if you haven't already.
Then, we will add two more planets of varying sizes to the scene, and we would once again recommend using a drawing compass for these. Then, we can move to step 3!
Step 3 – Now, draw some details for the planets
You have the outlines of the planets, and in this step we will add some details to them. We showed you a few ways to do this in our example.
We added simple black shapes and lines to one and then created some continent shapes for the others.
You can draw the same shapes we did, but you could also create different shapes or details for the planets if you like!
Step 4 – Next, draw some rockets
It would be difficult to navigate space without some vehicles to help out, and we will start adding some space rockets in this step.
Each rocket will have a thin body with curved lines, and each one will end in a pointy tip.
Then, you can add a circular window to each rocket, and then draw some thin shapes coming off of each base.
Step 5 – Now, keep adding fun details
This cartoon space drawing is really looking great already! In this step, we will add a satellite and another planet. The satellite will have a cylindrical body with two rectangles coming off the sides.
The other planet we will draw will then have a circular base with a curved ring around it, as shown in the reference picture.
Step 6 – Next, draw some comets
There are still a few fun details to add to this scene before we color it in! In this step, we will add some magnificent flaming comets to the image.
Each comet will be drawn as a rough circular shape that has some simple black dots on it for some texture. Then, we will draw some flaming shapes around the comets to show their trajectories.
Once these are drawn, we will add some final touches in the next step of the guide!
Step 7 – Finish off with some stars
You're almost ready for the final step of this guide on how to draw a cartoon space, but first we have just a few final touches to add.
Specifically, we will be adding some stars to the scene, and these really help to finish it off nicely. Each star has five points on it, and you can see that we added a good amount of them to the scene!
You could add more or fewer stars depending on your preference, and you can also change up the sizes as you wish.
Can you think of any other details you would like to add? It could be fun to add a creative alien space ship for one idea, but there are many more things you could add to make it even better!
Bonus: Bring Some New Dimensions To Your Colors With These Craft Ideas
Step 8 of this guide on how to draw a cartoon space will be all about coloring in your artwork. This will mainly focus on more conventional mediums that you would normally use to color in your drawings.
Before we get to this, we wanted to go over a few more creative ideas that you can color in your artwork. This can be done using craft supplies and more unconventional art tools.
One of the coolest ways you can take this artwork to a whole new level would be by incorporating glow in the dark elements. There are many supplies you could use to do this!
For example, you can get certain paints that can have the glow in the dark effect, and these could be used for elements such as the stars, sun and other elements.
You may even be able to find some small glow in the dark plastic stars and other shapes that you could then glue onto your artwork. These can really bring your drawing to new levels!
Alternatively, you could use simpler art supplies such as glitter to give the stars some extra sparkle and shine. Mixing different art mediums can also really make each element stand out from one another.
For example, each planet could be colored using a different kind of paint to give each one a distinctive look. One planet could be colored with watercolors for a softer look, while another may be colored with some bright pens.
We will look at the more conventional methods of coloring soon, but it could be worth thinking of the more unconventional methods and maybe mix them with your normal art tools.
Let's head on to that step to see how else you can bring color to this cartoon space drawing.
Step 8 – Now finish it off with some color
This is the final step of the guide, and in it we shall make this picture pop with color. This is a step where you can really let your imagination run wild!
In our reference image, we showed you some of the colors you could use when coloring this image, and they provide just one way you could color it.
You could go for similar colors to the ones we used, but you can also use any other colors you can imagine!
It's also fun to change up the art tools and mediums that you use, so be sure to have fun with it as you complete this wonderful scene.
Do this to take your cartoon space drawing to the next level
These tips for your cartoon space sketch are truly out of this world!
For this drawing of cartoon space, we filled the portion of space with many things you would expect to see in outer space.
These make the image even more interesting, but you could also remove some of these.
Sometimes less is more, so you could maybe limit it to just one planet and a space ship. That is one idea of how you could pare back the design for a simpler yet still effective image.
What are some details or elements you may want to take out?
We closed this section of space off in a small square, but if you have a bigger space to work in then you could make it a much bigger portion. That would be great if you want more space to include all the details of our design.
It would also allow you to add any additional details or ideas you may have for the composition. How big would you like to make this space scene?
You could also use some interesting art tools, crafts and mediums to make this cartoon space drawing more interesting. Some examples would include glitter or glitter glue.
This would help your drawing to sparkle and shine! You can sometimes even find some glow in the dark paint to use on the image so that it will shine when the lights are out.
What are some other crafts you could use?
You could also make this cartoon space sketch more interesting by adding an educational aspect. There are a few ways you could do this!
One would be to change the picture so that it shows the planets of our solar system. Then, you could label each planet's name.
It could also be fun to draw some squares with some fun facts in them so that people will learn more about our universe as they look at your artwork.
How else could you make this drawing more educational?
Your Cartoon Space Drawing is Complete!
We hope you enjoyed this thrilling journey through the cosmos as we took on this guide on how to draw a cartoon space!
We wanted to create a really fun image that captured some of the imagination of a space voyage, but we also hoped to keep it nice and easy for you to do.
Now that you have finished the image we prepared, you can keep it going by adding some of your own details, ideas and touches!
You can also have some fun adding some wonderful colors using your favorite art tools and mediums, so we hope you will have a great time expressing your creativity.
You can also check out our website when you are ready for more drawing fun! We have some great guides ready for you there, and more will be coming soon, so stay tuned for that.
We would also love it if you would share your finished cartoon space drawing on our Facebook and Pinterest pages for us to see!