The skeleton is one of the most important structures in the body.
Most living creatures have some kind of skeleton, and it helps to not only provide a solid structure for the body but also serves to protect vulnerable organs.
The skeleton is made up of many different bones and ligaments connecting to one another. This can make it hard to draw properly, even when it's more stylized.
Even learning how to draw a cartoon skeleton can be quite a challenge if you don't have some steps to follow.
Luckily, this tutorial in front of you is here to help you achieve this goal while also having lots of fun doing so.
Our step-by-step guide on how to draw a cartoon skeleton in just 6 easy steps will show you how to recreate this cool design!
Make This Cartoon Skeleton Drawing Easier And More Fun With These Tips
We have a delightfully macabre drawing guide for you up ahead, and we're sure you're eager to get started! Before you begin, we have a few tips for you to keep in mind when drawing.
Even though this guide on how to draw a cartoon skeleton shows a simplified skeleton in a cartoon style, it can still be fairly complicated to draw. This is because there are so many bones to draw.
This level of detail can get tricky even if done in a cartoon style like this, so we have a few ways to make it easier. One way would involve something we will go into greater detail on later.
That is by adding clothing on the skeleton. Doing this would not only give the cartoon skeleton more character, but it would allow you to hide some of the harder parts of the drawing.
Having him wearing a shirt and a jacket, for instance, would help to hide the ribcage. That is one of the trickiest parts of the drawing, so it would help to cover it.
Even if you do add some clothing, we would recommend still doing at least a very rough sketch of the parts that will be covered by the clothing.
This way, you will still be able to envision what the skeleton looks like beneath the clothing, which will allow you to pose it more accurately.
If you would like to maintain the design, you could make it easier by looking at photos or models of real or cartoon skeletons and then use them along with the images in the guide.
Doing any of these will help to make the process a bit easier, so now let's begin and see what the steps of the guide show you!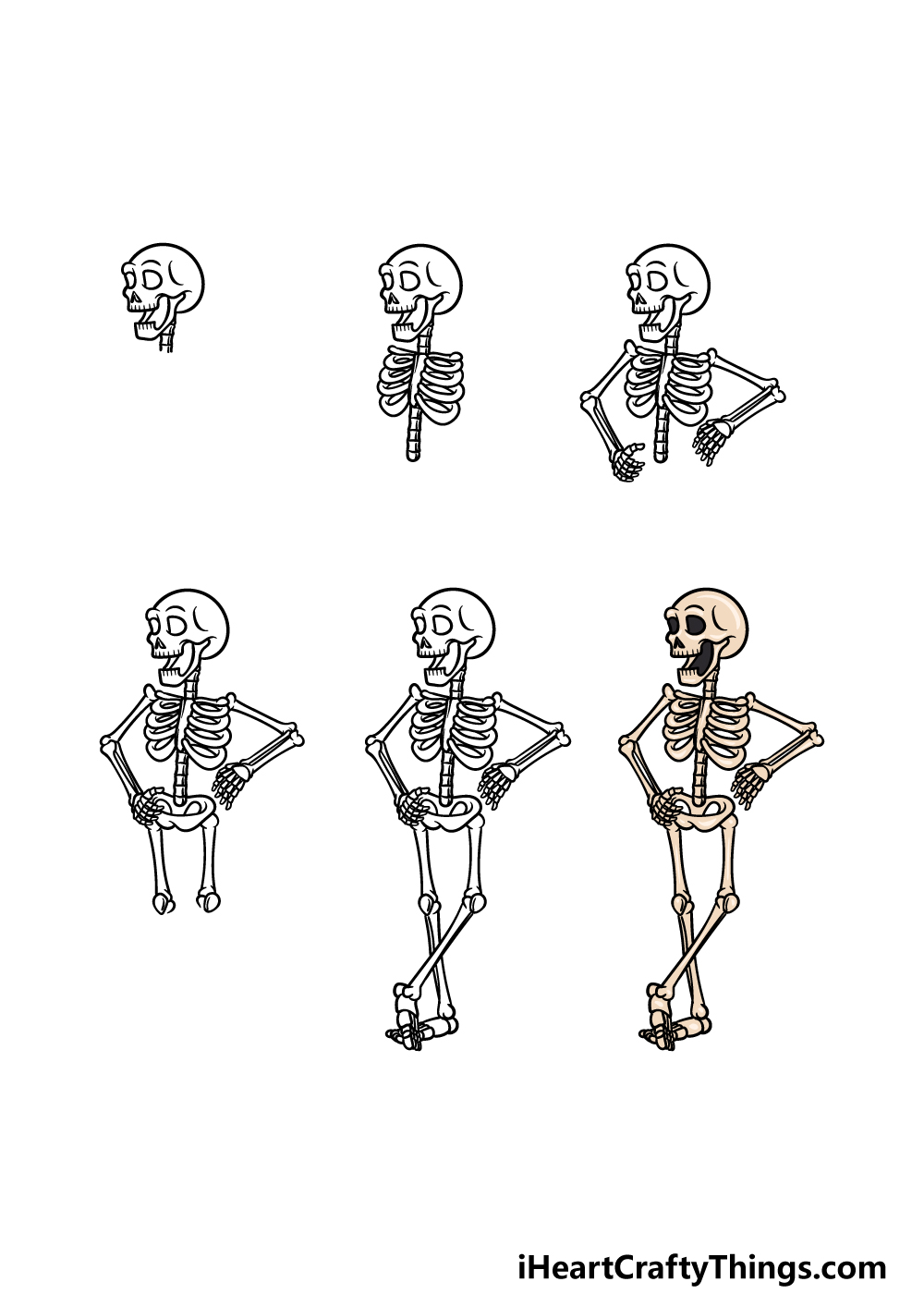 How to Draw A Cartoon Skeleton – Let's Get Started!
Step 1
We will take things from the top in this first step of our guide on how to draw a cartoon skeleton. That means that we will be starting with the skull of this skeleton.
We are going for a cartoony style, so we will be creating an exaggerated expression for the face.
Use a rounded line for the top of the skull, and then you can use some smaller, more angular lines for the outline of the face and teeth.
The mouth will also be opened, as shown in the reference image.
Then, draw the eyes, nose and teeth details inside of this outline. We will also add some curved lines onto the side of the skull.
After you draw the small sections of the neck, we will then be ready for the second step of the guide!
Step 2 – Now, draw the ribcage and the spine
Moving down this cartoon skeleton drawing, we will now be adding the ribcage and some of the spine.
The ribcage will have a thin section at the center, and then the ribs can be drawn using some curved lines extending off of it.
The spine below this ribcage will then be drawn using several smaller segments connecting to one another in a similar fashion to how the neck was drawn.
Step 3 – Draw some arms for the cartoon skeleton
This third step of our guide on how to draw a cartoon skeleton will see you adding some arms to the skeleton.
The arm on the left will be resting on the hips, whereas the one on the right will be extended out to make it look like the skeleton is leaning on something.
The arms are made up of multiple bones, and you should try your best to replicate them exactly as they appear in our example.
Finish off with the segmented hands, and then we can move on to the fourth part of the guide.
Step 4 – Next, draw the hips and start of the legs
Now we will be focusing on the lower half of the drawing for the next few sections of this cartoon skeleton. First, we will be drawing the hips.
The hips are drawn with some curved lines, and you can also add some small rounded shapes inside of the outline to show where the holes are.
Then, add two more long bones coming from the hips for the top halves of the legs. Once these are drawn, we shall be ready to add the final elements and details in the next step of the guide.
Step 5 – Add the final details to your cartoon skeleton drawing
In this fifth step of our guide on how to draw a cartoon skeleton, we will be adding the final elements of the skeleton. This means that we will be drawing the bottom halves of the legs.
To start this, draw some long, thin bones for the shins of the legs. The leg on the right will be crossed over the one on the left to finish off the whimsical position that the skeleton is in
Then, we will be drawing the feet at the ends of these bones, and much like other aspects of this cartoon skeleton they will be drawn in several sections.
Once you have finished these legs, you could also have some fun personalizing this drawing even further! Will you draw a spooky background for this cartoon skeleton to finish it off?
Step 6 – Finish off your cartoon skeleton drawing with color
You're very nearly finished with this cartoon skeleton drawing, but there's one aspect missing. We will fix that in this final step as we finish off with some colors!
We kept the colors a bit more muted and realistic in our reference image.
To do this, we used some black for the eyes, nose and mouth, and then we used some lighter shades of beige and browns for the bones of the skeleton.
You could go for some similar colors for your own version if you like this more realistic approach, but you should also feel free to use any other colors you may prefer!
This is a great opportunity to have some fun getting creative with your colors and art mediums, so how will you finish it off?
Here's how you can make your skeleton drawing even better…
Make your skeleton sketch even better with these tips!
This drawing of a skeleton looks great on its own, but it would look even better with some skeleton pals alongside it! By following the guide again, you could create all kinds of fun skeleton situations.
They could be posed the same as this initial one, or each one could have a unique pose to make it more interesting. What are some scenarios you could create with more skeletons?
Of course, you don't have to stick to just human skeletons. You could add a fun touch by giving this human skeleton a pet alongside him!
This could be anything from a dog to a parrot or maybe even a fish. The skeleton for your chosen animal could be drawn in a similar cartoon style to this particular skeleton.
Then, they could also be put in a fun pose to make a scene. For instance, if you add a skeleton dog then maybe they could be playing fetch together!
What other animals could you add?
Another way you could personalize this skeleton drawing would be by putting it in some clothes. There are lots of fun outfits and accessories you could use for this idea!
It could be as simple as giving him a top hat and a cane, or you could go for a fancy dress with accessories.
If you added other skeletons, then maybe it could be fun to put each one in a unique costume or outfit.
What fashion look would you like to use for this skeleton?
Finally, we think it would finish off this skeleton sketch nicely if you were to add a background. There are a few backgrounds that would be perfect for a skeleton.
For example, it would fit right into a graveyard setting, and that would make your image even more fun and spooky.
It's just one idea, and you may want to use something less typical for the background setting of your own artwork.
What other backgrounds could you create?
Your Cartoon Skeleton Drawing is Complete!
There are no bones about it, this was a challenging drawing challenge for you to take on!
Hopefully it was made much easier than you expected as you worked on this guide on how to draw a cartoon skeleton alongside us.
We aimed to show you how it can be easy when you break it down into smaller steps, and this is worth remembering for any challenging drawing!
Learning how to draw this picture doesn't have to be where the fun ends, however, as you can keep it going with your own details.
We went over a few ideas like drawing a background, but we also wanted to leave it open for your own creativity to flourish. We will look forward to seeing what you come up with!
Then, you can visit our website when you're ready for a new drawing challenge to enjoy! We have a huge selection with more coming out soon. Be sure to keep checking in to make sure you never miss out.
You have ended up with a great drawing, and you should be anxious to show it off! You can do just that by sharing your creation on our Facebook and Pinterest pages.