Shoes are important items of clothing that many people use every day. They help to protect our feet as we go about our days, but they can also be a fashion statement that adds to someone's style!
There are so many different types of shoes out there, and while we see many pairs in our lives, they are actually notoriously tricky to draw.
That can make learning how to draw cartoon shoes a bit of a challenging task!
That's why we're here to show you just how fun and easy it can be, however! By the end of this guide, you will be able to draw a delightfully fun pair of shoes.
So let's begin this step-by-step guide on how to draw cartoon shoes in just 7 easy and fun steps to see how it can be done!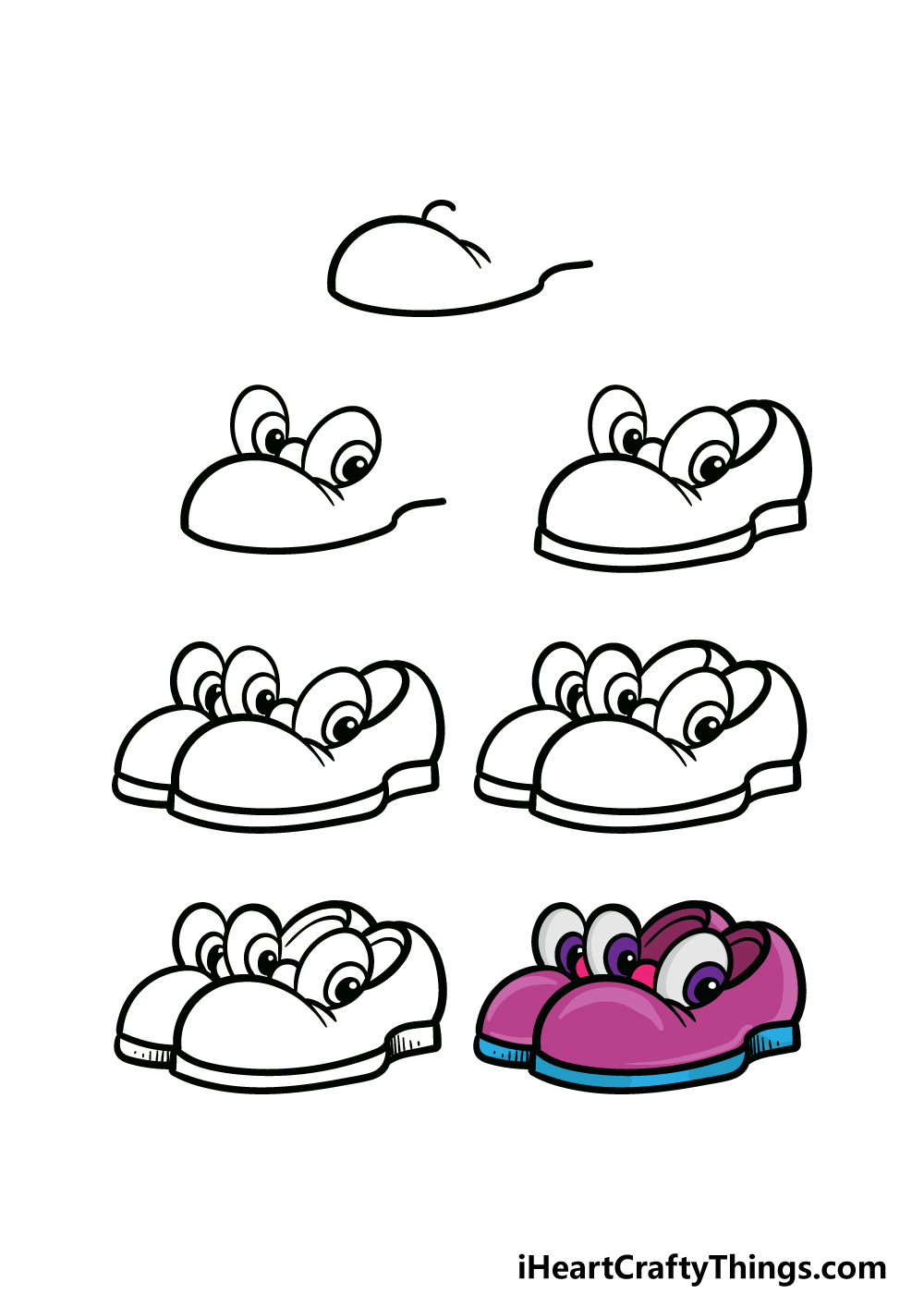 How to Draw Cartoon Shoes – Let's Get Started!
Step 1
We mentioned that drawing shoes is something that is well known by artists to be rather tricky, and that's why we will break it down to make things easier.
First, we will draw the top of the front of the shoe with a long, curved line. This will then have a smaller one coming off of it to show where the shoe is creasing as it bends.
The top of the shoe will then transition into a horizontal line that is also curved and wavy. This will form the bottom of this top section of the shoe, and the base will go under this later on.
Then, we are ready for the next step of the guide.
Step 2 – Now, draw some eyes for the shoe
In this guide on how to draw cartoon shoes, we aren't drawing just any shoes! These shoes have a really fun design to them, as there are some large eyes on top.
The outline for these eyes will be oval-shaped, and there will be a small rounded shape between them as well.
Then, for the iris and pulp of each eye, we will add another oval inside and then add one more solid black oval inside of that one.
It's a lot of ovals, but they result in some great-looking eyes! That's all there is to it for this step, and then we can proceed.
Step 3 – Next, add the rest of the outline
Now, we can add the rest of the outline for the base and the back of this cartoon shoes drawing. Use another curved line underneath the bottom of the shoe.
This wavy line will run parallel to the other one above it, and it will serve as the thick base of the shoe.
Then, we need to draw the back of the shoe.
Use a curved line for the back, and then you can add an oval shape behind the eye on the right for the hole your foot would go into. We will then add the second shoe in the next step.
Step 4 – Now, draw another shoe
In this step, we will add the second shoe behind the first one. For this second shoe, we will only see the tip of the shoe poking out.
We will also see the eye of this shoe poking up, and both of these aspects will be drawn very similarly to the way they were drawn on the first shoe.
We will finish off the second shoe in the next step!
Step 5 – Finish the second shoe
This part of your cartoon shoes drawing should be an easy one to do!
All you need to do for this one is draw the base of the second shoe and then add some curved lines for the back of the shoe that has the hole in it.
With these added, we will be ready for the final details!
Step 6 – Add the final details to your cartoon shoes drawing
You're nearly ready for some coloring fun in the final step of this guide on how to draw cartoon shoes, but first we have some final details to add to these shoes.
The details we are adding in this step are small, but they will really help to make this picture look even better.
As you can see in our reference image, we added small lines to the bases of the shoes for some shading detail.
Then, we added some curved lines inside of the shoe interiors, as this helps to show how they curve inside at this portion. That's all there is to it, and now it's on to the final step!
Step 7 – Finish off your cartoon shoes drawing with color
Now you're ready for the final step of this cartoon shoes drawing, and this is a really fun one! In this step, we will be taking this drawing even further by adding some colors to bring it to life.
Adding colors to any drawing is a great way to get creative with it, and you can really show off your creativity here.
In our reference image, we went with a lovely pink and purple color scheme for the shoes and details such as the cartoon eyes.
You could go for a similar color scheme if you like it, but you're also free to choose a unique color scheme you may prefer!
It's also fun to play around with different art mediums, so let your creativity flow and see what happens.
Do this to take your cartoon shoes drawing to the next level
You'll definitely want to try on these tips for your cartoon shoes sketch on for size!
This drawing of cartoon shoes has a fun cartoon face on it, but you could personalize it by changing the facial expression. There are some simple yet effective ways you could do this!
It could be as simple as drawing the eyelids down on the eyes in order to make the shoes have a different expression.
Or, you could add something like a nose or a mouth to make a more complete expression. With just small changes like these, you could make infinite varieties of this design.
Once you have the facial expression done, you could even look into adding some accessories. These could be thematic, such as making a hat from a shoe brush, for example.
Or, you could simply give the cartoon shoes a human hat to wear or add some sunglasses.
These are just a few simple examples, but there are so many ways to personalize this design, and it creates even more opportunities for unique characters.
The design of this cartoon shoes drawing uses a simple pair of sneakers. You could also change the design by creating new characters using different kinds of shoes.
To get inspiration, you could look at some of the shoes you or your family own. Then, use these shoes along with the guide so that you can make something totally unique.
You could even turn other items of clothing into characters to increase the character roster even more!
Finally, once your cartoon shoes sketch looks perfect to you, you could then finish it off by adding a background. This is something that could be as simple or as complicated as you like.
The background could be a real location like a bedroom or a shoe store. You could use it to show where you think these cartoon shoes would be hanging out.
You could also go for something more stylistic by using colors and shapes to make a pleasing background.
Your Cartoon Shoes Drawing is Complete!
We hope that you had a great time on each of the steps in this guide on how to draw cartoon shoes!
This guide was designed to give you a fun picture to replicate, but we also wanted to ensure that it would be fun and easy to do as well.
Now that you can draw this design, you could take what you learned and design your own cartoon shoes based on other shoes!
You can also take this one further by adding some fun details and personal touches.
Then, our website is the place to be when you're ready for a new drawing challenge!
We have more drawing guides covering a huge array of different subjects for you to enjoy, with more on tne way soon.
It would be great to see how your cartoon shoes drawing turned out, so please share your creation on our Facebook and Pinterest pages for us to look at!