Everyone needs a break to get away from it all every now and then! Going on vacation is a great way to have that break and enjoy some rest and relaxation.
When doing this, many people love to head out to tropical paradises in order to relax in the sunshine, and this can be made even better when taking it easy under a palm tree.
Creating some art while relaxing can be fun as well, so we are combining both aspects in this guide on how to draw a cartoon palm tree!
By the end of this guide, you will have your very own palm tree to enjoy.
So get ready for some rest and relaxation as you enjoy this step-by-step guide on how to draw a cartoon palm tree!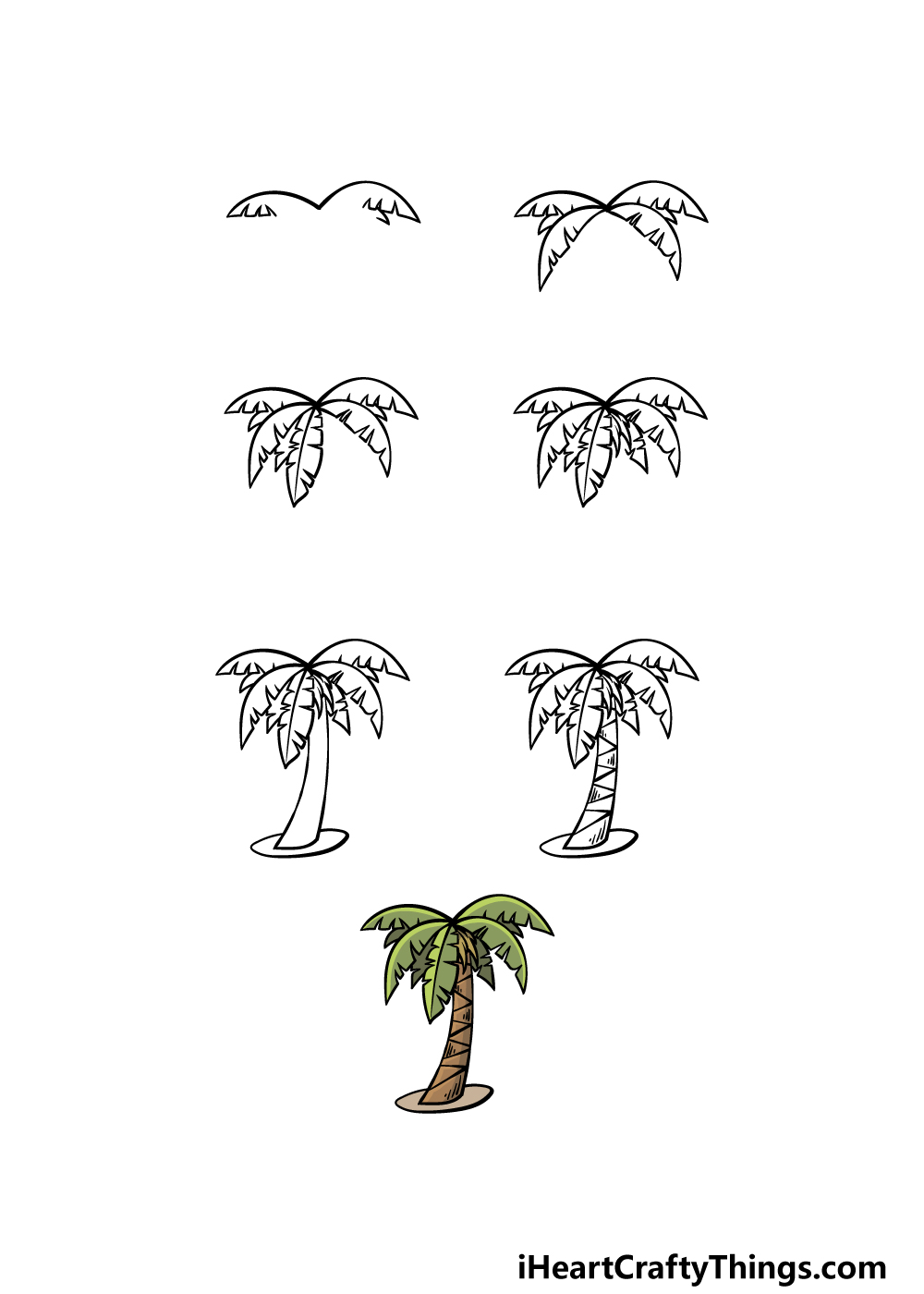 How to Draw A Cartoon Palm Tree – Let's Get Started!
Step 1
To begin this cartoon palm tree, we will first draw what may be the most recognizable aspects of this tree, the leaves! You can begin these with some curved lines on top.
Then, we will add some more jagged lines beneath these. Apart from those jagged lines, the bottom halves will be blank for now. We will fill these empty spaces in the next few steps, so let's proceed!
Step 2 – Now, draw some more leaves to the tree
In this second step of our guide on how to draw a cartoon palm tree, we will be adding some more leaves below the first ones.
These leaves will look very similar to the first ones, but they will be larger than those ones.
Otherwise, they will also have curved lines for the tops and then have some jagged lines for the lower halves.
With these leaves drawn, we can then move on to add even more in the next few steps
Step 3 – Next, add some more leaves
Now we will add even more leaves to your cartoon palm tree drawing. This next one will also drop below the other ones, but it will look a bit different from those previous ones.
Because of the angle these leaves are at, they won't be rounded on one edge like the others.
Instead, they will have the jagged outlines that we used on the lower halves of the leaves on both sides of these new ones.
We have just a few more leaves to add, but we will take care of those in the next step!
Step 4 – Now, draw the final leaves
Before we add the trunk of this tree, we will first add some final leaves to the clump at the top.
These leaves will be smaller than all of the rest, and they will fill in the empty spaces at the bottom right of the tree-tops.
These ones will be drawn using some curved lines that end in pointy tips that poke out.
There will be a more standard-looking leaf behind these as well, and this one will also have that jagged outline that the previous one had.
Then you will be ready to add the trunk of this cartoon palm tree!
Step 5 – Draw the trunk of the tree
We mentioned drawing the trunk of the tree in the previous step of this guide on how to draw a cartoon palm tree, and we will follow through with that now!
As with real palm trees, the trunk is long, thin and slightly bent. You can use some curved lines to draw the trunk, and we will make it very slightly bumpy to give it some texture.
It will also get slightly wider as it goes. Finally, we will add a rounded shape around the base of the trunk to finish off the scene.
Then, we will add some final details and elements in the next step of the guide!
Step 6 – Add the final details to your cartoon palm tree drawing
Now you are ready to finish off the drawing to get you ready for some coloring in the final step of this guide on how to draw a cartoon palm tree.
For this step, we will be adding some texture to the trunk of the tree. To do this, we will be using some straight lines zigzagging down the trunk.
Then, we added some smaller lines in between the sections for even more texture.
Once these details are added, you could also add some extra details of your own! You could create a lovely background scene to really finish it off.
What kinds of scenes can you think of to add to this composition?
Step 7 – Finish off your cartoon palm tree drawing with color
This is the final step of this drawing, and it's time to have some fun adding some colors to it! In our reference image, we showed you how we would color this awesome palm tree.
We used some realistic colors for the drawing, and that means using some greens for the leaves and browns for the trunk.
You could go for similar colors to make yours look realistic as well, but you could also go for a more stylistic approach instead if you prefer!
This is all up to you, and you can have a great time playing around with different colors and mediums. We can't wait to see how you finish this one off!
Here's how you can make your cartoon palm tree drawing even better…
Relax with some drawing fun with these ideas for your cartoon palm tree sketch.
Seeing one palm tree is always a wonderful sight, but it's even better to see more than one. For this reason, we think it would be fun to add some more to this drawing of a cartoon palm tree.
Now that you know how to draw one, you could add as many more as you like to the scene! This could be one or two or you could have a giant batch of palm trees.
How many more do you think would make this drawing complete?
When most people think of palm trees, they probably think of tropical paradise. You could show this by drawing a wonderful background setting for this scene.
This could include some lovely beaches with golden sand and waves crashing on the beach.
There are loads of fun details and elements you could add, so what will you add for the background to finish off this vacation scene?
Next, you could add some life to your cartoon palm tree drawing by adding some human characters to the scene. These people could be drawn in any style you like or feel comfortable with.
For an extra fun touch, you could add your friends, family and even yourself to the scene! Then it would be a matter of deciding what kinds of fun activities they would be enjoying.
Who would you like to have enjoying this cartoon palm tree scene?
The way you present an artwork can make a big difference in how it's perceived. You could try out some fun ways of presenting this cartoon palm tree sketch.
One interesting way would be to make it look like this picture is on a postcard. This could be achieved by drawing a rectangle around the picture and maybe adding some text.
Or, you could take it even further by drawing the picture on a rectangular piece of cardboard to actually make it look like a real postcard.
Your Cartoon Palm Tree Drawing is Complete!
All 7 steps of this guide on how to draw a cartoon palm tree are complete, and we hope you had a fun and relaxing time working on it!
As with any drawing challenge, it can be made so much easier when you have some steps to follow, and we hope that these steps helped to make it fun and easy.
Then, you can add your own details and extra background elements to make it even better! What kinds of fun backgrounds can you think of to finish it off in style?
When you are ready for a new drawing challenge, you can then check out our website for more fun drawing guides and other activities. Check in often to make sure you never miss out!
We would be thrilled to see your finished cartoon palm tree drawing, so please share your artwork on our Facebook and Pinterest pages!