It has been said that we may know more about the surface of the moon than we do about the depths of the oceans on our own planet. With all of the diversity on offer in the oceans, it's easy to believe!
The ocean is also home to an almost infinite amount of natural beauty, which makes it popular to depict in artworks. By learning how to draw a cartoon ocean, you can learn how to do this yourself!
The steps in this guide were designed to make it so that this will be a fun and easy challenge for you to overcome.
So get ready to dive into this step-by-step guide on how to draw a cartoon ocean in just 8 easy steps to capture the beauty of our oceans!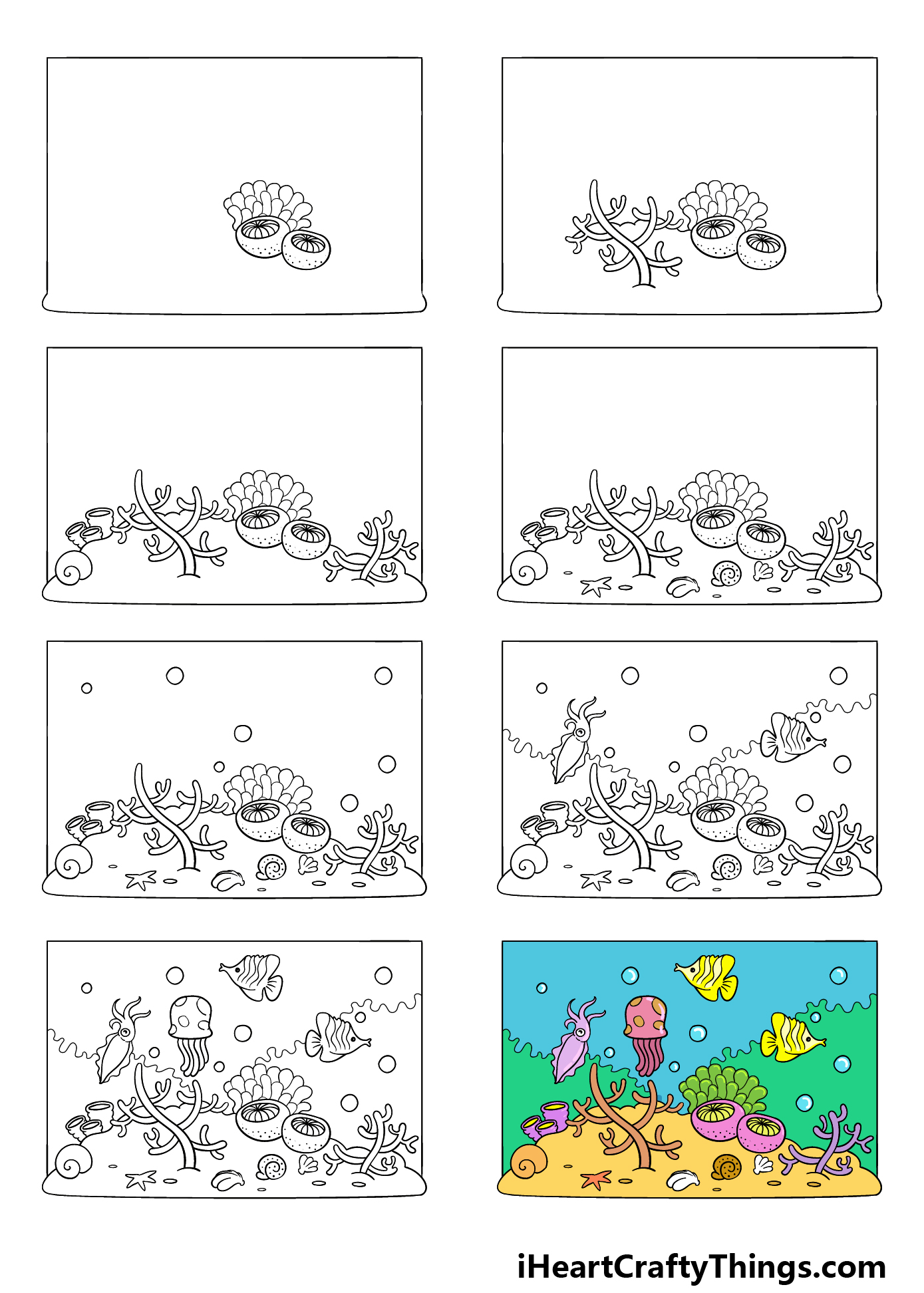 How to Draw A Cartoon Ocean – Let's get Started!
Step 1
During this guide on how to draw a cartoon ocean, we will be drawing this ocean scene inside of a frame.
To draw this frame, we will use some straight lines preferably drawn with a ruler for the top portion. The two bottom corners will be rounded, as this will show the sand extending out of the frame.
Then, we will finish off this step by drawing the first sea life. You can draw some coral and anemones before we move to step 2!
Step 2 – Next, draw some more coral
Coral is always a truly stunning, colorful sight to behold under the ocean, and we shall add some more in this part of your cartoon ocean drawing.
These will be drawn using some thin, curving shapes to have it waving in the water.
As shown in the reference image, there will be several branches extending off of the coral to make it look a bit like a small tree. That's all for now, and then we can proceed on to the next step!
Step 3 – Now, draw some more coral and other objects for the sea bed
Continuing with this scene, we will be adding some more coral and other sea life to the bottom of the ocean.
The other coral will look very similar to the first tree you drew, and it will be surrounded by other shapes representing plants and other creatures.
Then, we will use a bumpy line between these elements to show the sand between each object. This will also extend into the rounded corners you drew in the first step.
Step 4 – Next, draw some smaller details
This fourth step of our guide on how to draw a cartoon ocean will see you adding some smaller creatures and objects to the seabed.
These will be very varied, and will include objects such as shells, starfish and smaller shapes.
If you can think of any other small details to add, you should definitely go ahead and add any ideas you have!
Step 5 – Now, draw some bubbles
We will keep things simple for this step of your cartoon ocean drawing! In this step, we will be adding some bubbles to the water above the seabed.
These will be drawn as some simple circle shapes. As shown in the reference images, they don't need to be perfect circles. You could also draw more or fewer circles depending on your preference!
Step 6 – Add more sea creatures and plants
Now, we will add some more incredible creatures to this composition! First, we drew a fun squid design on the left.
Then, we added a large fish floating along on the right-hand side of the image.
We will add some more creatures and other details in the next step of the guide, but you could also add even more creatures to finish this step off!
Step 7 – Next, finish off the final elements of this cartoon ocean
This step of our guide on how to draw a cartoon ocean will be all about finishing off with some final details! Specifically, we will be adding a few more sea creatures to the mix.
First, we will draw a rounded jellyfish that has some cool spots on it. Then, we added one more fish to the scene.
Once these are added, you could add some of your own!
There are tons of sea animals and plants that we didn't use, so if you have some favorites then you could include them as some extras before moving to the final step.
Step 8 – Now finish it off with some color
It's time to finish off this gorgeous picture with some colors! The ocean is filled with incredible colors and textures to behold, so there is so much you could do to make this look incredible.
In our reference image, we tried to incorporate a huge selection of incredible bright colors, and you can use this as inspiration for your own image.
You could also go for any of your own color choices you may prefer! You're in charge now, and you can have tons of fun experimenting with various colors.
You can also have fun with the art tools and mediums you use. We think it would look great with some watercolor paints and colored pens for highlights, but what will you use?
Your Cartoon Ocean Drawing is Complete!
You have completed this guide on how to draw a cartoon ocean, and what an incredible picture you have created!
When you saw what you would be working on, it may have seemed like it would be an intimidating scene to replicate.
As long as you follow all of the steps and use your creativity, we know that you will have an awesome ocean picture before you know it!
Then, when you have finished this design the fun doesn't have to stop there! You can keep it going by choosing your own extra details, ideas and colors to really finish it off.
This is your chance to let your creativity run wild!
When you would like to try out a new drawing, you can find many more drawing guides on our website to enjoy!
There are tons of guides covering all kinds of awesome subjects, so there's plenty for everyone to enjoy.
You can then share your finished cartoon ocean drawing onto our Facebook and Pinterest pages so we can see how it turned out!