Food is one of the most important parts of all of our lives, and it represents one of the basic needs pretty much all living beings have.
While we need food to survive, that doesn't mean that it can't simply be enjoyed as well, and there are many tasty foods out there!
Everyone has their favorite meals, foods and snacks, and learning how to draw cartoon food is a great way to imagine your perfect food selection.
In this tutorial, we will be showing you how to draw a fun selection of food in a cute arrangement. We will also leave some room for you to add your own awesome details as well!
So get ready for a tasty drawing adventure as you begin this step-by-step guide on how to draw cartoon food in just 6 easy steps.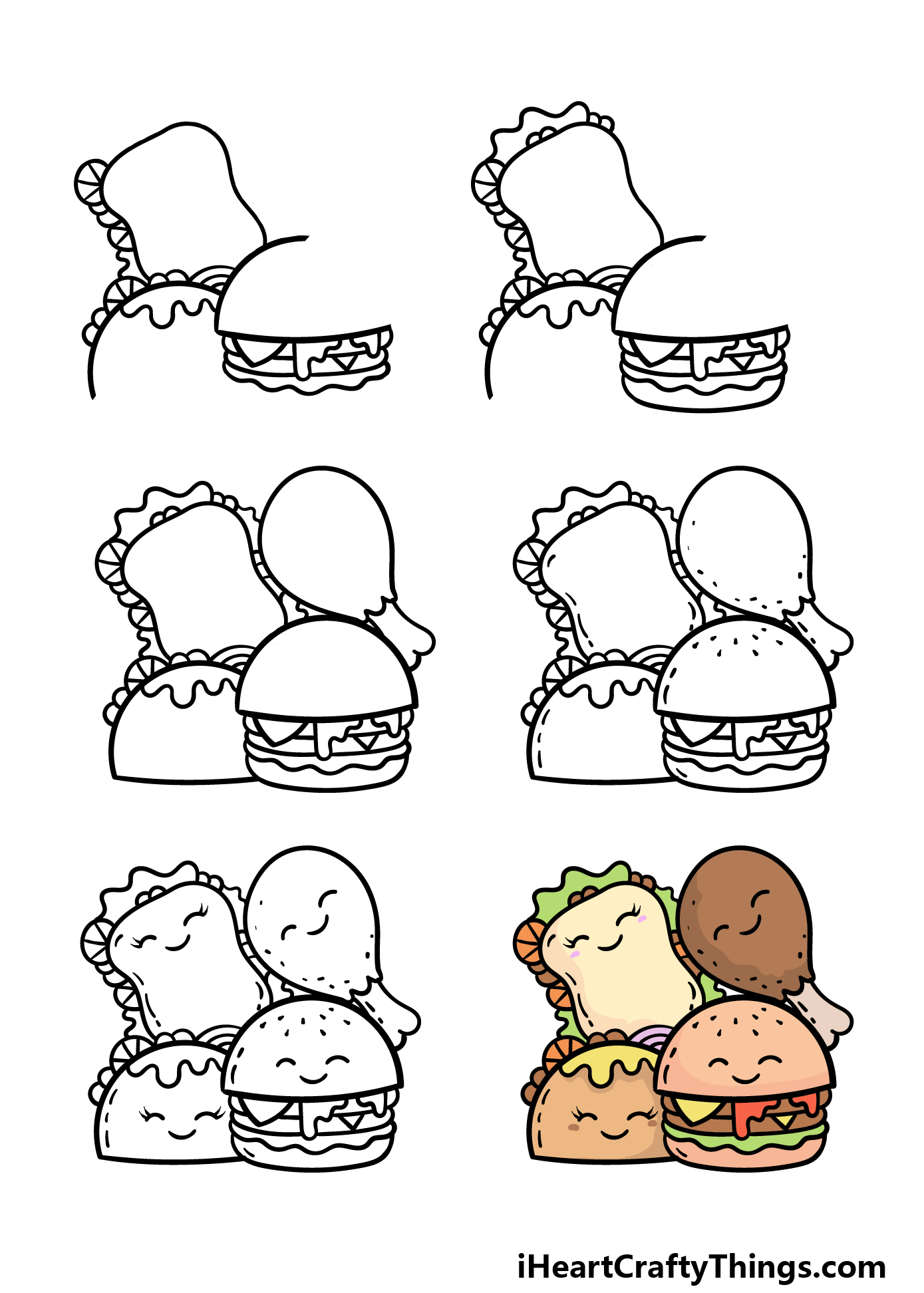 How to Draw Cartoon Food – Let's Get Started!
Step 1
When working on this cartoon food drawing, we will be depicting four different kinds of food. As you can see in the later image, these will be a hamburger, a chicken drumstick, a taco and a sandwich.
We will begin the first three of these foods in this first step.
The hamburger is at the front of this arrangement, so we will begin with it. You can use some curved lines for the top and base of the bun, but be sure to leave a large space at the right-hand side of the burger.
Then we will add a few layers of the burger's filling beneath the bun.
Next, you can draw the taco with a curved line that has some wavy sauce dripping down along with some filling poking out the top.
Finally, draw the outline of the bread for the sandwich and add some filling on the left.
Step 2 – Now, draw some more of the burger and sandwich
There was a lot to cover in the first step of this guide on how to draw cartoon food! We will keep things a bit simpler in this second step as we add to the burger and sandwich.
Once again, we will begin with the burger. All you need to do for this is draw the bottom bun underneath it. The top bun will still have a large gap in it, but that will be fixed soon.
We will also add some more curved, wavy lines to the top of the sandwich to show some more filling. Then it's on to step 3!
Step 3 – Next, draw the rest of the outlines
This step will focus on adding the rest of the outlines for these four foods! First, we will finally finish off the bun for the hamburger.
Simply use a curved line to extend the top of the bun to finish it off. Then, we will add the final food; the drumstick.
This will have a rounded end portion that has some wavy, jagged lines where the bone pokes out. Speaking of that bone, it will be drawn with some curved lines that have two bumps at the end.
Finally for this step, add the base of the taco and a bit more filling to the sandwich.
Step 4 – Now, draw some smaller details
This cartoon food drawing is looking really tasty already! In this and the next step, we will focus on adding some smaller details to bring it all together.
The details we will be adding in this step will be fairly minor, but they will help to add some great texture details to the image.
For the taco, we will add three small, curved lines to the side. The bread of the sandwich will have similar curved lines on the side, as will the burger.
Finally, we added some small dots to the bun of the burger and also to the surface of the meat on the drumstick. With these small details added, we can move on to the final details in the next step!
Step 5 – Add the final details to your drawing
We're not drawing ordinary food in this guide on how to draw cartoon food, and in this step we will add a fun detail!
We will be adding a smiling face onto each food for a charming extra touch. These faces will be pretty simple, with two small curved lines for the closed eyes and a simple smiling mouth underneath.
On the sandwich and taco, we will add a few extra curved lines onto the eyes for some eyelashes.
With these cute faces added, you can also go ahead and add any extra details of your own!
You could add some different kinds of food or a background for a few ideas, but how will you complete this image?
Step 6 – Finish off your drawing with color
It's time to add some colors to this image to finish it off in style! In our reference image, we show you one way that you could color this in.
Even though these foods are mostly quite muted, we tried tp add smaller touches of brighter colors to smaller details.
While these are colors you could emulate if you like, you can also use any additional colors you may prefer instead!
You can also play around with different art tools and mediums to get the colors you have in mind.
How will you color in this charming drawing?
Bonus: Use All Your Art Mediums To Create Different Textures
When you choose the art tools and mediums you will use to color a drawing, you will most likely be concentrating on how different mediums will make the colors look.
This is good to consider, but you can also think about how other mediums and tools can be used to create different textures. We will go over a few ways that you can do this for your cartoon food drawing!
For example, there are a few textures in this image that would be runny in real life. These could include the sauce on the burger and the cheese on the taco.
Instead of coloring these details with pens or pencils, you could use some thick applications of paint. Let your paint dribble down the page a bit and then it will look like it's really what it's representing.
Next, you could look at the various fillings of the different foods. The sandwich has some vegetables in it, and the burger has vegetables along with a patty and other ingredients.
If you can find some different colors of construction paper, you could then cut out the shapes of these individual ingredients. Stick them carefully on the image, and you can make it look like the image has more depth!
These are a few simple tools and mediums you could use, but they're far from the only ones. Why not look around your house for things you could use on the image, provided no one needs them anymore?
There are no wrong answers, and there are so many different ways that you can create different textures and cool looks for your picture. What are some other things you could use to make a yummy cartoon food drawing?
Do this to take your cartoon food drawing to the next level
Take a bit out of these tips we have for making your cartoon food sketch even better!
This drawing of cartoon food that we created in this guide shows 4 types of yummy food. You could add other kinds of food that you enjoy as well!
This could be anything from other kinds of comfort food featured in the guide, or it could be other kinds of healthier food that you enjoy. This would be a great chance to show off your favorite food!
What are some kinds of food that you could add to this tasty ensemble?
Adding other kinds of food would be just one way of adding to this scene. Food is best enjoyed with beverages and other sides, and these could also be added to the image.
Best of all, they could also be made to look like cartoon characters! For example, you could have a milkshake cup character beside the food.
Any other sides or beverages you would enjoy with this food would also be great. What are some extra details you could add alongside this food?
Next, we think it would be fun to add characters that are not edible to this cartoon food drawing. The form these characters could take would be quite varied.
For example, you could add a human character, perhaps even based on yourself! Or, you could add a fun cat or dog character that is hanging out with this cartoon food.
What other characters could you add?
Finally, you could add a background to really finish off this cartoon food sketch. This could be based on your favorite place to enjoy tasty foods.
For instance, it could be a room in your house such as a kitchen or maybe a living room. Alternatively, it could be based on a diner or a restaurant.
These are just a few of the many places you could enjoy food like this. What place would you like to use for a background to this picture?
Your Cartoon Food Drawing is Complete!
That brings you to the end of this guide on how to draw cartoon food, and we hope it didn't work up too much of an appetite!
We aimed to create a cute and charming depiction of food for you to work on in this guide, and we hope that it was a fun and easy challenge for you to overcome.
Then, you can keep having fun with this design as you add your own extra details, elements and awesome colors. It will be great to see how you take this design and make it your own!
If you had fun working on this drawing, you will find many more drawing guides like it on our website! If you visit often, you will see that we upload new guides frequently for you to enjoy.
We would also love to see your take on this cartoon food drawing, so please share it on our Facebook and Pinterest pages for us to see when it's done!