Fantasy stories have been a favorite of many people throughout the decades.
These stories can take many forms, but elements such as dragons, brave knights and princesses are common in these escapist tales.
Many fantasy stories also contain magnificent castles, and it can be fun to imagine what your own castle may look like. Learning how to draw a cartoon castle is a great way to do just that!
We will show you how you can design your very own castle creation in this guide, and then you can add your own features and ideas as well!
So get ready for a fantasy journey as we begin this step-by-step guide on how to draw a cartoon castle in just 7 fun and easy steps!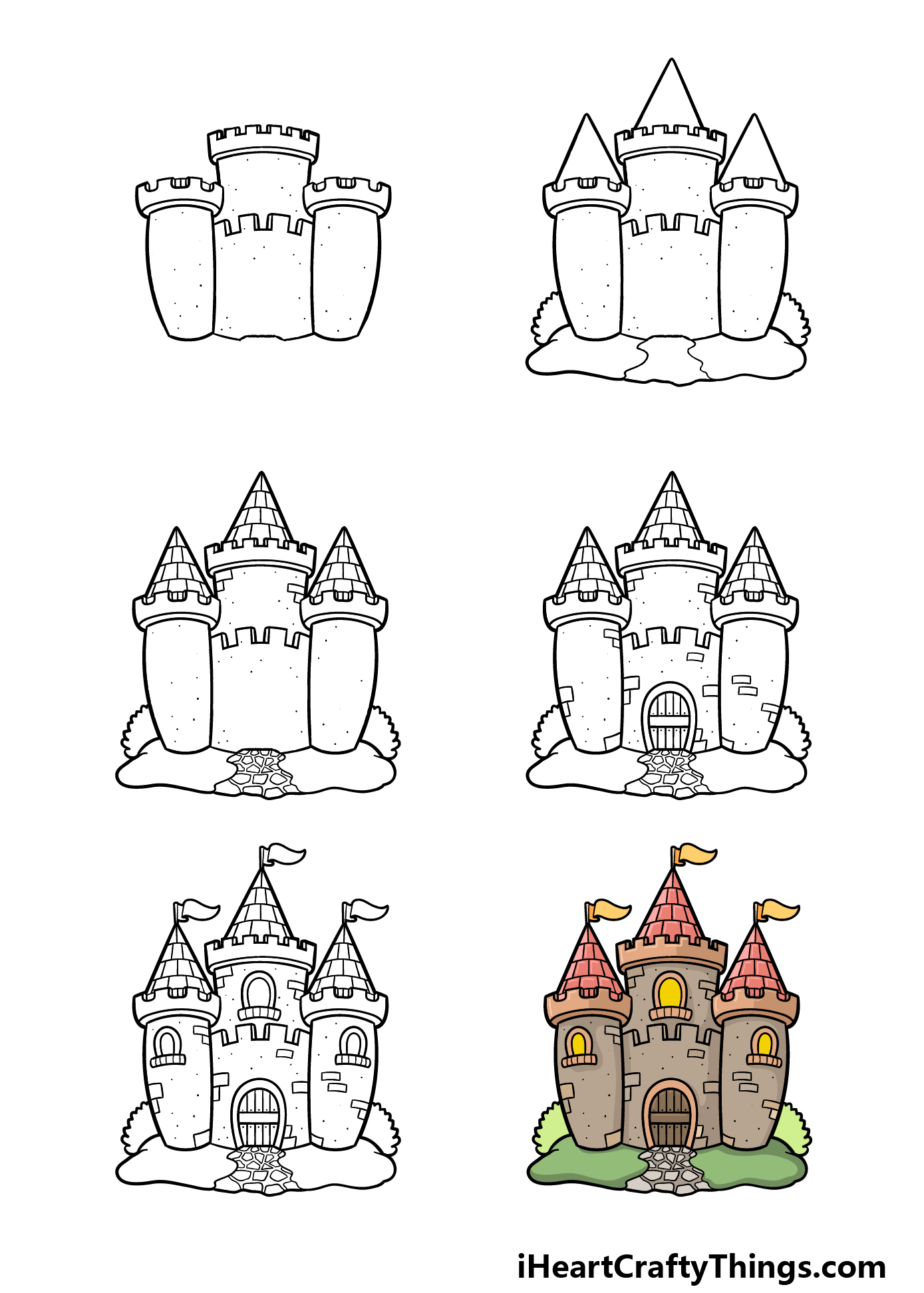 How to Draw A Cartoon Castle – Let's get Started!
Step 1
We will begin drawing the structure of the castle in this first step of our guide on how to draw a cartoon castle!
To do this, you will see in our reference image that there are two slightly rounded, tall portions on the sides.
Between these, there are some squared lines. These shapes are common on castle walls, and they are known as battlements.
There are some small details on the sides of these squares to show depth, so try to replicate these details as they appear in our example!
Finally, we will add some dots throughout the castle design to make it look more textured, and then it's time for step 2.
Step 2 – Draw some more of the castle
This second step of your cartoon castle drawing will be focused on adding more sections to the castle.
First, we will add a thin section on top of each of the tall side portions, and these will have some more of those squared battlements.
Then, we will add another section between these two side portions, and it will be the tallest one yet.
Add a thin portion to the top of this section as well that also has some battlements, and then we can proceed!
Step 3 – Start drawing some more details for the castle
In step 3, we will keep building the elements of this castle. First, we will add a large, pointy section on top of each section of the castle.
These will be drawn with diagonal straight lines that culminate in slightly rounded tips.
Then, we will draw a ground section beneath the castle, and this will have a wavy pathway coming down from the center.
There will be some grassy sections with some bushes on either side as well, and that will finish off step 3.
Step 4 – Now, draw some finer details for this cartoon castle
Your drawing is really coming together now! This step of our guide on how to draw a cartoon castle will focus on adding some details to the sections you've drawn already.
First, we will add a grid pattern onto the pointy cone sections on top of each section. There will also be some rectangular brick patterns included.
Then, we will draw some smaller brick patterns onto the pathway from the previous step to finish this step.
Step 5 – Draw the doorway
This step of your cartoon castle drawing will focus on adding more elements. You can draw some oval shapes for the doorway, and then draw some wooden board textures onto it.
Finally, draw some more rectangular brick patterns onto the surface of the castle, and then it's on to the final details in the next step!
Step 6 – Now, add the final details for this cartoon castle
Now we're ready to finish off this design as we add the final details. Then you will be able to finish off with some coloring fun in the final step!
First, we will add a waving flag to the tip of every single roof portion. These will be drawn with some curving lines to create the fabric look of the flags.
Then, we will add a window to each section. These windows will have a slightly curved windowsill at the base while the windows themselves will be drawn with some oval lines.
With the final details added, you can then add some extra details and ideas of your own! Will you create a background or maybe add some characters to this castle setting?
Be sure to have fun with it and see what happens!
Step 7 – Finish off your drawing with some color
The final step of this guide on how to draw a cartoon castle is a fun one!
This is the step where you get to add some color to your creation, and this is a great way for you to make your drawing even better.
In our reference image, we used some mild reds for the pointy roof portions, and then we went with some different shades of browns for the rest of the design.
Some great shades of yellows and greens finished off the final elements, and it makes for a charming image!
You could use similar colors, change them up a bit or even go for entirely new color choices with your own one.
We think that some watercolor paints would be perfect for a softer, storybook look to the picture, but what do you think you will go for when you color this in? We can't wait to see what you choose!
Here's how you can make your cartoon castle drawing even better…
Create a fairytale scene with these ideas for your cartoon castle sketch!
The way this drawing of a cartoon castle is built looks impressive enough as it is, but you could add even more sections to it.
This could be a few more towers or perhaps some additional facilities you think a castle needs.
Perhaps you could draw a big greenhouse or maybe a spooky cemetery in the yard. These are just a few ideas, but be sure to show us what you think every castle needs!
Adding some human characters would be a small detail for this drawing, but it would also be a detail that really adds to the composition.
They would be small, but you could still create some distinct characters.
For example, you could have some knights or maybe a fair maiden or two. Adding royalty such as queens, kings and princesses would also be a good idea.
Now it's up to you to show who you would like to have in this fairytale castle.
In many fairy tales, there are also threats that will attack a castle such as this. These could also be added to your cartoon castle drawing.
One example would be to have a scary dragon circling the castle, ready to attack. If you wanted to have an epic medieval battle scene, then you could draw armies at war in front of the castle.
These are a few additions that would help you create a story around this castle you have created.
Whether you went with any of the previous ideas or not, it would also be great to add some of the surrounding areas of the castle. This would further make the scene even more well-realized.
The details could include some mountains or maybe a forest with some majestic trees surrounding the cartoon castle sketch you have created.
You could look up some pictures of beautiful landscapes in real life if you need some inspiration for the surrounding areas of the castle. What are some features you could add?
Your Cartoon Castle Drawing is Complete!
This guide on how to draw a cartoon castle has been quite a fun journey, and we hope that you had a great time working on it!
These steps were designed to make sure the process would be easy and enjoyable for you to work through, so we hope both of these goals were achieved for you.
Now you can take it further and keep the fun going as you add your own incredible design choices and ideas!
This is all about creating your very own perfect cartoon castle creation, so let your imagination run wild as you design the castle of your dreams!
Then, when you would like to learn a new design, you can visit our website for many more drawing guides to enjoy!
We have so many great guides waiting for you with more on the way, so keep checking in to never miss out.
It would be great to see how your cartoon castle drawing turned out, so please share it on our Facebook and Pinterest pages for us to see!