There are many great fruits to enjoy, and they have the dual benefit of being both tasty and very good for you!
Fruit lovers all have their favorite kinds, and apples are a common contender for the most loved fruit.
They are also common to portray in drawings and other artworks, and we will show you how you can also do that in this guide on how to draw a cartoon apple.
By the end of the six steps in this tutorial, you will see that drawing a cartoon apple can be not only easy but also loads of fun!
As long as you follow all of the steps you will be creating your own apple pictures before you know it.
So get your favorite fruit snacks ready to enjoy as you work on our step-by-step guide on how to draw a cartoon apple in just 6 fun and easy steps!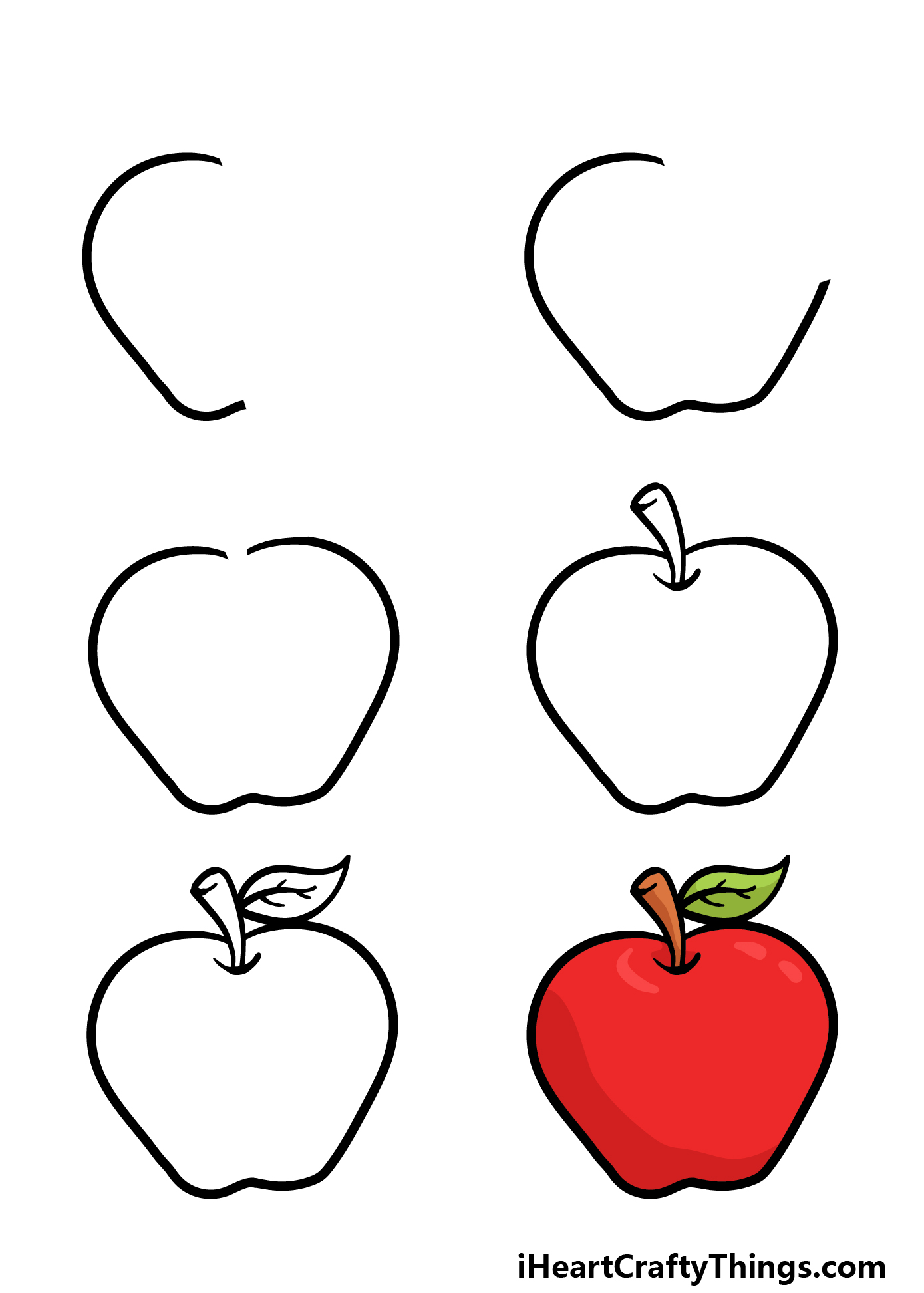 How to Draw A Cartoon Apple – Let's get Started!
Step 1
Apples may look simple, and on the surface of it they are rather simple in shape.
Despite this, they can be surprisingly hard to draw, as if you don't get the shape looking right then it can look unnatural.
That's why we will break it down into simpler steps throughout this guide, as that will show you that it can actually be quite simple!
For the first step of this cartoon apple drawing, we will begin with the left-hand side of the apple. Try to examine this first half in our example closely, as you will see what the overall shape will look like.
It will be rounded at the top, and the rounded section at the base will be much smaller.
With this first half drawn, we can then move on to the next part of the guide.
Step 2 – Start drawing the next section of the apple
When you look at a real apple, you will see that there is a small bumpy section at the base. That is what we will draw in step 2 of this guide on how to draw a cartoon apple.
First, draw another small, rounded section next to the previous one that you drew earlier.
Then, we will extend the right-hand side of the apple. This line will be slightly curved and angled outward a bit, as shown in the reference image.
That's all there is to it for now, and we will add more to the outline in the next step.
Step 3 – Now, draw the rest of the apple outline
For the third step of our guide on how to draw a cartoon apple, we will be completing the outline for the apple.
All you need to do in order to do this is draw one more curved line coming up from where the line previously ended.
It will loop up, around and then down until it very nearly touches the other line at the top of the apple. There will be a tiny gap there, and you will see why in the next step!
Step 4 – Draw the stem of the apple
Apples will typically have a large stem where they are plucked from the tree, and we will be drawing one now. This will also show you why we left that small gap in the previous step!
The stem is drawn using some curved lines to form a stem that is very thin at the base and wider at the top.
At the base of the stem, be sure to add a small curved line like the one in our reference image. Then we can add some final touches in the next step!
Step 5 – Now, add in the final details of this cartoon apple drawing
It's time to finish off some final touches and details for this apple before we add some beautiful colors in the final step.
All you need to do is draw a leaf onto the stem using some rounded lines with a pointy tip at the end. This will then have some curved vein details on it to finish it off.
Then, you are free to add some final details of your own! You could draw a background setting or maybe even draw some more fruit to sit beside the apple.
There are also fun details to add such as a cute worm poking out of the apple!
These are just a few ideas, but what else can you think of for this cartoon apple drawing?
Step 6 – Finish off your cartoon apple drawing with some color
This is the final step of the guide, and in it we shall complete the design with some color!
Apples can come in a number of different colors, and in our reference image we went with a beautiful red color scheme.
Instead of using just one shade of red, we incorporated some darker and lighter sections to create some shading for the apple.
They will also show where light is reflecting on the top of the apple. As we mentioned, there are other colors you could go for as well!
Green and yellow would be some options to go for, but you could also use brighter, more stylistic colors.
If you drew a background, don't forget to color those elements as well! We look forward to seeing what colors and mediums you choose.
Your Cartoon Apple Drawing is Complete!
Apples are an example of a fruit that many people love, and we hope that you enjoyed depicting one in this guide on how to draw a cartoon apple!
As we mentioned earlier in the guide, drawing this simple fruit can be harder than expected. Hopefully the steps in this guide showed you just how fun and easy it can actually be!
Now that you have completed this cartoon apple, you can also add your own fun details and ideas to create a totally unique image!
We spoke of a few ways to do this in the guide, but this is your chance to really show off your creativity!
You can also check out our website for more drawing guides to view and enjoy for free!
We have tons of awesome drawing guides coming soon for you, so keep checking in to catch every new guide as it releases.
It would be great to see how you finished this picture, so please do share your finished cartoon apple drawing on our Facebook and Pinterest pages for us to admire!