There are many different holidays and celebrations that are enjoyed in the United States every year.
On the 11th of November, there is a holiday called Veteran's Day that is very important to many people.
Every year, the US military works tirelessly around the globe, and the many soldiers part of this military sacrifice a lot for their country.
This holiday is a way to honor and thank soldiers past and present, and learning how to draw Veteran's Day is a great way to commemorate it.
This is the tutorial to be on for anyone wanting to honor this great day! This is definitely a guide that you will want to see all the way through to the end.
We hope that you enjoy this patriotic guide on how to draw Veteran's Day in just 6 easy and fun steps!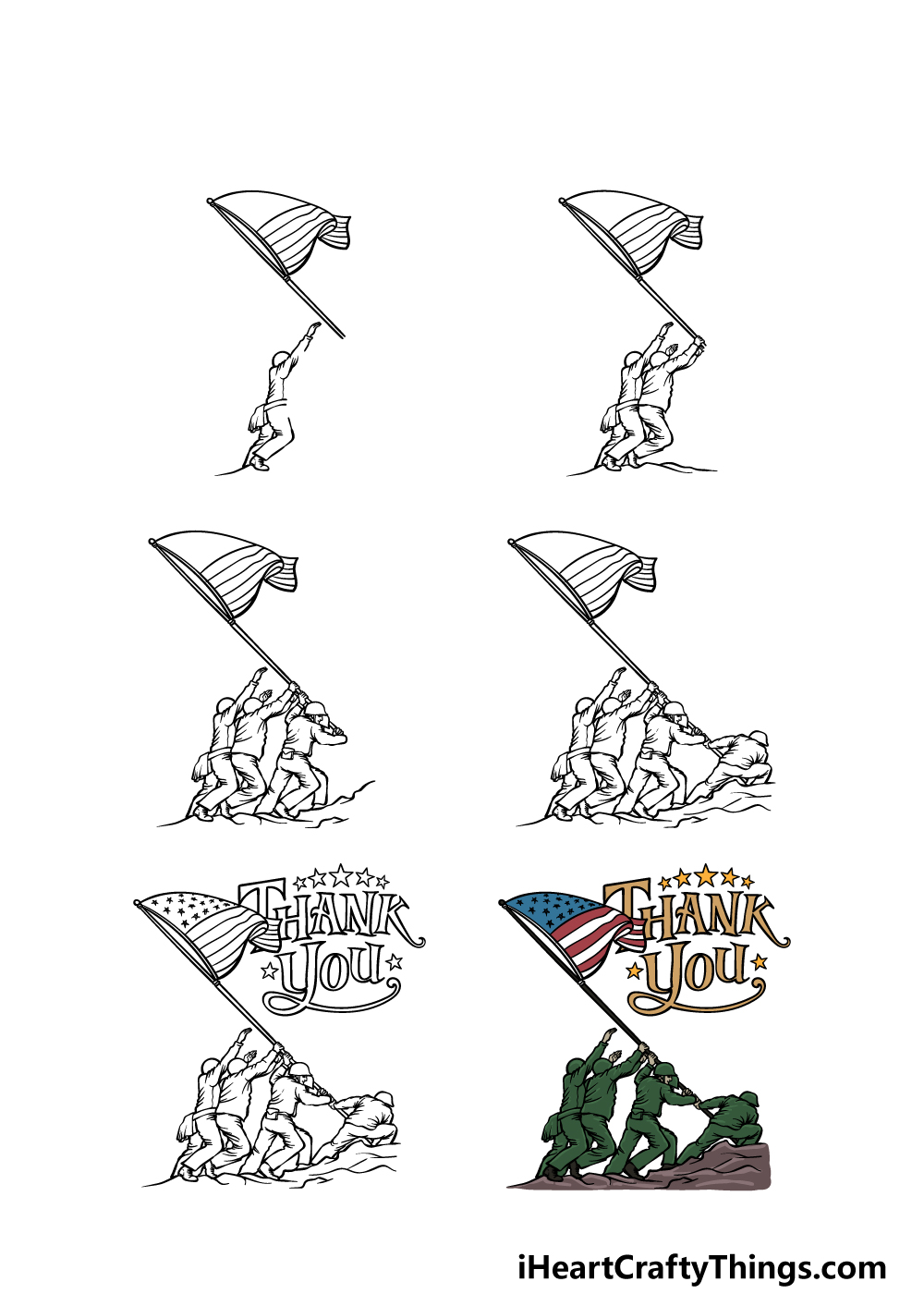 How to Draw Veteran's Day – Let's Get Started!
Step 1
The image that we will be drawing in this guide on how to draw Veteran's Day incorporates an image inspired by the famous Raising the Flag on Iwo Jima photograph.
This famous picture shows some soldiers bringing up a US flag during the second world war, and it has become an iconic representation of patriotic pride.
To begin this depiction, you can start by using some straight lines for the pole of the flag. Then, use some curved lines for the fabric of the flag and start adding some inner details.
In this step, you can also draw the first soldier in the lower left-hand corner of the image. Once these details are drawn, we can then proceed to step 2.
Step 2 – Now, draw the next soldier
For the second step of this Veteran's Day drawing, we will be adding another soldier to the image.
This soldier will go very near to the first soldier that you drew, and he will be drawn to look very similar to that first soldier.
This second one will be grasping the flag directly, whereas the first soldier was reaching up towards the pole.
Once you have finished drawing this second soldier, we can keep adding to the image as we move to the third step of this guide on how to draw Veteran's Day.
Step 3 – Draw the next two soldiers
Now you are ready to add some more soldiers to the scene in this third step of our guide on how to draw Veteran's Day.
First, we will draw a soldier hilding onto the flag pole. This solider will be a little different from the others, because due to the angle he is at we will see a profile of his face.
It may be hard to see at first, but there is also another soldier behind him. We will see a portion of his curved helmet, and his leg will be extending out in front as well.
That's all there is to it for this step, and now we can continue to step 4 of the guide!
Step 4 – Next, draw the final soldier
In this step of your Veteran's Day drawing, we will be adding the final soldier to the image. Once this step is done, we will be able to add some final details and touches in the next step of the guide.
This final soldier will go right at the base of the flagpole, and for this reason he will be rather low to the ground.
Finish off by drawing some curved lines for the rocky ground beneath them, and then when these details are complete we can move on to those final details we mentioned!
Step 5 – Add the final details to your Veteran's Day drawing
This is a very patriotic image, and we will highlight this side of it in this fifth step of our guide on how to draw Veteran's Day.
You have finished all of the outlines and details for the image itself, and in this step we will write an inspiring message.
To do this, we used a fancy font to write a big and bold thank you above the scene. To further highlight the patriotic feeling, we surrounded the text with stars to reference the flag.
This is one message you could write above the scene, but you should feel free to add any other text you may prefer!
If there is a special veteran in your life, maybe you could write a more specialized message to them to turn this into a card for them. How will you complete this image with your own details?
Step 6 – Finish off your Veteran's Day drawing with color
You have finished all of the details of this Veteran's Day drawing, and now you're ready to finish off the image with some color!
In our reference image, we showed off some of the colors that you could use for this picture.
We used some rich greens for the uniforms of the soldiers, and then we used patriotic red, white and blue for the flag.
Finally, we finished up with some gold and yellow for the text above the scene. These are the colors we chose, but you should go ahead and use any colors you prefer!
One idea would be to use greys for the image to make it look black and white. This would make it look more like the photo it's inspired by, but what other fun ideas do you have/
Your Veteran's Day Drawing is Complete!
You have finished all 6 steps of this guide on how to draw Veteran's Day, and you should be very proud of the end result!
We wanted to create a wonderful image to honor this important holiday, and we also tried to make it fun and easy for you to replicate.
Once you have finished the guide, there is a lot that you can do to keep it going.
By changing up some details, adding your own text or changing up the colors you can really put your own spin on the picture!
Then, you'll want to keep checking out our website, as we have tons of guides we can't wait for you to experience. We look forward to seeing you there soon!
You can also share your patriotic Veteran's Day drawing by sharing it on our Facebook and Pinterest pages. We can't wait to see how it turned out!