There have been many iconic cartoon characters throughout the history of animation, but some have managed to endure many decades of their creation.
Bugs Bunny is at the top of the list of most iconic cartoon characters, and he remains as popular today as he was in his debut in the 1930s.
He has made many different appearances in pretty much any form of media imaginable, and it can also be great to learn how to draw Bugs Bunny to recreate this icon of animation!
If you're a fan of this wily rabbit, then this is the guide for you!
Our step-by-step guide on how to draw Bugs Bunny in 6 steps will show you how fun and easy drawing him can be!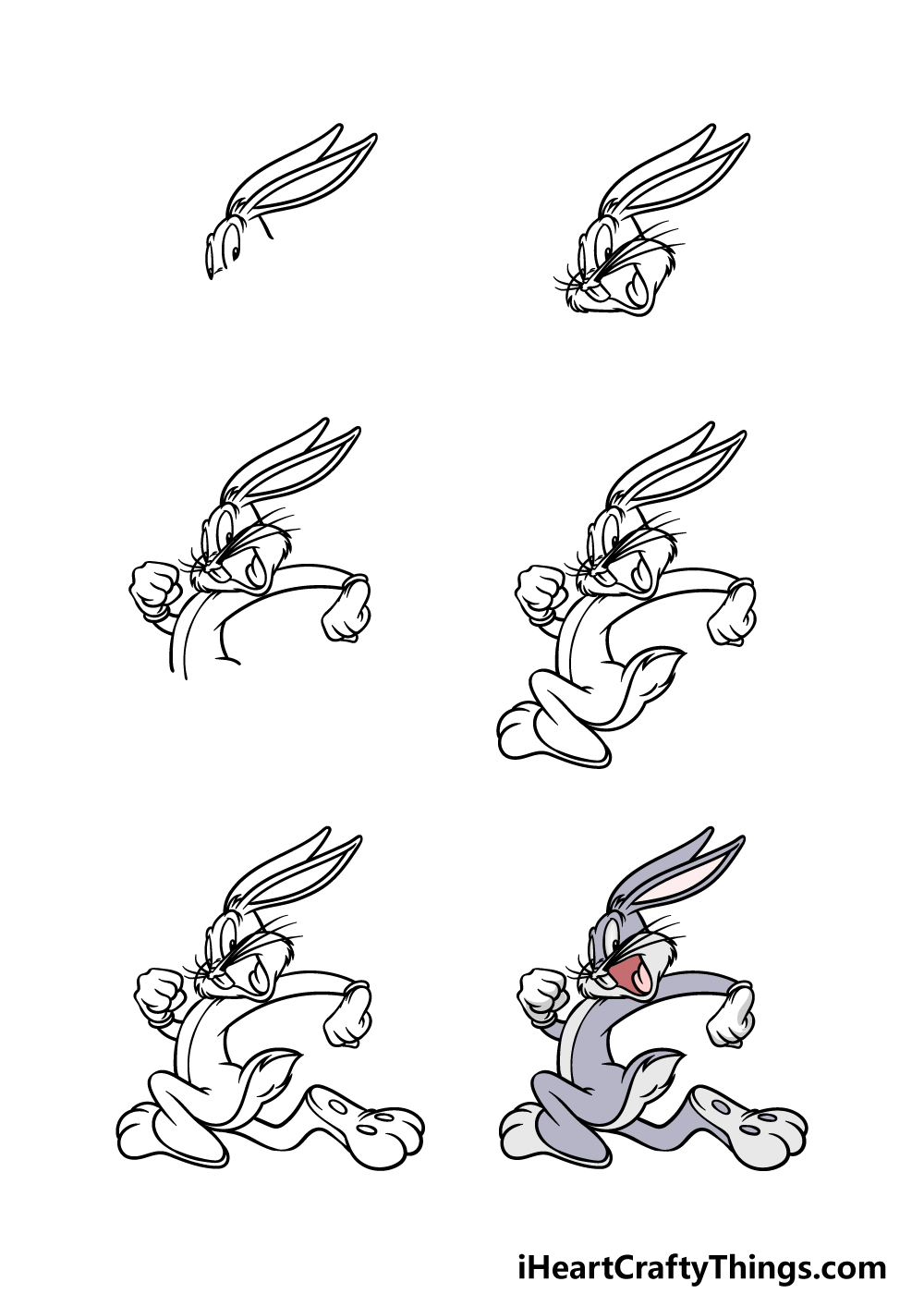 How to Draw Bugs Bunny – Let's Get Started!
Step 1
In this guide on how to draw Bugs Bunny, we will be portraying him in a dynamic running pose.
He's probably on the run from someone he has irritated! To begin this drawing, we will start with the top of his head.
Start this by drawing some long rounded lines that form the shape of his first ear flowing behind him.
Then draw another shape inside the perimeter of that outline for the inner ear.
You can then draw some small pointy lines at the base of it for some tufts of hair before adding another curved line beside it for the second ear.
Finish off by drawing some long and rounded lines for his eyes, then add some dots inside them and draw the start of his head outline.
Step 2 – Next, finish drawing his face
You have the first half of his head drawn, and in this part of your Bugs Bunny drawing we can start on the bottom half of it.
Start this area with a small shape for his nose. Then add two small curved lines beneath it and then add his large buck teeth to that line.
Draw a large rounded shape for his mouth, and then add his tongue inside of it.
Finally, draw the outline of the bottom half of his face, and finish off this step by drawing some long curved lines for his whiskers. That's all there is to it, and now it's time for step 3!
Step 3 – Draw his arms in this step
It will be time to start drawing his arms in this step of our guide on how to draw Bugs Bunny.
The arm that will be on the right will connect directly to the base of his head, and will be drawn with two curved lines.
Then his gloved hand will be attached at an angle to it. You can use some more curved lines for his chest, and then finish off with his other arm and fist poking off from the left side.
Step 4 – Next, draw his first leg and tail
These next two steps of your Bugs Bunny drawing will be all about finishing off by drawing his legs. The first leg that we will be drawing will be raised up to show that he is running.
That means that you can use some curved lines to draw the leg and then add his large foot to the end of it.
His foot will have three big round toes, as shown in the reference image. Then you can finish off this step by drawing his round fluffy tail along with the base of his body.
Once you have drawn that leg, we can move on to the final details in the next step!
Step 5 – Finish off your Bugs Bunny drawing
Before we add some color in this guide on how to draw Bugs Bunny, we will first finish off the final details and elements to really bring it together!
You can start this process by drawing his second leg extending behind him. Because this leg is stretched out, it will be drawn with much longer lines than the previous leg which was bent.
We will also be seeing the underside of this second foot, so you can draw some small dots onto it as well.
Once you have drawn this second leg, you have completed this drawing! Before you move on, you could also draw some more details and elements of your own.
One idea would be to draw some objects for him to interact with. Perhaps he could be clutching one of his beloved carrots!
You could also draw a background or add some more characters from the Looney Tunes cartoons. How will you finish off this fun drawing>
Step 6 – Finish off your Bugs Bunny drawing with some color
Now it's time to finish off your Bugs Bunny drawing with some color! Bugs isn't the most colorful of characters, but there are still ways to add some color to the proceedings.
In our reference image, we kept him to his regular color scheme of white and grey with some pink for his nose and inner ears.
Once he is colored in, you could also bring some color to any background or extra elements that you may have added.
Experimenting with various art mediums and tools is another way to bring some color variation to the composition as well.
This is your chance to really show off your creativity, so be sure to have fun with it and see what happens!
4 More Ways To Make Your Bugs Bunny Drawing Unique
Recreate this classic character with these tips we have for your Bugs Bunny sketch!
This Bugs Bunny drawing shows our favorite rabbit on the move! It makes you wonder what he is running away from with such enthusiasm.
You could show what you think it is by adding another character to the picture! The obvious choice would be the bumbling hunter Elmer Fudd.
You could look up some pictures online to help you as you draw, and there are other characters you could add as well. Who do you think is chasing Bugs Bunny in this picture?
Another explanation for him running so fast in this drawing of Bugs Bunny is that he has nabbed something from someone. Again, you can wonder what it is that he has nabbed!
For one idea, he could be holding a big bag filled with carrots that are spilling out of the bag. That's just one idea that would add a bit of a story to this image.
What else could you have Bugs Bunny holding to show that he has pulled off a heist?
In the cartoons, Bugs Bunny will often use a large selection of disguises to get himself out of jams. This would be fun to add to this Bugs Bunny sketch!
There are so many outfits he has worn over the years, and you could create some new ones too. Maybe he could be a police officer or a nurse for a few ideas from some of his cartoons.
What other disguises could he be dressed in?
You could also suggest a story for this Bugs Bunny drawing by adding a background to finish it off. This would be something that you could combine with any of the previous tips we suggested!
When picking a background, you could go for a location that was used in one of the cartoons or you could create a brand new one.
It can be tough to choose, so maybe you could sketch out a few possibilities until you know what you want.
Your Bugs Bunny Drawing is Complete!
With all of the steps complete and your colors added, you have completed this guide on how to draw Bugs Bunny!
The goal of this guide was to make creating this classic character not only much easier but also more fun for you to take on. Hopefully we achieved both of those goals for you.
Now you can take this drawing even further with some of your own creative ideas!
You could draw a background, add more classic Looney Tunes characters or experiment with colors and mediums. We can't wait to see how you finish off this awesome drawing!
When you're ready for more, we will look forward to seeing you on our Facebook and Pinterest pages! We have tons of guides for you there, and the list grows all the time.
You can also show us how you finished your Bugs Bunny drawing by sharing it on our Facebook and Pinterest pages for us to admire!