Bendy and the Ink Machine is one of the more unique horror games to come out in recent years.
Set in an old animation studio, it has many references to classic cartoons and other video games as well, and its characters have since become recognizable around the world.
Perhaps the most recognizable character from the series is Bendy himself; a classic cartoon character brought to life with disastrous results.
Learning how to draw Bendy can be a great way to celebrate this horrifying character!
If you are a fan of Bendy and his pals, then this guide will be perfect for you.
Our step-by-step guide on how to draw Bendy will show you how easy and fun it can be!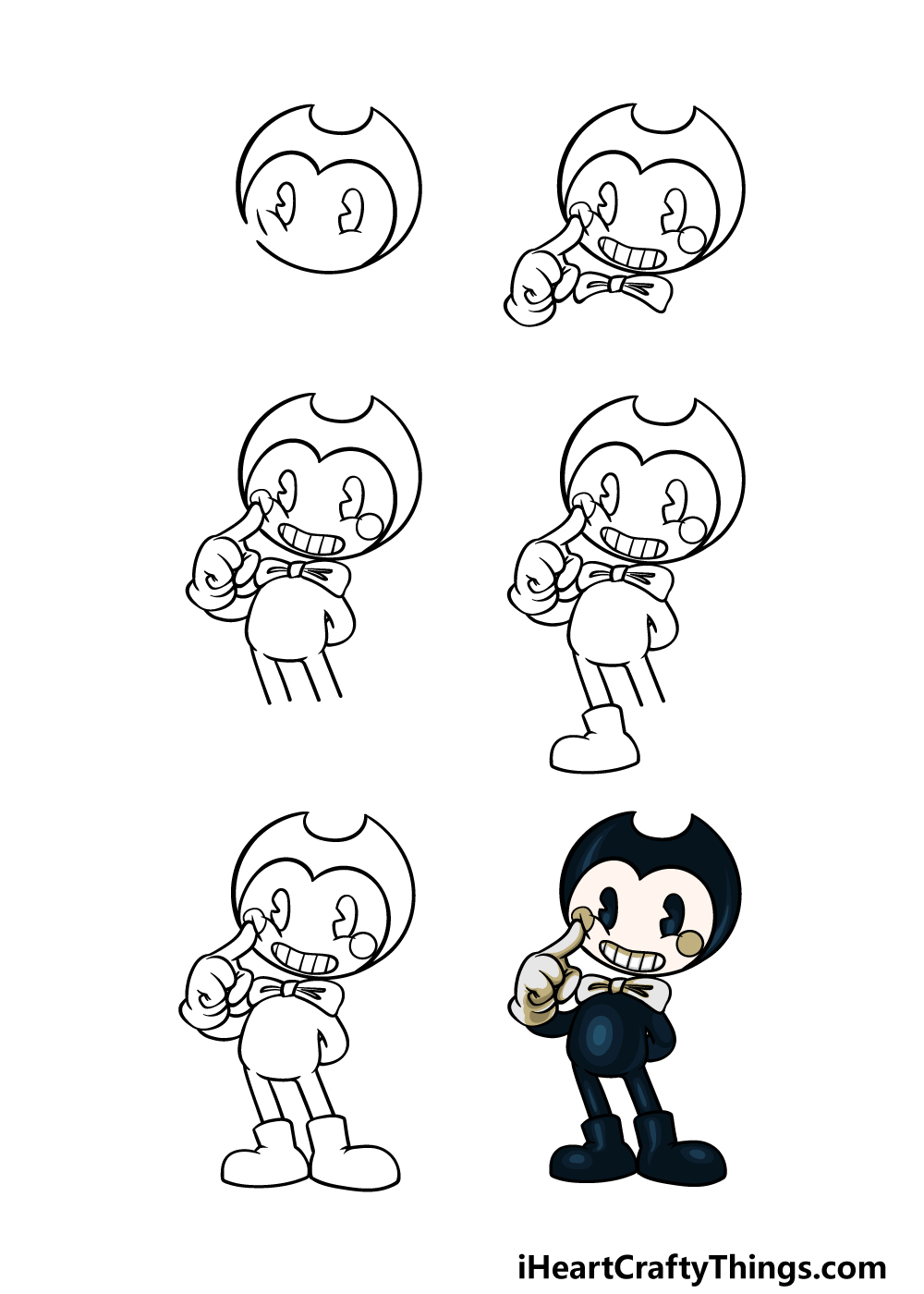 How to Draw Bendy – Let's Get Started!
Step 1
The portrayal that we will be creating in this guide on how to draw Bendy will show this character in his classic form before his monstrous transformation!
That means that he will actually look kind of cute in this picture. We will start with his head in this guide. You can start by drawing his eyes.
To do that, simply draw two small and thin oval shapes with a small slice cut out of each one.
This style of eyes is to reference how eyes would look in classic cartoons from the '30s and '40s. Then, use some curved and rounded lines for the outline of his face.
We will then finish off this step y drawing his head outline, and this will have two sharp points on top. Be sure to leave a small gap in the lower left-hand side, as his finger will fill that space shortly.
Step 2 – Next, draw his facial details and hand
Now that you have the head outline for your Bendy drawing, we can start to draw some of his facial details.
Draw a curved, horizontal oval shape for his mouth, and then add some vertical straight lines to it for his teeth.
Then, we will be adding some circles to his cheeks, and the one on the left will be a bit indented due to his finger being on it.
Speaking of that, we will also draw his hand in this step. His hand is another reference to old cartoon characters who would often ear large white gloves.
Using the reference picture as a guide, you can draw his gloved hand poking onto his face. Finish off this step by then drawing his bowtie beneath his face.
Step 3 – Draw his body and arm
In this third step of our guide on how to draw Bendy, we will start drawing his body and first arm. His body design is yet another reference to classic cartoon characters like Mickey Mouse.
You can use some rounded lines to create his fairly squat body. Then, use some more rounded lines to connect the hand you drew previously to his body.
The other arm will be behind his back. Finally, you can finish off by drawing some straight lines for the start of his legs.
Step 4 – Now, draw the first of his shoes
We will be finishing off the final details of your Bendy drawing in the next two steps. For now, we will be adding the first of his shoes to his leg.
This shoe will be going on the leg on the left that you drew in the last step. It will be drawn with a slightly curved top and then some rounded lines for the rest of his.
Once you have drawn this shoe as it appears in the reference image, we will be ready to move on to the final details in the next part.
Step 5 – Finish off your Bendy drawing
Before you color in your picture, we will finish off the final elements in this step of our guide on how to draw Bendy.
To do this, we will be adding his second shoe on the other leg. This one will look very similar to the first one, with the main difference being that it will be facing the other direction.
Once you have added that shoe, you are ready for the final step! You don't have to proceed just yet, however, and you can also add some details of your own to really finish it off.
You could draw a background scene from the game or even draw some more of his cartoon friends alongside him.
These are just a few of many ideas you could go with, so have fun and get creative as you prepare for the final step!
Step 6 – Finish off your Bendy drawing with some color
This is the final step of your Bendy drawing, and in this one you can finish off by coloring him in.
We've mentioned how Bendy is a reference to classic cartoon characters, and he is specifically referencing older black and white cartoons.
For this reason, his coloring is very dark and muted, and that is what we went for in this image.
We used some blacks and dark blues and greys for some variation to his body coloring, and then we used some beige for his face, bowtie and hands.
You can use this as a reference if you would like to keep his colors accurate to the game!
Then it's just a matter of deciding on the art mediums you will use. Watercolor paints would work well to emulate the look of the game, but any mediums and colors you use will look great!
4 More Ways To Make Your Bendy Drawing Unique
Find out how to make your Bendy sketch even better with these 4 ideas to try!
In the games, Bendy is one of many characters you can play as. All of these characters are referencing classic characters from animation, and it could be fun to add them to your drawing of Bendy!
There are a few characters that you could choose from in the game that are either good or evil. If you have some favorite characters from Bendy, then you can use the games to help you as you add them.
Which characters would you like to add to your artwork?
The cartoony style of the characters might be deceptive, but the games can actually be quite scary! You face off many threats in the games, and it might be fun to design some of your own.
If you want some other characters other than the existing ones from the games, you could use your imagination to devise some creepy characters for Bendy to face off against.
What kinds of horrifying villains can you think of to add here?
As we mentioned earlier, the Bendy series takes inspiration from many classic cartoon characters. If you're feeling extra creative, you could try to draw Bendy in other animation styles!
You could create this Bendy drawing in a comic book style, or maybe a more modern animation style.
These are just two examples, but there are many types of animation and cartoons that you could go for.
What are some fun styles you could use for Bendy?
Finally, you can finish it all off with a background. You could use the games as inspiration here as you make a setting for this Bendy sketch.
While that is one option, you could also instead create a brand new background setting. If you used a new cartoon style for Bendy as we suggested, then the background could take on the same style.
Do you think you will use a location from the games or create a brand new setting instead?
Your Bendy Drawing is Complete!
This is one of the most recognizable video game characters in recent years, so we hope that you had a great time recreating him in this guide on how to draw Bendy!
Even when a character has a slightly simpler design, it can still present challenges when drawing them.
That's why we aimed to break this down into smaller steps for you, so that you could focus on the fun of drawing with no frustration!
When you're ready for a new drawing challenge, be sure to check out our website for guides featuring more characters along with many objects and themes.
We update the collection often, so definitely keep checking in!
Please also remember to share your Bendy drawing on our Facebook and Pinterest pages, as we would love to see it!