Ariana Grande is one of the most successful and influential pop stars in the world. She has millions of fans all around the globe, and she is winning new ones all the time.
Despite her young age, she has already achieved a lot in her illustrious music career and is well-loved for her style and musical output.
A lot of her fans love to create artwork featuring this music icon, and learning how to draw Ariana Grande is the perfect way to do this.
Luckily, by the end of this guide you'll be able to do just that!
We hope that you enjoy this step-by-step guide on how to draw Ariana Grande in just 6 steps.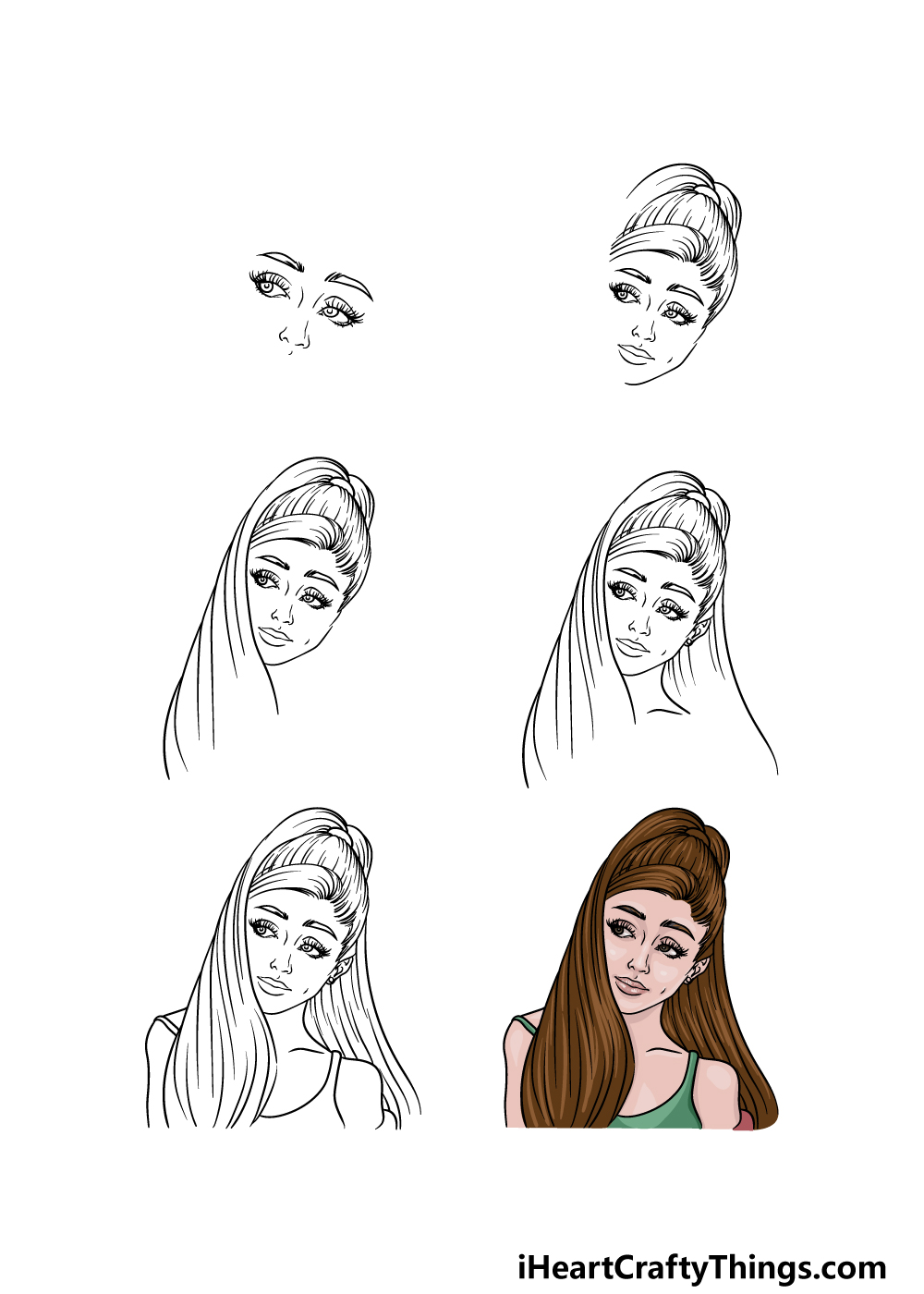 How to Draw Ariana Grande – Let's Get Started!
Step 1
Drawing a real person is usually quite a challenge to get right, and that's why we will take it slowly in this guide on how to draw Ariana Grande.
To get this started, we will begin with her eyes and nose. When drawing her eyes, you may want to enlarge the reference image to closely copy the lines as they appear there.
You could also look up one of the later images in this guide so that you can draw a rough face outline using your pencil. That will help to keep the proportions correct.
Then, we will use some simple shapes for the eyebrows and her nose. Once you have drawn all the lines as they appear in the reference image then you're ready for step 2!
Step 2 – Next, start drawing her hair and face outline
In this second part of your Ariana Grande drawing, we will start on her hair and facial outline.
You can use some curved lines to draw the outline of her hair, and the reference image will guide you as to how they should look.
Then, use some more curved yet smooth lines for the outline of her face.
Step 3 – Finish off part of her hairstyle
We will be finishing off the flowy section of her hairstyle in this step of our guide on how to draw Ariana Grande.
This flowy part of her hair will be drawn with some more curved lines extending down from the hair tie at the top of her head.
This section of her hair will also have lines inside of it for more volume and texture. That's all there is to it for now, and we can finish off more of her hairstyle in the next part.
Step 4 – Now, draw some more of her hairstyle
For this part of your Ariana Grande drawing, we will be drawing more of the hairstyle as well as a few details for her head and face.
For the hair flowing down on the right-hand side of her head, you can draw some slightly curved lines coming down from the side of her head.
Then, we will be drawing her ear with an earring on it on the inner edge of this portion of hair.
Finally for this step, you can draw another bent line for her neck coming down from the bottom of her face.
Once you have finished this step, we have just a few final details to add in the next step, so let's proceed!
Step 5 – Finish off the shoulders and final details for Ariana Grande
Before you color in your picture, we have a few final parts to finish off in this step of our guide on how to draw Ariana Grande.
The main thing that we will be focusing on for this step will be her shoulders. We will be drawing these with some rounded lines extending out from both the left-hand side of her hair and also down from her neck on the right-hand side.
We will also be drawing the top that she is wearing with some more curved lines, as shown in the reference image.
That will finish off the details in this guide, but there are more details of your own that you could draw!
You could change up aspects like her hairstyle, outfit or accessories that she is wearing.
Another fun idea could be to draw a background, and you could use inspiration from your favorite Ariana Grande album cover or live performance to design it.
These are just a few of many ideas that you could go for, so have fun and let your creativity flow!
Step 6 – Finish off your Ariana Grande drawing with some color
Now that you have finished your Ariana Grande drawing, you can have fun adding some amazing colors to your picture.
In our reference image, we went with some dark brown for her hair and green for the top that she is wearing.
These are just color suggestions that you could go for, but for this step you can really get creative with it and use any colors that you love for this drawing!
You could change the color of aspects like her hair or outfit, and if you drew a background or extra elements then that is great for adding even more colors to the mix.
You can also experiment with different art tools, mediums and techniques, and we can't wait to see how you finish off this drawing!
Here's how you can make your Ariana Grande drawing even better…
Make your Ariana Grande sketch look ready for the stage with these fun tips!
Pop stars need certain tools when they perform on stage, and you could add some of these to your Ariana Grande drawing. One of the more obvious additions would be to add a microphone.
This could be on a stand, or it could be a headset that she is wearing. These are a few examples, but what other accessories could you add to this picture?
We're sure you can come up with all sorts of cool things!
This star is known not only for her songs but also her style. Now that you have finished this drawing of Ariana Grande, you could also change her style and her fashion!
If you were to do this, you could use your favorite look that you have seen Ariana Grande in as inspiration. Or, you could show what it would be like if you were her personal fashion designer by making your own look!
What kind of style would you choose?
For this Ariana Grande sketch, we drew just her head and shoulders, but you could draw some more of her to finish it off! If you wanted to try this, you could use some pictures of Ariana Grande to help you out.
Doing this would also allow you to try out some different poses and maybe have her in different situations. What kind of scene would you like to create for Ariana in this picture?
Finally, you can really finish off your creation by adding a background. This would go well with the other tips we had for your Ariana Grande drawing!
You could show her on stage, in the recording studio or maybe just relaxing at home for a few ideas. Another cool way to finish off a background scene would be by adding some more stars you love next to her!
That would be a great way to create your ultimate superstar collaboration. Who would you add to this image?
Your Ariana Grande Drawing is Complete!
You have completed all six steps of this guide on how to draw Ariana Grande, and you should be very proud of your artistic representation of this pop icon.
When drawing a real person, it can be very tricky to get it looking like the person you're drawing, but if you take it slowly and follow the steps you'll get the hang of it!
Then you can keep the creativity going by adding your own details, elements and ideas.
Earlier in the guide, we mentioned a few ideas such as drawing a background, changing up some of the details or experimenting with colors and art mediums. What other ideas can you think of?
On our website, we have tons of awesome guides for you to enjoy that cover a huge variety of different subjects. Be sure to visit us there often to catch our upcoming guides!
Once your Ariana Grande drawing is finished, we would love to see your representation of this singer! Please share your artwork on our Facebook and Pinterest pages for us to enjoy.